Investment thesis
NXP Semiconductors (NXPI) comes across as a shareholder-friendly investment. Betting against the backdrop in the broader market and the semiconductor downcycle, management has been buying back shares aggressively. At a market cap of $29B, it bought back $4.8B worth of shares in the last twelve months or roughly 15% of shares. Last month, it pledged to buy back another 115M of stock. The $2B windfall from the Qualcomm's (NASDAQ:QCOM) acquisition termination fee funded part of the repurchase. However, looking at NXP's financials, the effort is wasteful. We think that investing because of a generous buyback program is not a viable strategy, especially, when the underlying fundamentals are facing headwinds both internally and externally.
Recent financials
The market was buoyant on the earnings result day on November 1, 2018, bidding up the share price from $75 to $84. In contrary to the market optimism, we felt the company posted average results.

Source: NXP 6-K Nov 2018, Revenue by segments
Q3 results showed that revenue across segments increased by only 3% YoY. Meanwhile, operating profit of $2.4B made the headline look incredibly strong, taking away the $2B cash inflow from the Qualcomm's failed acquisition fee and we have an average bottom-line performance.
Adjusted for this non-recurring profit, Q3 operating margin would have been at 8.6% (versus 6.8% from Q3 last year) and expected to grow sequentially to 9.6% (at mid-point guidance), a small improvement from 8.55% in Q3 in the previous year.

Source: NXP 6-K Nov 2018, Q4 2018 guidance
Overall, NXP posted a fairly robust result and guidance. However, compared to the broader semiconductor industry, NXP performance does not justify a PE multiple of 12 times and FCF multiple of 15 times.
Average operating margins and FCF
NXP gross margins in the past five years had a range between 45-51%; going forward, the management wants to achieve close to 55%. Operating margins were between 5-18%. The latest figure in Q3 was 8.6% and expected to be 9.6% in Q4, so NXP is performing at the lower end of the spectrum compared to the last five years.
Even with the higher expected levels of 55% in gross and 9.6% in operating margin, NXP still trails far behind competitors. As we know Micron (MU) well and also believe it to be an excellent investment in the semiconductors industry, we will use their financials to compare with NXP.
Micron gross margin and operating margin have not been as high as NXP in the past; however, in recent years, they have achieved TTM rates at 59% and 49% respectively. These levels are substantially higher than NXP. One reason is NXP produces lower margin memory and storage solutions. The other reason is due to the downward cycle of the industry, and NXP has been performing less impressively.
Moving on to free cash flow (FCF), Qualcomm acquisition termination fee of $2B undoubtedly boosted NXP cash level, however, on a recurring basis, NXP is expected to generate below $2B mark annually. The figure equates to about a 20% FCF yield. Meanwhile, Micron with around $8.5B produces a 28% FCF yield. In any industry, NXP's FCF level would be considered impressive. However, in semiconductor, NXP trails far behind the industry standard.
If we pick the adjusted FCF number for Q3, which was $620M, it is lower than Q3 of the previous year.
Strong financial health
Despite the below average margins level, NXP financial position is healthy. If there comes a recession, this company will survive. Its total debt is just over $6B, cash almost $1.9B, and estimated FCF is $2B. Thus, the company can retire its debt in reasonable time. The cost of debt is also extremely affordable at just 3%.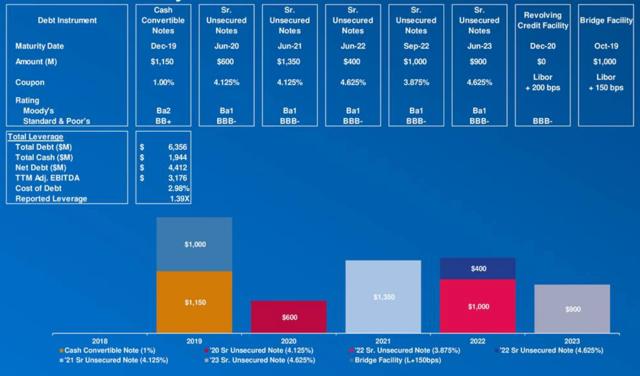 Source: NXP Q3-18 Earnings presentation
Buyback unsustainable
However, as we applaud NXP's 'shareholder friendliness' buyback program, we ponder if NXP's financial position can sustain the magnitude of the buyback.
During the third quarter of 2018, NXP repurchased 49M shares for a total cost of $4.58B as part of the $5B share repurchase program announced on July 26, 2018. The total buyback in the trailing twelfth month is 4.83B. During Oct. 2018, management approved an additional repurchase of 115M shares. Coupled with the $0.25/quarter dividend, we don't think the capital allocation is prudent. Let's look at valuation and we will see why.
Valuation
At a valuation of 15x FCF, we think that buyback should not be executed. At this price, NXP is not cheap. Instead, NXP increased the budget by 20% compared to the original level announced in July 2018.
Why shouldn't NXP repurchase shares? First, the purpose is always to retire as many outstanding shares as possible, and even at the near 12-month low share price of $85, we think the buyback could be reserved for better opportunities in case the semiconductor industry deteriorates materially.
Our knowledge from investing in Micron tells us that the semiconductor market is still cloudy in short to medium term. The CEO of Micron, Sanjay Mehrotra, predicted prices of DRAM and NAND would continue to be depressed until the second half of 2019. The trade war and chip war with China are also far from over.
The reason against buying back shares is more apparent as we compare NXP's valuation against Micron. At just 4x PE and 5.5x FCF, Micron is almost three times cheaper than NXP. As a result, it makes a lot more sense for Micron to buy back their shares aggressively. Additionally, Micron also has a much healthier balance sheet and even better economics.
Overall, NXP valuation shows that the stock does not offer investors a satisfactory reward. Investors are paying for NXP shares at a 3x higher price for below average economics compared to Micron.
Takeaway
In other industry, NXP would be considered a decent investment. Its respectable 50% gross margin and 10% net margin allow it to return cash to investors. Its robust balance sheet and cheap debts service cost will also assure survival in the event of a major slowdown.
However, within the semiconductor sector and compared to Micron, NXP is mediocre at best. NXP trails Micron in all fundamental metrics. NXP is also three times more expensive. Moreover, as the future of semiconductor market remains cloudy, NXP should reserve cash for rainy days.
In summary, we find NXP's capital allocation wasteful. Management's lavish spending will burn NXP's balance sheet and deprive the company of a better future.
Endnote
If you found this article helpful and would like to refer back to it in the future, please click the "Like" button and it will be saved to your favorites.
If you would like to stay up to date on our latest analysis, we invite you to follow us on Seeking Alpha (click the " Follow" button next to our profile picture at the top) as we continue to uncover hidden investment opportunities.
Disclosure: I am/we are long MU. I wrote this article myself, and it expresses my own opinions. I am not receiving compensation for it (other than from Seeking Alpha). I have no business relationship with any company whose stock is mentioned in this article.