US Foods Holding Corp. (USFD) is trading for $34.68 per share at a market cap of $7.2B. Price action in this name is eerily steady since the quarterly earnings released on November 6th. My gut says this is a high risk, low reward opportunity, and in this article, we'll review the facts in order to get a handle on what kind of earnings power this company has.
Following my review of the company's financial state, I am forecasting the company is generating actual owner earnings of $400M although they're reporting a net income of $563M for the trailing twelve months. In the third bullet point above, I mention a PE of 16 is too high for this company and the details of why I am marking down reported earnings for valuation purposes by $163M make up the body of this text.
Is USFD Investing Adequate Cash Into Existing Operations?
One big challenge for those of us investing into any business is making the error of underestimating necessary expenditures for maintaining the quality of operations. USFD seems to be suffering from this common mistake as they recently reported they're playing catch up with getting deliveries to customers on time.
They've also run out of stock for items customers need. These are pretty bad moves for any business, and so long as USFD still has competitors, they're going to be providing tempting alternatives to the customer. So long as USFD isn't going to risk the spoilage by increasing stocks or help their customers order more intelligently, they're going to continue to take reputational dings and push customers away: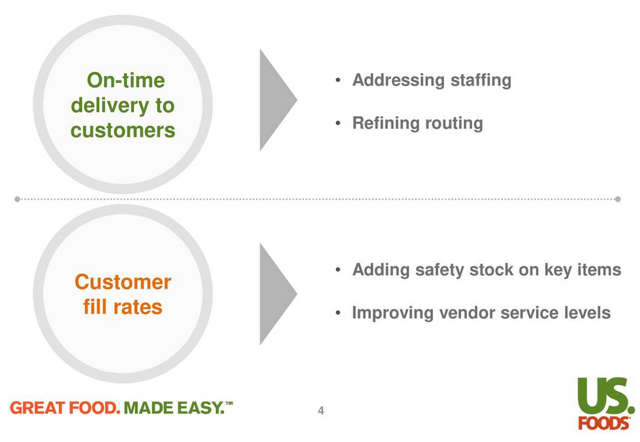 In order to resolve this, costs will have to go up for USFD. Increased staffing and maintaining larger safety stocks will ding margins.
Inadequate Capital Investments
Another data point came up during my review which I believe is resulting in temporary overstatements of earnings. The business has over $4.7B of tangible assets and they've expanded less than $226M each year to maintain and improve their productive base. For comparison made on an annual basis, depreciation and amortization is coming in at $333M while spend is $226M which indicates they're re-investing into the business at worse than a 66% rate by accounting measure.
Under-investing results in overstated income on a cash basis over the short term, so the company's free cash flow metric of $460M is coming in higher than the likely long-term rate for the business. The company still has to pay down $3.7B of debt from said cash flows.
All of the above factors make up the argument for why I am marking down the company's earnings from $563M to $400M for the purposes of calculating the business's intrinsic value to equity investor.
On the bright side, the company's interest expense coverage has improved substantially and is now at 3.7x from 1.5x during 2016. As a result, so long as the business environment remains strong, the firm will be able to continue pursuing their acquisition strategy and grow revenues.
Weighing The Facts
Primarily, my somewhat dour view on USFD boils down to the fact I believe the company is under-investing into operations. We're seeing evidence of that admitted by the company when they mention they're under-stocking and under-staffing operations (per the slide presented above). USFD isn't out competing as a result of cost savings neither, as their organic growth is nil. Big chains seem to be moving away from USFD more than toward, although the firm is winning some new business from "independent" restaurants as the slide below reveals. Despite the gains in some parts of the market, the business has lost organic volume overall: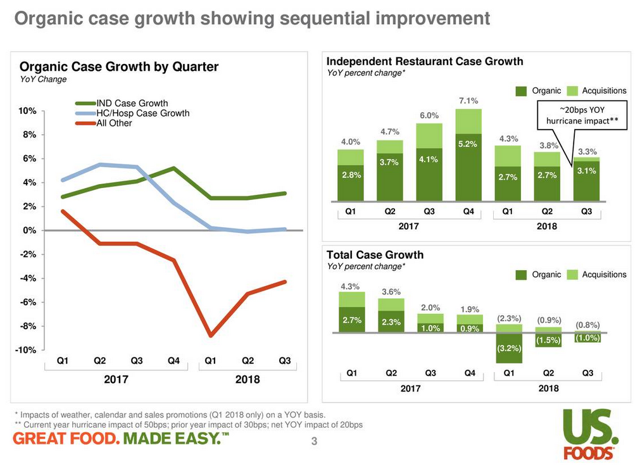 USFD Q3 Investor Presentation
Independent restaurants are less profitable for USFD because they're typically generating less sales than one of the joints owned by Darden (DRI) and other big players. The trend of losing big restaurants and gaining small ones will also increase the cost of distribution as the company's freighter capacity will end up underutilized more often due to smaller purchases from independents.
Returning to the financials, relative to their larger competitor Sysco Corporation (SYY), USFD is under-investing by more than 25% over timelines of five years or more on a depreciation expense versus actual capital expenditures basis. They're evidently overstretching operations and kicking the can down the road while they pursue further acquisitions.
Final Word
The business's under-investment into operations, thin margins, and large net debt position make the stock risky. With any deterioration in the business climate, the company will see their financing costs increase in tandem with decreases in earnings as business lulls, a recipe for a stock price crash. While everything is rosy now, the hidden risks are palpable. There are better opportunities in the market with less risk of capital loss.
Supplementary Data
Stock Valuation for USFD:

I believe the company will head to the top of its market value range of $46 as the acquisition strategy remains in play, but the stock price is likely to suffer a rapid decline when any setback takes place such as continued losses of the company's most profitable customers or an economic slowdown.
Disclaimer: This article represents the opinion of the author as of the date of this article. This article is based upon information reasonably available to the author and obtained from public sources that the author believes are reliable. However, the author does not guarantee the accuracy or completeness of this article. It is merely the author's interpretation of the information contained in the article. The author encourages all readers to do their own due diligence. This is not a recommendation to buy or sell any security.
Click or tap +Follow Faloh Investment for the latest articles and news as I scour the world's markets for investment opportunities.
Disclosure: I/we have no positions in any stocks mentioned, and no plans to initiate any positions within the next 72 hours.
I wrote this article myself, and it expresses my own opinions. I am not receiving compensation for it (other than from Seeking Alpha). I have no business relationship with any company whose stock is mentioned in this article.