Amid a volatile stock market in which investors continue to rotate toward value names, HP Inc. (HPQ) is looking more and more attractive. The PC and printer giant just reported fourth-quarter results that smashed estimates on both revenue and EPS, driven by continued strength in the PC industry.
HP Inc. was the subject of much pessimism over the past few years. The company endured whispers that the PC business (the source of two-thirds of its revenue) was dying out, that replacement cycles were elongating, and that HP Inc. would be overshadowed by its software-focused cousin, HP Enterprise (HPE). Over the course of FY18, however, HP Inc. has proven to be the stronger and better-managed company. Low expectations for the PC business have allowed HP Inc. to produce strong earnings beats this year, including an especially strong fourth-quarter print.
Still, HPQ's share price gains have been modest. Over the past twelve months, shares have returned just 7% (and after the Q4 earnings beat, HPQ remained rather flat), as shown in the chart below: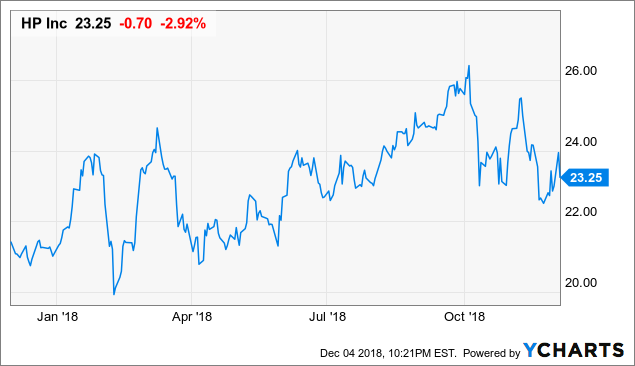 Over the past few weeks, I've gradually rotated more of my portfolio into value-oriented names like HP Inc. In my view, the worst for HPQ is in the rearview mirror: it has survived the down cycle of the PC industry and it looks poised to show modest revenue growth and even better earnings growth in FY19.
Strong guidance amid low valuation
The fact that HPQ offered a robust FY19 outlook makes its flat stock-price reaction to earnings quite puzzling. Here's a look at HPQ's ranges for next year:
Figure 1. HP Inc. FY19 outlook

Source: HP Q4 earnings release
Wall Street consensus has pinned next year's EPS estimate at $2.19, bracketed by HPQ's guidance range. It's worth noting that at HPQ's current share price of $23, the stock trades at just 10.5x forward P/E.
With the stock markets so sensitive to valuations, especially in the tech sector, I find HP Inc.'s low P/E ratio plus yield potential incredibly attractive.
Q4 download
Let's dive into HPQ's fourth-quarter results in further detail, starting with the company's top-line results:
Figure 2. HP Inc. 4Q18 revenues

Source: HP Inc. Q4 earnings deck
Revenues grew 10% y/y to $15.4 billion, soaring past Wall Street's estimates of $15.1 billion (+8% y/y). Underpinning the strength this quarter was 10% y/y growth in the PC business to $10.1 billion, as shown in the chart above.
The performance was especially strong for notebooks, which saw 14% y/y revenue growth on unit growth of 8% y/y. This implies growing ASPs in HPQ's portfolio of laptops. I've noted previously that HPQ's competitive edge stems from the fact that it has a broad portfolio of notebooks across the entire price spectrum, and this has allowed HPQ to continue gaining market share over lower-priced competitor Lenovo (OTCPK:LNVGY) as sales of its high-end Spectre laptops continue to perform well. Here's some qualitative commentary from CEO Dion Weisler on the Q4 earnings call on the progress of the Spectre lineup:
HP continues to be a leader in product design. At our analyst meeting, we introduced you to the stunning ware, the Spectre Folio. The product is now hitting the market receiving high price for design, versatility and performance, and driving renewed excitement in the PC category.

We also recently launched two new Spectre X360s. The Spectre X360 13 delivers the world's longest battery life in a Quad Core convertible, while the Spectre X360 15 is the most powerful convertible we've ever created. In commercial, we unveiled the latest EliteBook, the world's smallest and largest 14 inch business convertible and the first with gigabit class 4G LTE."
HPQ's PC business also continues to do well in the enterprise segment. Commercial revenues are up 11% y/y, supplementing growth in the consumer arm.
On the printing side - which delivers the smaller portion of revenues, but the lion's share of profits - results were a bit more mixed. Total printing revenues grew 9% y/y to $5.3 billion, but underlying segment results missed consensus. Hardware revenues of $1.25 billion fell short of Wall Street's estimates of $1.30 billion, while Supplies revenue of $3.39 billion was light compared to Street consensus of $3.41 billion.
Still - it's important to recognize that the printing segment is important insofar as it continues to deliver tremendous operating profits. In spite of slightly weaker printing revenues and a slight 50bps contraction in gross margin, HP Inc. still managed to deliver 6% y/y growth in operating profits to $1.1 billion, maintaining approximately flat operating margins:
Figure 3. HP Inc. profitability trends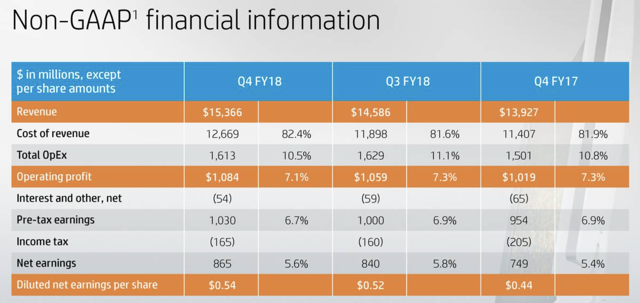 Source: HP Inc. Q4 earnings deck
The company's pro forma EPS of $0.54 also jumped 23% y/y and was in-line with Wall Street's estimates.
Free cash flow, meanwhile, soared:
Figure 4. HP Inc. FCF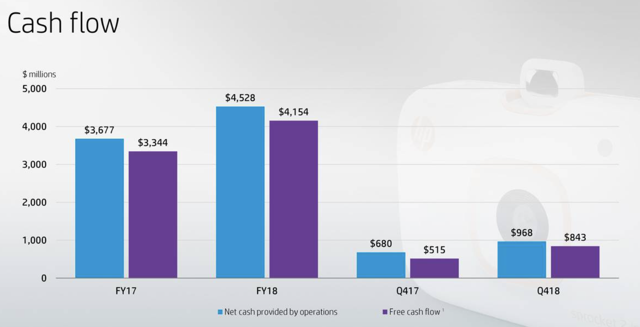 Source: HP Inc. Q4 earnings deck
Fourth-quarter free cash flows of $843 million jumped 64% y/y. It's worth noting that for next year, HP has guided to free cash flows of "approximately $3.7 billion" - but given the recent strength in FCF and OCF trends, it's highly likely for the company to exceed this forecast.
HP Inc. also continues to trade at cheap multiples of cash flow. At its current share price of $23, the company has a market cap of $36.4 billion, and after netting out $5.2 billion of cash and $6.0 billion of debt (indicating a net debt position of $0.8 billion), the company has an enterprise value of $35.6 billion.
Against this year's FCF of $4.15 billion, HPQ is currently trading at just an 8.6x FCF multiple. Even if next year's free cash flow does indeed compress to $3.7 billion, HPQ's enterprise value is still at a single-digit FCF multiple.
How should investors react?
The bullish thesis for HPQ remains incredibly strong. The company is enjoying stable mid-teens revenue growth, backed by a resurgence in PC demand and high popularity for its upper-end Spectre brand. At the same time, the company is trading at low multiples of EPS and free cash flow - which makes HP valuable during a volatile market that is sensitive to richly valued growth stocks.
The only risk to watch out for is continued softening of the printer business. Despite representing a minority share of revenues, continued misses in the printing segment could have outsized impacts on HPQ's ability to meet its EPS and FCF targets for next year. Investors should keep a close eye on HPQ's ability to maintain ~10% revenue growth and keep gross margins consistent.
All told, however, HPQ remains an incredibly cheap investment, and the stock's 2-3% dividend yield is another incentive to stay patient on this stock. In the low $20s, HPQ is a strong buy, and I'd hold onto the stock until it hits $33, which would represent a "normal" P/E ratio of 15x against FY19 EPS estimates.
Disclosure: I am/we are long HPQ. I wrote this article myself, and it expresses my own opinions. I am not receiving compensation for it (other than from Seeking Alpha). I have no business relationship with any company whose stock is mentioned in this article.