Well off their highs, shares are a buy
Urban Outfitters (URBN) has, at times in the past, been one of my favorite retailer stocks. The company's unique brand of Softline retailing has resonated with customers in recent years, and results have shown as much. Shares plummeted to just $16 last summer on revenue and margin growth worries, but subsequently more than tripled to $52 earlier this year. Shares have come well off of their highs, and as a result, Urban Outfitters looks like a buy once more.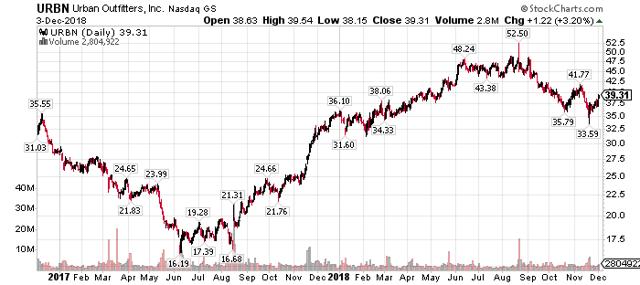 A blockbuster Q3 is fuel for the bulls
The company's record Q3 report wasn't enough for investors, and shares sold off on the news but have rebounded in the days since. Total revenue was up 9% in Q3 to nearly a billion dollars, as comparable sales rose 8%. The company's stores are performing well with positive comparable sales, but the bulk of gains continue to accrue from double-digit increases in digital sales. Obviously, just about every retailer is experiencing the same thing when it comes to digital sales increasing in importance, and Urban Outfitters is taking full advantage as well. However, the differentiator with Urban Outfitters is that its stores continue to be an integral part of the business that continues to contribute to revenue growth, rather than detract from it. There are lesser chains out there that are essentially trading store revenue for digital revenue, but that is not the case with Urban Outfitters, and it is a reason I continue to like the stock.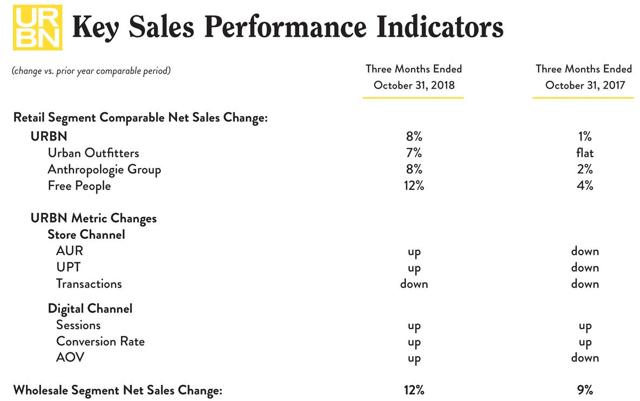 Source: Q3 earnings slides, page 3
Indeed, this slide from the Q3 earnings release shows the immense strength the company is seeing with respect to comparable sales by brand and channel. The flagship brand was up 7% in Q3, while Anthropologie saw an 8% increase, and superstar chain Free People was up 12%. These numbers are huge in their own right, but compared to the same period last year, they are even more impressive. Finally, digital revenue was up 12%, stacking that gain very nicely on a 9% gain in the year-ago period. I really couldn't be more impressed with this company's ability to boost comparable sales, and I don't think investors are fully appreciating how good Urban Outfitters is right now.
But it doesn't stop with revenue; Urban Outfitters continues to boost margins as well, as it did once again in Q3.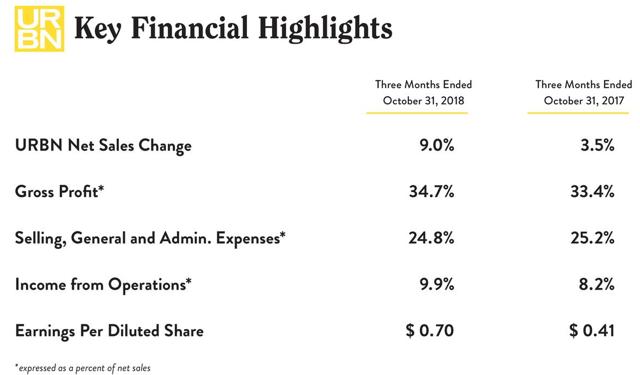 Source: Q3 earnings slides, page 2
We can see here that the company was able to boost its operating margins from 8.2% to 9.9% year over year, a 21% improvement. Gains came from higher gross margins and lower SG&A costs, both of which benefited from ample leverage from higher comparable revenue. When comparable revenue rises, like it did for Urban Outfitters in Q3, it helps drive down the relative importance of fixed costs like rent and labor. In addition, stronger revenue leads to fewer markdowns because inventory is moving more quickly, and pricing power is preserved. These factors aren't new for Urban Outfitters, but the way they ramped higher in Q3 is not to be ignored. Combined, these factors helped drive a sizable improvement in operating profitability, which translated into a 70% gain in earnings per share in Q3. While this sort of earnings growth cannot reasonably be expected to continue, I fully expect Urban Outfitters to continue to boost comparable sales and margins as it prudently manages its inventory and takes advantage of strong demand for its products.
A trough valuation with strong fundamentals
Analysts estimate $2.93 in EPS for next year, representing ~7% growth over this year's forecast $2.73. That seems a bit low for my taste, given the strong tailwinds Urban Outfitters is experiencing, but even if we assume that to be the case, the stock looks cheap. Until recently, shares of Urban Outfitters traded in the low to mid-20 PE range. In the past couple of years, that number has been reduced to mid- to upper teens on growth concerns. However, today, shares trade for just 13.4 times next year's earnings estimate, which is far too low. Even if we assume just a multiple of 18 on that number, we're looking at a $53 share price. While I don't believe Urban Outfitters will achieve that overnight, I do think the current valuation makes absolutely no sense for all the factors discussed above.
In addition to those factors, Urban Outfitters has a pristine balance sheet with no long-term debt and $566 million of cash and equivalents on the books. That gives it all the financial firepower it needs to invest in the business as well as buy back shares, which it admittedly hasn't done much of lately. Speaking of investing in the business, management provided an interesting forecast for capex for 2019, as seen below.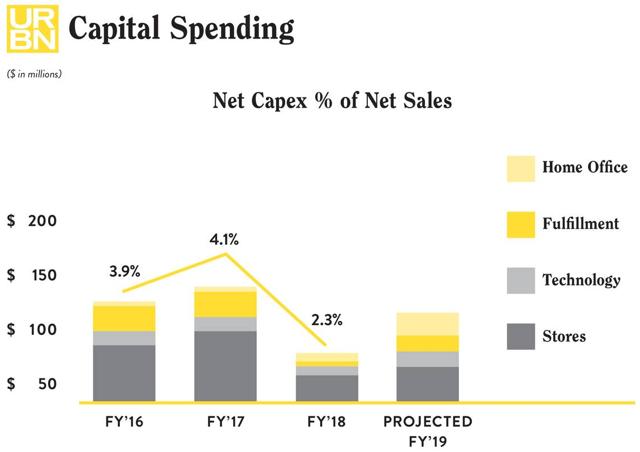 Source: Q3 earnings slides, page 9
After a trough year in 2018, capex spending should ramp again into 2019 thanks to increased store, fulfillment and home office spending. Urban Outfitters has more than enough cash to handle ~$125 million in capex, so I'm certainly not concerned about financing, but investors should keep in mind that capex spending makes its way to the income statement over time. Thus, if earnings growth doesn't look quite as robust due to this, it shouldn't be a red flag; management is ensuring the competitiveness of the business over the long term.
Overall, I thought Urban Outfitters' Q3 report was outstanding. The company is seeing enormous comparable sales growth, margins are expanding on already-robust levels, and the company has all the cash it can handle. As it invests to remain in a dominant position going forward, I think Urban Outfitters represents a compelling buy today. The stock is very cheap and is being priced as though its last report was quite weak. However, that couldn't be further from the truth, and I think there is a lot of upside to Urban Outfitters, both from earnings growth and from multiple expansion. I see shares trading over time in the area of 18 times earnings, and given that we are only at 13 today, that's a lot of upside potential with little downside risk.
Disclosure: I am/we are long URBN. I wrote this article myself, and it expresses my own opinions. I am not receiving compensation for it (other than from Seeking Alpha). I have no business relationship with any company whose stock is mentioned in this article.