As a supplier that is nearly completely dependent on Apple (AAPL) for its revenues (with 82% coming from Apple as of Q2 2018), the fortunes of Cirrus Logic (NASDAQ:CRUS) are inextricably linked with the sales of Apple's flagship product, the iPhone. Cirrus manufactures the integrated audio and voice circuits that are used in the iPhone; the more iPhones that Apple sells, the greater the revenues that Cirrus will achieve. This has been a great relationship for the company, as the explosive growth of the iPhone has propelled it to ever-greater revenues and earnings. However, I began to see warning signs in the relationship between Apple and Cirrus in April 2017, when I warned that the stock may be in for a substantial decline:
For Cirrus' stock price to go down, we don't have to see anything necessarily dramatic like a breaking of the Apple-Cirrus relationship (though that would do the job nicely); we could simply see relatively disappointing numbers for iPhone 8 sales.
Since then, Apple has repeatedly shown disappointing iPhone unit growth, with the predicted negative results for the stock of Cirrus (as shown below).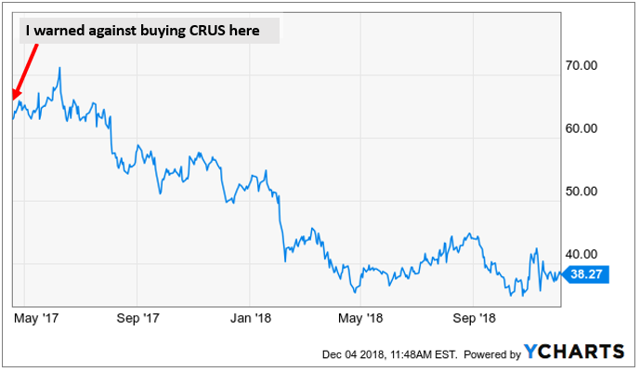 Today's news of Cirrus warning on the current quarter's total revenues serves to further underscore the weakness in the business. However, these sorts of situations can present great opportunities for the patient value investor, if the company in question is at a reasonable valuation with a strong underlying business. Unfortunately for Cirrus, this is not the case for the company today.
Cirrus is still overvalued today
Some of the best investments can be found when negative sentiment outruns the actual underlying business for a company; companies with consistently strong earnings that are temporarily on sale are desirable indeed.
Unfortunately for Cirrus, the fall in its stock price has been more than justified by the fall in its business performance. For instance, since 2016, revenues and earnings have both fallen precipitously: the company's net income in FY2016 was $261 million, while trailing twelve-month earnings today are less than $100 million.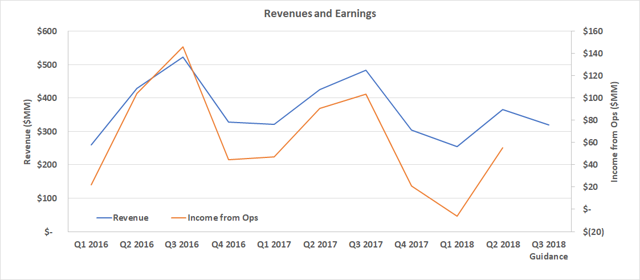 (Source: CRUS 10-Qs and 10-Ks available here and Q3 company guidance updated here)
From the above data, I calculated a CAGR decline in revenues of ~7.6% and a CAGR decline in income from operations of ~26.9%. These are not the signs of a healthy business, and are strong evidence that Apple's difficulty with increasing the unit sales of iPhones has come at the expense of its suppliers. With all of this in mind, I would have expected a business with declining revenues and earnings to fetch a low valuation multiple, perhaps on the order of a single-digit price-to-earnings multiple. However, with a current market capitalization of $2.4 billion and trailing twelve-month earnings of ~$100 million, the market is still valuing Cirrus at 24x its earnings. This is far in excess of the indices (with the S&P 500 trading at around 22.5x TTM earnings with growing earnings) and other hardware technology names like Apple, which have much more steady and diversified businesses. Were Cirrus to be trading at an 8x P/E multiple, for example, the tenor of this article would be much different!
The worst is yet to come for Cirrus's underlying business
Unfortunately for the company, the stock price decline is more than justified, because there are no blue skies on the horizon. In fact, many of Apple's recent reports and proclamations demonstrate that the worst is yet to come for Cirrus.
Indeed, the astute reader may be wondering how it is that Apple's revenues and earnings have been able to grow over the past two years, while Cirrus's have only declined. This effect is mainly attributed to Apple selling a nearly flat number of iPhones year over year with higher average selling prices and increased sales of "services" for the iPhone, resulting in strong growth rates in net iPhone revenues, while unit sales growth remains miniscule.

(Source: Apple 10-Ks available here)
Neither of these incremental benefits for Apple flows down to a supplier like Cirrus, whose fortunes are dependent on the total number of units sold, not ancillary benefits like increased services revenue or larger screen sizes.
This trend is set to continue for the foreseeable future. Analysts have recently increased speculation that the iPhone market has reached saturation, implying that further unit sales growth will be flat-to-moderate, if not decreasing, in the near future. Furthermore, Apple itself has been hinting that this will be the case: starting from the next quarterly statement, Apple will stop reporting the total number of iPhone unit sales. This, combined with recent analyst reports and the past two years' iPhone unit sales trends, allows us to confidently project that iPhone unit sales have probably peaked for the foreseeable future.
Unfortunately for Cirrus, that's not all. With organic unit growth set to disappoint, Apple has had to begin turning to other levers to show revenue growth, namely by pushing services harder, selling higher-ASP phones, and increasing incentives for trade-ins. However, there's one lever that Apple has not yet pressed, and that is to squeeze its suppliers. Recently, Bloomberg reported that Apple has been relatively generous to its suppliers, despite its history to the contrary. In Cirrus's latest financial report, the decline in revenues were stated as being due to decreased unit sales and not decreased selling price, indicating that Apple has not yet begun asking for better terms in their contract. If this were to change, however, Cirrus may see a substantial hit to realized revenues, with the stock price declining in concordance. With Apple struggling to grow profits organically, it is not out of the question that the company begins the age-old tactic of squeezing suppliers to improve margins.
Conclusion
A number of factors are working against an investment in Cirrus today. First, the company is still trading at a generous valuation despite its poor business performance. Second, there are no arrows pointing upwards for the business; the iPhone sales environment is stagnant, and Cirrus's reliance on Apple makes it vulnerable to any future contract negotiations. Thus, I believe that Cirrus is not a suitable investment at this time. In fact, if one is interested in exposure to iPhone sales, the stock of Apple would seem to be the better bet at this time, with the company trading at a cheaper valuation and with stronger underlying business performance.