Granite Point Mortgage Trust (GPMT) delivered its Q3 2018 earnings release on November 5th.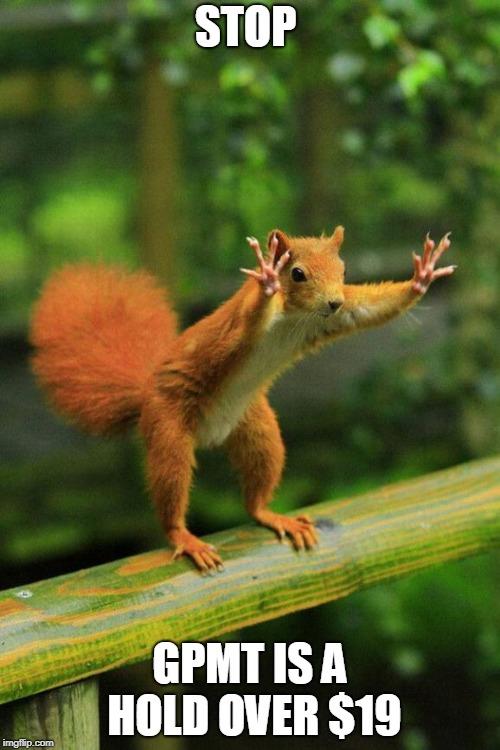 We'll take readers through it quickly using some slides from the GPMT Q3 2018 earnings presentation. We've highlighted the most relevant data and how to think about it. To make it easier for readers, we've inserted our notes directly into the images. That way you can see precisely which aspects are being highlighted.
Earnings came in as a slight miss, but it looks like analyst estimates were doing a pretty poor job of running through the entire income statement: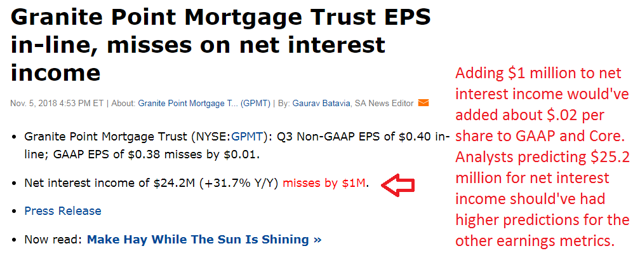 (Source: Seeking Alpha)
If net interest income was a hit, earnings would've been a nice beat.
We would still like to have seen slightly faster growth in earnings, but they were still up nicely quarter over quarter: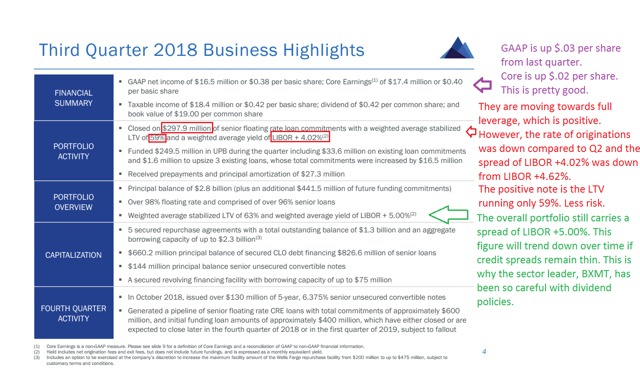 Leverage was up at the end of Q3 and entering into the optimal range. They were at the low bound for "optimal". Anything from 2.5x to 3.0x is solid: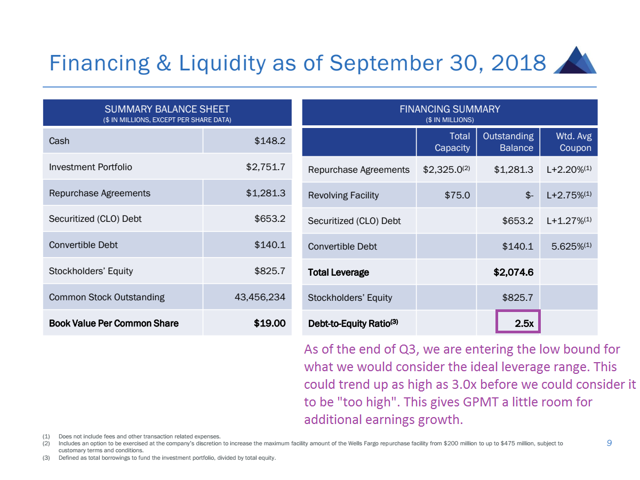 The core earnings reconciliation remains very simple: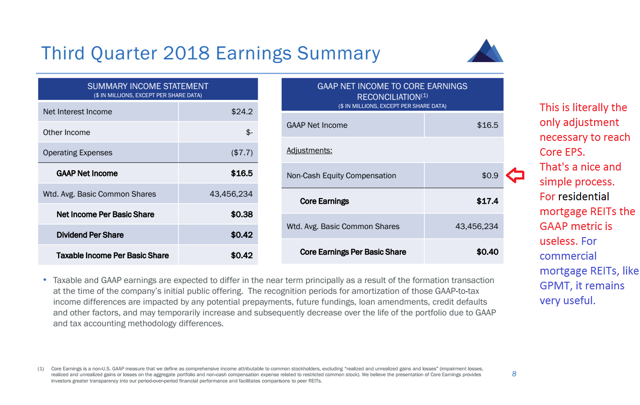 The last point we want to draw attention to is how GPMT was scaling its leverage so effectively during Q3 2018. It wasn't a high volume of originations, it was exceptionally low prepayment and amortization: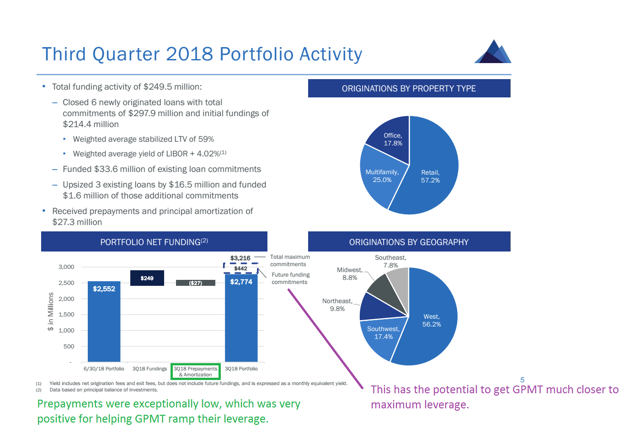 Going into Q4, there is enough new loan activity in the pipeline to push GPMT much closer to the top end of its optimal leverage. However, if we get some loans that fail to close or some higher prepayment activity, then the company would be more likely to end near the middle of that optimal range.
Rating Change
We've modified our rating on GPMT to neutral. Shares are currently $19.04.
About "The REIT Forum"
The REIT Forum is the #1 rated service on Seeking Alpha. We focus primarily on defensive investments with high growth potential. It is our objective to find quality investments at a discount, along with trading opportunities for the more active investors. Most of our research is on companies that are excellent investments over the long term.
Disclosure: I am/we are long GPMT. I wrote this article myself, and it expresses my own opinions. I am not receiving compensation for it (other than from Seeking Alpha). I have no business relationship with any company whose stock is mentioned in this article.