Nestle (OTCPK:NSRGY) is the largest food company in the world in terms of revenue and market cap. It is thus surprising that the stock passes under the radar of the vast majority of investors. The fact that Nestle is based in Switzerland may offer an explanation but the company is multinational, with presence in 189 countries. As Nestle has promising growth prospects and is poised to become a dividend aristocrat in two years, investors should put the stock on their radar.
Business overview
Nestle has a balanced and diversified portfolio, which includes several categories in the food & beverage sector, as shown below: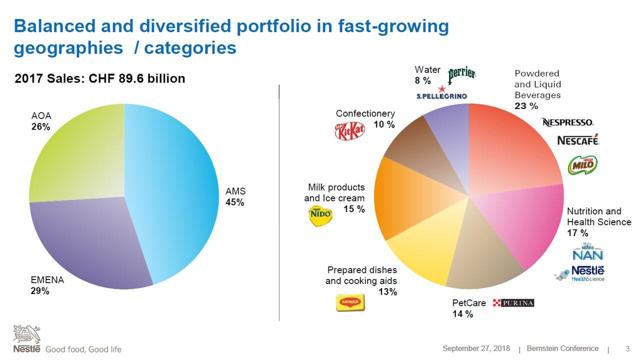 Source: Investor Presentation
The company always tries to invest in high-growth categories and regions while it also pinpoints the low-growth, low-margin categories, which it either tries to turnaround or sell to other companies. For instance, this year, Nestle sold its U.S. confectionery business to Ferrero for $2.8 B. Overall, the company continuously evaluates every single part of its portfolio and seeks to improve its performance by enhancing the high-growth portion of its portfolio.
Growth prospects
Nestle has always pursued growth organically and via the acquisition of brands from other companies. It greatly benefits from such acquisitions, as it incorporates the new products into its immense distribution system. These acquisitions are usually highly profitable, as the transaction price is based on the performance of the product before the transaction whereas Nestle greatly enhances the potential of the product thanks to its unparalleled distribution system.
Nestle generates 57% of its sales and 64% of its operating profit from its high-growth product categories. These categories have organically grown at a 3.5% annual rate in the first half of the year whereas the remaining categories have grown at a 1.7% annual rate. Moreover, during the last decade, Nestle has grown the share of the sales that come from emerging regions from 32% to 43%. As sales in emerging regions have grown at an almost triple annual pace compared to sales in developed regions (4.3% vs. 1.5%), the benefit from greater exposure to emerging markets is obvious.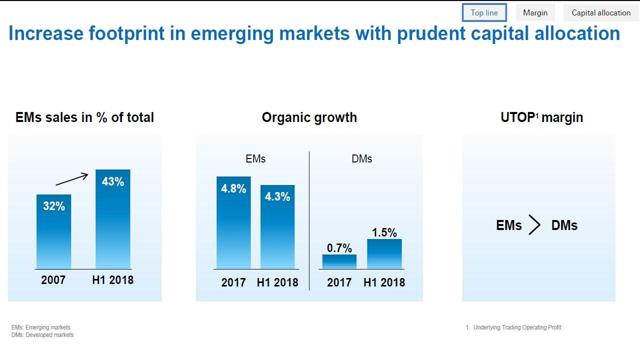 Source: Investor Presentation
Nestle has also made efforts to adjust to the shift of consumers towards online purchases. The company has increased the portion of its digital marketing expenses from 13% in 2012 to 35% this year. During this period, its online sales have increased from 2.9% to 6.9% of its total sales.
Moreover, Nestle closed a major deal with Starbucks (SBUX) about three months ago. As per the terms of the deal, Nestle paid $7.15 B to Starbucks and acquired the perpetual rights to market Starbucks Consumer Packaged Goods and Foodservice products globally, outside of the coffee shops of Starbucks. The annual sales of these products currently stand at approximately $2 B but are likely to grow at a fast pace thanks to the unique distribution system of Nestle. It is also worth noting that this transaction has helped Nestle build an unparalleled portfolio in the coffee business, as this portfolio now includes Starbucks, Nescafe and Nespresso, the three most iconic coffee brands in the world.
Finally, Nestle is running a mega project in an effort to reduce its operating expenses by $2.0-$2.5 B per year until 2020. The project has delivered $0.5 B of annual savings so far and is on track to deliver probably another $1.7 B until 2020. Thanks to this project and the above mentioned growth initiatives, Nestle expects to expand its operating margin from 16.5% in 2017 to 17.5%-18.5% in 2020. The quality of its management almost guarantees that these goals will be met in the next two years. Moreover, the company is on track to grow its earnings per share by 8% this year, from $3.55 to $3.83 while it is also expected to grow its earnings per share by another 10% next year, to $4.23.
Dividend
Nestle has raised its dividend for 23 consecutive years. U.S. investors may experience fluctuation in the dividend due to currency fluctuations but the company has an excellent dividend record, which is a testament to the strength of its business model and its execution. As the food conglomerate is in a solid growth trajectory, it will almost certainly become a dividend aristocrat in two years. Even in the Great Recession, the worst financial crisis of the last 80 years, Nestle raised its dividend by 8%, from $1.15 to $1.24. The stock currently offers a 2.8% dividend yield, which may not be exciting but is certainly worth considering, particularly given that the dividend is likely to continue to rise for the foreseeable future.
Valuation
The only weak point of the stock right now is its rich valuation. The stock is trading at a forward price-to-earnings ratio of 20.1. While this valuation level is not extreme, particularly given the decade-long bull market and the all-time high level of the S&P, it is certainly rich for a relatively mature company. This is especially true in an environment of rising interest rates. Therefore, investors should put the stock on their radar and wait for an opportune entry point.
The bottom line
Nestle is a best-of-breed food conglomerate, the largest in the world. While it does not perform spectacular acquisitions, it acquires other brands and maximizes its benefit from them thanks to the unique scale of its distribution system. The company is on a solid growth trajectory, with significant organic sales growth and margin expansion ahead. Therefore, investors should put the stock on their radar. Due to the current full valuation of the stock, investors should probably wait for a correction towards the low $80s in order to initiate a position.
Disclosure: I/we have no positions in any stocks mentioned, and no plans to initiate any positions within the next 72 hours. I wrote this article myself, and it expresses my own opinions. I am not receiving compensation for it (other than from Seeking Alpha). I have no business relationship with any company whose stock is mentioned in this article.
Editor's Note: This article discusses one or more securities that do not trade on a major U.S. exchange. Please be aware of the risks associated with these stocks.