There are some interesting developments in a number of Ch.11 bankruptcy cases that investors need to follow. While investors may not own securities of companies mentioned in this article, they need to pay attention to other bankruptcy cases because courts do not make decisions in a vacuum. What happens in another case could impact the prices of securities in other cases.
Pacific Drilling Confirmation Hearing
Pacific Drilling (OTCPK:PACDQ)(NYSE:PACD) exited Ch.11 bankruptcy November 19 after an interesting confirmation hearing on November 2 that I attended. There were two interesting issues that arose in an otherwise mundane hearing.
First, Judge Wiles seemed shocked and annoyed that there was going to be a massive reverse stock split (1 for 10,000 shares). He claimed that lawyers told him at prior hearings that there was going to be significant "dilution" for current PACDQ shareholders, but there was no mention that this would be from a huge reverse stock split. He raised the issue that this would effectively force many current PACDQ shareholders to sell even if they wanted to keep their shares because fraction shares are not being issued. An investor would have to own 10,000 old shares just to get one new share. He seemed willing not to confirm the plan because of this forced sale. Lawyers and advisors were alarmed and quickly met in an attempt to resolve this issue or risk non-confirmation. The lawyers were able to overcome the problem by pointing out to the court that the reverse split is not actually part of the plan. It is being approved by shareholders at a special meeting and only "connected" to the plan.
The second issue was that QP, which owned 70% of the equity, was allowed to participate in the reorganization plan's rights offering and new debt, but other shareholders were not. He thought that this raised the issue of not treating all members of the same claim class equally violating section sec 1123((a))(4) of the Bankruptcy Code. He decided to approve the plan anyway because he already approved the rights offering scheme and was not going to overturn his own decision. Part of the problem was that no objections from shareholders were filed prior to the rights offering hearing and that objections from shareholders filed prior to the confirmation hearing about the rights offering being discriminatory were not timely.
How does this confirmation hearing impact investors?
Investors need to understand that their objections and motions need to be filed with the court. Making complaints in the comment area of Seeking Alpha articles or blogs has zero impact in court. They also have to be filed in a timely manner. For example, objecting to a rights offering at a confirmation hearing is the wrong time to file. You need to file prior to the rights offering hearing and you need to focus solely on the legal issues and not wasting the judge's time complaining that you lost your retirement savings. Most judges actually do read them. Unless the judge is an "activist" judge, their actions are based only on court filings.
"Makewhole" Oral Argument Recently Heard
Ultra Petroleum Corp. (UPL) exited Ch.11 in 2017, but there still is a critical case pending in 5th Circuit Court that could impact not only UPL but many other companies in bankruptcy. The case covers "makewhole" claims (present value of unpaid interest at the time UPL filed for Ch.11). Oral arguments for the case (17-20793) were heard on November 5 (this the link for the entire proceeding recording). Often listening to oral arguments gives an indication of how the court will rule, but I could not get a clear indication with any certainty. It is an appeal by Ultra Petroleum against unsecured noteholders who were awarded their makewhole claim by the bankruptcy judge. I covered some issues for this case in an article prior to the oral argument.
After listening to the parties, it seems there are a number of issues. One is whether the payment of makewhole is "double accounting". A bondholder would get the present value of unpaid interest ("makewhole") plus get the actual interest while the company is in bankruptcy. (This assumes the reorganization plan pays bondholders a full recovery.) The other side asserts that the makewhole is a "damage" claim for not being paid as per New York law-not per U.S. Bankruptcy Code and is, therefore, not actually an additional interest payment. (It would almost be like paying a late penalty on a credit card. The late penalty is not an additional interest payment in addition to interest payable on the account.) Some of the other issues were more technical, such as the difference in "claims" versus "allowed claims".
How does this case impact investors in junk bonds? Those holding notes with makewhole provisions in their indenture agreement could find see a price drop if the court rules against makewhole even if the company is not headquartered or incorporated in the 5th Circuit are (Texas, Mississippi, and Louisiana) because other courts across the country could rely on this decision. Those holding notes that would have a lower priority claim in bankruptcy below makewhole debt could see a rise. The reverse is true if the court allows makewhole.
It seems that the makewhole issue is being used as a negotiating tool in some Ch.11 cases. In Rex Energy (OTCPK:REXXQ), which exited Ch.11 November 14, the makewhole claim was negotiated to be $50 million, while Breitburn Energy Partners negotiated to allow the full amount.
EXCO Resources Bankruptcy - Two Important Issues
The confirmation hearing is set for December 10 for EXCO Resources (OTCPK:XCOOQ) reorganization plan (docket 1232). There are two issues concerning this plan that impact investors not only in this case but could impact investors in other actual or potential bankruptcy cases were the issues may be similar. The first is makewhole and the other is net operating losses-NOLS.
While XCOOQ shareholders are not getting any recovery as I expected in my article last year, unsecured noteholders are getting a meaningful recovery, which I did not expect unless there was "gifting" from a higher priority class to unsecured noteholders.
I was expecting that the total makewhole claims of over $200 million would make it even less likely unsecured noteholders would get any recovery. Since this case has the same bankruptcy judge (Marvin Isgur) as Ultra Petroleum who ruled in favor of allowing makewhole claims, I expected the makewhole claims would be allowed. A mediator was appointed (Judge David Jones) to help speed the negotiation process and one of the results of the mediation was that the makewhole claims would not be included in either the 1.5 lien note claim class nor 1.75 lien note claim class. A negotiated settlement not only helped speed up the process, it saved millions on legal fees from potential litigation.
As can be seen from the financial statement below, not including makewhole claims made a huge difference for unsecured creditors. The total makewhole claim amount is almost the same as the unsecured note holder claim.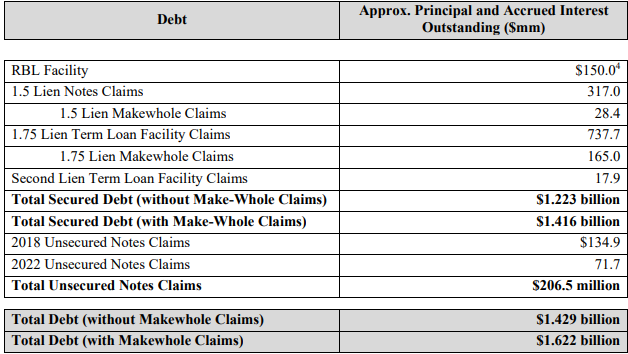 Source: Disclosure Statement (docket 1233)
The unsecured noteholders are getting a combination of cash and new stock as their recovery.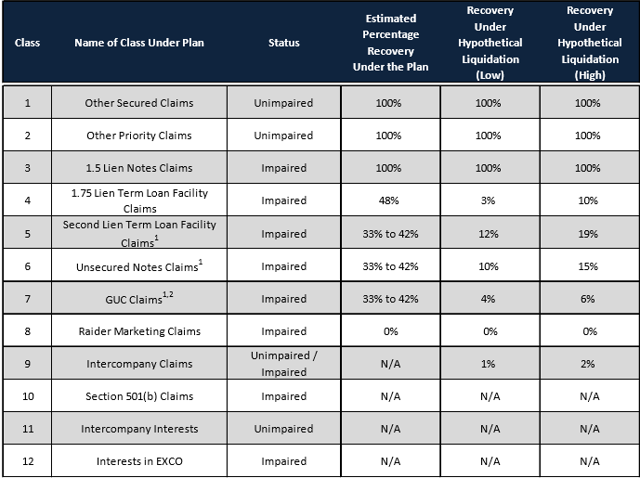 Note: shareholders are class #12-getting no recovery
The other interesting issue for the EXCO bankruptcy case is the very large NOLs. They were able to get IRS approval for the 382(1)(5) Exception. Without getting into extreme detail, the usage of NOLs is impacted by a "change in control". When a "qualified creditor" receives 50% or more of the new stock (and voting power) the new company tries to get the 382(1)(5)Exception. Without this exception there could be an annual limit on the use of the NOL but, "instead, NOL carryforwards will be reduced by the amount of any interest deductions claimed during the three taxable years preceding the effective date of the plan of reorganization, and during the part of the taxable year prior to and including the effective date of the plan of reorganization, in respect of all debt converted into stock in the reorganization."
The financial projections (years 2019-2023) that are included in the Disclosure Statement have zero income tax in the annual income statements. Not only does this exception help the "qualified creditor", but the other shareholders receiving the new stock. There is, however, a restriction. There can't be another "owner change" within two years after exiting Ch.11. Therefore, there is going to be trading restrictions on the new stock that would, for example, not allow anyone to buy new shares that would put them at 5% ownership.
Some investors interested in the Sears Holdings (OTCPK:SHLDQ) bankruptcy are following this 382(1)(5)Exception case because they are wondering if Eddie Lampert may try to structure a reorganization plan that would allow him to take advantage of this exception. It is too early in the Sears bankruptcy process to even speculate on this issue.
Conclusion
Too often I read comments by Seeking Alpha readers that indicate that they have little understanding of Ch.11 and instead have unrealistic expectations for recoveries for their investments in bankrupt companies. By reading about other cases and certain issues that are similar to companies they have a financial interest in, investors may be able to make more rational decisions. There is, however, the risk that they may assume if it happened in one case it will happen in their case. The characteristics of the parties may be different. Judges and which circuit the bankruptcy court is in all need to be factored into the analysis.
Disclosure: I/we have no positions in any stocks mentioned, and no plans to initiate any positions within the next 72 hours. I wrote this article myself, and it expresses my own opinions. I am not receiving compensation for it (other than from Seeking Alpha). I have no business relationship with any company whose stock is mentioned in this article.