Taseko Mines (TGB) announced huge news today. The company will acquire Yellowhead Mining (OTCPK:YHMGF) and its huge Harper Creek project. Yellowhead will be acquired for C$15.1 million ($11.43 million) paid in Taseko shares. Taseko already owns 21% of the company, the remaining shareholders will receive 1.1484 Taseko shares for each Yellowhead share, which values Yellowhead shares approximately at C$1 per share. The transaction shouldn't encounter any obstacles, as Matco Investments Ltd. that holds 45.5% of Yellowhead's shares and one of Yellowhead's directors who owns further 7.2% have already agreed to support it. Together with Taseko's shares, 73.7% of issued and outstanding shares are already locked up.
Taseko will have to issue 17.3 million new shares which means a negligible 7.5% share dilution. Given the parameters of the Harper Creek Project, the share dilution is really worth it. The Harper Creek Project is located in British Columbia. According to an updated feasibility study prepared back in 2014, it should contain measured and indicated resources of 7.253 billion lb copper 1.165 million toz gold and 50.154 million toz silver. The inferred resources contain additional 660 million lb copper, 96,000 toz gold and 4.619 million toz silver. What is important, a substantial part of resources is included also in reserves that include 4.077 billion lb copper, 659,000 toz gold and 27.1 million toz silver.

Source: Yellowhead Mining
The reserves should be sufficient to support a mining operation with a throughput rate of 70,000 tpd for 28 years. An average annual production of 130 million lb copper, 13,200 toz gold and 557,100 toz silver was projected by the feasibility study. Over the first five years, the production should average 156 million lb copper, 18,000 toz gold and 574,000 toz silver per year. Due to the low strip ratio (1.4:1 over the first five years and 0.76:1 over the life of mine) and high recoveries (around 90% for copper, 56-60% for gold and 57-58% for silver), the total C1 cash operating costs should be around $1.82/lb copper. The total sustaining CAPEX was estimated at C$335.8 million, which is slightly more than C$0.09/lb copper, or $0.083, using the feasibility study CAD/USD exchange rate of 0.9.
The main issue is the CAPEX. According to the feasibility study, C$1.026 billion ($0.923 billion) should be needed to build the mine. At a copper price of $3/lb, gold price of $1,250/toz and silver price of $20/toz, the after-tax NPV(8%) was estimated at $354.9 million and IRR at 13.4%. Given the huge CAPEX that must be expended to build the mine, the project doesn't look too attractive. On the other hand, a significant copper market deficit is expected to emerge in the coming years and it is quite probable that it will last for a better part of next decade. A long-lasting deficit can lead only to one thing - to higher copper prices. At a copper price of $3.6/lb, the project looks much better, with an after-tax NPV(8%) of $877.3 million and IRR of 20.8%.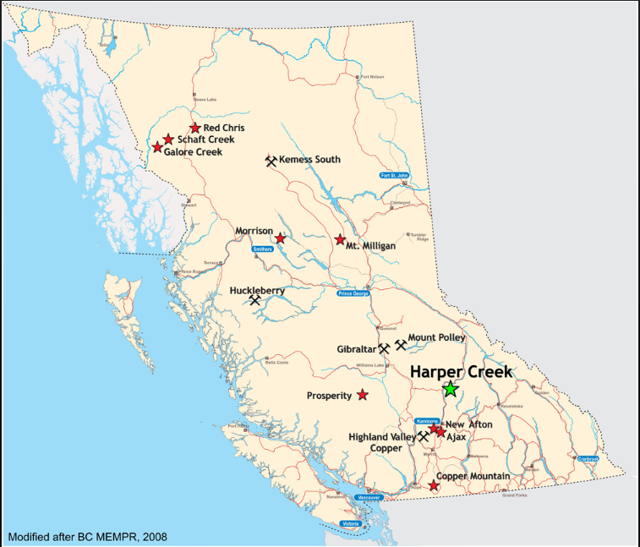 Source: Yellowhead Mining
Moreover, Taseko may be able to improve the economics of the project. Especially the CAPEX should have enough room for some meaningful reductions. Taseko's Gibraltar mine is only around 100 kilometers to the north-west of Harper Creek (map above). According to Russell Hallbauer, the CEO of Taseko Mines, Harper Creek is similar to Gibraltar and multiple synergies have been already identified:
Our technical team has been assessing engineering alternatives over the past few years and believe there are many improvements which can be made to enhance the project's economics. We have identified a number of optimizations which will increase the overall average mine life head grade and reduce costs. The Yellowhead project has an extremely large, long-life orebody that will span numerous metal cycles and fits perfectly with our core strengths and is also very similar to our Gibraltar Mine. Additionally, we have already identified many synergies due to the proximity of the project to Gibraltar. With Proven and Probable Reserves(1) of 3.6 billion pounds of recoverable copper, supplemented by 370,000 ounces of gold and 15.6 million ounces of silver over its life, this project will be a world-class, long-life, low cost mine.
Right now, Taseko doesn't have enough resources to build the Harper Creek mine on its own. However, the mine still hasn't obtained the environmental permits which means that Taseko should have enough time to develop the Florence Project before the Harper Creek financing starts to be an issue. According to Taseko's CEO:
The project is at a stage where we can advance technical work and reinitiate permitting activities using internal resources, without significant cash expenditures. There is potential for this project to be shovel ready soon after our Florence Copper project begins commercial production.
Even if Taseko isn't able to obtain the permits anytime soon, the acquisition of Yellowhead Mining seems to be an excellent decision. At the current metals prices of $2.8/lb copper, $1,240/toz gold and $14.5/toz silver, the value of metals contained in measured, indicated and inferred resources is more than $24.5 billion. The value of metals contained in reserves is more than $12.6 billion. This all should be acquired for C$15.1 million ($11.43 million). In other words, according to the deal, the Harper Creek Project should be acquired for approximately 0.047% of the current market value of metals contained in resources or for approximately 0.09% of the current market value of metals contained in reserves.

Source: own processing, using data of Yellowhead Mining
A great deal for Taseko logically means that the deal isn't so great for Yellowhead. However, it is probably the best deal Yellowhead was able to reach. The company has huge problems with funding its common operations. The updated feasibility study has been completed four years ago, but the cash-strapped junior wasn't even able to complete the permitting process. The company was forced to make several equity financings at very low share prices.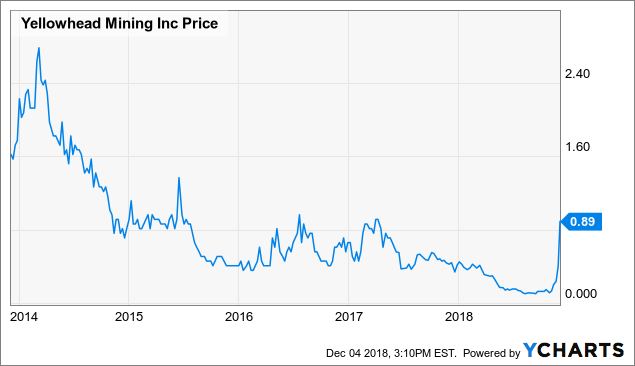 Last year, a 1:12 reverse split took place. But the share price decline continued. In August 2018, Yellowhead issued 8,766,125 new shares, which meant an 85% share dilution, only to raise C$1,051,935. Only 2 weeks ago, Yellowhead's shares traded around $0.11 (C$0.15). The Taseko deal offers a very nice premium.
Conclusion
The deal looks really great for Taseko that will acquire metals worth more than $24 billion at a price of only $11.43 million. Although the Harper Creek mine construction will be pretty expensive, it should start only after the Florence mine is in full production. By that time, Taseko should be in a position to find a reasonable financing solution that doesn't cause an excessive share dilution. And even if Taseko decides to sell the whole project or a part of it, the acquisition is so cheap that there is only a negligible chance for Taseko to record any loss on it. On the other hand, if everything goes well, Taseko has just acquired its new flagship asset almost for free. This transaction further boosts the upside potential of Taseko Mines' shares.
Disclosure: I am/we are long TGB. I wrote this article myself, and it expresses my own opinions. I am not receiving compensation for it (other than from Seeking Alpha). I have no business relationship with any company whose stock is mentioned in this article.