The first central banker to blink wasn't Jay Powell, it was Stephen Poloz. The Bank of Canada has been steadily raising its policy rate like the Fed, or had been. It was widely expected that Canada's central bank would skip this last meeting, but there was no doubt about another 25 bps increase next month.
Instead, things are a little more unsettled than anticipated up north. BoC, in its latest statement on Wednesday, no longer describes the Canadian economy as "strong," a curious omission given how the risks to it have largely been cited as foreign in nature. Officials there are blaming the United States not for its economy, which Economists continue to claim is robust and remains strong.
Rather, Canadian policymakers seem to be fretting trade wars and the US dollar. The former is the easy target, while the latter is as misunderstood as the other. What really has changed is oil. The Canadians have been counting on a continued crude comeback for marginal strength despite these "other" global risks.
But this, too, is a copout. Canada's economy turned downward long before Canadian heavy benchmarks collapsed since summer. This year began on the wrong foot, and the country has never recovered from it. The loss of an oil-based baseline merely removes any chance at an upside. The whole thing skewed the wrong way right out from under them.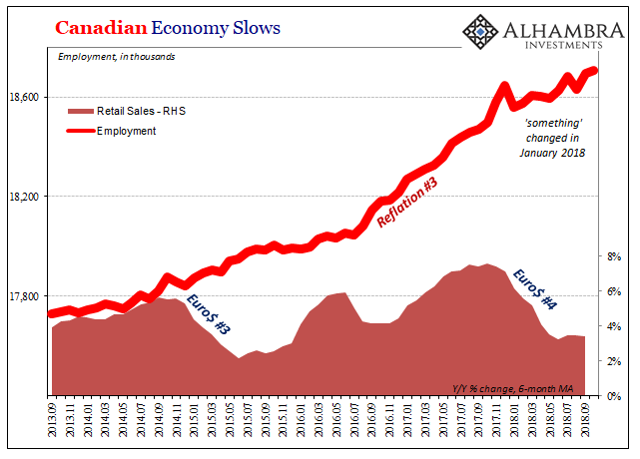 BoC's Governor largely admitted as much several months ago. Speaking to reporters in July after raising rates in that month, Poloz told them:
We felt it appropriate to set aside this risk and make policy on the basis of what has been announced. Given the multiple channels through which protectionist measures affect economies, it should be clear that monetary policy is ill-suited to counteract all of their effects. It may, of course, play a supporting role, in conjunction with other policies. But, to put it bluntly, the economy would slow, inflation would rise, and the exchange rate would depreciate, adding further to near-term price pressures in the Canadian economy. Therefore, the implications for interest rates of an escalation in trade actions would depend on the circumstances. Let me emphasize that monetary policy by itself could not undo the long-term damage to jobs and income that could result from rising protectionism.
Let me translate into reality. As I have noted before, Canada, like Germany, is particularly susceptible to global trade, itself susceptible to the factors of global currency (eurodollar). They want to blame "protectionism" because central bankers have no monetary expertise, local or reserve money.
Therefore, if global trade should falter, as it had already by July, there wouldn't be anything the Bank of Canada could do about it. One of the primary shocks to Canada would be that currency channel; meaning, officials really believed they had to raise rates in July as well as October so as to keep the loonie from falling further and making the situation that much worse.
So, what would it say about where things are if now in December they are more worried about other things than holding the line on the Canadian dollar? That's basically their latest position. Canada's economy, which was characterized as "strong," no longer is, and there isn't anything the central bank can or will do about the loss of momentum except to hope that by blinking first they might survive this "scare" before it goes any further.
The Canadians, as policymakers everywhere, have been expecting that all this "overseas turmoil" would just go away and dissipate. It has only gotten worse, a surprise only to Economists and policymakers forever keeping themselves in the dark (ironically, by refusing to investigate the monetary shadows).
What's unusual is their sensitivity to it. Call it the Trump/Powell effect. For the first time in a decade, central bank policies are orientated in the same direction as eurodollar decay. They aren't really tightening in any of these places but they think they are, therefore they are noticeably touchier to this general sense of global tightening.
By July 2015, BoC had expected to be raising rates as they are now, only then officials had just voted for a second rate cut that year. Central bank projections at the end of 2014 suggested all the same positives as those being written today: the US and China were going to be global strengths that Canada would depend upon to finally get out of the post-crisis rut.
All that changed quickly in early 2015 once the US dollar wrecked everything. Without that global growth backdrop, BoC's position changed very quickly, as was noted that July:
The Bank's estimate of growth in Canada in 2015 has been marked down considerably from its April projection. The downward revision reflects further downgrades of business investment plans in the energy sector, as well as weaker-than-expected exports of non-energy commodities and non-commodities. Real GDP is now projected to have contracted modestly in the first half of the year, resulting in higher excess capacity and additional downward pressure on inflation.
From this, you can see why the shift in language October to December 2018. They've been through this before, didn't really understand why, but now they know people might point the finger at them for this one. There's a very good possibility that without oil to end this year, Canada in 2019 repeats 2015, except with Poloz's head in the noose absent a plausible scapegoat ("protectionism" won't play for long, especially as trade deals get done, like USMCA, and the global economy slows or contracts more anyway).
In one sense, it's kind of amazing how "globally synchronized growth" has so unraveled and just how quickly. They spent all of last year (and a good chunk of this year) claiming how great 2018 was going to be as if it were a dead-lock guarantee. Then again, these guys (and gals) have no idea what they are talking about or doing. Central bankers are the worst at economy and money, their one job.