The ProShares UltraPro S&P 500 (UPRO) ETF, which tracks (x3) the S&P 500 Index, has had a terrible year, and is down by about 23.92% from its 52-week high on Sept. 20, 2018. There have been several macro issues that have hurt the performance of the S&P 500 this year. The chart below shows how recent recovery attempts have persistently failed. This article assesses whether it is a good time to buy into the ETF yet.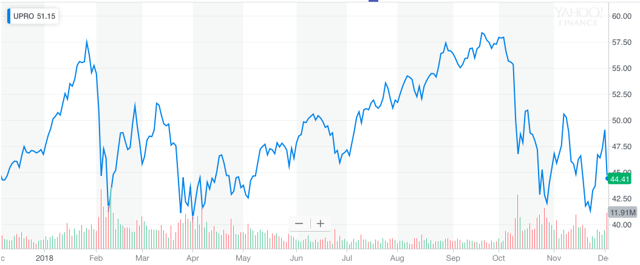 Source: Yahoo Finance
Prospectus Review
The investment seeks daily investment results that correspond to three times (3x) the daily performance of the S&P 500 Index. The fund invests in financial instruments that ProShares Advisors believes, in combination, should produce daily returns consistent with the fund's investment objective. The top holdings of the fund, as shown below, indicate that the fund managers vastly use "swaps" derivatives to achieve the fund's objective. The annual net expense ratio of the ETF is 0.92%.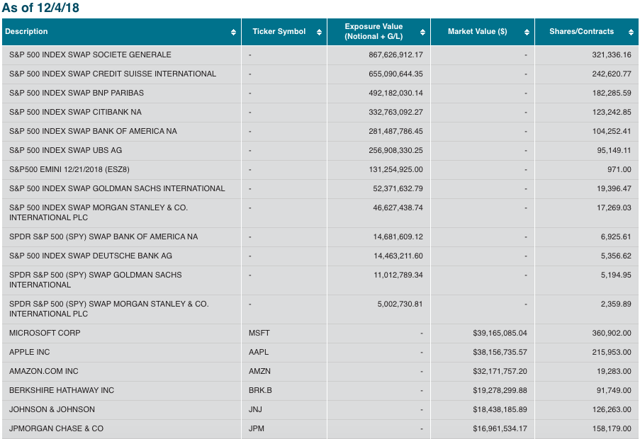 Source: Proshares.com
Risk Note: Investing in derivatives may be considered aggressive and may expose the Fund to greater risks and may result in larger losses or smaller gains than investing directly in the reference assets underlying those derivatives. These risks include counterparty risk, liquidity risk and increased correlation risk. When the Fund uses derivatives, there may be imperfect correlation between the value of the reference assets underlying the derivative (e.g., the securities in the Index) and the derivative, which may prevent the Fund from achieving its investment objective.
The reason why I have chosen this ETF distinctively is because it offers highest possible leverage (x3) to the S&P 500 Index in comparison to other relevant ETFs. While "leverage" certainly increases the risk profile of the security, I believe this particular asset class is worth taking more risks on in exchange for potentially higher returns. Over the very long-term horizon, the trend for equity markets is always upwards. Hence, while presently it may not be a favorable time to invest in the S&P 500, whenever equity markets begin to recover, this particular ETF will offer one of the highest returns possible. Therefore, I believe this is a good ETF for investors to include in their radar for potential long-term investments. Moreover, according to data from ETFdb.com, this ETF has one of the highest average trading volumes (almost 6 million) in comparison to other ETFs that also offer leveraged long exposure to the S&P 500 Index. This lowers the liquidity risk profile of the ETF, allowing investors to buy and sell shares in the ETF more easily.
Trade truce is insufficient
One of the biggest macroeconomic issues that have hurt equity performance this year has been the ongoing trade war between the US and China, as it threatens to slow down global economic growth. In fact, China is already experiencing economic strain and the US's economic strength is also waning.
Nevertheless, the two countries announced a 90-day trade truce following the G-20 summit, during which they will not raise any new tariffs on imported goods from each other. While the market initially rallied strongly on the news on Monday, the rally and optimism have since faded away. In fact, the S&P 500 fell 90 points on Tuesday Dec. 5, dragging UPRO down 9.50%.
Investors should keep in mind that no concrete trade deal has been made yet, and the two nations still seem far from it. Furthermore, while no additional tariffs will be slapped on each country's goods for 90 days, the existing tariffs which are undermining their economies still remain in place. Moreover, Trump tweeted on Dec. 5 that in case a deal with China does not work out, then people should remember that he is a "Tariff Man". Thereby implying that he is ready to slap on additional tariffs in the absence of a meaningful trade deal within this 90-day period. Hence I do not recommend buying into UPRO until we see more promising signs of a trade deal being made.
Powell turns dovish, markets still in turmoil
The greatest concern for the market this year has been the rapid interest rate hikes, and the strongly hawkish forward guidance offered by Fed Chairman Jerome Powell for the most part of this year. However, on Nov. 28, Powell made a drastic shift in his tone, and claimed that rates were "just below" neutral, thereby lowering market's expectations for future rate hikes. This had sent stocks rallying last week.
Note that it was not long ago when on Oct. 3 Powell claimed that rates were a "long way from neutral". Moreover, it is worth noting that there had also not been any interest rate hikes between Oct. 3 and Nov. 28, and is still in the range of 2% and 2.25%. Therefore, it does not make sense that Powell is claiming that rates are "just below" neutral now. However, I believe investors should interpret this as a sign that Fed members, including Powell, are clearly concerned about plummeting equity prices recently. Hence, while earlier this year the Fed did not seem concerned about market movements, it is clearly starting to influence its decision-making. Thus, it is encouraging for investors to know that the Fed is trying to be more supportive to the equity markets, and so gives good reasons to bullish investors to buy into UPRO.
However, the enthusiasm amid a "dovish" Fed has clearly not lasted very long, as markets are performing negatively again this week. The Fed is clearly failing to provide the accommodative support again that markets had experienced over the preceding years under Fed chairwoman Janet Yellen, which allowed the S&P 500 to continue rallying higher.
Moreover, while the Fed is shifting towards more dovish monetary policy guidance, the hawkish and fast-paced rate hikes this year has already begun to hurt certain sectors of the economy, particularly the housing sector. Hence, given the fact the economic weaknesses are already emerging, the S&P 500 could have a hard time rallying higher despite such headwinds.
Yield curve inverts
One of the most reliable indicators of a recession is an inversion in the yield curve. And after months of witnessing a flattening yield curve, thanks to a hawkish Fed, the yield curve has started showing signs of inversion, with the 5-year yield falling below the 3-year yield. This is was a result of risk-on sentiment triggered by Powell's dovish statement, whereby investors sold out of less risky short-term Treasuries (3-year) and instead bought into riskier long-term Treasuries (5-year). And given that yields are inversely correlated to bond prices, 3-year yields ended up climbing higher than 5-year yields. It is interesting to witness that while Powell was attempting to avoid economic and market turmoil by turning more dovish, he ended up inducing market behaviour that inverted a section of the yield curve, which is a very bearish development.
Nevertheless, markets tend to give more importance to the spread between the 2-year and 10-year yields, as this is considered a more convicting indicator of a recession on the horizon. While this section of the yield curve has not inverted yet, the narrowing of the spread to a mere 15 basis points is certainly concerning. Therefore, given the strong likelihood of fragile economic conditions ahead, companies' earnings in the S&P 500 will also suffer. In fact, Morgan Stanley is already warning of an earnings recession next year. Thus, I do not recommend making risky bets on UPRO at the moment.
Bottom Line
Powell's dovish shift and Trump's trade truce have both been unsuccessful in reversing the market decline this year so far. Making matters worse, the yield curve is showing signs of inversion, which could indicate a recession ahead. Therefore, worsening economic conditions will certainly undermine S&P 500 companies' earnings as well in the foreseeable future. Therefore, I do not recommend buying long positions on UPRO until we overcome these economic headwinds.
Disclosure: I/we have no positions in any stocks mentioned, and no plans to initiate any positions within the next 72 hours. I wrote this article myself, and it expresses my own opinions. I am not receiving compensation for it (other than from Seeking Alpha). I have no business relationship with any company whose stock is mentioned in this article.