American Hotel Income Properties REIT LP (OTC:AHOTF), aka AHIP, is a limited partnership formed under the Limited Partnerships Act (Ontario) to invest in hotel real estate properties located substantially in the United States. The principal business of AHIP is to issue limited partnership units and to acquire and hold shares of American Hotel Income Properties REIT Inc. The U.S. REIT was established for the purposes of indirectly acquiring and owning hotel real estate properties in the U.S.
It breaks every normal mold as it has both a "REIT" and a "LP" in its name. It also trades primarily on the TSX under the symbol HOT.UN; even though it derives all of its revenues from the U.S. The last year has not been kind to this hotel REIT.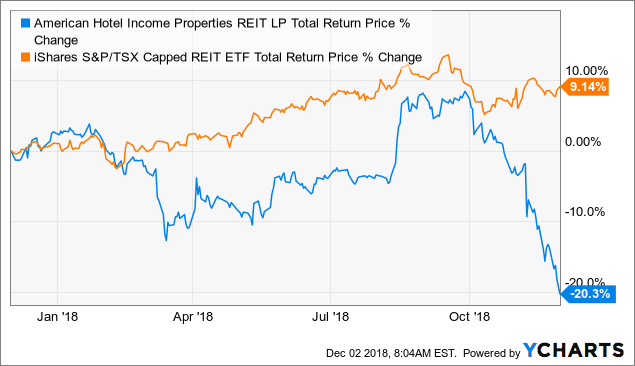 Its incredibly bad performance in Canadian dollars comes on the back of a weakening Canadian dollar and a far stronger US economy, which would normally give it an edge over its TSX counterparts. Instead it has trailed the benchmark by over 29%. We look at this beaten down REIT and explain what went wrong and why the market has now discounted some serious risks.
The Business
AHIP started off primarily catering to the lodging needs of railway crews. However, over time it has expanded into upper level premium branded hotels.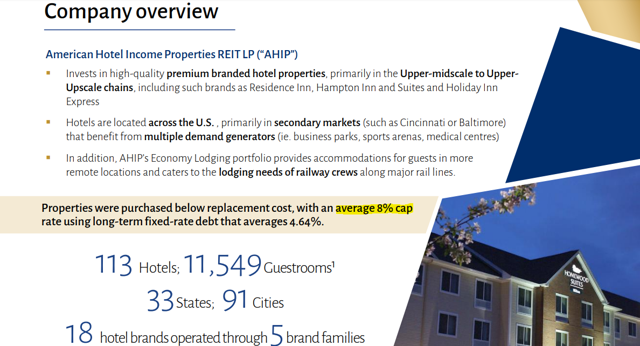 Source: AHIP presentation
This shift can be seen in its revenue sources since its IPO, with economy lodging falling by 80%.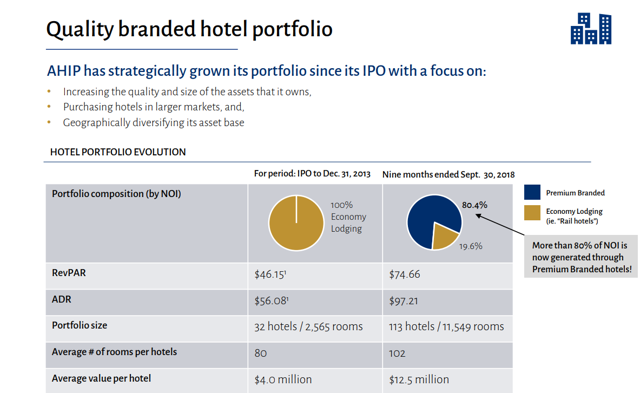 Source: AHIP presentation
The rapid expansion into premium hotels has been done via multiple secondaries and has in general produced the requisite revenue and funds from operations (FFO) growth.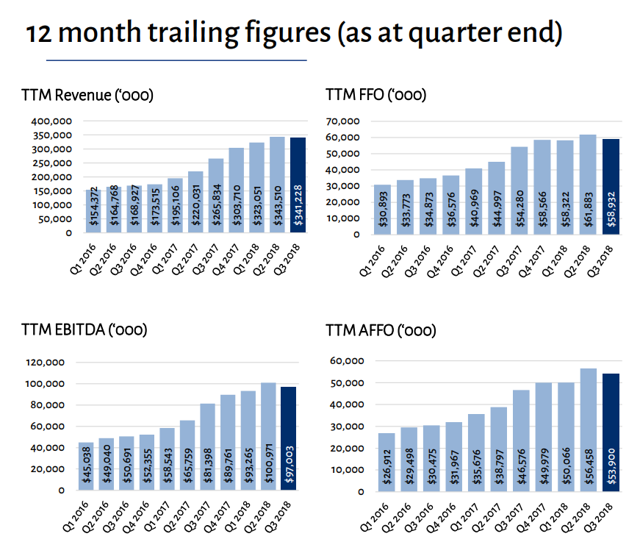 Source: AHIP presentation
What went wrong
While the growth has been aggressive and AHIP has in general done a good job with managing renovations at acquired hotels, it has fallen behind in the last 3 quarters and disappointed the markets with its projections. The result has been that trailing Adjusted FFO (AFFO) per unit has fallen more than 10%.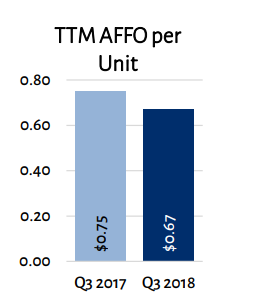 Source: AHIP presentation
The $0.67 USD AFFO generated in the last 12 months is just a shade over its current distribution which comes to $0.648 USD per year. This puts the payout ratio now at close to 100% and we can see the steady deterioration since 2016.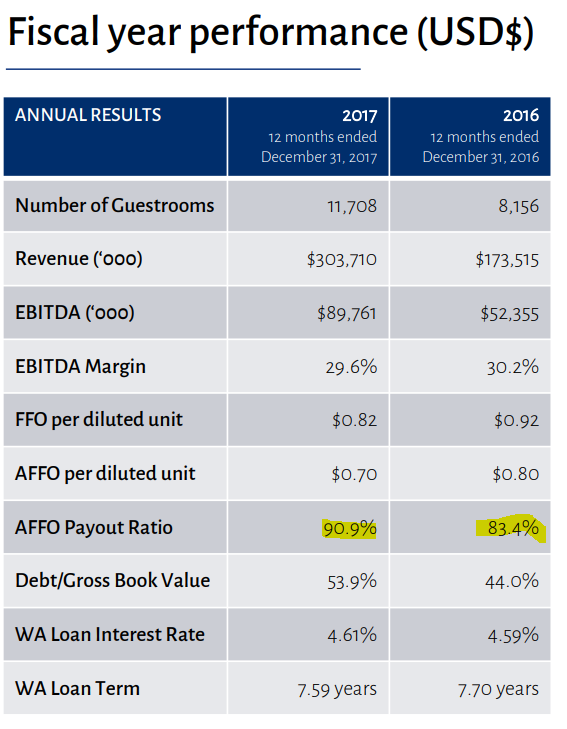 Source: AHIP presentation
Why we think this is a buy over here
A key issue with AHIP was the rather rapid growth and massive renovations that it did. While these have produced good returns once completed, they have decreased numbers for 2017 and 2018. This is still an ongoing process and investors are beginning to lose patience.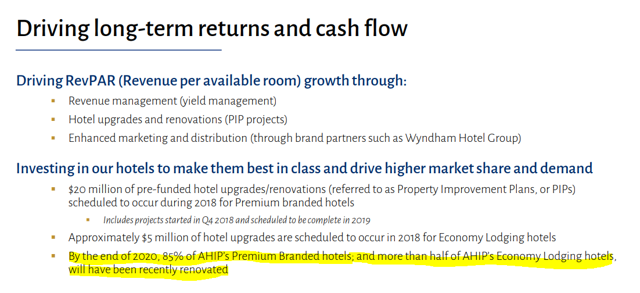 Source: AHIP presentation
That said, the stock has been beaten down to significantly below where we think the fair value of its assets are.

Source: Author's estimates and calculations
Remember, the average branded hotel was acquired at an 8% cap rate and AHIP is making those locations more desirable through renovations. At an almost 11% cap rate, the stock has discounted some serious negative news. Another reason we do like this REIT is that the AFFO is disclosed under Canadian standards and includes planned renovations and maintenance. As such the AHIP AFFO is a far superior metric to that seen disclosed by most US REITs. AHIP is trading at about 7X our forward AFFO estimates making it rather deep in bargain territory.
While the numbers appear compelling, one always can wonder if there is something that is being missed. That is where insiders come in. Insiders are definitely not shy about the value they see in the stock here and have been buying hand over fist.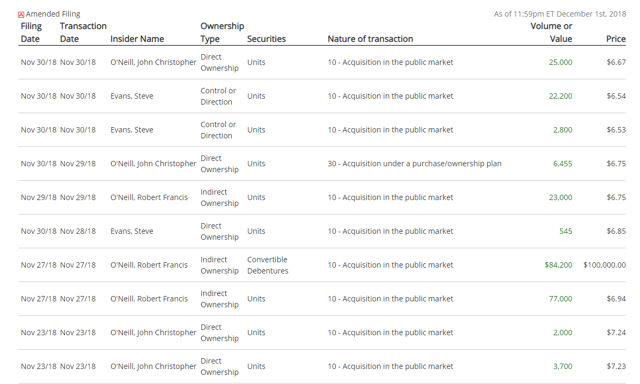 Source: Canadianinsider.com
In addition, consider the moves to align interest further.

Source: Q3-2018 results
Key risks
AHIP belongs to our least favorite sector, hotels. While they do well in a good economy, they can really get hit hard during recessions. AIRBNB is another emerging threat that can do damage, specially during recessions as people get stingy with their wallets. Both risks are well priced in our opinion, but cheap can always get cheaper.
We left out interest rate risk as AHIP is largely insulated from it as it has almost all fixed rate debt with no near term maturities.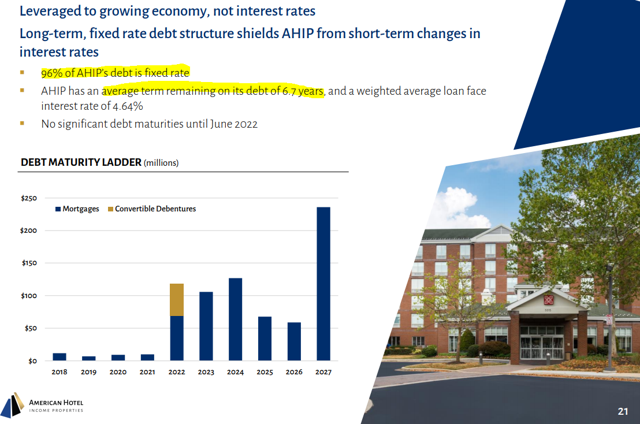 Source: AHIP presentation
A dividend cut?
AHIP's dividend has been covered for now and by that we mean really well covered as the AFFO takes into account all capex. If we are right about forward metrics, the payout ratio should start heading lower again. At present there is no risk of a dividend cut in our opinion, but that could change if economic conditions deteriorate rapidly.
Conclusion
The stock has gotten beat up but so have some other hotel REITs in the US. We think this is primarily a function of weak 2019 growth sentiment.
We too think that growth will be weak in 2019 but at the same time the stock appears bombed out and makes a compelling buy outside of a strong recession forecast.
Disclaimer: Please note that this is not financial advice. Investors are expected to do their own due diligence and consult with a professional who knows their objectives and constraints. Please consult tax information on the company's website for US & Canadian holders.
Seeking Alpha has changed its policies. Previously "following" someone required a ritualistic commitment and an offering of not less than 4 oxen or 3 breeding horses. Now all it takes is one click! If you enjoyed this article, please scroll up and click on the "Follow" button next to my name to not miss my future articles. If you did not like this article, please read it again, change your mind and then click on the "Follow" button next to my name to not miss my future articles.
Disclosure: I am/we are long AHOTF. I wrote this article myself, and it expresses my own opinions. I am not receiving compensation for it (other than from Seeking Alpha). I have no business relationship with any company whose stock is mentioned in this article.