LHC Group: A Leader With Plenty Of Growth Runway In $100 Billion Market
Summary
LHC Group continues to improve operations of recent acquisition Almost Family.
One of a few leaders in home health and hospice markets, with increasing stake in community-based services (PCS/HCBS) market. Combined value of addressable market = ~ $100 billion.
Has history of scoring high home health clinical quality scores with CMS.
As Medicare home health moves to value-based purchasing, LHC Group well positioned to meet CMS quality requirements and expand market share via acquisitions.
Though Medicare and its policies always come with risks, LHC Group's history of strong performance likely to continue.
Thesis
LHC Group (LHCG) reported a solid Q3-18 with organic admissions growth in its home health (9 percent) and hospice segments (5 percent), in line with expectations of admissions volume growth of 5 to 7 percent per year. In addition to the solid organic growth, the company continues to improve the operational performance of its Almost Family acquisition, which closed earlier this year.
LHC Group is one of a handful of publicly traded companies that are prominent players in the home healthcare space. LHC Group is the second largest player in the Home Health market, the fourth largest player in Hospice, and the company has a small but growing presence in the Personal Care Services PCS market, which the company refers to as Home and Community-Based Services (HCBS). Each of these three markets is highly fragmented with thousands of tiny competitors and plenty of room for consolidation. Combined, these three markets are worth ~$100 billion. And LHC Group, a market leader, expects to generate $1.8 billion in revenue this year.
If the company can adjust to a value-based Medicare payment world and improve the clinical quality scores of its Almost Family operations, LHC Group should continue to perform well in a market that will never be short on demand for its services as the U.S. population continues to age. However, as a vendor susceptible to federal healthcare reimbursement policies and regulations, LHC Group comes with risks that investors should consider before investing.
Almost Family Acquisition Strengthens Market Position
Earlier this year, the company closed its $850 million acquisition of former competitor Almost Family. The purchase was an all-stock transaction. LHC Group increased its share count from 18.3 million to 32.8 million with the deal. The acquisition will be accretive to earnings.
"...we are anticipating 12% to 15% accretion from the Almost Family acquisition in 2018. We believe it is realistic to expect continued accelerated revenue and earnings growth over the next few years in relation to Almost Family..." - LHC Group CEO Keith Myers, Q3-18 call.
The company is also working to improve Almost Family's operational efficiency. Almost Family operating margins in 2017 were 3.7% compared to 7% for LHC Group. In Q3-18, Almost Family's home health contributing margins increased 140 basis points quarter-over-quarter. The acquisition also showed margin improvement in hospice.
Like LHC Group, Almost Family's core source of revenue was home health. Almost Family had limited exposure to hospice and was more heavily focused on HCBS than LHC Group. The acquisition strengthened LHC Group's presence from 27 states to 36 and the company now provides service in areas that include 60% of the U.S. population. The company aims to offer home health, hospice, and HCBS in every market in which it operates. Below is a snapshot of LHC Group revenue mix before (Q3-17) and after (Q3-18) the Almost Family acquisition (Q3-18):

In addition to Home Health, Hospice, and HCBS, LHC Group has two smaller business segments. The first is Facility-based Services, which includes a combination of long-term acute care hospitals, family health centers, physical therapy clinics, two pharmacies, and a rural health clinic across four states. The second is Healthcare Innovation Services. This is a new business segment that was included in the Almost Family acquisition. The healthcare innovations services segment includes a variety of care and cost containment solutions such as population health management, risk sharing, assessments, among other solutions.
Post-acquisition, 75% of LHC Group's revenue is derived from Medicare. Though the bulk of HCBS is paid for by Medicaid, or by Medicaid MCOs, a recent change to Medicare policy will enable a limited number of Medicare Advantage plans to offer HCBS to members in 2019.
Though LHC Group did not discuss this development on its Q3-18 call, competitor Addus Healthcare, whose business is almost exclusively HCBS- and Medicaid-focused, believes the HCBS option in Medicare will expand more widely in 2020. However, it remains to be seen how much opportunity is created under the new Medicare HCBS rule. As of now, HCBS access for Medicare Advantage is limited to just 7% (1.5 million) of Medicare Advantage members. Though Medicare Advantage enrollment grows every year, Medicare Advantage enrollment today is just 35% of total Medicare enrollment. Medicare currently has more than 55 million total enrollees.
Quality of Care and Payment Reform
In 2015, CMS began publishing quality score ratings on home health agencies. Companies like LHC Group are graded by CMS on a 5-star scale. On its recent call, LHC Group noted that 98% of its home health centers have scored at least 4 stars or higher.
However, the recent acquisition of Almost Family dampens that statistic. The company noted on the recent call that just 72% of Almost Family's centers have scored 4 stars or higher. But this is an improvement over the 68% statistic from April. LHC Group says it is actively working to improve Almost Family's home health star ratings.
"As for what is left to do in the integration, we have begun to convert Almost Family agencies to the LHC Group instance of Homecare Homebase. This conversion will last through the second quarter of 2019. As locations convert, we will be able to more quickly deploy our workflows and processes, which will drive continued margin improvement and quality scores." - LHC Group CEO Keith Myers, Q3-18 call.
Competitor AMEDYSIS recently stated that 94% of its home health centers have scored at least 4 stars are higher. Competitor Encompass Health's home health quality numbers are less impressive. Just 50% of Encompass home health centers score 4 stars or better.
| | |
| --- | --- |
| Home Health Agency | % of Home Health Centers Scoring CMS 4 Star Quality or Better a 5-Point Scale |
| AMEDISYS | 94% |
| LHC Group | 98% |
| Almost Family (Acquired by LHC Group 2018) | 72% |
| Encompass | 50% |
Source: Company SEC filings and conference call transcripts.
Medicare Payment Reform Impact On LHC Group
Though Medicare is transitioning to value-based purchasing, LHC Group's Home Health revenue (72%) and Hospice revenue (88%) are both still highly dependent on Fee-For-Service (FFS) payments from Medicare. The more Medicare patients coming in the door and the more treatments administered, the more LHC Group gets paid.
Prior to studying LHC Group and its competitors, I was aware of the general prevalence of Medicare billing fraud across the provider spectrum and the conflict-of-interest that FFS creates for providers. Growth dependent on treatment volume has been a source of controversy in the U.S. healthcare system. The company, and other home health companies (including Almost Family), has a history of dealing with Medicare billing issues.
One of the reasons CMS is pushing Medicare to become more of a value-based purchaser in home health is to eliminate paying for services based on volume. By shifting financial incentives, CMS expects to see fewer unnecessary treatments and better health outcomes.
In October, CMS announced shifts in payment policy for home health agencies. The good news is that CMS will boost Medicare payment rates to home health agencies by 2.2% in 2019. But CMS also announced timelines for new restrictions on home health agencies.
Due to requirements dictated by the 2018 tax cut, home health agencies will be limited beginning January 2020 to booking patients in 30-day increments of care instead of 60-day increments. CMS is also finalizing implementation of the Patient-Driven Groupings Model (Jan. 2020), which removes the financial incentive to over-prescribe therapy and instead incentivizes home health agencies to use the most appropriate therapy per patient to improve health outcomes.
Still, LHC Group appears to be in a good position to deal with the shift to value-based payments. The company expects to see an additional $1 million in upside revenue this year from value-based purchasing arrangements in the nine states where CMS has implemented its Medicare value-based purchasing home health demo. And, as stated above, the company in recent years has focused on clinical quality and its star-quality rating, as measured by CMS, has exceeded the industry average.
It is unclear what the full financial impact of value-based purchasing will be on companies like LHC Group, but company executives say they will be ready for the shift come January 2020.
"We also believe that the changes this new model will bring will open up many consolidation opportunities in the industry. We plan to take full advantage of those opportunities once again. LHC Group's best days are ahead." - CEO Keith Myers, Q3-18 call.
Myers cofounded the company and has been the CEO since the company's founding in the 1990s. The company went public in 2005. Since then, the company has performed well under Myers' leadership. I suspect this trend will continue if the company navigates the value-based payment world as well as Myers says it will. LHC Group's stock has outperformed S&P 500 handily since 2005:
LHC Group Position in Home Health Market
The home health market is valued north of $18 billion, is highly fragmented with over 12,000 different home health companies, and has just a few key core players, including LHC Group. The below is a snapshot of the home health market, courtesy of competitor Encompass Health: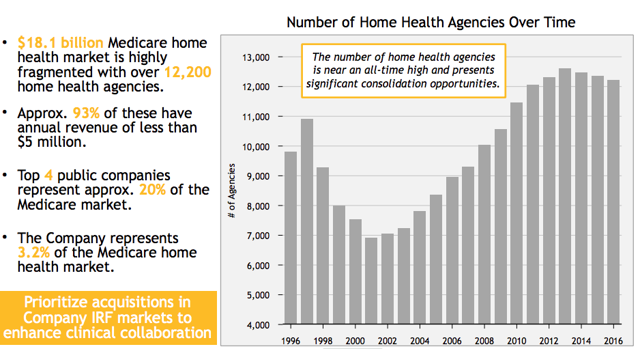 Source: Q2-18 Presentation by competitor Encompass Health
LHC Group is the second largest home health company based on revenue following the Almost Family acquisition. The below table provides a snapshot of major players by revenue:
Kindred Healthcare is the market leader in home health revenue. Kindred is no longer a public company. It was taken private earlier this year after being acquired by Humana (40% stake) and two private equity firms.
LHC Group Position in Hospice Market
In its 2017 annual report, LHC Group competitor AMEDYSIS (AMED) stated that the top 10 hospice players control just 18% of the hospice market. Like home health and PCS, the hospice market is ripe for consolidation, and LHC Group may pursue acquisitions to bolster its position in the space. The Almost Family acquisition included a small stake in hospice. Below is the list of the four largest hospice providers based on 2017 annual revenue.
*Kindred revenue figures reflect reality prior to 2018 private equity/Humana buyout and pending merger with private hospice provider Curo Health Svcs. Once Kindred is combined with Curo, the new entity will be the largest hospice provider.
A recent presentation by competitor Addus HomeCare (ADUS) illustrated the hospice agency competitive landscape. Addus, almost exclusively a PCS (HCBS) company, has a tiny stake in the hospice market after entering via acquisition of a New Mexico home health/hospice provider in 2018.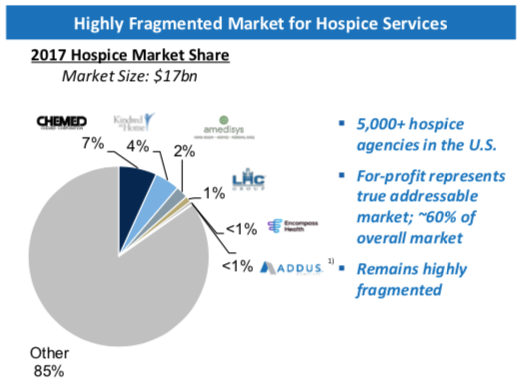 Source: Nov. 2018 presentation by competitor Addus HomeCare
LHC Group Position in the HCBS Market
The Almost Family acquisition dramatically boosted LHC Group's exposure to the PCS market, which LHC Group refers to has HCBS. Prior to the acquisition, LHC Group generated less than $50 million in HCBS revenue. Almost Family's 2017 HCBS revenue exceeded $150 million.
LHC Group is one of 18,000 organizations in the HCBS space, with Addus HomeCare (ADUS) and AMEDYSIS (AMED) being examples of large publicly traded competitors. That said, no company possesses more than ~1% share of the PCS/HCBS market.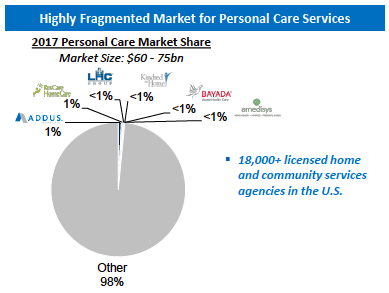 Source: Nov. 2018 presentation by competitor Addus HomeCare
Unlike home health and hospice, the brunt of long-term care and HCBS spending falls on Medicaid. There is limited coverage for HCBS under Medicare and few affordable options in the private insurance market. In addition to this, there has been a nationwide push to drive down the cost of long-term care by providing more services to patients in the home than in nursing homes, which are costlier than home care. States are likely to continue pursuing home-based care strategies. This plays into the hands of HCBS providers like LHC Group.
An Aging Population Will Drive Demand
The company has a demographic tailwind working in its favor. Each of the three markets the company participates in will continue to expand as the nation's population ages.
Valuation
Like some competitors, LHC Group's FCF generation has been highly erratic over the last decade. Because of this, it is difficult to estimate FCF growth rates moving forward. Comparing some other LHC Group metrics to those of comparable companies (table below), the company looks like it's probably fairly valued in the recent $100 price range, or even undervalued relative to AMEDYSIS (AMED), which is the closest thing LHC Group has to a publicly traded pure competitor based on revenue mix.
After the recent boost in the stock market, the three below companies that are more focused on home health - Addus, AMEDYSIS, LHC Group - have had a sharper run-up in stock price than Chemed or Encompass, two companies with business models less dependent on home health-related revenue compared to the other three.
On margins, LHC Group will likely continue to improve profitability as the company streamlines the operations of its Almost Family acquisition.
| | | | | | |
| --- | --- | --- | --- | --- | --- |
| | Addus (ADUS) | AMEDISYS (AMED) | LHC Group (LHCG) | Chemed (CHE) | Encompass (EHC) |
| Forward PE | 39 | 38 | 30 | 27 | 21 |
| Price/Cash Flow | 28 | 23 | 58 | 25 | 10 |
| Debt Ratio | 37.8% | 38.6% | 26.1% | 42% | 64.7% |
| Return on Equity | 5% | 6.8% | 4.3% | 17.3% | 14.2% |
| Primary Source of Revenue | Medicaid | Medicare | Medicare | Medicare | Medicare |
| Ops Margin - Most Recent Quarter | 4.3% | 9.6% | 6.9% | 14.4% | 13.1% |
| Net Margin - Most Recent Quarter | 2.9% | 7.5% | 4.9% | 11.9% | 8.3% |
| Primary Source of Health Revenue | Personal Care Svcs | Home Health | Home Health | Hospice | Hospitals |
| Other Core Offerings | Home Health, Hospice | Hospice, Personal Care Svcs | Hospice, Personal Care Svcs (aka HCBS), Facility | Plumbing (Chemed not a pure health play) | Home Health, Hospice |
Conclusion
LHC Group is well positioned to expand market share in each of the three major markets in which it participates. As the Medicare-driven home health system continues to shift towards value-based purchasing, LHC Group appears to be making the right moves to succeed in a heavily regulated home health market. That said, I am not an investor at this time and will continue to study the market (home health, hospice, HCBS) and various players before I make an investment in any of them.
This article was written by
Long-term focus, with some exceptions. Self-taught investor. I started investing my own money in 2010 and have outperformed the S&P 500 in the years since.
Analyst's Disclosure: I/we have no positions in any stocks mentioned, and no plans to initiate any positions within the next 72 hours. I wrote this article myself, and it expresses my own opinions. I am not receiving compensation for it (other than from Seeking Alpha). I have no business relationship with any company whose stock is mentioned in this article.
Seeking Alpha's Disclosure: Past performance is no guarantee of future results. No recommendation or advice is being given as to whether any investment is suitable for a particular investor. Any views or opinions expressed above may not reflect those of Seeking Alpha as a whole. Seeking Alpha is not a licensed securities dealer, broker or US investment adviser or investment bank. Our analysts are third party authors that include both professional investors and individual investors who may not be licensed or certified by any institute or regulatory body.