All the major indices have had a shaky past few months. It is exactly in times like these that the brave investor, with a long-term horizon, can find a great entry point for stocks and funds with great growth potential.
As we saw in October and this week, the markets have seemingly transitioned from excessively bullish to cautiously bearish. While the risk of a recession is seemingly increasing, one must still look for sectors poised to outperform the broad market. Even better, to look for sectors on sale that are poised to outperform over a long-term (post-recession) time-frame.
Months back we predicted a large volatility event in the U.S equity market as well as a late Q3 selloff in semiconductors and were faced with waves of criticism from bulls. Once again, we would like to give an argument many will likely find challenging, long consumer discretionary, specifically the Consumer Discretionary SPDR ETF (XLY).
While this sector typically underperforms in a recession, we dare say that which mustn't be spoken, this time it may be different.
Strong Employment and Rising Wage Pressure
According to figures from the U.S. Bureau of Labor Statistics, the unemployment rate in the U.S. in October was 3.7%. This is the lowest unemployment rate in nearly 49 years. This is a major indicator of economic strength. The unemployment rate has fallen steadily since the start of this year and has stayed at 3.7% since September.
According to the Atlanta Federal Reserve, the unweighted 3-month average wage growth for October was 3.7%.
Unemployment is low, wage growth is high and inflation is under check at 2.5% for 2018. The combination of these factors is reflected in the increase in the per capita purchasing power parity GDP for the U.S. The PPP GDP per capita has been on an upward trend since 2009 and is now at an all-time high.
This value number makes the prospects for XLY look very good since a rise in purchasing power is bound to help the likes of Target, Nike, and Starbucks which are some of the top holdings within the XLY ETF.
The XLY ETF has historically done well during periods of low unemployment. The chart below shows a visible inverse correlation between unemployment rates and the performance of the XLY ETF: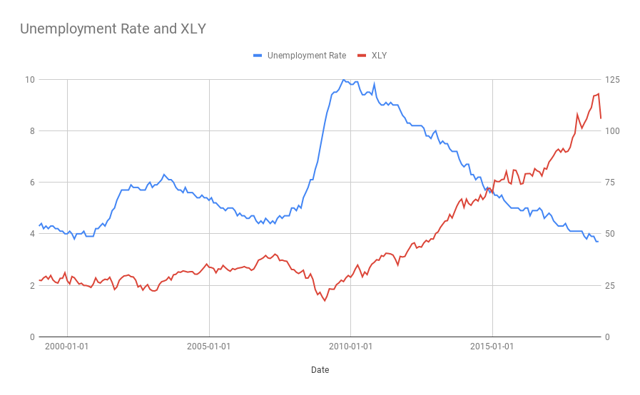 Source: Google Finance
It is hard to imagine a rapid fall in unemployment with so many relevant macroeconomic factors looking strong. The U.S. personal savings rate in October was 6.2%, its joint lowest rate since February 2013. The fact that people have more and more money to spend and are saving lesser and lesser of it paints a rosy picture of growth prospects for an ETF based on discretionary spending.
The "Fattening" Economy
Despite the recent dip in the stock market, the broad economy, not the financial economy, continues to look strong. Another positive macroeconomic trend is that the U.S. GDP is growing at a very healthy rate. As we learned last week, the Federal Reserve looks like it is going to slow down its rate increases, and the job market looks as strong as it has been in the long-term past. This is a good basis to believe that job and wage growth should not slow down too much anytime soon.
Despite the ongoing rhetoric, the middle class is seemingly starting to expand. Most global wealth is locked up in the debt and real estate markets and is starting to pour out. Where to? Likely to the areas of the market that have seen less cash in the past decade. The laboring classes whom historically spend excessively when given cash as in the 60's and 80's, 2000s (though concentrated in the housing market). This is seen best in what we would identify as a positive real yield environment.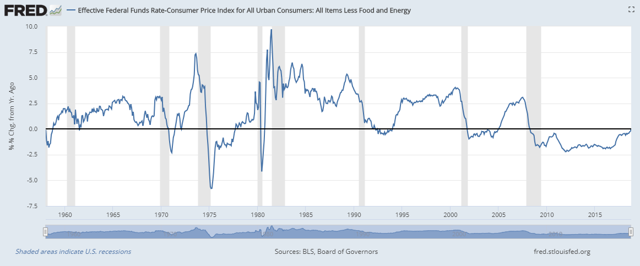 We believe that as the effective federal funds rate outpaces core inflation the price level will expand. We realize that that is heterodox to most economists, but we find it simple. The central bank's goal is not to squelch high inflation, it is to try to outpace the inflation rate. Thus, the interest rate will lead inflation until inflation collapses below the interest rate.
The question is, as has occurred historically, will the extremely low unemployment rate create rising wage pressure. If so, will that wage pressure translate into rising consumer discretionary spending? We will side with history and bet yes.
Composition of the XLY ETF
The biggest holding within the XLY ETF is Amazon (AMZN), the world's biggest e-commerce retailer, which makes up 21.2% of the ETF's value. The other biggest holdings in order are Home Depot, McDonald's, Nike and Starbucks.
First let's take a look at the prospects for Amazon. Despite its immense size, there is a lot of room for growth of the e-commerce industry. Despite a few years of rapid growth, e-commerce is still only 11.9% of retail sales. This leaves a lot of room for the e-commerce industry and consequently Amazon to continue to grow rapidly.
One concern investors have about Amazon is its high valuation. It has a trailing 12 months P/E ratio of 93.85 times as of November 29, 2018. To this we would argue that Amazon is not meant to represent a value investment but one focused on growth. Amazon is growing and expanding rapidly. They bought supermarket chain Whole Foods last year but that only looks like the start of CEO Jeff Bezos' expansion strategy. That said, it's current valuation does pose a near-term risk.
Earlier this year, Amazon made their move into the multi-trillion-dollar healthcare industry by acquiring PillPack. They have also started to sell software to help hospitals mine patient records and reduce healthcare costs. It is clear that Amazon is serious about its push into the healthcare sector and that could be the biggest driver of growth for them.
The XLY ETF has a good balance of companies that can give investors exposure across various sectors within consumer discretionary. The Home Depot (HD) is the largest home improvement retailer in the U.S. The housing industry has some favorable trends to put wind in its sails. Average home prices are still rising while there has been a stream of new construction. Notably, home-ownership rates for millennials are on the rise while they also make up a significant portion of the luxury real-estate market.
The likes of Starbucks (SBUX) and McDonald's (MCD) provide diversification into the food industry. The internal diversification in a macroeconomically positive-looking field is an important factor in favor of buying XLY.
Happy Holidays
Cyber Monday 2018, the Monday after Thanksgiving, was Amazon's biggest day ever. They sold 180 million items on just one day and this only marks the start of the holiday spending in America. A short-term factor to consider while investing in XLY is that this could be a historically big-spending holiday season and that is bound to help a variety of retailer that make up XLY.
The Conference Board reported that U.S. Consumer confidence hit an 18-year high in October. This should serve to amplify the effects of the holiday season on the consumer discretionary sector.
Secular Reward for Cyclical Risk?
With all the factors that make XLY sound like a good buy right now, there are also risks associated with this investment – some intrinsic to cyclical sectors in general and some specific to the world macroeconomic outlook.
The broad markets have been hit hard recently and have had a painful month. The obvious risk with "buying the dip" right now is that it is possible that we have not seen the bottom yet. If we move from market correction to recession territory, it is hard to argue that XLY, like any other sector of the stock market, will do well.
There is also a threat of lower liquidity in the U.S. markets. Despite the Federal Reserve signaling that they might slow down interest rate hikes, many are skeptical of how positively it will affect the economy. The common concern, shared by the likes of President Donald Trump, is that rates are already too high.
There is also some risk from international markets because if the likes of Turkey, Argentina and Italy continue to struggle, they will negatively affect the world markets, including the U.S. markets. Foreign investment in total U.S. securities rose to $18 trillion this year. The entire value of the U.S. stock market is around $30 trillion (note that $18 trillion of total securities are held by foreign investors, not $18 trillion worth of stocks).
These numbers show that if foreign markets are very adversely affected, it will directly affect the U.S. stock markets in the form of its international investors. This is the biggest risk to the U.S. markets as macroeconomically, a lot of the rest of the world is not doing nearly as well as the United States.
Now, before we get ahead of ourselves, we must remind that we're bullish over the long term. We would buy this ETF with a 3-10 year investment horizon. The current "setup" for purchasing power growth in the U.S truly looks like the best it's been since the mid-20th century. We firmly believe that the current combination of rising wage growth, incredibly low unemployment (and greatly improving labor participation), and historical demographic factors (as we explain here) will be the driving force for this sector. That said, we do imagine hiccups are in-front of us.
With an inverting yield curve, rising interest rates, high debt levels risks historically are likely to come soon. Evidently, they may currently be upon us. This is why we look at this current period as a buying opportunity, as we spoke of mid-summer, the selling opportunity is already behind us, we have seemingly entered the panic phase and expect the depression phase thereafter. After that, we expect a long-term uphill climb.
Practically, we certainly would not be putting all our eggs in this basket immediately. Just a few eggs, enough to create a small entry position that could be dollar-cost-averaged at potentially lower values as time progresses.
Investment Horizon and Earning Potential
We would suggest buying the XLY ETF with the intention of holding it for around seven years. This time frame would help the companies make use of the variety of positive macroeconomic factors that could be beneficial to them. The short-term within the 1-year horizon is rather uncertain because of how interlinked the global economy is now and how much the much lower foreign interest affects the U.S. markets. If some of the other large world economies, notably China, it will be difficult for stocks in the U.S. to perform well. If the interest rate differential continues to climb then the strength of the dollar will only serve to strengthen consumption spending.
We believe that the amazing results investors saw last year in XLY will continue. The causes for that upshot were completely legitimate. It just appears a credit/ interest rate event is upon us. That will cause, potentially immense, volatility for all high beta asset classes such as consumer discretionary. In our opinion, the storm only serves as a reasonable valuation buying investment opportunity for XLY. An opportunity that we believe could last until some region of 2024-2034 with to-peak long-term (10 year) gains around 400%. With potential peak-to trough downside of 40%.
Disclosure: I/we have no positions in any stocks mentioned, but may initiate a long position in XLY over the next 72 hours. I wrote this article myself, and it expresses my own opinions. I am not receiving compensation for it (other than from Seeking Alpha). I have no business relationship with any company whose stock is mentioned in this article.
Additional disclosure: We may go long via long-term call options