I'm not terribly surprised that shares of drone manufacturer AeroVironment (AVAV) have pulled back over the past couple of months. AVAV looked ridiculously overvalued at $120 in September, at which point it had doubled in less than three months. Given that parabolic rise, and a jittery broad market since, a downward re-rating seems logical in retrospect.
That said, I'm still not exactly sure why AVAV has pulled back - or why it rose so high in the first place. I shorted the stock near those September peaks, and argued at the time that investors were misreading a seemingly blowout Q1 that benefited from timing help. The reaction to Q2 results last week seems to support that assertion (though it hardly proves it). AeroVironment posted a strong quarter, commentary on the conference call was optimistic, and full-year guidance was raised. Yet investors sold off the stock, which declined 16%+ after earnings despite having dropped 25% heading into the report: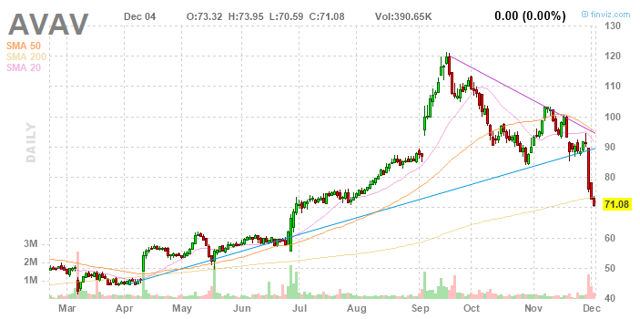 Source: Finviz.com
The quick decline and the solid quarter are enough to cover the short here (though, given the chart, there appears little need to rush). Had AVAV traded at more reasonable levels heading into the report, it's not hard to imagine the bullish narrative building on the back of the quarter. International growth continues to be solid, and fiscal 2019 U.S. government appropriations suggest additional strength next year.
That said, valuation still appears awfully stretched - and there's an argument that investors still are overreacting to FY19 (ending April) results and guidance. Even raised full-year projections suggest EBIT will decline year-over-year. Progress toward longer-term growth drivers remains minimal.
I worried at $110+ that there was an aspect of the bull case I was missing, and that supported an 80x+ P/E multiple. That worry is probably enough at ~50x to keep from being too greedy. Of course, 50x isn't cheap - and AVAV still isn't, either.
Q2 Earnings
Q1 numbers looked incredible: revenue up 127% year-over-year, and EPS, even backing out a $0.26 per share one-time gain on sale, turning to a $0.59 profit from a $0.19 loss the year before. But management chalked up much of the strength to timing. Quarterly revenue in FY19 was guided to be relatively evenly distributed, after Q1 sales generally accounted for closer to 15% of the full-year total in the two previous years.
Investors seemed either to not understand that fact - or to believe that AeroVironment's guidance was somehow off. (And not for the first time: a similar reaction met supposedly disappointing Q1 FY17 results - which turned out to be a significant buying opportunity).
For the most part, management appears to have been correct. Quarterly revenue was $73 million, up 11% year-over-year, but down sequentially from ~$78M in the first quarter. Gross margin compressed 7 points to 39%, as mix turned against the company. Gross profit dollars actually declined year-over-year. EPS fell year-over-year, despite much higher other income and a lower tax rate, though a $0.29 print did beat consensus by $0.13.
That said, the problem here seems to be the expectations from the market - not the performance. AeroVironment did raise full-year guidance, with revenue going to $300-$310 million from $290-$310 million. Full-year visibility to that revenue, per the Q2 call, is 97%. That is "historically high," as CEO Wahid Nawabi put it on the call, and notably better than the 78% at the same point last year. (That figure, too, does benefit from the timing shift into the first half.) EPS projections - which include the gain on sale - were moved up to $1.30-$1.50 against a previous $1.10-$1.40.
The news on the call seems strong as well. Nawabi's commentary oozed optimism, and the CEO clearly has earned investor trust since taking over in 2016. Nawabi pointed to $170 million in appropriated funding in the fiscal 2019 defense appropriations bill. That appears to be a notable jump against FY18 levels - and the figure is ~38% higher than AeroVironment's fiscal 2018 U.S. revenue of ~$123 million.
The CEO also cited opportunities in short-range reconnaissance and soldier-borne sensors, while highlighting a partnership with General Dynamics (GD) that could integrate the company's Switchblade drones with armored vehicles. Strength in international markets continues, despite ~flat revenue in Q2: AeroVironment has contracts with over 45 allies, and Nawabi reiterated past commentary that those markets were "five-plus years" behind the U.S. in terms of drone adoption.
Share declines and valuation aside, Q2 seems to support the bullish narrative here. Execution clearly has improved after AVAV spent nearly a decade as a stock that seemed to better serve its engineers than its shareholders. The headwind to domestic revenue from fewer "boots on the ground" in conflict zones is moderating; U.S. government sales may be set to again trend higher. The international market (growth of 80%+ the last two fiscal years) has offset domestic weakness of late: going forward, with stronger federal government demand, it could instead augment revenue increases. That kind of growth would make AeroVironment a logical strategic acquisition target for major defense players. And a cash-heavy ($13+ per share) balance sheet allows for more aggressive capital allocation at some point or even a potential go-private.
There is a bull case here. Indeed, I made that bull case in late 2016 and owned the stock through last year (before unfortunately selling at $39). That bull case has steadily improved under Nawabi's leadership. The concern - still - is the valuation.
To Cover or Not to Cover
There's still a bear case, and even a short case, at $71. Valuation, as noted, remains stretched. The high end of EPS guidance, excluding the one-time gain, suggests a P/E multiple of 47x. Based on a projected 12-14% effective tax rate this year, and backing out interest income (a run rate of almost $4 million, or ~$0.14 per share after-tax), that same high end implies an EV/EBITDA multiple of 37x.
An awful lot of growth remains priced in. And yet AeroVironment - as good as Q1 results looked, and as positive as commentary is - isn't growing that fast. The high end of revenue guidance suggests a $39 million increase in revenue year-over-year. The HAPS JV with Softbank (OTCPK:SFTBY), which is developing high-altitude drone prototypes to deliver Internet access, has grown revenue $15 million just in the first half, per the 10-Q. That aside, revenue growth in FY19 is going to be in the single digits barring a huge outperformance in the second half.
More concerning - particularly given AVAV's historical inability to drive sustainable operating leverage - is that underlying earnings actually are declining. At the high end of EPS guidance, EBITDA would be essentially flat, and EBIT would decline modestly year-over-year. Margins are going to compress sharply in second half, in part due to timing of revenue but also because of increased spend on R&D and less favorable mix.
Even the guided full-year EBIT decline is coming with some help in other income from a transition services agreement with Webasto, who acquired AeroVironment's EV charging business last year. The TSA has contributed $1.6 million so far, including $1.2 million in Q2 - the 1H earnings alone represent a five-point-plus benefit to full-year operating income growth year-over-year.
There's an obvious question on that front, then: is this time really that different for AeroVironment? Can EBITDA margins - 12% or so this year - finally expand to that point that profits can grow into still-high multiples? Or does the long-running inability to control spend put a ceiling on leverage - and potentially AVAV's valuation?
The other question on the growth front is whether some of the newer initiatives can gain traction. And there was, at best, no good news on that front in the quarter. The HAPS JV seems to be progressing - but Nawabi declined to give a timetable for prototype delivery. And relative to the company's drone efforts in agriculture - an opportunity supposedly big enough that Nawabi highlighted it in an interview with CNBC's Jim Cramer almost a year ago - the CEO admitted that "overall market adoption rate is lower than most anticipated as we have previously communicated".
Some investors might disagree with the "previously communicated" description. Nawabi had said on the Q1 call that the Commercial Information Solutions division created to target agriculture wouldn't contribute "meaningfully" to FY19 results. But to my knowledge, market adoption concerns haven't been directly raised (beyond being mentioned as a risk factor in the discussion of forward-looking statements). AeroVironment still is looking for partners in that business - which adds to the sense that the lack of Q2 progress both in CIS and HAPS might be seen as a negative.
So there is an argument to stay short here. Fellow drone play Kratos (KTOS) has pulled back, and trades at ~25x EV/EBITDA based on its CY18 guidance. AVAV's multiple still is ~50% higher. The bear case at $110 was based in part on skepticism toward the newer commercial opportunities - and that skepticism might have grown modestly after Q2. The market is nervous to the point that it's selling off defense stocks as well: GD is threatening a new two-year low and Lockheed Martin (LMT) is one bad session from hitting its lowest levels in 18 months. Q4 results (albeit not until June) should, based on current guidance, show significant y/y declines in revenue and earnings (though due to timing).
Add to all that a very ugly chart (from a bullish standpoint), and there's a path here to sub-$60 levels. Fading optimism toward commercial pulls multiples back toward KTOS: AVAV, at 25x EBITDA, trades around $52. From a 'feel' standpoint, that level - which still suggests a 30x+ multiple to FY19 EPS, backing out the one-time gain - hardly seems outlandish.
Still, it's worth covering here. Pigs get fed and hogs get slaughtered, as the old saying goes. And even with some potential disappointment relative to the agricultural opportunity, the short case at $71 relies rather heavily on valuation - which another old adage suggests is a bad idea.
That reliance on valuation was a risk at $110+ as well - but the valuation at that point was so prohibitive that the risk appeared worth taking. At this point, the valuation-based case isn't quite strong enough - and the cash-heavy balance sheet limits downside.
But that valuation remains an obstacle toward flipping bullish here as well. And there's a catalyst problem. Another blowout earnings report probably isn't coming in Q3 - and Q4 numbers are going to look bad. The overreaction to Q1 headline numbers suggests at least the possibility of investors incorrectly going in the opposite direction after the fourth quarter, which should look ugly. (Current consensus is for a 29% decline in revenue and EPS of $0.21 against $0.77 the year before). Without a catalyst, and with valuation still high, AVAV doesn't seem like a buy. Performance has improved, but even after a 40%+ decline, that improvement still seems priced in.
Disclosure: I am/we are short AVAV.
I wrote this article myself, and it expresses my own opinions. I am not receiving compensation for it (other than from Seeking Alpha). I have no business relationship with any company whose stock is mentioned in this article.
Additional disclosure: I plan to cover my short position in the next couple of sessions, but reserve the right to change my strategy based on market conditions.