Investment thesis Skyworks (SWKS): The company is facing some temporary headwinds from mobile phone saturation and China, but it's gearing up for the next expansion and the shares are almost silly cheap.
We argued in July that the shares of Skyworks deserve a higher multiple and that hasn't happened, in fact quite the opposite materialized: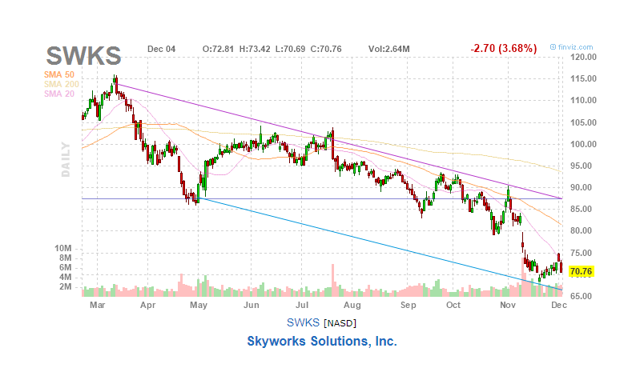 The reasons for the share price decline are not terribly hard to understand, and are twofold:
Mobile saturation
Chinese market softness
The mobile saturation matters as that's 72% of revenue. It's more specific than that, as Apple (AAPL) constituted 47% of company revenues, so Skyworks is in the first Apple firing line out there with the likes of Lumentum (LITE) and a few others.
It is a unit problem at the high-end (which is of course what the iPhones are), where most of the money is, the company isn't losing sockets nor logos.
This is getting smaller as their broad market is growing at double digit rate so it will become increasingly important.
Here is what the company does, from a November 2018 Investor Presentation: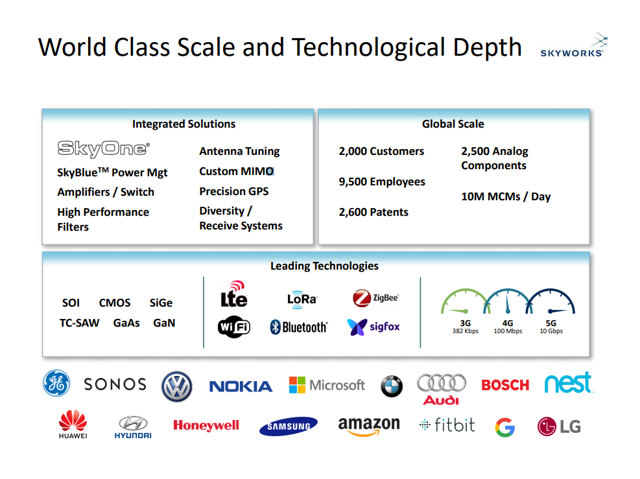 But, 28% of the company is non-mobile related, and this part is growing at double digit growth. Here is where they operate: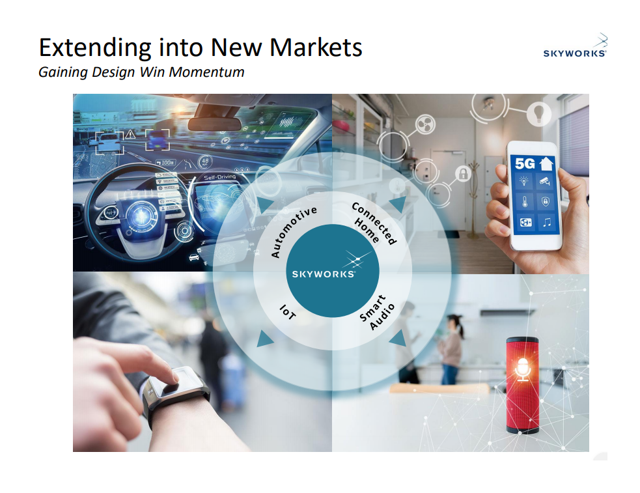 Company IR presentation
Growth
There might be a bit of a slow down in the revenue growth, but this company has a terrific pedigree and growth this year was still 6%: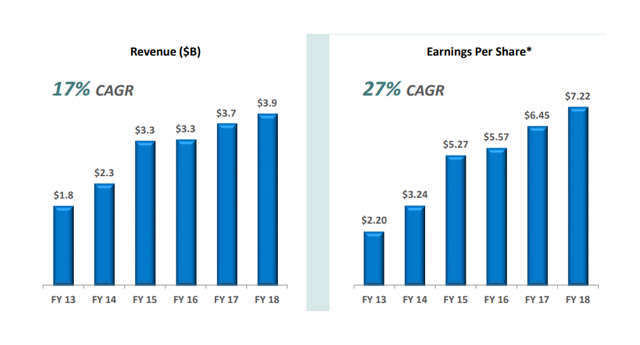 Company IR presentation
Here are some of the growth drivers
Market recovery
TAM increase in mobile
Avnera
Broad market, IoT
5G
There is still a good deal of life in 4G, both mobile and infrastructure (base stations and small cell massive MIMO solutions).
Management sees the competitive landscape increasing, it's getting more and more driven by 3-4 suppliers that can handle the complexity and have the agility to solve problems for the Tier 1 OEMs. Skyworks is one of these, needless to say.
It's having a broad portfolio of technologies and a broad portfolio of customers and platforms on which they have worked which has given them the experience to solve problems for their customers.
Next year management believes it can take some of its sophisticated 4G solutions for the high-end (where most of the money is) and import these into mid-tier phones.
Their other segments are performing well, growing double digits, and they will continue to do so, based on design wins (Q4CC):
We supported DOCSIS 3.1 cable TV gateways with 2.4 and 5 gigahertz front-ends, enabled smart audio solutions across Sony, Microsoft and Nintendo gaming consoles. We captured LTE Cat M content within u-blox's machine-to-machine modules. And finally, we demonstrate exceptional momentum in automotive, ramping our connectivity and telematics solutions with BMW, Geely, Hyundai, Tesla and Toyota.

In short, we are capturing large scale design wins across all key segments, spanning industrial, home automation, enterprise, automotive and defense, as well as numerous flagship mobile platforms.
One of these segments is the IoT, which will see three times as many devices (75B!) connected to the internet by 2025 as a result of 5G with Skyworks well positioned (Q4CC):
Leveraging our leadership across all major wireless standards including 802.11ac and ax, LoRa, Bluetooth, ZigBee, Thread and Z-Wave, as well as 4G LTE and 5G, we are well positioned to capture a disproportionate share of this growth, particularly with the advent of autonomous vehicles, virtual reality, industrial IoT, and frictionless commerce.
The company acquired Avnera, a producer of Analog/Mixed Signal Audio, Voice and Speech Processing Engines. The transaction closed on August 17 with the 6 weeks in the quarter producing some $6M in revenues (it will be $15M-$16M in Q1, the first full quarter for Avnera). From the PR:
Avnera, a private fabless semiconductor supplier, augments Skyworks' leadership in wireless connectivity by adding ultra-low power analog circuits to enable smart interfaces via acoustic signal processing, sensors and integrated software. Upon consummation of the transaction, Skyworks will expand its addressable market by over $5 billion. Target applications include AI speakers/microphones, virtual assistants, intelligent gaming controllers and vehicle in-dash systems as well as wired/wireless headsets.
The company paid $405M in cash (and an additional $20M depending on certain KPIs). Management brought to memory how they leveraged an earlier acquisition, SiGe, and they plan to do the same:
Giving the company a much bigger and more trusted sales and support channel.
Building new (packaged) solutions that Avnera would struggle to build on its own.
Here is how management described it (Q4CC):
we have a big team at Skyworks that's in just about every mobile and IoT customer you could imagine and comparing that with a great organization at Avnera, but just much, much smaller. So, you could see how that leverage plays.
5G is requiring some new technologies but management argues that they are very well positioned to deliver on these. They have their Sky5 platform:
Sky5™ includes highly integrated, high performance transmit/receive front-end solutions as well as diversity receive (DRx) modules. Specifically designed for new spectrum in the sub-6 GHz range, these products offer a MIPI® interface, are baseband agnostic and comply with 3GPP standards.
Some of the technologies involved:
Millimeter wave is probably necessary from the start and the company is ready for that, both on the handset side as well as the infrastructure side.
Filtering technology
BAW: the company has done a lot of work here in silence and customers are already sampling, but there will still be iterations but management thinks it's likely to be ready for H2 next year when the first 5G phones come out.
More integrated solutions, not just filters
5G also increases the TAM for the company: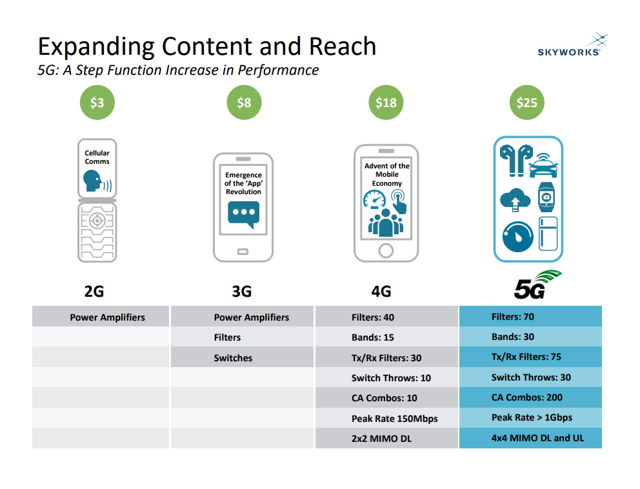 Company IR presentation
Management (Q4CC):
our smartphone opportunity is poised for a step up in architectural complexity, which in turn drives a dramatic increase in addressable content for us. This expansion is driven by entirely new bands, complementing existing systems, refarmed frequencies and expanded use of multi-channel carrier aggregation.
Guidance
Guidance was a little soft hence the selloff in the shares:
Revenue between $1B and $1.02B
Gross margin of 51.2%
Midpoint EPS of $1.91
Q2 (the quarter ending in March 2019) is a cyclical low quarter (down 10%-15%) but they didn't give explicit guidance for that apart from saying that they expect normal cyclicality to hold and that they expect China to improve in Q2.
While their broad markets (ex-mobile) are continuing to grow double digit, they expect mobile to recover in H2 fiscal 2019 (from March onwards) on the quantity of design wins and increasing complexity.
Margins
The company generates some extraordinary margins. 50% gross margin for a hardware business is already very good, but the company works on very little OpEx, producing some very high operational and EBITDA margins.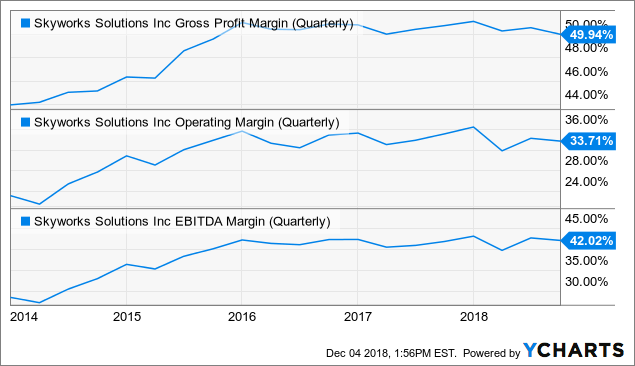 Q4 figures are not yet in the graph. Non-GAAP gross margins actually kept on increasing, by 20 basis points in Q3 and another 30 basis points in Q4 reaching 51.2%. Management predicts more of this to come, albeit not immediately but in H2 of fiscal 2019, moving towards their target of 53%. The Avnera acquisition helps as this business generates higher gross margins.
Non-GAAP operating margin was up 130 basis points sequentially to an incredible 37.6%.
Cash
The company is simply a cash producing machine the likes we rarely see: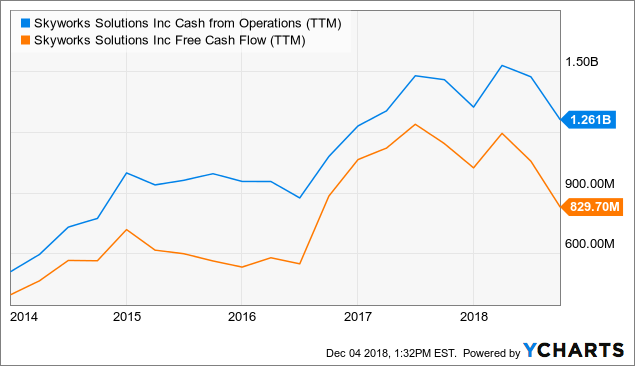 This year the machine is sputtering a little on some market softness, but the levels are still very impressive. The company spend $400M or 10% of revenue on CapEx and expects the same (10%) in fiscal 2019.
Massive amount of buybacks have eliminated the considerable dilution from stock based compensation and actually managed to deliver a considerable decline in the share count.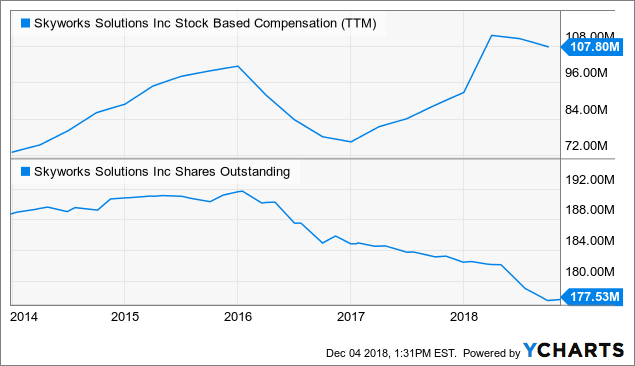 Valuation, comparing with Texas Instruments
The company actually targets a free cash flow margin of 30%. Are they close?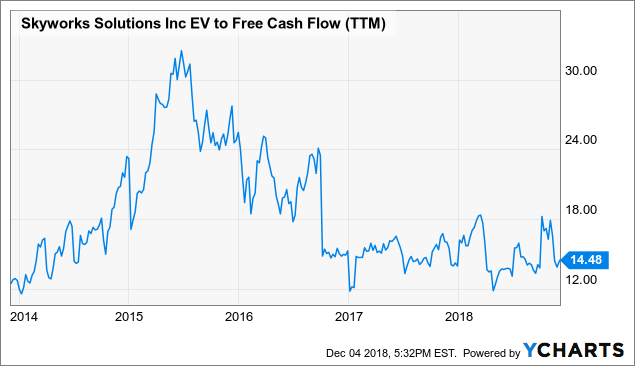 They once were, but this is some years back, but we would say a backwards 15 multiple is still very good.
The company reminds us quite a bit of Texas Instruments (TXN), a company which we really admire. Both companies are quite similar, growth companies in comparable fields, strong in technology solutions, diversified markets, both generating huge margins and cash flows, and being shareholder friendly producing huge buybacks and dividends.
It is surprising to see that over the last five years, Skyworks has actually outperformed Texas Instruments considerably, although the present revenue stagnation has eaten quite a bit into that advantage.
However, if we look at what analysts expect for Texas instruments (from Yahoo):
2017: Revenue of $14.96B, EPS of $4.36
2018: Revenue of $15.81B, EPS of $5.57
2019: Revenue of $15.53B, EPS of $5.54
Growth is disappearing here as well, at least in the mind of analysts, which is what matters for the present valuation.
But Skyworks is significantly cheaper, even if this hasn't always been the case. Quite frankly, the difference is much larger than we expected: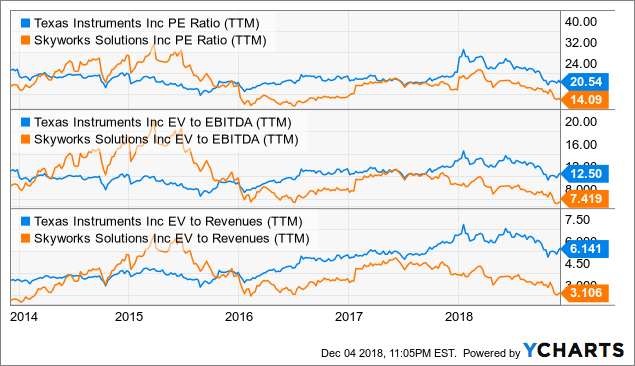 We can only think of three reasons:
Large dependency on a single customer for Skyworks
Current slowdown at Skyworks
Texas Instruments shares yield 3.20% in dividends versus 2.15% for Skyworks.
The share buyback program of Texas Instruments has also been twice as big, relatively. Texas Instruments looks like the electronic version of Texas Pacific Land (TPL), a company which is slowly liquidating itself: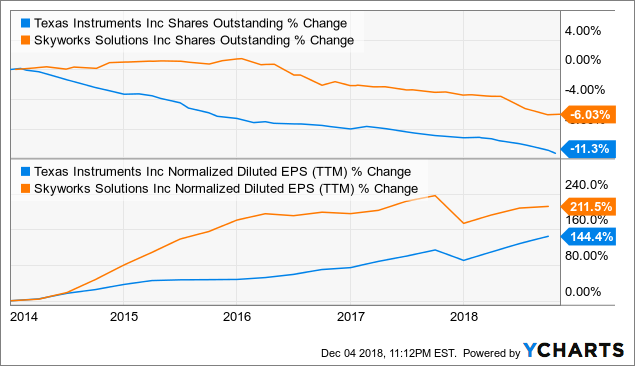 But that hasn't actually enabled Texas instruments to outperform Skyworks in EPS growth, even if the difference has narrowed in the past 12 months.
We argued in June that Skyworks deserved a higher multiple, comparing the company to Texas Instruments, which is similar in many ways, underlines this.
We have to add to this that Skyworks is debt free, whilst Texas Instruments has a considerable debt ($4.3B) while the cash per share is similar for both companies, which should also favor Skyworks.
Conclusion
The shares of Skyworks have fallen victim to the high-end mobile saturation, most notably that of the iPhone. How long that lasts is anyone's guess, but it's not unreasonable that the advent of 5G will provide a new boost to the replacement cycle.
In addition, 5G phones have more complex electronics, which offers the company the opportunity to expand its take rate, but this is an opportunity, by no means a given.
Its other markets keep growing in the low double digits and hence gradually becoming more important. The Avnera acquisition can give another impulse here and 5G will give a boost to the IoT market, which the company also serves.
And while growth has been slowing down, the company still grew revenues in 2018 and expects to do the same in 2019. As growth is expected to disappear from Texas Instruments as well, we find the large valuation gap difficult to explain and we think Skyworks is significantly undervalued.
Disclosure: I/we have no positions in any stocks mentioned, but may initiate a long position in SWKS over the next 72 hours. I wrote this article myself, and it expresses my own opinions. I am not receiving compensation for it (other than from Seeking Alpha). I have no business relationship with any company whose stock is mentioned in this article.