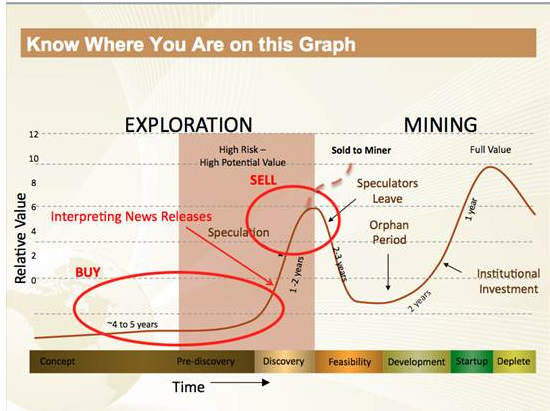 Source: Exploration Insights
Introduction
Welcome to Gold Panda's weekly series of articles covering the best drill interceptions in the metals mining sector.
If you're into investing in the mining sector, you should know the above chart very well. Exploration and discovery can add a lot of value for a mining company across all stages of its life cycle, although the greatest increases in the share price usually happen when a small company makes a major discovery and the hype arrives. However, great exploration results can also improve the economics of large projects of established global mining companies.
I'm planning on writing a weekly series of articles in which I will analyze the three projects with the most significant drill interceptions over the past week as well as the prospects of the companies which own these projects. I will use data from the weekly bulletin of RSC Mining and Mineral Exploration which can be found on its website. Note that the drill interceptions are converted into grades of gold equivalence using the following formula:

Source: RSC Mining and Mineral Exploration
RSC Mining and Mineral Exploration has chosen gold as the metal equivalent for all conversions as it considers it the most widely used and best understood benchmark to determine or appreciate the grade tenor of a drilling intercept.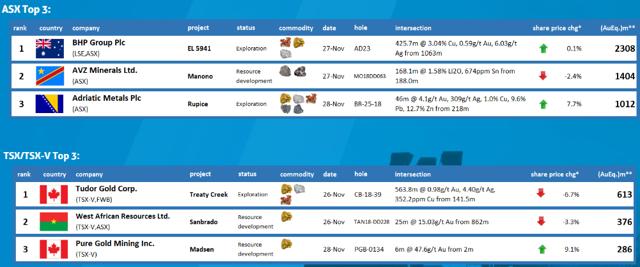 Source: RSC Mining and Mineral Exploration
1) Exploration license 5941 in Australia
By far, the best drill interception last week was 425.7m @ 3.04% Cu, 0.59g/t Au and 6.03g/t Ag from 1,063m in hole AD23 at exploration license 5941 in South Australia which is owned by BHP (NYSE:BHP). This is equal to 2,308(AuEq.)m, making it one of the top 10 best drill results in 2018.
AD23 formed part of a series of four diamond drill holes, totaling 5,346 meters which confirmed identification of a potential new iron oxide, copper, gold (IOCG) mineralized system. Laboratory assay results show downhole mineralization intercepts ranging from 0.5%–6% copper with associated gold, uranium and silver metals: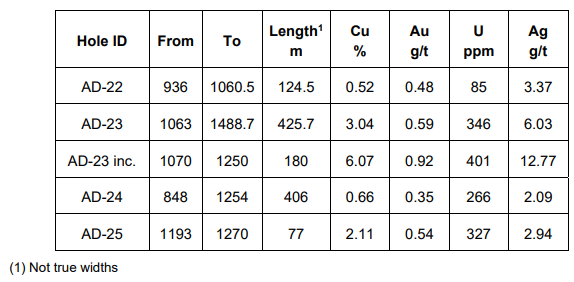 The license is located just 65 kilometers to the south east of BHP's massive Olympic Dam poly-metallic mine and 45 kilometers north east from the Carrapateena copper-gold project of OZ Minerals (OTCPK:OZMLF):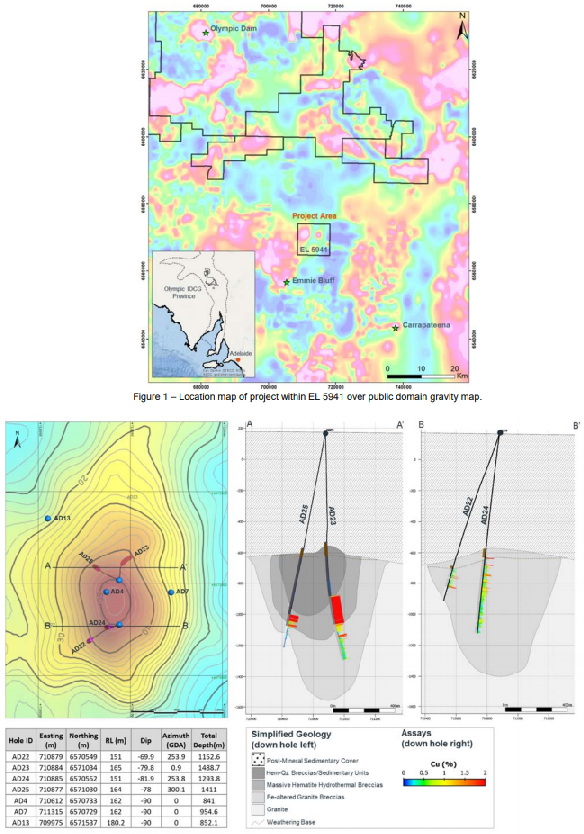 This property has a long exploration history, dating back to 1976 by Western Mining Corp and BHP and the new drill interceptions have raised hopes that another major mine could be developed in South Australia. BHP said that it plans to commence its next drilling program in the area in early 2019.
While this new discovery is unlikely to boost the share price of BHP by much, several junior miners with projects close to license 5941 have benefited immensely. For example, Cohiba Minerals, which holds licenses just two kilometers off BHP's discovery, saw its share price soar by 280% in a week.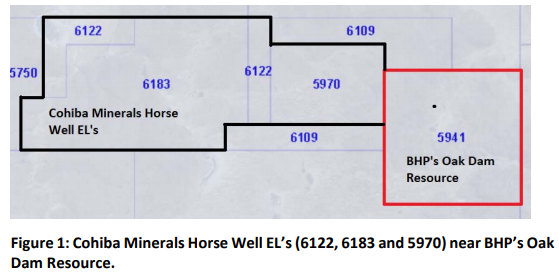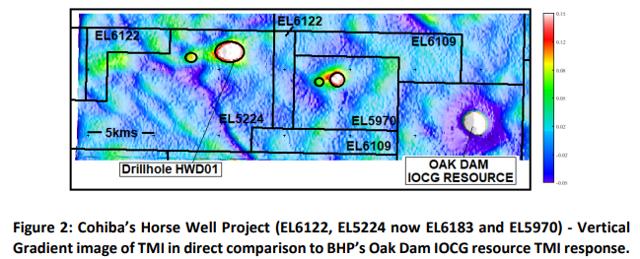 Other companies which seem excited about BHP's discovery include Strategic Energy Resources (OTC:EGBRF), Aeris Resources (OTC:ARSRF) and Argonaut Resources (OTC:AGREF). The latter two hold the Torrens project near Carrapateena: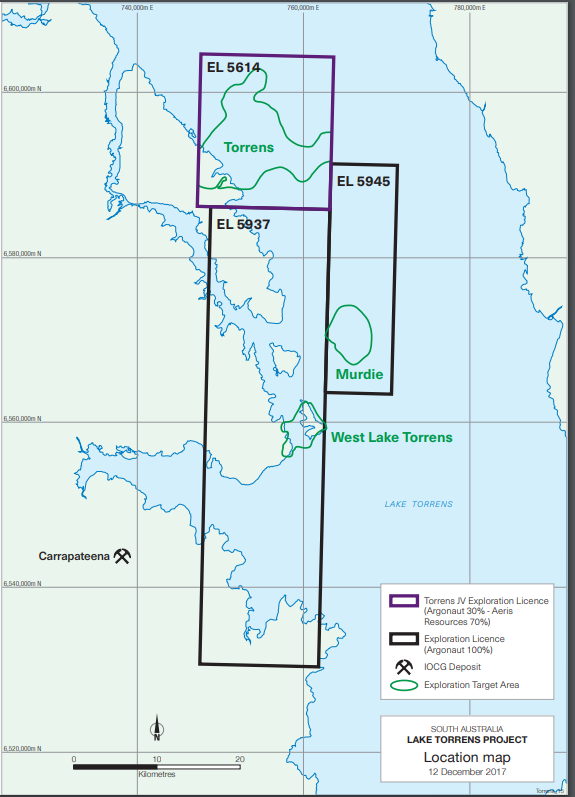 I've looked at Cohiba Minerals in more detail than the others as it has the closest project to the discovery but my thoughts will remain exclusive for my Marketplace service, The Gold Commonwealth.
2) Manono lithium project in the DRC
Another week and another batch of impressive drill interceptions at the Manono lithium project of AVZ Minerals (OTC:AZZVF). The best result was 168.1m @ 1.58% Li2O and 674ppm Sn from 188m in hole MO18DD063 at the Roche Dure pegmatite. This is equal to 1,404(AuEq.)m.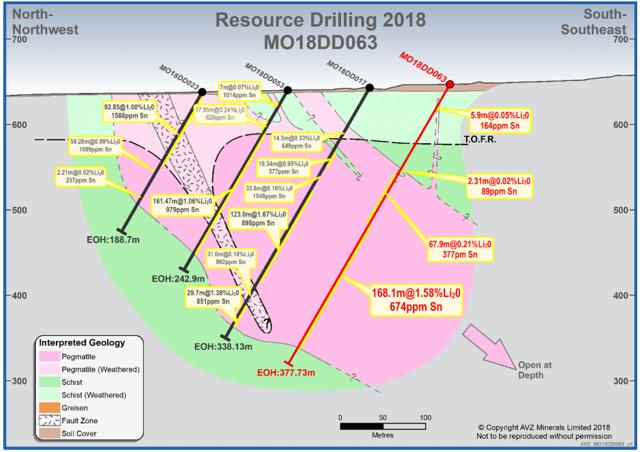 Source: AVZ Minerals
The company said that extensional drilling at Roche Dure identified additional high-grade lithium and tin mineralization, pointing to further resource growth on the maiden mineral resource announced in early August 2018. And indeed, on 30 November, AVZ announced a vast improvement in its resource estimate compared to August. Measured, Indicated and Inferred Resources were increased by more than 54% from 259.9Mt to 400.4Mt grading 1.66% Li2O containing 6.64 million tonnes of lithium oxide, 300kt of tin as cassiterite grading 750ppm Sn and 13,200 tonnes of Tantalum grading 33ppm:


Manono is located in the southern part of the DRC and is considered the world's best lithium-rich lithium, cesium, tantalum (LCT) pegmatite deposit: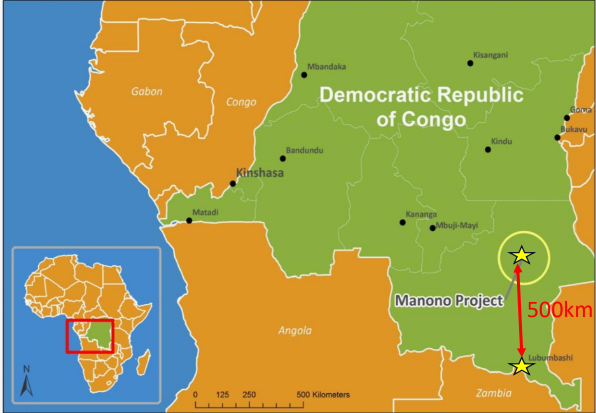 On 9 October, the company announced the results of a scoping study which outlined a project with the capacity to produce an average of 440ktpa of 5.8% Li2O spodumene concentrate over an initial 20-year mine life. I think the economics of the project look amazing, and one of the metrics that really impressed me was the low stripping ratio which stands at 0.7:1.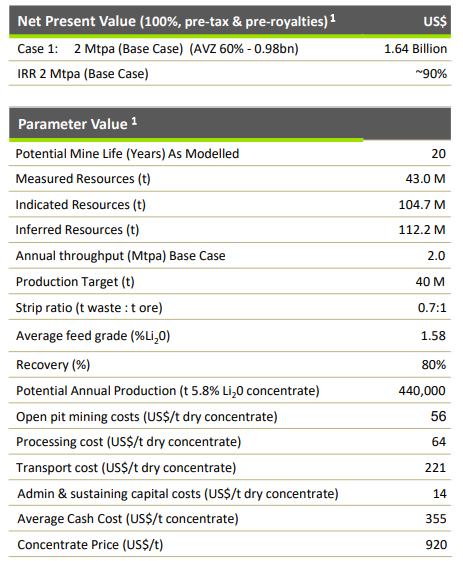 Source: AVZ Minerals
Regarding startup costs, the initial capex for Manono is expected to be $150 to $160 million, including a $36 million contingency. Note that the scoping study does not include tin by-product credits, which I think have the potential to significantly improve its economics. AVZ Minerals thinks that its funding model will most likely include a mix of debt, equity and off-take financing. The company plans to complete scoping studies for 5Mtpa and 10Mtpa operations as well as a full feasibility study. The latter should be completed in the second quarter of 2019.
3) Rupice poly-metallic project in Bosnia and Herzegovina
On 28 November, Adriatic Metals announced assay results from several holes from the current drill program at its Rupice project. The best interception was 46m @ 4.1g/t Au, 309g/t Ag, 1% Cu, 9.6% Pb, 12.7% Zn and 40% BaSO4 from 218m in hole BR-25-18, which is equal to 1,012(AuEq.)m. Adriatic CEO Geraint Harris said that this hole was exciting because it had potential for extending the plunge mineralization back to the south and into an area where there was no previous drilling. Holes currently being drilled close to BR-25-18 suggest further extensions to south east of current area of mineralization.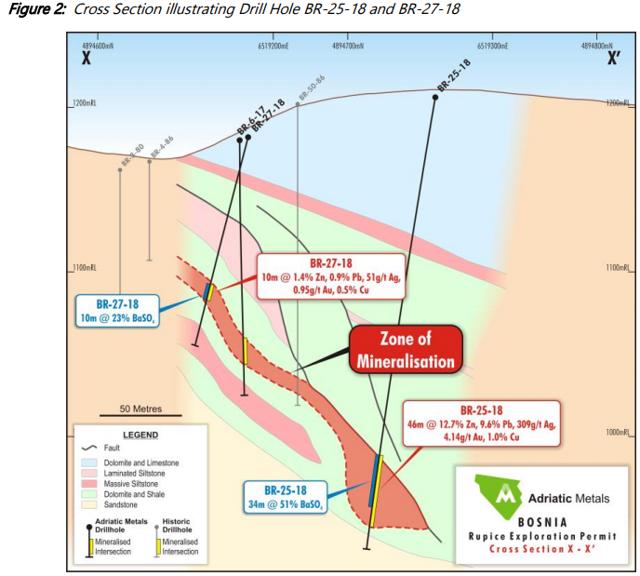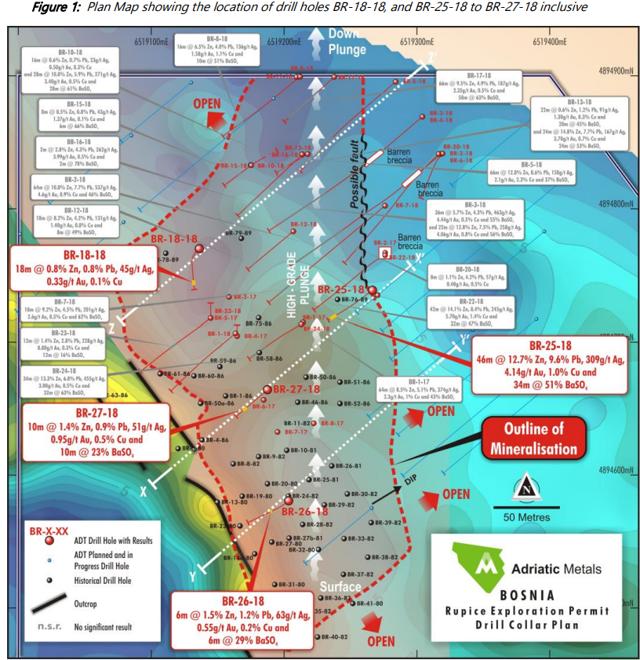 The company plans to continue drilling with four rigs in operation ahead of a maiden resource estimate at Rupice in the first half of 2019.
Adriatic Metals owns a historic open cut zinc/lead/barite and silver mine at Veovaca and Rupice, which are 15km apart: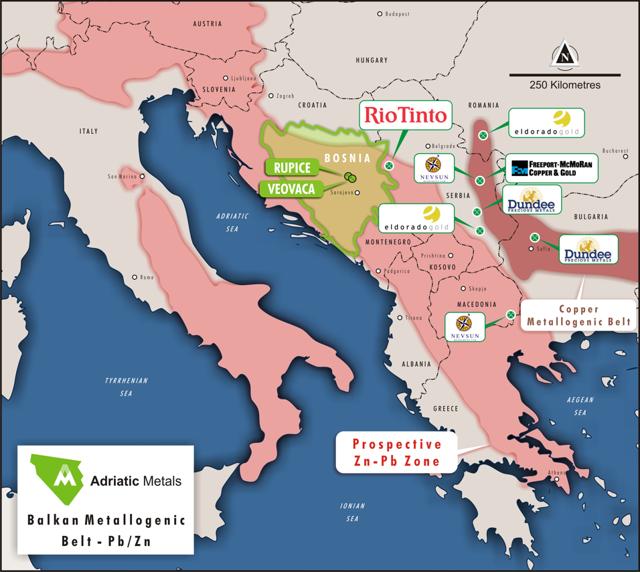 Veovaca was mined between 1983 and 1987 and produced a zinc, lead and barite concentrate. The company has already defined a JORC compliant mineral resource of 4.4 million tonnes grading 2.0% zinc, 1.1% lead, 36g/t silver with significant gold and barite credits: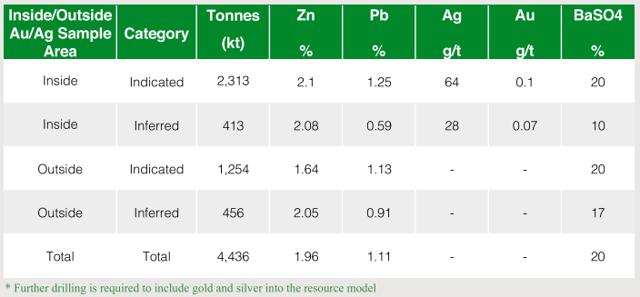 Source: Adriatic Metals
Currently, only around 35% of the historic drilling at Rupice has been analyzed for precious metals and the high correlation between high-grade base metals and precious metals values noted from the deposit could provide a significant opportunity.
As I mentioned in previous entries of the series, I think that Rupice could be a diamond in the rough as the recent drill interceptions show very high grades of gold and silver. Fellow SA contributor The Critical Investor recently covered Adriatic into much detail and calculated some scenarios for resources and economics at Rupice and Veovaca. I think it's a very good read and you can find it here as Adriatic is unfortunately not listed in the USA and there's no profile on SA.
I think that Adriatic is well funded after completing a A$10.8 million share placement last week.
Conclusion
BHP has made a major copper discovery near its giant Olympic Dam project but I think that this will have a limited effect on the share price considering the group's already significant size. The discovery in license 5941 is more likely to benefit shareholders of small companies with projects in close proximity such as Cohiba Minerals, Strategic Energy Resources, Aeris Resources and Argonaut Resources. The closest license is held by Cohiba Minerals and its shares shot up by 280% in just a week.
As I've mentioned several times already, I think that Manono could be the best undeveloped lithium project in the world at the moment and each batch of drill results delivers more and more large and high-grade interceptions. The new minerals resource is great and I like the project's size, grade strip ratio, abundance of tin as well as the low volume of ferric oxide, which can be a potentially deleterious element. The initial capex of $150 to $160 million looks low and the project has been attracting a lot of interest from China, which I think is a positive since it will help with funding. My greatest concern about investing in AVZ is the jurisdiction considering that the DRC has never had a peaceful transition of power and presidential elections are scheduled for December. As elections approach and tensions rise, mass killings have already started.
Adriatic Metals is focused on two interesting polymetallic deposits in Bosnia and Herzegovina and I view the company as mostly a zinc play. Electricity in the country as cheap and infrastructure is good with Adriatic's projects centered around the town of Vares, which is only 15km by road from an operating railway line. I stand by my earlier assessment that Veovaca and Rupice have a potential to become a low-cost project focused on zinc and the two deposits seem to have a good exploration potential. Adriatic listed on the ASX earlier in 2018 and it has a cornerstone investment and strategic relationship with Australian copper producer Sandfire Resources (OTC:SFRRF). Adriatic's shares are currently not listed in the U.S. so if you want to gain some exposure, you'll have to go to the ASX.
If you like this article, consider joining The Gold Commonwealth.

There's a two-week free trial and the service will focus on long ideas, takeover targets, turnarounds, exploration stories and under-followed gems in the mining space, particularly gold. Omnis Quis Coruscat Est Or!
Disclosure: I/we have no positions in any stocks mentioned, and no plans to initiate any positions within the next 72 hours. I wrote this article myself, and it expresses my own opinions. I am not receiving compensation for it (other than from Seeking Alpha). I have no business relationship with any company whose stock is mentioned in this article.
Additional disclosure: I am not a financial adviser. All articles are my opinion - they are not suggestions to buy or sell any securities. Perform your own due diligence and consult a financial professional before trading.
Editor's Note: This article covers one or more microcap stocks. Please be aware of the risks associated with these stocks.