Aphria (APHA) has done it again. After the company got slammed for its insider dealings during the Nuuvera (OTC:NUUVF) transaction, it is once again being accused of committing serious insider-dealing and financial fraud at the expense of shareholders. Before Monday's fallout, Aphria was one of the largest cannabis firms in the world with a C$2.4 billion market value and a reputation of being one of the few "profitable" cannabis firms in Canada. We think the short report published jointly by Quintessential Capital Management ("QCM") and Hindenburg Research ("Hindenburg") presented tangible and compelling evidence of potential problematic dealmaking related to Aphria's LATAM acquisitions back in July this year. It is hard to believe that after the Nuuvera scandal, Aphria insiders are potentially at it again.

Hello Again, Short Sellers
Aphria is no stranger to Hindenburg as the latter first exposed Aphria's insider dealings during its Nuuvera acquisition back in February 2018. The conclusion of that saga was obvious: Aphria insiders held 0.9% of the target, but chose not to disclose those ownerships because the deal was deemed an arm's length transaction by Canadian securities law. It was also hard to assess Nuveera's true worth given Aphria seems to have placed most of the value on its international footprint which is vague and undefined.
On Monday, Hindenburg and Quintessential published a joint research piece on Aphria where the authors had a target price of zero dollars for Aphria. They accused the company of acquiring empty shell companies in Latin America that are owned by an insider. The report also claims that Aphria's products are of inferior quality and its greenhouses are infested with bugs. We won't repeat all the details as the report appears to be very thorough.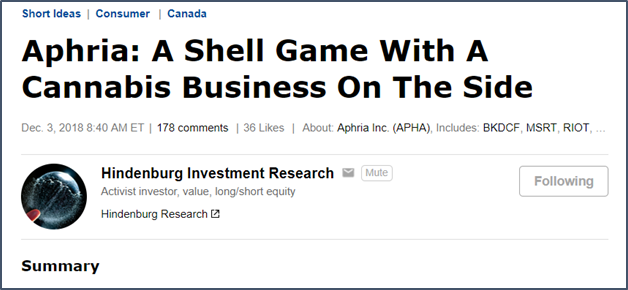 (Source: Hindenburg Research)
The reaction was swift and fierce as investors dumped Aphria shares sending the stock back to levels last seen in October 2017. Aphria shares are now down 60% in 2018 after the stock reached over $20 just a little over a month ago. Trading volumes also exploded on Monday with over 33 million shares traded on the TSX and over 53 million shares traded on the NYSE, together representing 37% of the basic shares outstanding for the company. The news reverberated across social media platforms and popular investor forums reaching a level that surpassed other short selling reports such as Citron's short reports on Tilray (TLRY), Cronos (CRON) and Namaste (OTCQB:NXTTF).
6 Board Members, Only 2 Are Independent
The board of Aphria has the ultimate responsibility to approve the acquisitions and the board would have violated its fiduciary duty should the allegations made by the short report prove true. Management also has responsibilities to conduct detailed due diligence including on-the-ground site visits! Both the board and management could potentially have failed to address some of the most basic diligence items as raised by the short report. It is hard to imagine the board of a multi-billion-dollar company approves transactions that are showing blatant red flags on so many different aspects.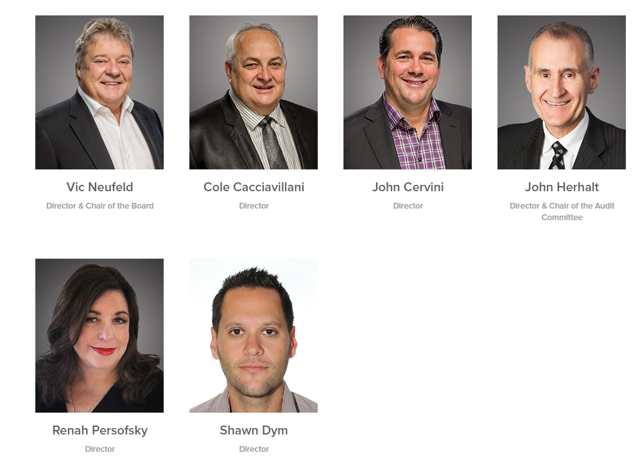 After reviewing Aphria's current board member, we came away surprised by the lack of public company board experience and lack of independence:
John Cervini: Co-founder, insider
Cole Cacciavillani: Co-founder, insider
Vic Neufeld: CEO, insider
John Herhalt: Retired KPMG partner
Renah Persofsky: Private investor
Shawn Dym: Private investor, insider, founder of a private cannabis fund, Green Ace Capital, where Aphria was a founding investor and Vic Neufeld was a member of the advisory board
Out of the 6 board members, only 2 of them appear truly independent, which is a significant governance deficiency in our opinion. How could a board that is comprised mostly of insiders be trusted to carry out their fiduciary duty to shareholders? We have already seen what happened in the Nuuvera deal where board members held personal investments in the target company but personally chose not to disclose that. We think the company needs to overhaul its board by removing insiders and significantly increasing the number of independent board members to improve governance.
Cormark Securities Fairness Opinion
When Aphria announced the deal on July 17, three brokerage firms were mentioned in the press release and two of them provided fairness opinions (see here what's a fairness opinion). Cormark issued a fairness opinion to Aphria Board while Haywood issued a fairness opinion to Aphria.
The Board of Directors of Aphria has received a fairness opinion from Cormark Securities that, as of July 16, 2018, and subject to the assumptions, limitations and qualifications on which such opinions are based, the consideration to be offered by Aphria in respect of the Transaction is fair, from a financial point of view, to Aphria. The eligible directors of Aphria, after receiving legal and financial advice, have unanimously approved the Transaction.
Cormark did not publish the details of the fairness opinion and instead only used the standard one-liner. Unlike U.S. requirements where investment banks have to disclose their analysis and assumptions they used to provide the fairness opinion in the circular, the securities law in Canada are much more relaxed, thus investors do not have access to the actual fairness opinion provided by Cormark. We think now is the time to demand Cormark to disclose details of their analysis which was used to give their opinion that the deal was fair to Aphria shareholders. If the fairness opinion ignored blatant red flags, then the advisors must be held accountable.
On the other hand, Haywood Securities also issued a fairness opinion and the brokerage firm even valued the assets at $180 and $200 million per the press release on July 17 when the deal was first announced. We would also be very interested to see how Haywood arrived at their valuation assuming they've done site visits and management interviews as part of their typical fairness opinion and due diligence process.
The Board has also received a formal valuation prepared in accordance with the requirements under Multilateral Instrument 61-101 - Protection of Minority Security Holders in Special Transactions ("MI 61-101") for related party transactions (as Aphria is a related party of Scythian) and a fairness opinion from Haywood Securities Inc. indicating that the fair market value of the issued and outstanding common shares of LATAM Holdings Inc. is in the range of CAD $180 million to CAD $200 million and that the Consideration payable to Scythian pursuant to the Transaction is fair, from a financial point of view, to Scythian.
Aphria Response
At 3 pm Eastern time, Aphria issued a brief response that did not directly address the short report but rather referred investors to the fact that it has received fairness opinion from "a reputable firm":
The report makes reference to the Company's LATAM acquisition which closed on September 27, 2018. In connection with this transaction, the Board of Directors of Aphria confirmed that it received financial advice and a fairness opinion from a reputable firm that the consideration to be offered by Aphria in respect of the transaction was fair, from a financial point of view, to Aphria and its shareholders.
The response is weak for two reasons. First of all, investors do not have access to the detailed analysis that Cormark, the "reputable firm", used to prepare its fairness opinion for the Aphria board. If Aphria really wants to rely on this point, they should ask Cormark to publish its detailed valuation of the LATAM assets so investors can get assurances that the Aphria board was fully informed. Secondly, the company did not have a direct response to a single claim made in the short report which seems odd given Aphria should have tons of due diligence materials readily available to dispute some of the most obvious claims. For example, is there really a Unit 51 at its Jamaican address?
While we appreciate the fact that the company is probably preparing a detailed response at this time, we also believe all Aphria investors are anxiously waiting for that response, and it should not take more than 24 hours if proper diligence was conducted and recorded during the dealmaking process. The acquisition was announced only in July this year so there is no excuse to further delay a forceful and fulsome response that addresses all of the points raised in the short report.
Where To Now?
First of all, let's assess the damage on Monday. Based on basic shares outstanding of 232 million, Monday's drop from $10.51 to $7.60 represented a loss of $675 million in market value. The Latin American deals that are being accused by the short report authors totaled $280 million. On the surface, it looks like the market has overreacted to the news because the maximum loss the company could incur would be $280 million plus-minus. However, we do agree that the potential impact on Aphria will be much bigger than the face value of the LATAM acquisitions should these allegations prove to be correct. The negative consequences could extend into investor confidence, asset write-downs, shareholder lawsuits, regulatory investigation and together devastating impact on its share price in the short-term.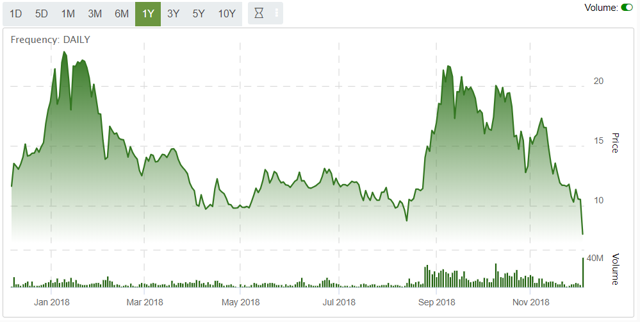 (TSX Website)
It is also worth noting that stocks that have connections with Aphria also suffered including Liberty Health (OTCQX:LHSIF), which lost 12%, and SOL Global Investments (pka Scythian) (OTCQB:SOLCF), which dropped 41%. We think the drop at SOL is expected now that its owner and is personally exposed in the short report and SOL was also involved in the short report.
Conclusion
Here at Cornerstone Investments, we have always tried to provide the best impartial information on a broad set of cannabis companies to help investors conduct their own due diligence. We are not able to conduct such a detailed investigative analysis for each company that we cover as the two authors have done in this short report. However, we applaud their information as another source of diligence for all investors. We think the analysis presented by QCM and Hindenburg is compelling and warrants serious responses from Aphria's board, management, and advisors. After the Nuuvera scandal, we just could not believe that Aphria insiders are again at the center of another potential corporate scandal. We are downgrading Aphria to Neutral while waiting for the company's detailed responses.
Author's Note: Follow us to receive our latest publications on the sector. We also publish a widely read Weekly Cannabis Report, which is your best way to stay informed on the cannabis sector. We are the only place to find detailed research on over 60 cannabis companies in the U.S. and Canada.
Disclosure: I/we have no positions in any stocks mentioned, and no plans to initiate any positions within the next 72 hours. I wrote this article myself, and it expresses my own opinions. I am not receiving compensation for it (other than from Seeking Alpha). I have no business relationship with any company whose stock is mentioned in this article.