In a recent article I demonstrated that the banks and other financials that were kicked out of the Dividend Aristocrat Index (NOBL) made for a very profitable investment over an 11 year period if one simply trusted the market makers. That investor would have had to have nerves of steel to invest in those fallen financials. Here's the article When Life Gives You Lemons, Beat The S&P 500.
That example shows the result of investing in the fallen financials on a regular schedule; dollar cost averaging into those companies as they declined considerably more that the broad market (IVV). That investor would have been trusting the market prices set by the market makers. The market price is the collective wisdom of the financial crowd - the active managers who run mutual funds, pension funds, sovereign funds and even the retail investor to a certain degree. There's a ton of research and brainpower that goes into setting the price of a stock. These folks know the companies well, they know the sectors well, they know the competitive landscape, they often have access to management and know the players.
The active managers collectively set the price. If they do their job, you will be making an investment where you might be fairly compensated for taking on that risk. Company A that carries the same risk profile as Company B should theoretically be available to deliver the same returns over an extended period. The market makers will level the playing field. If they were perfect there would be no undervalued or overvalued companies; you would always be fairly compensated. But of course they cannot be perfect as it is all just a very educated collective guess. And the active managers all have different goals and definitions of what is risk; they will have various time horizons. It's certainly not an exact science.
If one is a passive indexer, you should thank these talented folks. Because they have their eyes on the companies that make up the market, you don't have to keep an eye on the market. You benefit from their time and knowledge and energy, but you don't have to pay them anything. As a passive indexer you're a freeloader. You cheap scoundrel.
Send these folks a Christmas card, we need them to manage the risks and set the prices of the individuals stocks to ensure that we are largely fairly compensated.
Here are the 10 financials that were kicked out of the Dividend Aristocrat Index during the financial crisis.
The 10 fallen financials are Bank of America (BAC), BB&T Corporation (BBT), Comerica Inc. (CMA), First Horizon National (FHN), KeyCorp (KEY), M&T Bank Corporation (MTB), Regions Financial Corporation (RF), Synovus Financial (SNV), State Street Corporation (STT) and U.S. Bancorp (USB).
Again, a Dividend Aristocrat is a company that has increased its dividend every year for 25 years or more. This is known as best of breed with respect to dividend growth investing and this index has a history of delivering market beating returns (and much better risk adjusted returns) over longer periods. It doesn't get much worse than holding companies in a sector that is ground zero for the biggest stock market decline in our lifetime.
As a portfolio those 10 financials fell in value by some 70% compared to a more than 50% decline for the broad market.
The test from the article was to discover the result of sticking with these companies and investing on a regular schedule through thick and thin and trusting the market makers. $1000 was invested monthly for the period. Here's the result. Portfolio 1 is the 10 financials. Portfolio 2 is the S&P 500 fund IVV. The chart is courtesy of portfoliovisualizer.com.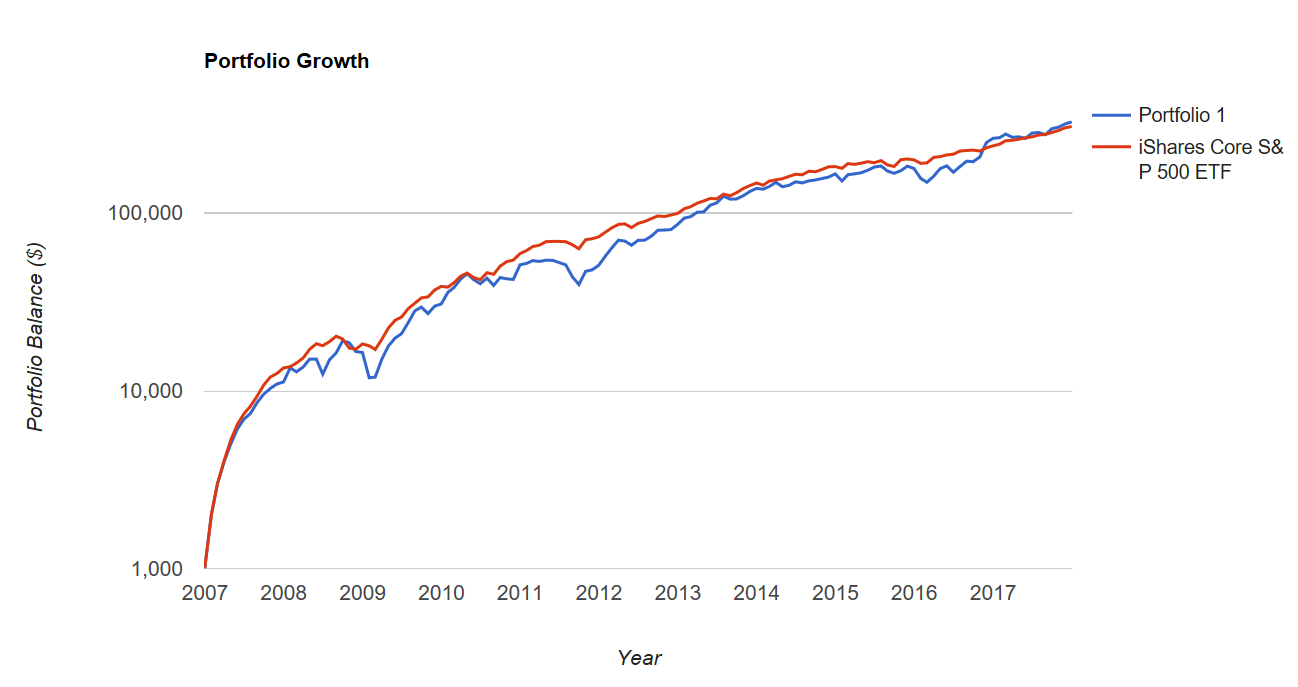 Once again, not perfect, but the investor would have been compensated with very positive returns for trusting the collective pricing on the collective group. That's quite incredible considering the backdrop to the financial crisis; it was so severe that many companies (especially financials) were disappearing at an alarming rate. Never mind trying to find a fair value for a company, it would have been more than a challenge to guess if a company was going to exist next month, next year, or in 5 years or more.
And keep in mind that the market was getting it wrong all over the place 'along the way'. And investors would not have been fairly compensated for investments made at or near the very bottom of the market meltdown. The market makers were perhaps not pessimistic enough. Here's a one time investment in the 10 fallen financial with no reinvestment, other than dividends. Portfolio 1, the fallen financials, is not rebalanced.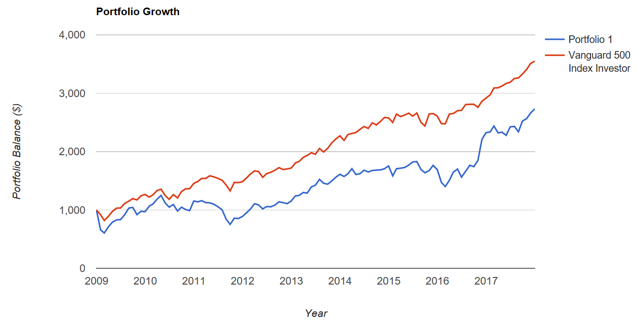 But from 2012 the investment was too pessimistic. The market makers eventually rewarded the companies with much higher prices as more clarity began to surface and the risks were more well known. The market became more comfortable with the companies and sector. And as the market is a weighing machine over time profitability and business success eventually lifted the sector, and our 10 financials.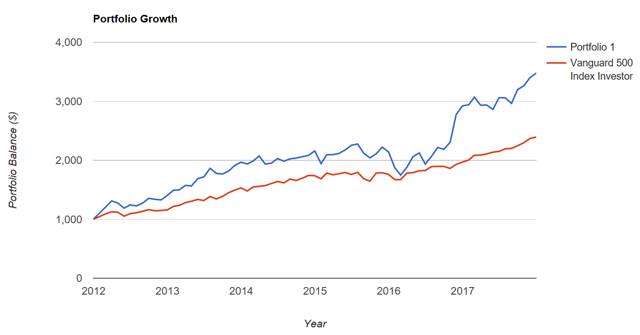 Net, net the market got it 'wrong' all over the place when we take snap shots in time. And that makes sense, no one can know the outcome for a company or even a sector; we don't know the future. They got it 'wrong' to a greater degree if you look at the performance of the individual stocks in the fallen financials.
But if you give the market makers enough chances, it appears they get it right enough, even under the most trying of circumstances. They can get it right over time. The above demonstrates that you might be able to trust those market makers, but on your end you'd have to commit, you'd have to have a long term plan.
Time and patience and consistency are the great equalizers. They can even take on the Great Recession - with a little help from those market makers.
Author's note: Thanks for reading. Please always know and invest within your risk tolerance level. Always know all tax implications and consequences. If you liked this article, please hit that "Like" button. If you'd like notices of future articles, click the "Follow" button.
Disclosure: I am/we are long BNS, TD, RY, AAPL, NKE, BCE, TU, ENB, TRP, CVS, WBA, MSFT, MMM, CL, JNJ, QCOM, MDT, BRK.B, ABT, PEP, TXN, WMT, UTX, BLK. I wrote this article myself, and it expresses my own opinions. I am not receiving compensation for it (other than from Seeking Alpha). I have no business relationship with any company whose stock is mentioned in this article.