Trump likes to take credit for rising American stock markets, and it seems the newly inaugurated Mexican president, Andres Manuel López Obrador (aka AMLO), intends to do the same. For sure, he tried the past weeks everything he possibly could to lower the level of the Mexican stock market on the day of his inauguration. And he succeeded: the peso has tanked to its weakest ever level, Mexican stocks are at their lowest in nine years, and ratings agencies have put the country on notice for a downgrade.
In the last three months, the biggest and most liquid Mexico ETF, the iShares MSCI Mexico ETF (NYSEARCA:EWW), lost 20%, while the iShares MSCI Brazil ETF (EWZ) gained 20%!
Exhibit 1: Stock market performance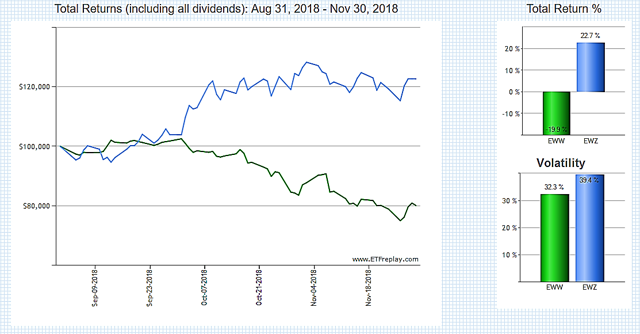 Source: ETFreplay.com
Will Mexico become the next Venezuela or are the markets exaggerating?
AMLO
After López Obrador's July election win, the peso and Mexican stocks rallied as foreign investors appeared willing to give the former Mexico City mayor the benefit of the doubt. He had made a pragmatic-sounding victory speech, vowed to keep Mexico's finances in check, and appointed a businessman as chief of staff and a respected economist as finance minister.
After that rally, we advised to take profits because the valuation levels gave no margin of safety while AMLO's election brought a lot of uncertainty. And this uncertainty materialized. The first bombshell was the incoming Mexican government's costly plan to cancel the new Mexico City airport. This fueled concerns that Andrés Manuel López Obrador will enact a populist agenda and squander the country's sound financial position. Much of the concern over the airport action was how it was justified by the result of a questionable referendum. The poll was run by Mr. López Obrador's party, voting stations were concentrated in areas of the country where his support was strongest, and just 1% of Mexico's registered voters took part.
The second bombshell that spooked international investors was the announcement by AMLO's party in the Senate, which has already taken office for a six-year term, of a plan to stop banks from charging commissions on a range of services. Mexican bank stocks plunged on the news.
Last weekend, Andres Manuel López Obrador has been sworn in as Mexico's next president, starting his six-year term with a promise to end corruption, poverty and extreme violence. He also declared that he had no plans to change banking laws in the first half of his six-year term.
Christine Lagarde, head of the IMF, recently repeated what she expects from the new Mexican president:
"The current and the incoming administrations have stated their commitment to maintain very strong policies and policy frameworks, including the independence of economic-policy institutions. They are also committed to fostering a reform agenda to strengthen the rule of law and boost private investment. It will be important to adhere strictly to these commitments to preserve hard-won gains and instill policy predictability."
According to PIMCO, AMLO's record suggests he's not the typical Latin American populist of decades past, and accordingly, investors should take a nuanced view of how his presidency will affect investment opportunities in Mexico.
The Tequila crisis in 1994‒1995 followed a period of excess that led to a massively overvalued exchange rate, large external financing needs, and currency and maturity mismatches in the financial system. AMLO's presidency starts with no such macro imbalances and significantly larger buffers against shocks. Foreign exchange reserves are in line with IMF recommendations; the currency serves as a credible adjustment mechanism in response to shocks, without destabilizing the domestic debt market; and the central bank has established its credibility over time in its pursuit of price stability.
The government's first budget, to be announced on December 15th, will be the acid test on the administration's commitment to a primary budget surplus. A solid 2019 budget would alleviate some of the fears from the decision to scrap the new airport. To avoid a further loss of investor confidence, AMLO must stick to his campaign promise to protect central bank independence.
The Mexican economy
Very strong policies and policy frameworks have helped Mexico navigate a complex external environment. Growth has remained resilient while inflation declined. Fiscal policy has stemmed the rise in the public debt-to-GDP ratio, monetary policy has maintained a prudent stance, and financial regulation and supervision remain strong.
Mexico's economy continued to grow despite uncertainty linked to the recent elections and the country's future trade relationship with the United States. In the near term, growth is expected to moderately pick up to 2.1 percent this year and 2.3 percent in 2019. Growth will benefit from strong economic activity in the United States in both years.
Exhibit 2: Economic growth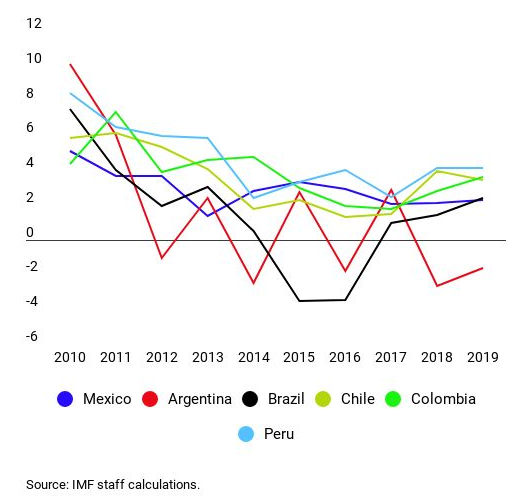 While Mexico's public debt is projected to stabilize, the current level - at 54 percent of GDP - limits space for social and infrastructure spending. Keeping the overall fiscal deficit at 2.5 percent of GDP over the medium term would stabilize debt at around the current level, assuming that medium-term growth increases to around 3 percent and the interest rate path remains steady. A slightly more ambitious target would improve budgetary spending room to deal with large infrastructure needs, high levels of poverty and inequality and the fiscal costs of an aging population.
Exhibit 3: Gross public sector debt, in percent of GDP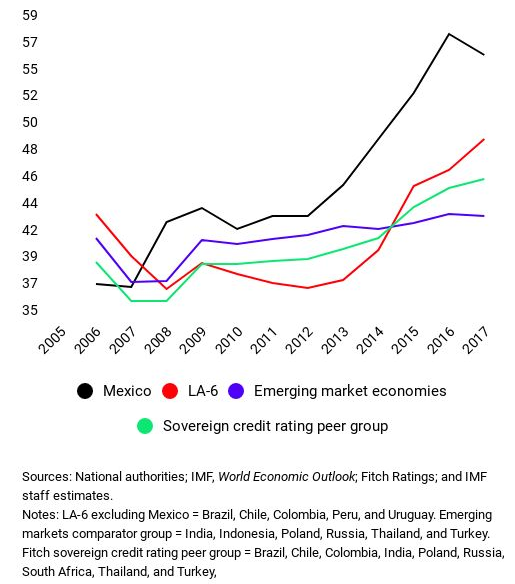 Given its openness to financial and trade flows, the Mexican economy remains exposed to external risks. These risks include renewed volatility and increased risk premia in global financial markets, a sharp pullback of capital from emerging market economies, as well as weakening global growth and intensified global trade tensions. The risk of an abrupt change in Mexico's trade relations, however, has receded because the U.S., Mexico, and Canada signed the reworked North American Free Trade Agreement, now renamed the U.S.-Mexico-Canada Agreement (USMCA). The deal awaits congressional approval in all three countries. Several issues will likely be revisited following the US midterm elections and after AMLO assumes office, but the fact that a basic framework has been agreed upon is critical for ensuring the stability of Mexico's economy.
Undervalued Mexican peso
On a comparable basis, the Mexican peso is the cheapest asset of all, over two standard deviations below its long-term average, according to PIMCO.
The Mexican peso's real effective exchange rate's deviation from the long-term average shows that the peso is undervalued.
Exhibit 4: Real effective exchange rate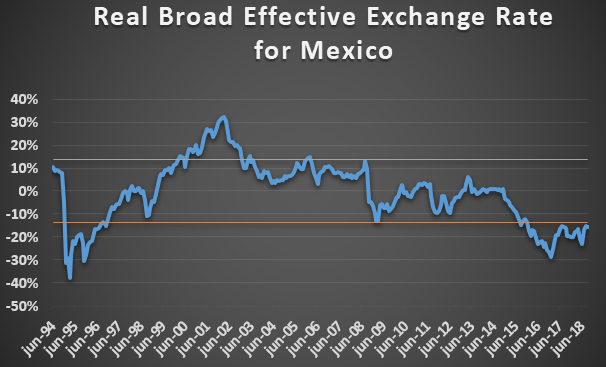 Source: FRED database
Sectors
The iShares MSCI Mexico ETF is quite heavily exposed to Consumer Staples (Fomento Economico Mexicano (FMX)), Telecommunications (América Movil (AMX)) and Financials (GPO Finance Banorte (OTCQX:GBOOF)).
Exhibit 5: Sector allocation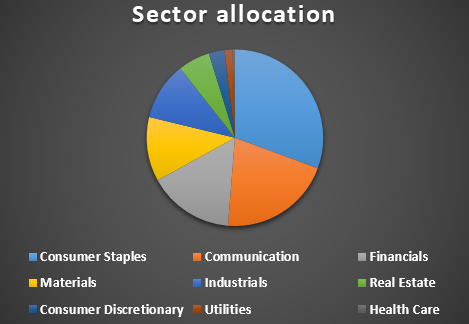 Valuation
As you can see in exhibit 6, the valuation of Mexico isn't exactly expensive and certainly cheaper than a comparable country like Brazil.
Exhibit 6: Valuation

Conclusion
Some controversial decisions by the new Mexican president, López Obrador, have upset international investors. As a result, the Mexican peso has tanked to its weakest ever level, and Mexican stocks are close to their lowest in nine years. We expect the new president to be more pragmatic than he appeared to be the last weeks. The first litmus test is the government's first budget, to be announced on December 15th.
The valuation levels are, as a consequence of the poor stock market performance, for the first time in a long while cheap, while the economic backdrop is positive. We think it is wise to give AMLO the benefit of the doubt. Buy the iShares MSCI Mexico ETF.
Please click the "Follow" tab at the top of this article, if you like my articles. If you would like to receive real-time alerts on updates and future articles, make sure that the "Get E-mail Alerts" box (below the "Follow" tab) remains checked.
This article provides opinions and information, but does not contain recommendations or personal investment advice to any specific person for any particular purpose. The information provided is for educational purposes only and does not constitute a recommendation of the suitability of any investment strategy for a particular investor.