Francesca's Holdings' (NASDAQ:FRAN) shareholders seem to be trapped in a real-life version of the movie, Groundhog's Day. Disappointing news arrives again and again. Problems recur again and again. Little changes to truly make a difference.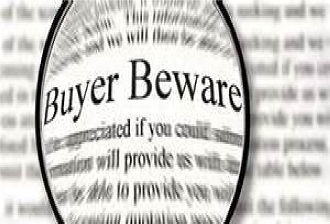 Prior Check-In
When I last reviewed Francesca's in September, the boutique-like retailer had just reported 2018 second quarter results. It was preparing to offer its first loyalty program reward to members. In just a few short months, over 2.1 million had reportedly signed up.
"We're running our first free gift promotion in the next couple of weeks and we're excited to see our guests' reaction to it."
To me, the event seemed premature, a dangerous all-or-nothing gamble.
I'm not a customer, but, to review the process, I signed up. The very first thing one does to enroll in the franREWARDS program is provide an e-mail address. This step appears on the screen all by itself implying it quite important and is the key piece of data.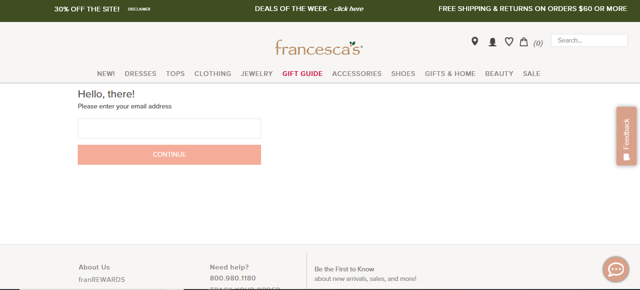 Source
Input of pertinent data follows on a second screen. After entering my information, it certainly appeared I was "in". I even received a "Welcome" e-mail.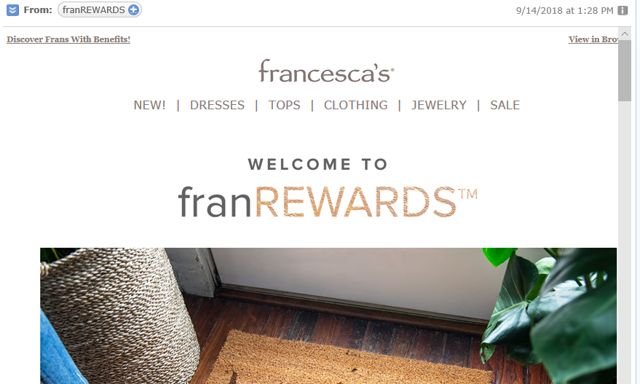 A few weeks later, I checked on the status of that free gift. I was less interested in receiving the gift and more curious about the "value" of the gift (I suspected a candle. I dislike candles.) Much to my surprise, I'd missed the giveaway.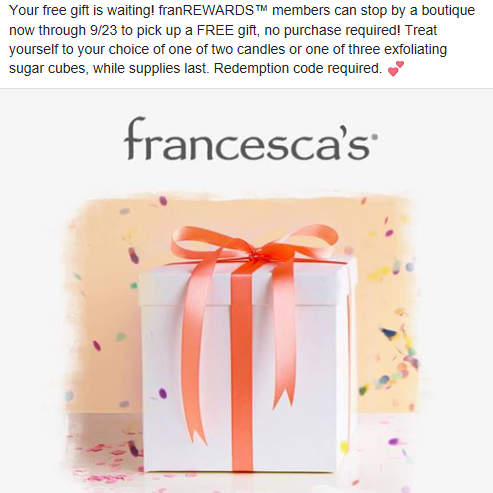 No e-mail, no notice of any sort. Apparently, I wasn't the only one. Of the 39 comments on the company's Facebook post about the event, one-third could be classified as confusion and complaints related to the absence of communication.
Of course, my first reaction was to double-check my status. There, indeed, was a problem. I thought when I signed up with an e-mail address and received an e-mail welcoming me that I would, from that point forward, receive e-mails. Not the case. At the very bottom (several screen scrolls) of the welcome e-mail, Francesca's encouraged me to join its e-mail list. Apparently, signing up for franREWARDS with an e-mail address does not add the e-mail address to the retailer's e-mail list. Efficiency at its finest, sarcasm intended.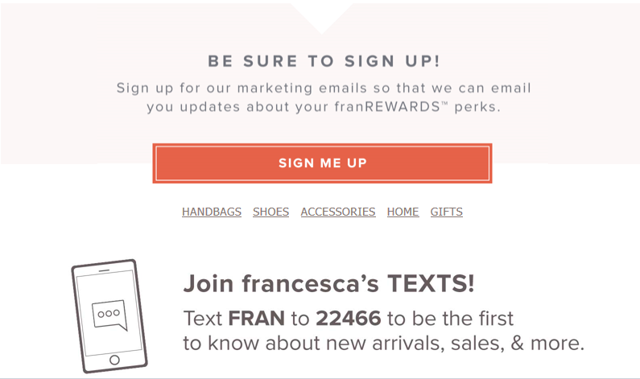 And, the company wonders why their "guests" don't return.
After correcting "my mistake", I did receive e-mails almost daily for nine days. Then, they stopped. In mid-November, I attempted to figure out the reason and rejoined the e-mail list. I tried again on December 4th. The process throws the Francesca's guest into an infinite loop. Provide an e-mail address and get a confirmation e-mail that links you to the Francesca's E-Mail Sign up page. Repeat again and again and again until you tire of the futility. With Francesca's history of issues, my patience runs thin, and it only took three times for me to arrive at frustration. I decided to check the Preferences link under my "account". It says I'm subscribed. The daily e-mail appears to arrive around 7:05 a.m. each day. We'll see.

Again, is it any wonder why "guests" don't return?
Preliminary Results
It's not my opinion but the company's determination that guests aren't returning.
"We saw continued softness in traffic trends during third quarter and did not deliver the improved performance we had anticipated." (emphasis added)
Francesca's provided preliminary results on November 26, 2018, for the third quarter ending November 3, 2018. For the record, this "softness" in traffic equated to a decline in the mid-teens. And, it cannot be overlooked the purpose of the "rewards" event was to drive traffic to the brick and mortar locations.
For the first half of 2018, despite having 50 more stores opened than at the same point in 2017, Francesca's total sales slipped 6% from $227.4 million to $213.4 million. Its preliminary sales total for the third quarter is just $95 million. This estimate is 10% less than the 2017 third quarter and 10% to 14% less than guidance offered in the second quarter of $105 million to $110 million. With three quarters almost "in the books", it appears year-to-date sales will total approximately $308 million.
At the end of the second quarter, Francesca's lowered its full-year sales guidance to a range of $453 million to $463 million. In the 2017 fourth quarter, sales were only $138.5 million. To reach the low end of the guidance range, the retailer must generate sales in the last quarter of 2018 of at least $145 million. Considering same-store sales have averaged a decline of 14.33% each quarter in 2018, and considering the company expected to close more boutiques than it opened in the second half of 2018, it seems highly unlikely Francesca's will generate a sales improvement of 5% compared to the final quarter of 2017.
Earnings per share for the full year will also disappoint. In 2017, the company posted adjusted earnings of $0.52 per share.
In the second quarter report, Francesca's forecast full-year EPS in a range of $0.15 to $0.25 because sales guidance was lowered. At the time, diluted EPS in the first half of the year was a loss of $0.10. The retailer guided for a loss of $0.03 to a profit of $0.02 for the third quarter.
With the preliminary results for the third quarter, the retailer warned non-GAAP EPS would be a loss in a range of $0.17 to $0.19. This means, through the first nine months, EPS could equal ($0.27) to ($0.29).
To reach the low end of its full-year guidance range, the retailer would have to target positive earnings of at least $0.44 in the fourth quarter.
Caution, Optimism and Promises
In the September earnings call, Francesca's CEO, Steve Lawrence, seemed somewhat optimistic about the retailer's merchandise.
"The content is much more current and forward-facing than last year."

"We're also seeing our AUR (average unit retail) stabilize and benefit from better full-price selling in the new elevated merchandise."
But he was cautious about traffic.
"It's taking us longer than anticipated to turn the corner and to get our core guest to re-engage and shop with us with the same frequency that she has in the past."
It appears his caution was warranted. His reasoning for the third quarter's lapse was consistent.
"The primary focuses of our marketing initiatives are to win back our lapsed customers, increase engagement with existing customers and drive brand awareness amongst target customers that do not currently shop Francesca's."
He did mention in the preliminary results press release that the retailer has "seen some improvement in our traffic trends". If this proves true for the remainder of 2018, he's left little wiggle room for excuse.
"The team is constantly evaluating what is working and what is not -- while moving quickly to react to the selling and making adjustments to our fall and holiday assortments accordingly."
If Francesca's even hints at a merchandising miss through the holiday season, the above promise should fuel shareholders' fury.
Marketing
Francesca's has "addressed" merchandising (numerous times), strategy (numerous times), leadership (numerous times) and systems. The retailer confirmed under-performing stores would be closed in 2019. The remaining "untouched" stores are slated for a remodel between now and 2022.
It appears the last arrow in Francesca's quiver is marketing.
If website functionality falls under the umbrella of marketing, there will be plenty spent. On numerous occasions, I've documented an abundance of issues the company should address - both data errors and procedural errors.
If the franREWARDS loyalty program falls under the marketing umbrella, the sign-up process should be revisited. As well, a simple reconciliation between its e-mail list and franREWARDS membership should occur.
If its e-mail list falls under the marketing umbrella, Francesca's has simply missed the mark. The sign-up process is busted. The delivery process is broken.
By the way, that first "reward" back in September turned out to be a choice between a candle and a bath fizzer. As part of my membership in Kirkland's (KIRK) loyalty program, my birthday present was a choice between a candle, a bath fizzer and a facial mask.
If a company were truly trying to set itself apart and be memorable, you would think they'd put more effort into selecting a reward to launch a loyalty program. In my last article, I likened the event to William Tell attempting to pierce an apple atop a head with an arrow. Francesca's arrow missed the apple. If I had to give a grade, it would be an F, and it wouldn't stand for Francesca's.
This is particularly disturbing because marketing is an expense. It is not free; it costs real dollars. Those dollars are getting harder and harder to come by at Francesca's.
To date, as one of the very few things to its credit, the retailer has been able to operate without debt. But its cash position is reaching an inflection point.
Cash And Credit
For several years, new boutiques' sales offset Francesca's comparable store sales declines and presented the illusion of growth. It was evident the company would not be able to continue to open enough boutiques to make up for the poor performance in boutiques operating more than a year. That inflection point came in 2017.
Likewise, Francesca's has been spending more and more and more trying to fix its problems. More on salaries. More on IT. Now, more on remodels and more on marketing.
With its preliminary results for the third quarter, Francesca's estimated its cash balance would be only $11 million. This is the lowest balance since before the company's IPO in 2011 when it operated just 279 boutiques.
In the second quarter, the company reaffirmed its capital expenditures for the year would be approximately $30 million. It would spend approximately $250,000 to $260,000 for each remodel with plans to address 80 to 85 stores. It would also open 34 new boutiques at a cost of approximately $235,000 each. Through the first two quarters, it had invested $14.4 million or almost half the estimate.
Obviously, it would be quite logical to expect the fourth quarter, inclusive of the holiday season, to replenish the cash balance. But that doesn't mean the retailer is on track.
At the beginning of 2018, Francesca's intended to refresh approximately 90 boutiques per year through 2022. This means at least $23 million will be expended each year. With its cash dwindling, cash flow and available credit become critical.
Operating cash in the first half of 2018 is only $11 million. Based on the preliminary results, it is not likely the third quarter will dramatically increase that number.
Thus, it is very likely Francesca's may have to draw on its credit to facilitate its spending in 2019. But its available credit has dramatically changed in the past six months. In May, Francesca's closed out its $75 million asset-based revolving credit facility set to expire in August 2018. Its line of credit is now based on accounts receivable and inventory with a maximum of $50 million. As of the second quarter, its available credit was only $24.8 million.
Considerations
First, that e-mail I was waiting on – it did not arrive. I don't care anything about being a franREWARDS member. But, for the sake of reporting on the retailer's gross mishandling of its e-mail list and loyalty program, I contacted Guest Services. Initially, the representative attempted to quickly hand me off to the rewards department. But I insisted and explained again that the problem was with the e-mail process. In the encounter, I had to wonder if anyone besides me would question the validity of the separation of these entities. My issues remain unresolved. Someone will let me know something someday. Marketing still needs a sharp focus, and applications and processes still need vast improvements.
Regardless of whether all of that does improve, I'm not convinced Francesca's has conquered its merchandising or strategy failures. Apparently, it has vacillated back to the "broad and shallow" model that didn't work for years.
"We've reengineered our buying process and are back to executing our broad and shallow approach..."
Sure, there could appear to be some success in the merchandising changes strictly due to the holiday season. A true test of change will be if customer interest lingers beyond the holidays. But, if the company can't drum up interest during the holidays, there will be no way to sugarcoat such a failure and would be a strong indication the company has lost all relevance. It continues to offer similar merchandise for higher prices (perhaps to somehow validate its boutique moniker). So, it's quite logical it remains on its customers' "ignore" lists.
Consider this example. As a gift idea for the holidays, Francesca's is offering a Harry Potter sorting hat for $45. With a renewed interest in the popular franchise, it could easily be argued the item is a solid merchandising decision. The problem? Walmart (WMT) is selling the same for less than $20. At Francesca's, you'd also have to pay for shipping since it is only offered online. At Walmart, you can order online and pick it up for free or just walk in and purchase it. These types of merchandising and strategy decisions (and there are plenty) scream of arrogance on Francesca's part and serve to further alienate its core demographic.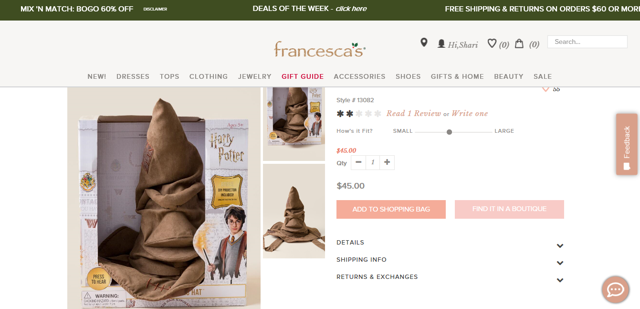 Source
In turn, it would not be surprising to see the winds of change swirling around top leaders. Expense-trimming could be used as the excuse. Others may simply tire of fighting a losing battle and move on. Some may simply have failed.
With a share price barely bumping $2 now, traders in the stock could reap some profits if they avoid greed and react quickly to perceived good news bumps. But, for long-term shareholders, there's no solid proof of a turnaround. And, before money is borrowed, Francesca's should definitely decide if there's legitimate proof it will ever flourish.