Market narratives for Octobers decline, the late November rally, and the more recent fading of the rally have pointed to two prominent explanations, supposed dovishness from Powell, and trade/tariff chatter. The trade issue has been blamed for the bear market in Chinese stocks in particular and Asian emerging market stocks in general (with dollar scarcity and Fed tightening also being given some role).
In this article I examine several questions: at a fundamental level, how much should tariffs on Chinese goods affect the Chinese economy? Given this, is the media explanation for the cause of the bear market in Asia giving a large role to tariff talk actually correct? If it is not correct, what does it say about whether one should be fearful of investing in Asia right now or be particularly greedy and go overweight?
Trade Data-Background
As the following chart shows (sources for next 4 charts are all the WTO), in 2017 Asia recorded the highest increase in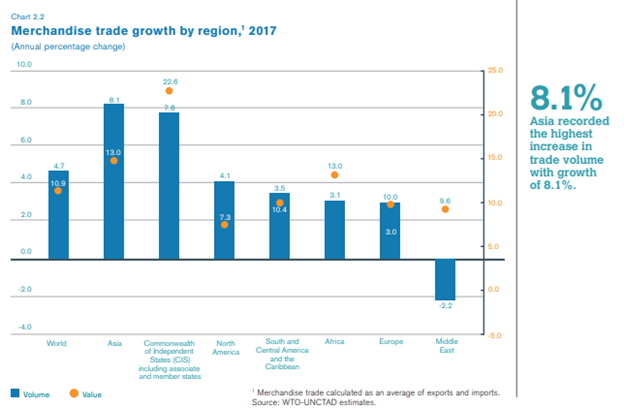 trade, at 8.1%, in volume terms, and tied with Africa in value terms, at 13%. In value terms, this compares to 10% in Europe and 7.3% in North America. The next chart looks at the relative contributions of individual countries to overall exports and imports, focusing on the top 10 countries in each graph.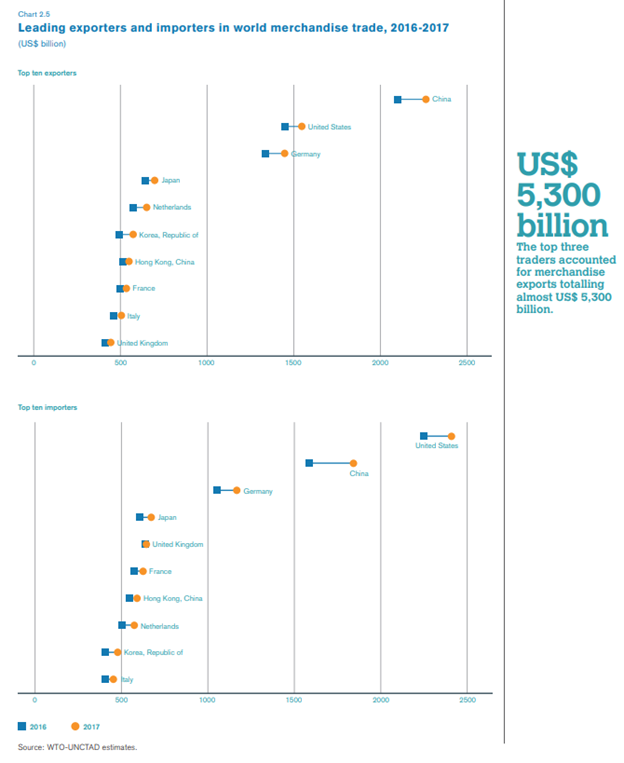 In 2016-17, China was by far the largest global exporter, with well over $2 trillion in exports, and the top 3, which are China, the US and Germany, accounted for about $5.3 trillion in exports. Japan, Hong Kong and South Korea are also in the top 10, accounting for another $1.3 trillion in exports. On the import side, the US is the world's largest importer, with China second and Germany third.
Looking at the world as a whole, the next chart shows that between 2011 and 2017, Asia and Europe have consistently dominated the growth in world trade.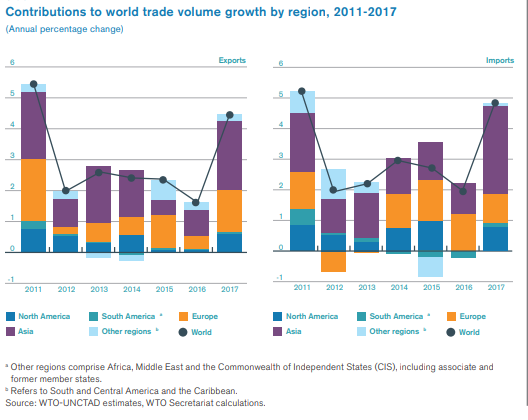 Trade Data – China Focus
In order to understand the potential impact of US tariffs on the Chinese economy, we will next drill down on the relative role of trade within Chinese GDP, how much of it goes to the US, and even take a peek at what the top 5 categories of exported goods are to think through the impact of a potential reduction in that component.
Of China's $12 trillion economy (2017 numbers, at $ exchange rates, not PPP), exports were $2.26 trillion, or 18.8% of the economy.

Source: Trade Profiles
However, US tariffs would not affect all Chinese goods going to other countries, only Chinese goods going to the US. So in the next chart, we take a look at what percent of all of China's exports go to the US versus to other countries.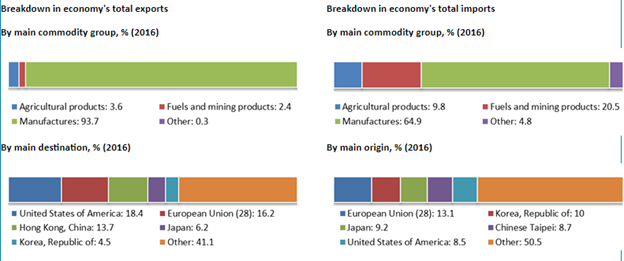 We can see that 94% of China's exports are manufactured goods (with tiny amounts of agricultural goods or mined products), and that 18.4% of all exports go to the US. Taking the product of the amount that is total exports and the amount going to the US, we get 3.5% of total Chinese GDP going to the US.
Next, to understand how much of a growth slowdown would result from tariffs on Chinese goods entering the US, we need to have some sense of what the goods are. To the extent that the goods are produced by dozens of other countries at similar prices and are easily substitutable, we would expect a high sensitivity, meaning even 10-20% tariffs could rapidly slow down that part of the Chinese economy. On the other side, to the extent those same goods are exported by China to many other nations, any decrease in US purchases of those goods could be easily "grown out of", because we know that Chinese exports are growing by 10% a year in value (not just to the US, but to global destinations).
So even if the entire 18% of exports going the US completely stopped (worst case imaginable), it would take 2 years of that 10% a year growth to other regions to make up for it. In that worst-case thought experiment, Chinese GDP growth would take an immediate 3.5% hit (which in many countries would be an immediate recession, but more on what it would mean for China later).
Looking at the next Figure, we can see that computers and servers, cellphones, telephony-related products (the "line" in the third most exported product refers to IP phones, which have been rapidly replacing old landlines), electronic circuits and lighting related products are the top 5 Chinese export categories, and together account for $430 billion (less than 15% of the total), which means that there is a long tail of other products.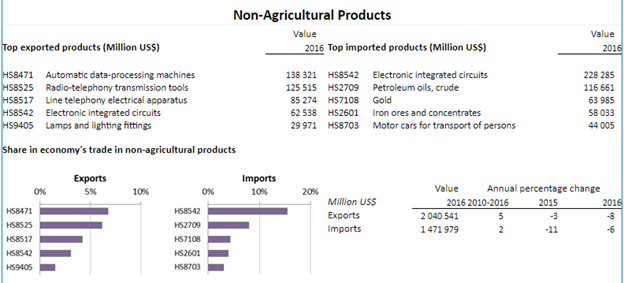 Earlier this year, I traveled through the Middle East, Turkey and to South Asia. I visited homes, stores and offices in each of the countries I visited. The availability of Chinese goods in those countries was no different from their availability in the US. In fact, what I would say is that while in the US, some segment of the population that have more money to spend may prefer certain European or Japanese alternatives (in a few categories where they compete in the same products as China), in middle and lower income countries in Asia, China is simply viewed as the only affordable choice.
Trade Scenarios
Next, let's consider three scenarios which will help us bound the range of possible outcomes with US tariffs. The most optimistic scenario is one where China eventually agrees to enough IP and market access relation concessions demanded by the US and everything returns to normal, with China potentially allowing more foreign companies in, not trying so hard to steal their IP, and increasing imports somewhat (which is likely to happen in any case as Chinese consumer incomes grow). The middle scenario is one where the US assesses 10-25% tariffs on many, but not all Chinese goods, resulting in about a 10% reduction in the level of Chinese exports (the most easily substitutable ones for US consumers) to the US. For an extreme worst-case scenario, let's suppose that tariffs are increased to such a high level that Chinese exports to the US drop by 25% (never mind the huge impact that this would have on Walmart, or on the prices paid by the many Trump voters who shop there).
Recall that exports to the US were 3.5% of Chinese GDP. So our 3 scenarios would correspond to a 0%, 0.35% and 0.875% hit to China's GDP. In the next Figure, we can see that after growing at 8-12% in the three years right after the financial crisis, GDP growth has been moderating gradually to just above the 6% range.
China: GDP Growth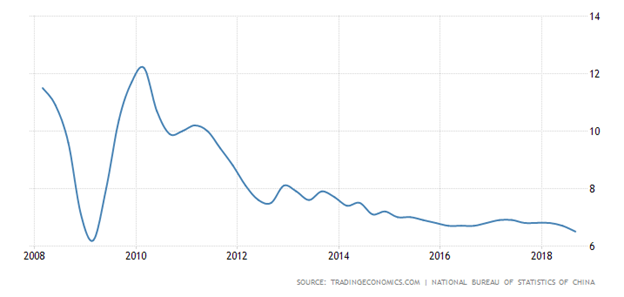 The moderation from 8-10% to 6% is largely a natural, long-term secular phenomenon: as a country goes from building infrastructure, adding electricity, phones, buildings, public transportation and airports, there is a middle-income phase (which countries such as Singapore, S Korea and Japan went through in the 70s, 90s and 60s, respectively) of 4-6% growth, before slowing to developed country levels of growth. Additionally, the dip we see from the 7% level towards the 6% level occurring in 2018 is part of a managed slowdown in credit growth being engineered by the Chinese government.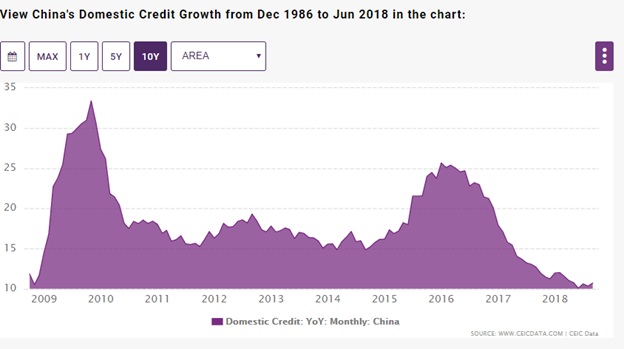 Link: China Domestic Credit Growth Rate
After the financial crisis, the credit spigots were opened to keep the economy humming in the face of a global recession. 2016-17 saw a smaller hump which was leading to concerns about excessive credit growth. Thus we can conclude that economic growth so far shows no impact from trade and instead reflects the natural link between managed credit growth and GDP growth. Finally, we should subtract our scenario "hits" from the potential trade war scenarios to look at what GDP growth might be under each scenario for the next several years. We get 6.5%, 6.15% and 5.6%. You read that right: even under the most dire trade scenario, with China unable to grow their exports to other countries to make up for reductions in US demand (not to mention the scenario where China exports those goods to Vietnam, and Vietnam slaps "Made in Vietnam" labels on the goods before exporting them to the US), China would continue to grow about twice as fast the US.

Perhaps that explains who looks worried in the following picture from the US-China sit-down at the G-20 in Argentina. Trump, with the House taken by Democrats, has investigations and a Mueller report to look forward to. While Xi has a slowdown to at worst 5.6% GDP growth to worry about, and that is assuming that Trump's upcoming personal travails do not end up distracting him from the trade battle to declare a premature "victory" after a small set of Chinese concessions.
Meanwhile, Under The Surface
In an article yesterday on Bloomberg, I read the following:
By next spring, Chinese government and policy bank bonds denominated in renminbi could be part of the Bloomberg-Barclays Global Aggregate, the debt-market index with the largest amount of assets under management. Global Agg, as it's known to traders, represents about $2.5 trillion worth of securities. Macro investors should take notice of Beijing's move, for at least two reasons.

First, this would mark another milestone in China's gradual liberalization of its capital account (the money flows in and out of the country). If sustained, this process would herald a big shift in long-term capital allocations around the world. China would be expected to take fourth place in the Global Agg after the U.S., the euro zone and Japan, with a projected index weighting of 5.5 percent. Second, Chinese yields might exert greater influence over the pricing of global long-term interest rates and, in turn, become more sensitive to movements in bond yields abroad.
This continues the trend I pointed out in an article earlier this year about the inclusion of China's A shares in the MSCI equity indices. China has vaulted to become the world's second largest economy and the largest exporter and continues to grow rapidly. Lagging capital account openness and regulatory reforms, together with financial markets generally adapting at a slower pace, have resulted in this tremendous impact not yet being felt in financial markets the way it has already been felt in goods markets. However, the trends are already underway for Asian markets to become as globally important as European markets within a fairly short time span, and to challenge US hegemony on the global financial stage within a decade.
For example, it is entirely possible that as Chinese market cap share in the indices grows, funds will split focus into an "Asia Ex-Japan Ex-China" offering and a "Pan Asia" offering. At some point China will join the ranks of Japan and South Korea in the "developed Asia" bucket.
If you agree with this long-term view, whether the bear market in China is indeed caused by short-term fears about trade, a mix of those fears and slowing credit growth, valuations are recession level and this is a time to be greedy, not fearful.
Investment Options
The ETF MCHI is one option - even after the current bear market, it has returned about 6.5% a year since 2012. Over the same time period, the broader EEM ETF has basically been flat, earning the same as cash over that time period. However, comparing ETFs and the best active funds in this category, it does appear that well-managed funds with both Asia and stock-picking exposure do have an edge. For example, the Matthews China Dividend Fund (MCDFX), which has a 10-year track record, has a total return of 9.7% a year (with roughly half the return coming from dividends, making this a good component of a growing dividend income portfolio).
While this article has been focused on how the trade war news is either the media misreading why the bear market has occurred (likely) or investors in China misreading the trade picture (less likely, but possible), elsewhere I have written about how I expect Asia in general to significantly outperform US markets over the next 5-10 year horizon given current levels of each market (see MAPIX Article for example).
Disclosure: I/we have no positions in any stocks mentioned, and no plans to initiate any positions within the next 72 hours. I wrote this article myself, and it expresses my own opinions. I am not receiving compensation for it (other than from Seeking Alpha). I have no business relationship with any company whose stock is mentioned in this article.