GM: Risks Abound Due To Autonomous Vehicle Bubble
Summary
GM is correct to prepare for tough times, but they are not disclosing the true timeline for long-range electric vehicle (EV) and autonomous vehicle (AV) deployment.
The reality for autonomous vehicles includes regulations, production cycles, and delays in implementation for an extraordinarily difficult problem to solve – how to get machines to respond like humans.
For value investors looking to buy GM's high yield at depressed prices, don't base the decision on GM's PR push around electric vehicles and autonomous vehicles.
Looking for more stock ideas like this one? Get them exclusively at Tech Insider Research. Get started today »
Last week, General Motors Company (NYSE:GM) cut more than 14,000 salaried staff and factory workers with plans to close seven factories worldwide in what Bloomberg calls a "sweeping realignment to prepare for a future of electric and self-driving vehicles." Unfortunately for GM, and their employees, the future of autonomous vehicles is much farther off than what the company represents. Investors in GM stock should be cautious, and realistic, as to when new revenue streams will occur, as cutting costs, even to the tune of a net savings of $4.5 billion, might not be enough to wait out the innovation cycle.
In light of the recent layouts, there is $1.5 billion of reduced capex that the company will be saving by cutting the low-demand production lines and the anticipated plant closures (a drop in the bucket compared to the annual capex of $27.5 billion), however, the $1.5 billion capex is not being reinvested into electric vehicles or autonomous vehicle production at this time. The lack of reallocation conflicts with statements from the company CEO, Mary Barra, who promised the company would double investment in electric vehicles and self-driving technology during this week's announcement.
The bottom line is that GM is correct to prepare for tough times, but they are not disclosing the true timeline for long-range electric vehicle and autonomous vehicle deployment.
Three Words to Heed for GM Stock: Gartner's "Trough of Disillusionment"
In September, Autonomous Vehicles fell into the "trough of disillusionment," which is the downward slope published by the analyst firm, Gartner, to show the hype cycle for certain technologies. You can think of this as "winter is coming" for tech products – a time when all of the buzz and excitement finally meets reality (note: artificial intelligence winter is a well-documented thing).
ABI Research, an advisory firm that reports on market-foresight trends, predicts 8 million consumer vehicles with Level 3 to Level 5 autonomy will ship in 2025. Compare this to the 94.5 million vehicles sold in 2017 - which equates to 8.5% of sales. This is a small and fairly insignificant percentage of market share to be chasing 7-years ahead of deployment. Yet, investors have poured cash into auto manufacturers due to marketing campaigns that provide false hope for the near future.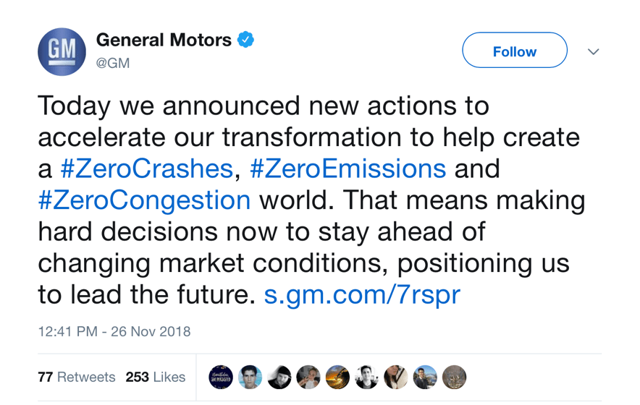 The reality for autonomous vehicles includes regulations, production cycles, and delays in implementation for what is an extraordinarily difficult problem to solve – how to get machines to respond like humans at crucial moments. This gap between investor expectations (perception) and commercial deployments (reality) has created an autonomous vehicle bubble.
Per statements from GM, long-range electric vehicles are a minimum of 8 years before they represent a slim 10% of GM's current production. In 2017, the company committed to a volume production goal of "1 million units globally by 2026," with the majority of EVs being sold in China. GM's overall production was about 10 million units globally in 2016.
Brief Background on the 6 Levels of Autonomy
You can skip this section if you know the six levels of autonomous vehicles as published by SAE International. If not, this background is important to understand why the autonomous vehicle bubble formed, and why and when it will burst.
Level 0: No Automation. The driver performs all of the tasks.
Level 1: Driver Assistance. The driver handles all of the accelerating, braking, and monitoring of surrounding environment. An example of this level is when a car brakes for you in a critical moment.
Level 2: Partial Automation. The vehicle assists with steering and acceleration functions and allows the driver to disengage. Bubble formed here with investments pouring in, fueled by high hopes of Level 4 or Level 5 commercial deployment by 2020.
Level 3: Conditional Automation. The vehicle controls all monitoring of the environment using sensors. The driver's attention is critical but the AV system runs the safety critical functions. This level does not require human attention under 37 miles per hour. Bubble will burst at this level as commercial deployments are delayed and reality sets in that AV investments will not see returns for many years.
Level 4: High Automation. Vehicle is capable of steering, braking, and accelerating, as well as responding to events and changing lanes. The system is switched into the mode under safe conditions, but the vehicle cannot determine dynamic instances like traffic jams or merging onto the highway. Most likely ETA 7-10 years.
Level 5: Complete Automation. No human attention required. No need for pedals, brakes, or a steering wheel. The AV controls all critical tasks, monitoring of the environment and identification of unique driving conditions like traffic jams. Most likely ETA 10-15 years.
Autonomous Vehicles – Stuck in Second Gear
Hurricane auto sales from last September helped GM stock, which rose 11.9% from the previous years, however the stock has retraced and is now trading at $35 per share. GM is no stranger to pushing the autonomous vehicle hype with executives commenting that Cruise Automation was making "rapid progress" back in October 2017, and in a blog post, the CEO stated, "in the coming months, we'll take the next bold steps in testing our autonomous technology as we lead the way to fully self-driving vehicles without any human driver as a backup." Those months have come and gone, of course.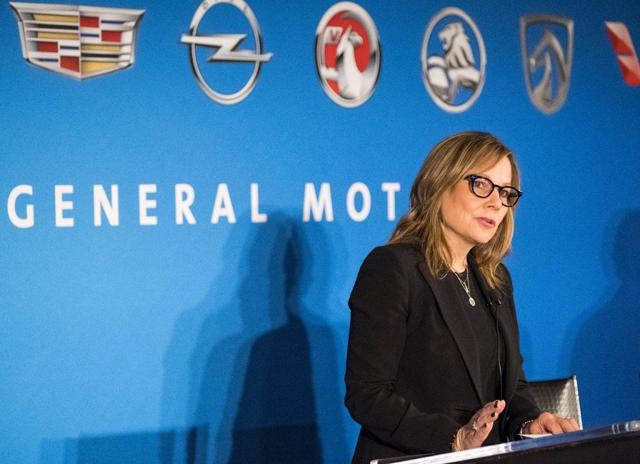 Tesla (TSLA) is another example of a company that has made unfulfilled AV promises. In 2017, Tesla missed the deadline for a full rollout for self-driving cars. Since 2015, the company had been promising that every car made going forward would have the hardware necessary to facilitate full self-driving capabilities. In line with inflated expectations, Tesla announced it would officially stop promoting the "Full Self-Driving" option for its cars.
Waymo (GOOGL) has been in testing since 2009 and has racked up more than 8 million miles on public roads and more than 5 billion miles in simulation. There are 600 self-driving Chrysler Pacifica Hybrid minivans on the road with goals of launching a commercial driverless transportation system later this year. This, and many other "near deployment" announcements have created massive expectations for the AV market, which is forecast to grow 10x from $54 billion in 2019 to $556 billion in 2026 at a growth rate of 39.47%.
The primary risk today for GM stock is that these forecasts assume commercial deployments will occur on time. As Mike Ramsey, a lead author on the Gartner report points out, even if GM and Waymo continue to debut driverless minivans or launch ride-hailing fleets, commercial deployments won't be ready anytime soon. For example, the 2019 Audi A8 with Traffic Jam Assist with Level 3 partial automation, which has been anticipated for some time, has extended its release date another year due to foggy federal regulatory framework, infrastructural differences, and a lack of consumer understanding of self-driving technology.
More Evidence of the Autonomous Vehicle Bubble
In two side-by-side headlines we see Mary Barra of GM propagating a very different perception than what company insiders have reported. On November 1st, at the New Times conference moderated by Andrew Ross Sorkin, Barra stated the company is "on track" to roll out a ride sharing service in 2019 that would rely on autonomous vehicles, with the New York Times (NYT) reporting Barra "added the company had a strategy to show how its vehicles are safer than human drivers."

Meanwhile, on October 23rd, GM insiders told Reuters, "Nothing is on schedule," citing unexpected technical challenges, such as Cruise cars not correctly identifying whether objects are in motion. Current employees and former employees also reported that Cruise software struggled to identify whether objects on the road are stationary or moving, failed to recognize pedestrians, and has mistakenly seen phantom bicycles.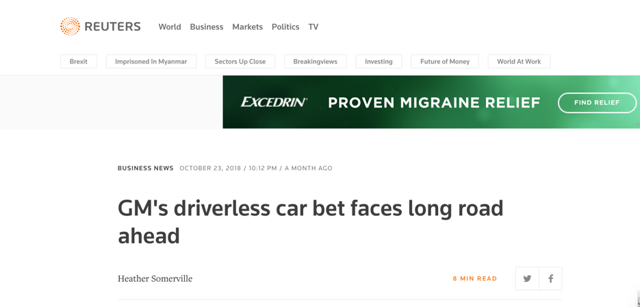 The regulation hurdles between Level 2 and Level 3, and delayed deployments, will put immense pressure on stocks, like GM, that are overvalued based on AV speculation. Press plays a large role in this. Headlines are a continual churn of autonomous vehicle "moments" – every partnership, every mile driven, every make and model that adds another feature. To be clear, we've only gone from a Level 1 to Level 2. We are not able to release Level 3 AV right now –that includes Waymo, GM, Audi, Mercedes, BMW, and yes - even Tesla.
Research studies have proven that consumers are very confused by the high profile promises, which Thatcham Research calls "dangerously confusing." In a recent study, 71 percent of respondents around the world believe they can buy an autonomous vehicle today – yet there is not one autonomous vehicle on the market. The top three brands that consumers mistakenly believe distribute self-driving cars include Tesla (40%), BMW (27%), and Audi (21%). Of these, 11 percent say they would take a brief nap while using assist systems (hopefully, you're not the person in the crosswalk when this happens).
GM Stock Investors Must Define "Future"
The company's decision to lay off a sizable work force seems sensible enough from a shareholders' perspective (however unfortunate for the Midwest laborers). However, what is not sensible is having high expectations of when the future will arrive to deliver new revenue streams.
For value investors looking to buy GM's high yield at depressed prices, don't base the decision on GM's PR push around electric vehicles and autonomous vehicles unless you're comfortable not seeing profits in these production lines for many years to come.
All analysis contained herein should be appropriately credited to Beth Kindig.


Check out my premium service "Tech Insider Research"
Providing high conviction analysis to give your tech portfolio an edge.
Most analysts on Seeking Alpha study P&Ls and balance sheets and know little about technology. This provides zero competitive edge as everyone has access to the exact same information.
I have analyzed thousands of companies in the technology sector, and outperform due to hands-on experience. Although traditional fundamentals are included, the edge comes from information not broadly known. If you have money in tech stocks, consider using a specialist.
My analysis is the most in-depth you'll find in tech. For more information, please click here.

This article was written by
High conviction analysis to give your tech portfolio a competitive edge
Beth Kindig is the CEO and Lead Tech Analyst for the I/O Fund and Tech Insider Network, delivering weekly in-depth tech stock analysis to her free newsletter subscribers. 
Tech Insider Network is unique in that we blend real tech industry experience with active portfolio management. We pioneered combining cutting-edge fundamentals with high-performing technical analysis for retail.
We have beat top-performing Wall Street funds across four periods,
including our most recent audit proving
a lead of up to 174% compared to other verified all-tech portfolios. You will notice the vast majority of retail sites are not verified at all, which is one of the many ways the I/O Fund raises the bar. Premium Members can access more information
regarding our 2022 performance here
.
Our audited results prove we are one of the best-performing tech portfolios since our inception. Our cumulative returns since inception are 46.92% – which is more than double the Nasdaq-100's return of 18.65%. Notably, this was achieved during a risk-of environment when indexes typically outperform individual portfolios.
Tech Insider Network offers three full-time analysts with real-time trade alerts, an actively managed portfolio, institutional-level deep dives, PLUS a hedging service for an unbeatable price.
Our Advanced Market Signals service is $799 per year, which works out to having a team of analysts for only pennies per hour. 
Our New Tech Insider Network Essentials Plan at $99/year works out to fractions of a penny per hour.
Our team is frequently featured in Tier 1 News. This includes Fox Business News, CNBC, TD Ameritrade and more. Media is the ultimate gatekeeper on quality and these spots are typically exclusively reserved for institutional analysts. You can view dozens of appearances on our YouTube channel.
There's plenty of opinions on tech and no shortage of coverage. In contrast, Tech Insider Network is an audited portfolio that outperforms other all-tech portfolios. Our audited portfolio results are published online in BusinessWire.
We were the first service to offer specialized tech sector coverage that combines fundamentals and technicals. After recommending a stock, we continually provide new entries and exits. The difference is that we don't pump out meaningless content. Rather, everything we write is actionable and tied to a real, live portfolio. Sometimes, we say "don't buy right now" or "wait for a lower entry." This also led to a successful hedge of up to 100% of our portfolio in 2022.
OFFICIAL BIO:
Beth Kindig has twelve years of experience in competitive and product analysis in the tech industry dating back to 2011. Considering tech growth stocks took off after the financial crisis, she is a veteran in every sense of the word.
Her tech conference appearances date back to 2014 and her analysis began garnering press in the same year. She is known for making bold calls on tech stocks and offers a weekly free newsletter that leverages her ten years of experience in the private markets. Her newsletter has seen gains of up to 403% in three years.
It is not only the big gains she has achieved with individual stocks but also the quality and consistency of her analysis and how she carefully forms her theses that have placed Beth on the map as one of the best tech analysts in the market.
She has formed a proven methodology of choosing the right investments from being exposed to hundreds of tech growth companies over the past 10 years.
This is not a methodology that the traditionally trained can learn or repeat. Kindig has spoken at many tech conferences including the Android Developers Conference, GamesBeat, Advertising Week NYC, Tech Week Chicago, and BlackHat. She has been published in Forbes, MarketWatch, Venture Beat, MediaPost, AdExchanger, and the International Association of Privacy Professionals. She has appeared on Fox Business News, CNBC, TDAmeritrade, CoinDesk, NPR, Bloomberg TV Asia, Motley Fool podcast, This Week in Startups and more discussing her stock analysis.
Analyst's Disclosure: I/we have no positions in any stocks mentioned, and no plans to initiate any positions within the next 72 hours. I wrote this article myself, and it expresses my own opinions. I am not receiving compensation for it. I have no business relationship with any company whose stock is mentioned in this article.
Seeking Alpha's Disclosure: Past performance is no guarantee of future results. No recommendation or advice is being given as to whether any investment is suitable for a particular investor. Any views or opinions expressed above may not reflect those of Seeking Alpha as a whole. Seeking Alpha is not a licensed securities dealer, broker or US investment adviser or investment bank. Our analysts are third party authors that include both professional investors and individual investors who may not be licensed or certified by any institute or regulatory body.