Editors' Note: This article is meant to introduce Robert Honeywill's Marketplace service, Analysts' Corner.
I Am Excited To Launch Analysts' Corner
Analysts' Corner provides the means to fundamentally change the information available to retail investors, to guide their share buying decisions. Analysts' Corner will take you from a deeply flawed and archaic, seat of the pants approach, to a disciplined and objective approach to investments in shares. I think that is good enough reason to be excited, and I hope you will join in my excitement.
On any trading day there is a distinct dichotomy between the value placed on the total shares of a company, and the intrinsic value of the company as an enterprise. We only have to look at the share price swings over the last few weeks, for companies whose fundamentals have not changed, to know that is true. This leads to situations where even for excellent companies, the share price is too high. Conversely, the share price can be too low, and that provides opportunities. But the present approaches to determining what price should be paid for shares in a company is flawed for these reasons -
The advantages and opportunities accruing to a retail buyer of shares in a company are nothing like the advantages and opportunities accruing to a party buying the whole company, giving them direct access to the company's cash flows. Present value calculations of shares, based on whole of company valuations, ignore the fact the only way a retail share investor can achieve a return on shares is through receipt of dividends and gain on sale of the shares (see, "Forget Irrelevant Valuations, Returns Based Investing Is A Better Approach").
Historical rates of return for shares, particularly over a period of rising P/E multiples, are not an indicator of future rates of return.
Measures such as forward P/E ratios and PEG ratios are qualitative and not objective, tangible measures of potential rate of return.
Analysts' Corner introduces a new paradigm of returns based investing for retail investors, based on projected rates of return and dividend yields.
Register for a free trial now. You will receive support to try out researching and writing up one or more stocks of your choice during the trial period.
Why Analysts' Corner Could Appeal To You
Crowd Sourcing
There are many readers of Seeking Alpha who, like yourself, have significant skills and experience in various fields of industry and commerce. You probably worked, or are working, in a cooperative environment, where the skill sets of others complement your own. You are managing your own share investment portfolio, or you would like to. You would like to bounce your investment ideas around with a group with that wide range of skill sets you are accustomed to having the benefit of. You may not have a financial analysis background and feel that is a restriction on your company research capabilities. Or you may have a background in financial analysis, but you understand there is more to company research than the financials.
Seeking Alpha Community Is An Amazing Pool Of Expertise
In my Seeking Alpha Marketplace, I intend to bring together professionals from all disciplines, engineering, metallurgy, architecture, the sciences, mathematics, operations research, to name a few, and of course finance. I will seek to join these professionals together with all those who have industry experience in the operations of the companies we are reviewing, and of course those, such as marketing managers and commodities experts, with knowledge of the markets in which the companies sell their products. At the end of the day, all of this expertise has to be applied to produce numbers - projections of the returns available to investors investing in these companies. For those SA readers who have so much to contribute, but lack expertise with financials, I propose to provide training and a proprietary model that will enable them to tackle the financial side as well as the operational side of the companies they wish to explore for their portfolios, and perhaps penning an article or two. There is nothing like writing an article to focus the mind on what is important in a company under review.
Quantifying Estimated Rates Of Return And Dividend Yield
What an investor should be looking for out of a share investment is total rate of return, and if seeking current income, the current and projected dividend yield. The only way an investor can realize a return from an investment in shares is through receipt of dividends and gains on sales. I repeat — the only way. And yet, most information provided to guide share purchases is by estimates in the form of qualitative measures. While there is a range of these qualitative factors publicly available, the majority are purely based on historical data, which might not reflect the future in an increasingly volatile stock-market. There is a limited amount of forward-looking data available, including EPS estimates and forward P/E ratios. Unfortunately, estimates such as forward P/E ratios are generally based on non-GAAP EPS estimates, whereas current P/E ratios are generally based on ttm GAAP EPS, so past and future data is not comparable. Using these qualitative factors to guide investment in shares is akin to flying by the seat of your pants, without a navigation system, It is archaic, and it needs to change. Its only use is if a company has performed well in the past, then it has a likelihood of performing well in the future, and I acknowledge that is a good place to start. But that alone is no guarantee that buying today will provide good returns in the future. In the section below, I include a table showing a random selection of rates of return for 7 different investors in Archer Daniels Midland (NYSE:ADM) over the last 4 years. This is included to demonstrate how much rates of return and dividend flows and yield can vary for share investments, even in a solid performing Dividend Aristocrat. Making an investment decision based purely on qualitative factors will not avoid poor share investment performance. But that same qualitative data can be quantified in projections of likely rates of return based on share price at entry.
Financial Analysis Processes and Tools
I have systematized a process for gathering and inputting financial data from identified sources such as company SEC filings. The input of this data automatically generates financial tables and dashboards, to aid review of past performance and projected future performance. No financial background is required to produce these tables and dashboards – they are produced automatically from the input. These tables and dashboards form the basis for writing up a research report, or an article, on a selected ticker. A full description of the process and the output can be found in my article, " Archer Daniels Midland: Risk And Opportunity". TABLE 1 from that article appears below –
TABLE 1 - ADM Historical Shareholder Returns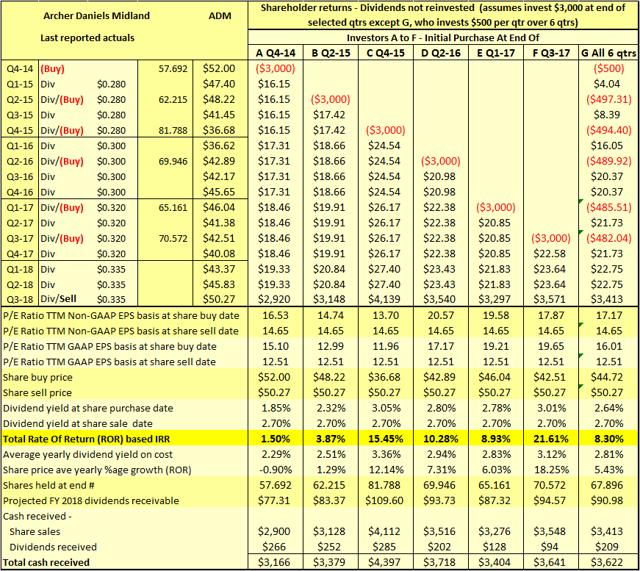 TABLE 1 above shows the results were very different, for 7 different investors, each investing $3,000 in ADM over the last 4 years, Average yearly rates of return range from 1.50% for investor A, to 21.61% for investor F. The assumed exit price is the same for all investors. It is the share price at entry which is the main determinant of whether rate of return was at the poor or exceptional end of the scale. Using my review process makes it possible to project estimated rates of return before purchase, rather than waiting until some future date to find your outcome, your rate of return, is sub-optimal. My proprietary dashboards convert qualitative data input into quantified outcomes, including projected rates of return and dividend yields. The dashboards then allow you to model the effect of changes in assumptions for earnings, interest rates, borrowings, share repurchases, and share count, to test out any number of scenarios.
Draft Publications For Comment
Members who draft research papers or articles on stocks can choose to publish these in the draft publications for comment folder, for the benefit of other members, and for the benefit of receiving constructive feedback from other members. All advance material for think tank discussions will be posted in this area.
A Think Tank Approach
Analysts' Corner philosophy is to apply a "think tank" approach to its discussion group sessions. It is open to any member, with notice, and subject to session availability, to initiate a "think tank" discussion on a company of their choosing. This can extend to a company and its peer group, or an industry group. I will make every effort to arrange for other Marketplace operator/s, specializing in a sector, and outside specialist/s, to join in on "think tank" discussions. I am making "Saving General Electric" (shades of "Saving Private Ryan") a regular think tank topic, it is that important. But the "think tank" will also aim to seek out and identify smaller fish which offer great opportunity, but lack visibility.
My Goals For this Service
My goals for this service are to help you better manage your current and prospective share investments in what is developing into an uncertain, and more volatile share-market, and interest rate environment. Excerpted from a recent article, "As The Cycle Turns - The Idea Guide" by Daniel Shvartsman (available only to Essential subscribers),
… suggests that the market cycle is getting louder and louder. Even if recession itself doesn't seem close, we've had a bull market run for nine years and valuations seem stretched. It doesn't take much to knock things off course.
In particular, I will:
Help you to target a satisfactory estimated rate of return, and projected dividend yield, at the point of purchase of a stock, based on clearly enumerated estimated future key performance data.
Help you to pull together historical key performance data on selected stocks of interest in a format against which estimated future performance can be readily compared.
Help you to identify and quantify those factors that may, or will, affect future investment performance of stocks in which you are interested. These factors include potential increases or decreases in: dividends; EPS; EPS growth rates; P/E multiples, share repurchases; borrowings; interest rates; and share count. Historical data for these items is generally available, but I provide a systematized approach to assist in uniform presentation. Apart the service I provide, future estimates for these items are not generally available, to the best of my knowledge, in a form suitable for direct comparison to historical data.
I will help you when you are concerned, for example, by an article about high debt levels at AT&T. Using my 1View∞Scenarios™ based dashboards, it will be possible to input assumptions on interest rate increases and instantly see the effect on AT&T's projected earnings and EPS. Input the assumed effect on share price of the assumed interest rate increase, and projected rate of return will automatically update. I will help you with similar exercises, such as assessing the impact on rate of return of a projected shrinking of P/E multiples. Following a long run up in P/E multiples, I believe a shrinking of multiples is a real danger going forward, and the impact will vary across companies and sectors.
Urgent!!! Take advantage of the super low introductory price available to the first 12 subscribers. Click here to start your two-week free trial now. This offer expires midnight, December 12, NY time.
Why did I start this Marketplace?
I am a retired accountant (retired Fellow CPA Australia - equivalent to the US CPA designation). I have extensive experience across a range of industries and with multi-national firms, including Financial Controller roles with General Electric and BHP. I wish to keep my body and brain active and challenged in retirement. Apart from outdoor activities, I enjoy chess and financial analysis. Analysts' Corner is an excellent avenue for continuing involvement in financial analysis while sharing my experience with others, and benefiting from the wisdom and experience they share with me.
The Value You Will Receive
Analysts' Corner will provide you with:
1View∞Scenarios™dashboards: You will be provided with Excel based files for input of data to create my proprietary 1View∞Scenarios™ dashboards. There is no limit to the number of tickers for which you may submit input (subject to certain limitations for tickers which do not fit the model). You will receive access to dashboards and other output for all tickers for which you submit properly completed input. Intellectual property in completed Excel files belongs to Robert Honeywill. There is no restriction on your use or sharing of these input files and completed Excel files, excepting you may not sell, or otherwise deal with input and completed Excel files, for profit. But you may use images of these completed Excel files, provided you give acknowledgement, in article/s you author for publication on Seeking Alpha, or other publications, whether or not you receive payment for the article/s. Below is a sample image of a dashboard-
1View∞Scenarios™dashboards: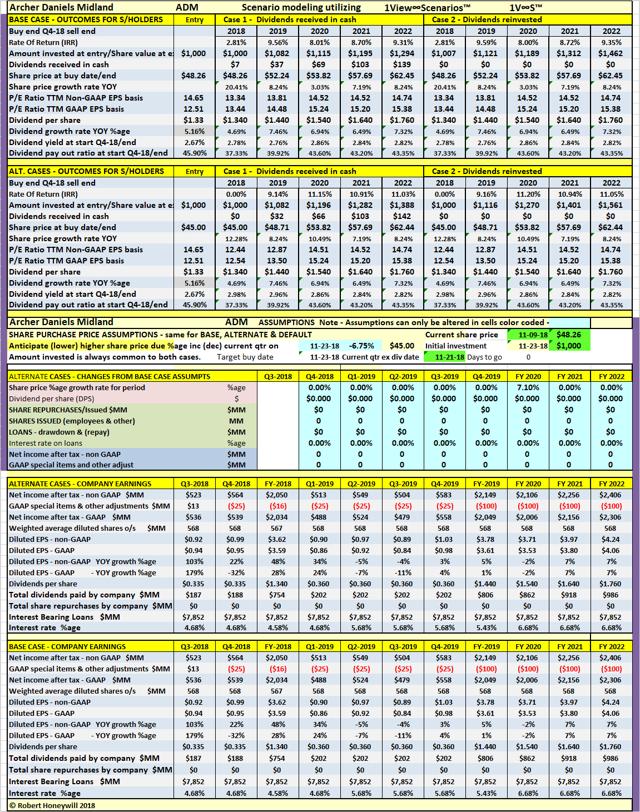 If that dashboard seems daunting – do not worry, it is quite easy to work with. The control center for the dashboard is in the middle. There is a section for entering your target buy date and share price. That might be today's date and current share price. Or it could be a lower targeted share price, say 10 days from now. The second block for input (shaded in blue) is for scenario testing of changes in assumptions for interest expense, earnings, share repurchases, additional borrowings etcetera, as well as future share price growth or decline. The results of the changes in assumptions are seen immediately in the Alternative case blocks immediately above and below the input sections. The Alternative case outcomes can be immediately compared with the Base case outcomes located at the top and bottom of the dashboard.
Access to group developed and actionable insights on stocks that you hold or that you are interested in. You will have the ability to scenario test your ideas, and the ideas of other members on estimated outcomes for companies of interest. Outcomes will include the projected rates of return under those various scenarios utilizing the 1View∞Scenarios™ approach. The objective is to help you to become more aware of the range of potential outcomes, and the degree of risk and uncertainty inherent in the various available stocks you might be invested in, or considering an investment in.
On-line Forum: Participate in a chatroom with other members and invited guests to answer questions and discuss points of view. This will include discussion of members' research results and draft articles, aimed at providing constructive feedback, and to further develop investment theses.
On-line Think Tank: This will take discussion to another level for companies the members are strongly interested in. These will be companies where there is a desire to share thoughts and ideas on the direction a company is taking, and what alternative courses might be available. I plan to conduct regular think tanks on General Electric. Members can choose to introduce others. We will often be more challenged, and thus learn more from discussing various aspects of a company where many things have gone wrong, and considering possible reasons and solutions, than a company where everything is going right.
An enhanced ability to do in-depth research and author articles: Authoring articles on companies is an excellent means of increasing rigor in your analysis. Having a chat room to discuss draft articles with others adds further to the rigor of analysis. Members who author articles based on financial analysis enabled by Analysts' Corner may submit these articles to Seeking Alpha for publication under their name. Any payments received from Seeking Alpha may substantially defray, or totally offset the Analysts' Corner subscription cost. In addition, contribution of 1 article per every 90 days provides free access to Seeking Alpha articles behind the paywall.
An enhanced ability to monitor and manage your portfolio of stocks: By projecting a range of possible returns based on a current share price, or a target share price, it is possible to gain a better understanding of which stocks in your portfolio are likely to out-perform or under-perform. It is also possible to scenario test which stocks in your portfolio are more, or less sensitive to future changes in interest rates or borrowing levels.
Introductory Offer, Limited Time
Note: I am offering Analysts' Corner to the first 12 subscribers for the introductory price of just $25/month or $240/year. The price will never be this low again.
For a very rare occasion as an investor, you have no risk investing your money. You can try Analysts' Corner for two weeks for free. You will have the opportunity to join in our chat room discussions, and our think tanks. You will have the opportunity to prepare and submit input data for a ticker or tickers of your choice. And, if you submit completed data for one or more tickers, you will receive back dashboards and historical data tables for those tickers for free and without obligation, even if you choose not to subscribe ahead of the end of the free trial. You may even choose to author and submit an article to Seeking Alpha on the tickers you have researched, with due acknowledgement to Analysts' Corner, during the two week free trial.
Click here to take advantage of our low introductory price and start your two-week free trial now. This offer expires December 12.
If you have any questions about my service, please ask me in the comments section of this article. I look forward to hearing from you in our chat room!
Sincerely,
Robert Honeywill
Disclosure: I/we have no positions in any stocks mentioned, and no plans to initiate any positions within the next 72 hours. I wrote this article myself, and it expresses my own opinions. I am not receiving compensation for it (other than from Seeking Alpha). I have no business relationship with any company whose stock is mentioned in this article.