Last month, I argued that there could be more weakness ahead for the Swiss franc versus the dollar.
At the time, the currency was trading at a level of 0.9969.
The currency has seen a slight revival over the past month: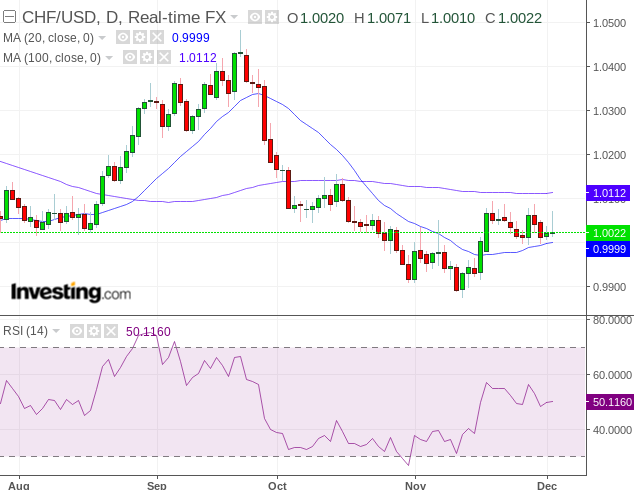 Source: investing.com
However, if we take a broader look at the weekly chart, we can see the formation of a "head and shoulders" pattern, indicating that a significant downtrend could still be on the way: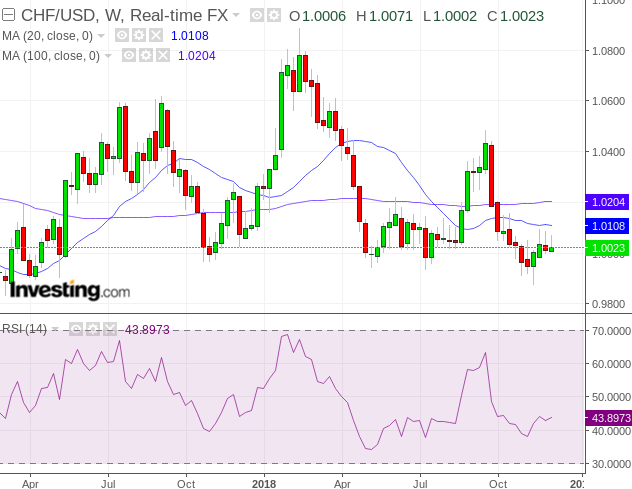 Source: investing.com
That said, there are economic-based reasons to believe that the decline could extend further. Previously, I had made the assertion that a continuation of a heavily loose monetary policy by the Swiss National Bank would mean that we would see a decline in the franc.
However, it looks more likely that we will continue to see a decline in the franc for the following reasons.
Firstly, an unexpected contraction by the Swiss economy as a result of weak growth in Europe is having a negative impact on exports. For instance, exports dropped by 4.2 percent along with GDP dropping by 0.2% while the economy was expected to expand by 0.4%. Additionally, imports also dropped by 2.4% with household consumption barely increasing by 0.1%.
Moreover, Switzerland currently has the highest household debt to GDP ratio in the world, ahead of Australia, Denmark, and the Netherlands: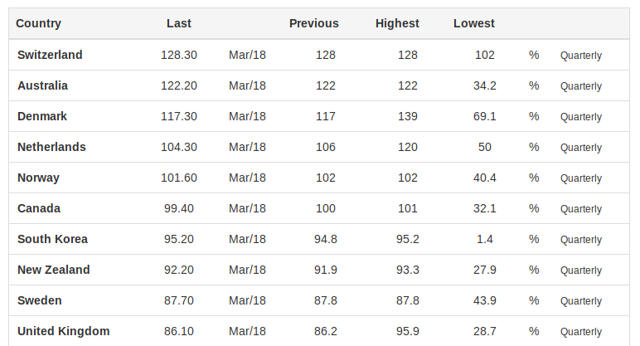 Source: tradingeconomics.com
In this regard, demand for the Swiss franc is not only being impeded by weakness in European growth, but by weakness in domestic spending given the size of household debt to GDP.
Additionally, currencies such as the U.S. dollar have been seeing renewed demand in 2018 as a result of slight weakness in equity markets. However, I had previously argued that metals such as silver would see a significant revival in the event of a prolonged recession. Under such circumstances, the trajectory of interest rate hikes that are being pursued by many central banks would likely grind to a halt, and demand for currencies would decrease once again. This would be likely to include the Swiss franc, and metals such as gold and silver would see a revival. It would be very difficult to make a bullish case for the Swiss franc under such circumstances.
For these reasons, I continue to anticipate that we will see a further fall in the Swiss franc from here.
Disclosure: I/we have no positions in any stocks mentioned, and no plans to initiate any positions within the next 72 hours. I wrote this article myself, and it expresses my own opinions. I am not receiving compensation for it (other than from Seeking Alpha). I have no business relationship with any company whose stock is mentioned in this article.