Taken from the company's website
Facebook (FB) is the leading social media platform in the world, controlling about 20 percent of the global digital advertising market. The company owns four global media platforms - Instagram, WhatsApp, Messenger, and of course - its main flagship platform, Facebook. As of September 30, Facebook records 2.27 billion active monthly users and 1.49 billion active daily users. We believe that given the current valuation, Facebook offers a great opportunity to purchase a high quality growth compounder at a bargain price.
A Money Printing Machine
As of the end of 2017, Facebook generated revenues in the amount of $40.6 billion and free cash flow of $17.5 billion. Compare these figures to the company's own numbers for the end of 2013 when the company generated revenues of $8 billion only and free cash flow of only $2.8 billion. Put differently, Facebook has been able to increase its top line at a rate of 50 percent a year and its free cash flow at an annual rate of 60 percent. These are outstanding growth figures.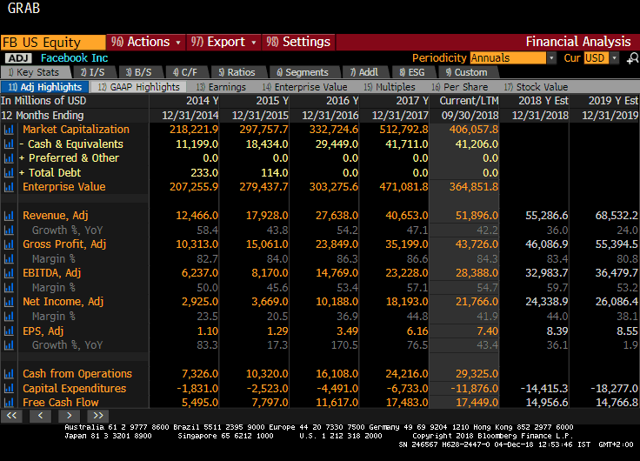 And the latest earnings report has demonstrated the same trend. In the third quarter of 2018, Facebook generated revenues of $13.7 billion, an increase of 33 percent compared to the same quarter last year. But Facebook isn't simply a top line growth story. The company generated adjusted net income of $5.1 billion, up 9 percent compared to the third quarter of 2017.
What The Market Is Missing
Investors have two pending concerns regarding the stock. The first concern relates to slowing revenue growth while the latter concern relates to regulatory issues. I will address each one of these concerns.
Over the past two quarters, Facebook has experienced some slowdown in the revenue growth rate. More specifically, Zuckerberg has warned that the growth rate of expenses is likely to exceed the growth rate of revenues over the next two years. This announcement has sent shareholders running for the exit. After all, they claim, if Facebook is unable to grow rapidly - why buy the shares?
The second concern relates to regulatory issues. During this past year, Facebook has been receiving its share of bad publicity. Fiascos such as Cambridge Analytica, privacy violations, and employee upheavals - have all contributed to a harsh negative sentiment towards the stock.
I believe that the first concern is not justified. You see, expectations for revenue growth were sky high towards the end of 2017. Facebook, at its current size, literally cannot grow its base revenues at a 40 percent rate. It is simply unsustainable. In fact, the tremendously high expectations of Facebook are precisely what kept us away from recommending the stock at the end of 2017. There was simply no margin of safety there.
But things are different now. Zuckerberg's announcement regarding the slowdown in revenues was responsible and justified. You see, the company's permanent revenue growth rate should stabilize in the range of 15 percent to 20 percent. Anything higher than that is simply unrealistic. In that sense, the expectation adjustment has taken place. It was painful for shareholders, but that's behind us. More interestingly, I believe we will be witnessing new revenue streams in the coming years. Specifically, WhatsApp and Messenger have yet to be monetized. You see, all of the company's current revenues are solely from its main platform and from Instagram.
As to the second concern of regulatory confrontation - that is an inherent risk in the business of digital advertising. Alphabet (GOOG) (NASDAQ:GOOGL) and Facebook are unique in their capabilities of user-targeted advertising. Yes, it comes with a business risk, but it also comes with a massive business moat, amazing advantages of scale and extremely high operating margins. So yes, it is a risk. But over time, Facebook will learn how to face that risk in a more constructive manner.
Shareholder Friendly
In contrast to its biggest rival - Alphabet, Facebook rewards its shareholders. The company has recently announced that it would return some of its cash back to the hands of its shareholders. Specifically, the company has a pending share repurchase program in the amount of $15 billion. This plan is likely to provide some support for the stock, currently trading at highly depressed levels.
In addition, Facebook is currently sitting on a huge pile of cash. With $41 billion and no debt, the company's management has ample room to increase the current share repurchase plan and to even initiate a dividend.
Valuation Is A Screaming BUY
The combination of recent regulatory turmoil and some disappointments from the company's revenue growth has caused shares to trade on the cheap. Note, how the company's revenues (green line) and earnings (white line) are on the rise, while its valuation (brown line) has been decimated.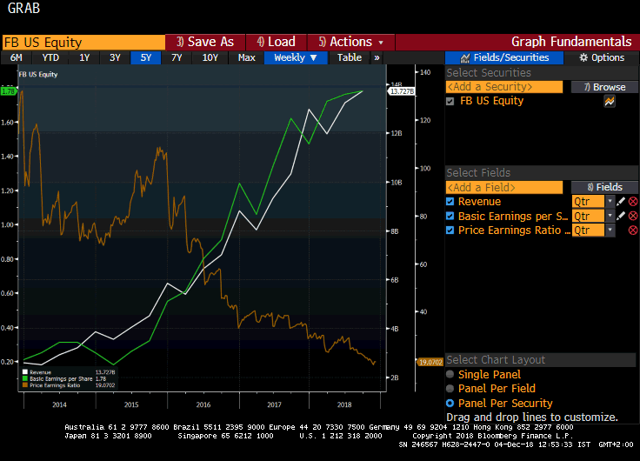 Assuming that Facebook will generate earnings of $8.5 per share, which is the analyst consensus, shares are trading at lowly 16 times next year's earnings. That's cheaper than the average earnings multiple of the S&P 500, and that's for a company that's able to grow its revenues and earnings at a double-digit pace.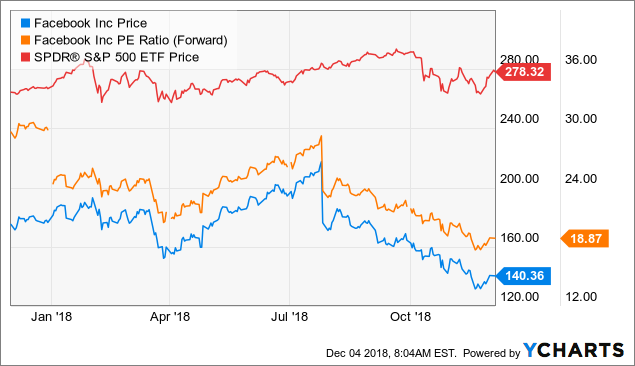 We knew that Facebook cannot grow its revenues by 40 percent year over year. But a growth of 20 percent is definitely sustainable, and that's what we have modeled in our financial model (see below). Assuming that earnings will grow more slowly than revenues (that's what Zuckerberg has hinted), we have modeled in a 15 percent growth in earnings year over year.
All taken together, we are highly confident that Facebook can reach earnings of $11.1 per share by 2020. This translates into a lowly 13 times earnings for Facebook compared to 23 times earnings for Alphabet, its top rival, as well as other social media platforms such as Snap (SNAP) which is not even profitable and trades for 8 times annual revenues.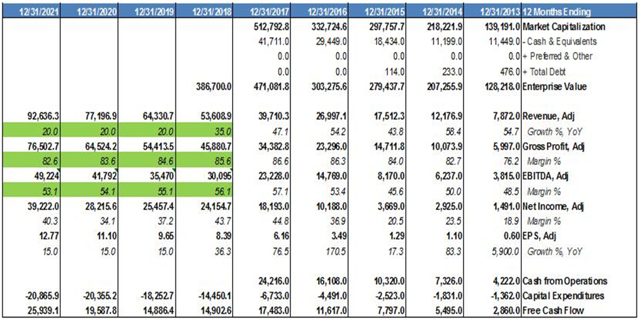 The Secret Sauce
Please keep in mind that the table above only uses current revenue streams and extrapolates them further in time. But there are multiple other revenue streams that have yet to be exploited. The main one being WhatsApp.
There are two feasible ways to monetize WhatsApp. The first one is by charging a monthly fee, say - $1 per month per user. This, of course, will vary across geographies, but this appears to be a flat, nothing-to-consider rate that most users will agree to pay. Given that 1.5 billion of people currently use the application and assuming a 70 percent integration rate, then we can easily come up with another $1.05 billion of revenues per month or a staggering $12.6 billion of incremental revenues per year. Just to get a general perspective, this incremental revenue source currently equates to about a quarter of the total revenues Facebook has been making over the past 12 months. And that's using some really conservative assumptions such as a low flat fee and a conservative integration rate.
The second way to monetize WhatsApp is by implementing a payments service on the platform. You see, Facebook is already integrating peer-to-peer payments within its Messenger application. Here, the math becomes much trickier due to multiple unknown variables, but assuming that Facebook is able to take only 10 percent of the total transaction volume of PayPal (PYPL), then we're looking at a potential $1.4 billion of annual revenues, which is 10 percent of PayPal's total annual revenues over the past 12 months.
You must remember that this isn't such a far-fetched idea. It's just a slight change of concept which requires an adoption on the side of users. No wonder that WhatsApp is currently the most popular messaging platform in the world.
Risks
No investment comes without risks, and Facebook is no exception. The company is a big data empire and as such, might be in direct confrontation with regulators and with users alike. Another risk is the potential lack of success in future monetization of its various media platforms.
My Takeaway
Facebook is a cash gushing machine which is the most dominant player in one of the more lucrative industries in the world today - the social media industry. At the current valuation, shares are trading extremely on the cheap.
Author's note: If you enjoyed this article and would like to read more from me, you can hit the "Follow" button to get informed about new articles. I am always glad to see new followers!
Disclosure: I am/we are long FB. I wrote this article myself, and it expresses my own opinions. I am not receiving compensation for it (other than from Seeking Alpha). I have no business relationship with any company whose stock is mentioned in this article.