Investment Thesis
SmartCentres REIT (OTCPK:CWYUF) (TSX:SRU.UN) is a developer and operator of grocery anchored and retail-focused properties. The company has a strong focus in urban markets in Canada. The REIT has also consistently maintained its occupancy ratio above 98% in the past few years. In addition, SmartCentres should be able to benefit from urban intensification in the next decade as nearly half of its properties have the potential for intensification. The company's dividend is attractive with a 5.6%-yield. However, its average rent growth rate has stagnated in the past year. We think it is a safe investment for investors seeking a stable dividend income. For those who wants higher return, they may want to look into other retail REITs such as First Capital Realty (OTCPK:FCRGF) or RioCan REIT (OTCPK:RIOCF).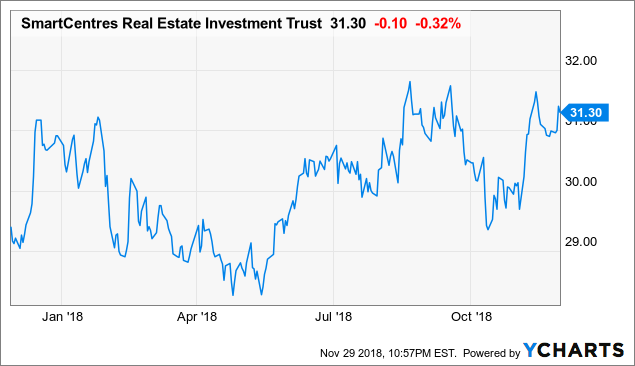 Source: YCharts
What we like about SmartCentres REIT
A focus in major urban markets
The pie chart below shows SmartCentres' gross revenue by province in the first 9 months in 2018. As can be seen, revenue from Ontario and Quebec represented about 76.4% of its total gross revenue (primarily in the Greater Toronto and Greater Montreal areas). In fact, 84% of its properties are located in urban or near urban markets. The focus in Canada's urban markets is advantageous because these markets usually benefit from higher demand due to denser population and higher household income growth rate. We believe this is one of the main reason why it has consistently achieved more than 98% occupancy ratio in the past few years.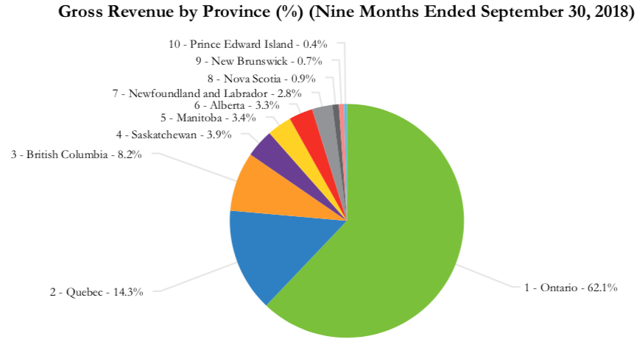 Source: Q3 2018 Quarterly Report
Anchored tenants lead to high occupancy rate
Walmart (WMT) is SmartCentres' largest tenant. The retail giant alone represented about 41.2% of the REIT's total leasable area and 25.8% of its total gross rental revenue (see table below). While a dependence on one single tenant can be risky, Walmart is an anchored tenant and the largest retailer in the world. The recent trend towards more online order and in-store pickups shows the importance of having a network of retail locations. We think Walmart will continue to be an anchored tenant and contribute to SmartCentres' revenue meaningfully in the future. Besides Walmart, the company's top 10 tenants are mostly retailers that are less impacted by e-commerce. The list includes grocery store chains (Loblaws, Sobey's, etc), specialty stores (Lowe's, RONA, Canadian Tire, Mark's and FGL Sports), drug stores (Shoppers Drug Mart), etc.

Source: Q3 2018 Quarterly Report
The chart below shows SmartCentres' lease expiries. As can be seen, not one single year's lease expiries represents more than 20% of its total lease expiries.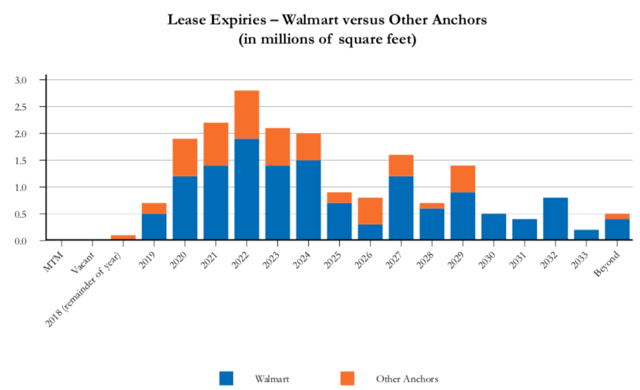 Source: Q3 2018 Quarterly Report
Potential development opportunities due to urban intensification
SmartCentres' portfolio is comprised of 34.3 million square feet of gross leasable area. Most its properties are located in Canada's two largest urban centres, Toronto and Montreal. These two major urban markets have lots of intensification opportunities. SmartCentres currently owns 157 properties. The company has identified 72 intensification properties. Beside these 72 intensification properties, the company also owns over 2,600 acres of parking lots. About half of these parking lots are located in the six major urban markets in Canada. These lots can also be intensified over time as well. Although development projects can take several years, these intensification opportunities will allow SmartCentres to grow its revenue in the next decade to come.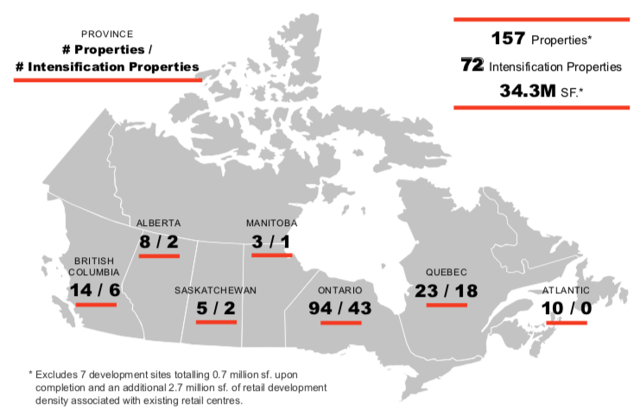 Source: Q3 2018 Investor Presentation
Staggered debt ladder
SmartCentres has a staggered debt ladder. As can be seen from the table below, not one year of debt maturing represents more than 18% of its total debt. In addition, the REIT has a low weighted average interest rate of 3.86% in its total maturing debt.

Source: Q3 2018 Quarterly Report
Besides staggered debt ladder, SmartCentres has an interest coverage ratio of 3.1x and net debt to adjusted EBITDA ratio of 8.4x. Although we would prefer a lower ratio, we recognize that this ratio is actually quite good comparing to its peers. For example, First Capital Realty has a net debt to EBITDA ratio of 9.4x and a much lower interest coverage ratio of 2.5x.
Our concerns
Average rent per square feet remains the same
One concern we have about SmartCentres REIT is its stagnating average rental rate growth in the past few years. As can be seen from the chart below, its net rental rate per square feet only increased slightly from C$15.24 in Q1 2017 to C$15.29 in Q3 2018. This growth rate is quite slow. Its peer First Capital Realty currently has an average rental rate of C$20.14 per square feet (see second chart below). First Capital Realty's average rent increase also grew at a rate of 2.4% per year in the past 5 years.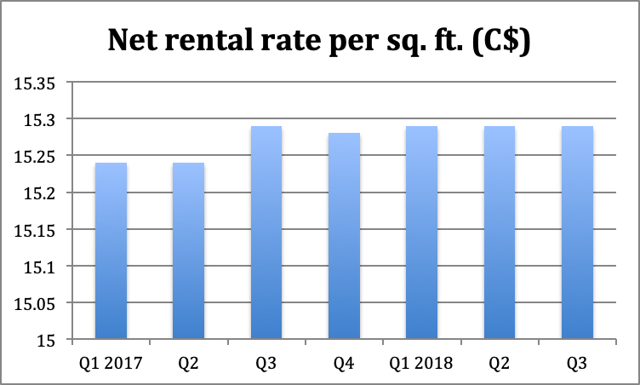 Source: Created by author; Company Reports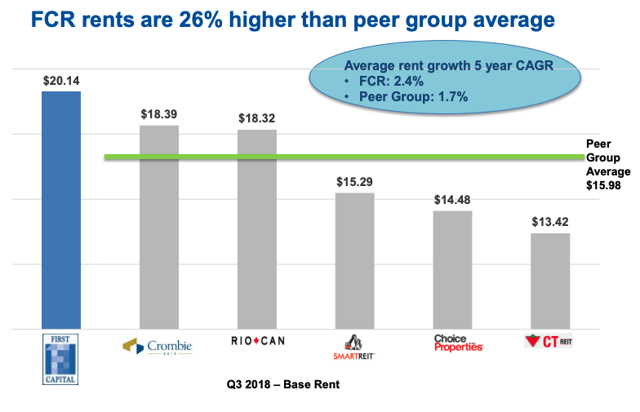 Source: First Capital Realty Q3 2018 Presentation
Valuation
SmartCentres currently pays a monthly dividend of C$0.15 per share. This is equivalent to a dividend yield of 5.6%. It has a sustainable dividend with a payout ratio of about 75% (based on its funds from operations). As can be seen from the chart below, its dividend yield is currently towards the high end of its 5-year range. The company has also increased its dividend consecutively in the past 5 years.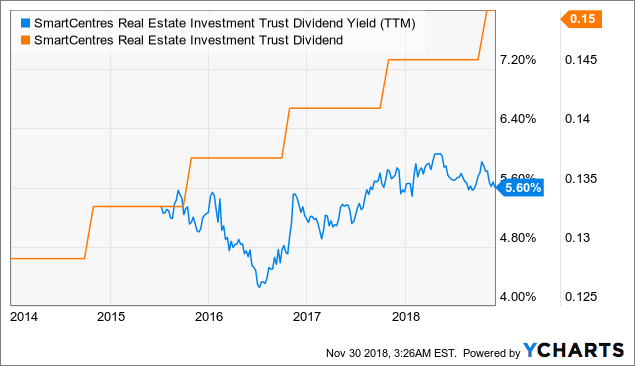 Source: YCharts
We estimate SmartCentres will generate funds from operations of C$2.28 per share in 2018. Therefore, its price to 2018 FFO is about 13.7x. This is significantly lower than First Capital Realty's 16.1x. We do not believe SmartCentres should be trading at a similar valuation to First Capital Realty because of its inferior average rent growth rate. Hence, we believe its current valuation is fair.
Investor Takeaway
We like SmartCentres' focus in urban markets and its rich development pipeline from its intensification opportunities. However, we are concerned about its lack of growth in average rental rate in the past year. The company's dividend is attractive. However, investors may want to check other retail REITs before making their decision of which retail REIT to invest.
Note: This is not financial advice and that all financial investments carry risks. Investors are expected to seek financial advice from professionals before making any investment.
Thank you for reading. If you like my article, please scroll to the top of the article and click on "follow" to receive future updates.
Disclosure: I/we have no positions in any stocks mentioned, and no plans to initiate any positions within the next 72 hours. I wrote this article myself, and it expresses my own opinions. I am not receiving compensation for it (other than from Seeking Alpha). I have no business relationship with any company whose stock is mentioned in this article.
Editor's Note: This article discusses one or more securities that do not trade on a major U.S. exchange. Please be aware of the risks associated with these stocks.