Source: Finbox.io Note the first digit (thousands) is missing from the graph
Amazon (AMZN) fourth quarter should exceed guidance based on strong Cyber Monday sales and new business introductions. The guidance for revenue growth of 10 to 20 percent is much lower than the historical fourth quarter jump. Amazon stock fell 25% from 2000 in August to 1500 after the third quarter earnings announcement. It has recovered and then saw a surge after the trade truce to 1770. If Amazon follows the historic trend, revenue will be up 30% or $ 5.7 billion with operating income up $400 billion over the 20% revenue guidance. The higher revenue makes this a strong buy..
Business Evolution
Warehouse automation has led to the shipment of twice as many goods per square foot, lowering the warehouse work force and the need for capital. The Amazon Web Service (AWS) has more than 50% of the Infrastructure as a Service (IaaS). AWS produces 75% of the operating income on 12% of revenue. It services third party resellers and has expanded to serve business and consumers. AWS year over year growth in revenue in the third quarter was 46%. AWS average partner deal is 3.5 times the size of deals done last year. Amazon is leveraging AWS to expand in medical records.
Third party sellers increased by three percent per year. Amazon is changing policies and becoming friendlier to brands and less friendly to third party sellers. For example, Amazon's recent agreement with Apple (AAPL) means that Apple must approve all Apple third parties. This reduced the number of Apple third parties. However, it is likely that more Apple products will appear on Amazon. Amazon advertising revenue from brands is also increasing.
Apple is evolving in to a more white-collar product and market development organization. Product development requires people that are more skilled so Amazon is in a fight for smart innovators. This drove the Amazon Alternative Headquarters to New York and Washington.
Amazon Fourth Quarter Revenue Increase
Fourth quarter revenue increases with holiday sales. The following chart illustrates that this is a regular occurrence.
Net revenue of Amazon from 1st quarter 2007 to 3rd quarter 2018 (in billion U.S. dollars)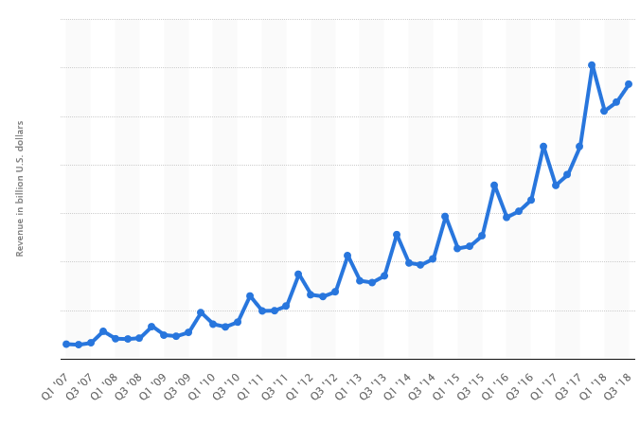 Source: Statista
The percentage growth in the fourth quarter is compared in the following chart. As Amazon matures, the fourth quarter jump declines because it sells more services that are more stable year round and third party resellers increase.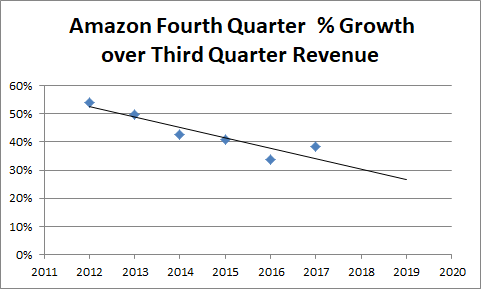 Source: Amazon
Graph by Author
The trend line indicates the fourth quarter should be 30% above the third. If Amazon follows the historic trend, revenue will be up 30% rather than 20%, which produces $ 5.7 billion with operating income up $400 billion. So why is the guidance 10 to 20 percent per year? The business changed, but not that much. Part of the reason for excess conservatism is that operating income has increased to 6.6% in the third quarter. It is up 800% over the prior year. No CFO wants to forecast a profit number as high as would occur if the current margin were multiplied by revenue with the historical fourth quarter seasonal increase.
Cyber Monday/Black Friday
Adobe released the U.S. online sales for Cyber Monday, which were up 19.7% over the prior year. Online sales from November 1 to 26 were $58.5 billion up 19.9%. Amazon stated that its sales on Black Friday and Cyber Monday were the highest daily sales in history. Amazon usually gains market share so their sales growth should be well above 20%.
Market share growth of10 percentage points would result in a 30% growth. However, services like Amazon business represent 40% and these will not get as big a holiday bounce. Amazon Web Service (AWS) is growing at 50% per year. The third party processing services jumps over the holidays but accounts processing routine business does not surge. International is a quarter of the business, the slowest revenue growth but Amazon is expanding into new countries.
Smart Home/ Digital Books
Amazon is using the success of Alexa to build a line of smart home devices controlling entertainment, lighting, locks, security and energy. This is available now at the Amazon Smart Home site. Amazon is also expanding its digital book downloads. These initiatives are like others in prior years, which helped grow market share.
Advertising
The dominant online adverting businesses are Google (GOOG) with annual sales of $75 billion and Facebook (FB) with ad sales of $35 billion in 2017. In 2017 and 2018, Amazon has enhanced its advertising business and is gaining share. They have a tool in Beta testing that measures the results of advertising through Amazon. Amazon offers advertisement on product search result lists, display ads, and videos. Jeff Bezos stated to Business Insider that he expects 2018 ad revenue to be $5 billion, which is almost double the 2017 volume estimate from Morgan Stanley of $2.8 billion. The margins in this business are very high.
Medical Records
In the last week of November at the AWS re: invent conference, Amazon introduced the "Comprehend Medical at AWS". Amazon is working with Berkshire Hathaway (BRK.A) and JP Morgan Chase (JPM) to lower employee medical costs. This venture is related but all the costs and profits go to Amazon. It is a radical break with existing electronic medical records systems, which are almost all unformatted text. Amazon Medical Language Processing Service uses voice recognition to transcribe voice recordings. It uses AI to take the historical notes to analyze the likelihood of medical problems. Google, Microsoft (MSFT), and Apple have systems with their own unique data formats. Amazon is more open and easier to convert paper systems and earlier electronic system to digital that supports analysis.
The system will take time to sell and develop a track record. Medical researchers tested it by using it to find candidates for drug trials. Launch expenses will result in losses until the number of users builds up, but it has a huge long-term potential.
Conclusion
Amazon cut back in capital spending means that it has a positive cash flow. Slower resource growth and price increases have raised profit margins. The margins would be even higher were it not for massive spending on product development. Some on Wall Street question whether Amazon will get a good return from competing with Google, Microsoft, Apple, and Netflix. Others believe that Amazon is wise to make large investments that can provide good returns. The surge in profits indicates that, so far, the strategy is working. I believe that the online distribution and AWS make it easier to succeed with new ventures. With Alexa, Amazon subcontracts the building of the product but gets part of the manufacturer's profit as well as the retailer's profit. With the Medical records system, it will leverage the AWS system. For these reasons, Amazon is a strong buy.
Disclosure: I/we have no positions in any stocks mentioned, and no plans to initiate any positions within the next 72 hours. I wrote this article myself, and it expresses my own opinions. I am not receiving compensation for it (other than from Seeking Alpha). I have no business relationship with any company whose stock is mentioned in this article.