Investment Summary
Overall the retail sector looks attractive, but when looking for quality stocks within the sector, finding the right company with a competitive business model is paramount. The TJX Companies, Inc. (TJX) operates retail stores in the US, Canada, and Europe, and is listed on the NYSE with a market cap of US$57,941 million. Brand name, designer apparel and home goods are offered at 20%-60% discounts to prices found in other department and specialty stores.
There is a continued shift in consumer buying habits in play, driving traffic towards off-price discounters like TJX. This shift coupled with a trend towards buying online - TJX has an internet platform - means we expect revenue at TJX to continue to grow, both in existing stores and new ones, and also online. TJX also demonstrates impressive performance when compared to the overall industry in converting top line revenue into bottom line earnings. TJX therefore seems compelling, and at ~19x, isn't particularly expensive. There are caveats to consider however, and these will be discussed in this report.
It's All In The Margins
TJX stock closed at US$48.96 on the 19th November 2018. After the 3rd quarter (3Q) earnings report for financial year 2018 (F2018) on the 20th of November 2018, and the associated earnings call, the stock ticked downwards by 5.8%, closing at $46.12, 7 days later on the 26th of November.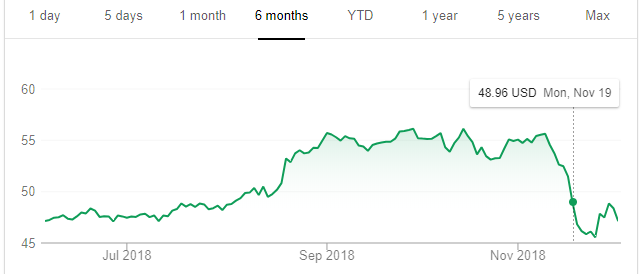 (Source: Google Finance)
This came on the back of reported 3Q physical comparable store sales (comps) - this refers to sales generated by retail locations in the most recent accounting period relative to the last, ignoring new store openings - beating expectations by 4% with a gain of 7%. In addition, the flow of top line revenue to the bottom line was better than the guidance suggested; earnings per share for Q3 was US$0.63 (excluding a US$0.02 pension charge) versus the upper range of the company forecast at US$0.60; there was also a beat the consensus EPS of US$0.61.
Why the sell-off then? TJX reported gross margins of 28.6%, 28.8%, 29.0% for the fiscal years F2014, F2015, F2016. This indicates economies of scale at the cost of goods sold level, as the margin is fattening as sales increase. However, for F2017, the gross margin was 28.9% and the consensus estimated gross margin for F2018 is around 28.5%. This erosion of gross margin was explained during the earnings call to be due to escalating freight and supply-chain costs.
Operating margins of 12.4%, 12.0%, and 11.6%, 11.4% for the fiscal years F2014, F2015, F2016, and F2017 have been reported, and the consensus is that the F2018 operating margin will be 10.9%. The blame for the operating margin reducing has been laid at the door of increasing wage costs.
Although in recent history top and bottom line growth have been the norm for TJX, with declining margins, keeping investors happy with EPS growth will require greater proportional increases in sales. But it should be noted from the earnings call that freight aside, merchandise margins (the difference between what the stores have paid the seller and what it sells the goods for) were actually up for this quarter. If sales are presumed to be increasing, and merchandising margins are increasing, the outlook for the stock depends on how the currently increasing freight, supply-chain, and wage costs will behave over time.
What Is the Outlook For The Future?
TJX is the largest operator in the discount/off-price sector, and has been taking market share from department and specialty stores. TJX's North America current market share is around 9%, and department stores hold around 30%. Bon-Ton Stores (BONT), J.C. Penney (JCP), and Sears (OTCPK:SHLDQ) for example have been donating - through store closure, and customer migration - market share to the off-price sector and expectations are that TJX will increase its overall share to 10% by 2020. This growth in market share is expected also in Europe and Canada, the other developed markets that TJX serves. This is all positive for the stock price.
To support the increased market share, TJX has been expanding its store count and the overall square footage of retail space aggressively. But as a nod to the company's superior business model, we can recognize sales per square foot increasing from US$305 in F2014 to US$328 in F2017 with the consensus being US$340 for F2018. This is an excellent performance, and shows quite neatly that consumers are spending more in the company's stores at a rate faster than it can build them.
To serve those extra customers going into the holiday season, inventory levels rose 17% in 3Q F2018 (coming after a 16% increase in 2Q). However, this inventory build needs to be watched, as it may be a sales driver, but also a margin compressor, should the company find it cannot turn the inventory over, and needs to discount heavily to shift it. Bear in mind that fashions and seasons change.
Wage growth in real terms has been miserable in the areas that TJX serves over the last decade. There can be no doubt that people feeling poorer has contributed to the sales growth that TJX has enjoyed over recent years, as consumers have migrated towards off-price retailers. The trend in consumers migrating to discount retailers is expected to continue; real wage growth is not expected to improve dramatically in the near future.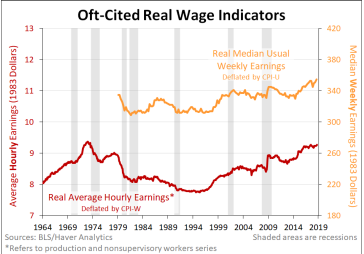 (Source: US Joint Economic Committee)
TJX's sourcing organization is considered best in class, and the company will no doubt be able to continue to acquire top-tier brands and products, which even in the case of modest increases in real wage growth making consumers feel a little richer, will keep many anchored to the company.
Overall, the consensus is that customers will still continue to increase in number, driving same-store-sales growth, and top line revenue. Wage pressure and freight costs, along with the required incremental investment to support new store openings and the required increases in working capital in the form of inventory, will continue to weigh on F2018 and F2019 EPS, but will ease after that point.
Key risks to the business include:
That available real estate inventory diminishes in the countries that TJX operates in, which means that TJX cannot continue its aggressive store expansion.
Continued reliance on the developed markets of the US, Canada, and Europe continue, and TJX misses the growth opportunities in emerging markets.
The e-commerce business is not profitable, and decreases footfall at physical stores.
That consumers see an increase in perceived wealth and income, and decide to patronize more "up-market" stores in the future.
That changes to pricing and promotional strategies do not continue to drive traffic. TJX has so far seen effective marketing initiatives and loyalty programs pay off handsomely. But this needs to continue to be a potent sales driver as time goes by.
Off-price competition increases. Although TJX has been and is continuing to drive square footage growth in the sector, it is slowing as off-price retailers are now encroaching on each other's territory. This means sales growth will have to come from comps gains in an increasingly crowded environment.
That wage increase pressure expenses are more than anticipated, and freight costs continue to escalate, both of which will eat into margins.
An international presence exposes TJX to risks associated with adverse currency fluctuations, net sales growth is expected to be hampered by such a movement in 4Q F2018 of 1%.
Conclusion:
TJX represents a consistent retail rarity. It enjoys increased traffic, and is benefitting from a structural shift in shopping habits which are soundly in its favor. It is opening stores in the US, Canada and Europe; places where we have seen store closures and indeed, some bankruptcies of entire chains. Management has stated in the earnings call that 4Q F2018 is off to a "sound start."
The company stock trades at a P/E multiple equivalent to the wider industry, yet delivers a higher earnings yield (5.04% vs. 4.79%) and return on equity (58.66% vs. 24.29%) in part due to a more favorable capital structure (debt-to-equity ratio for the company of 0.43 vs. 0.47 for the industry in general).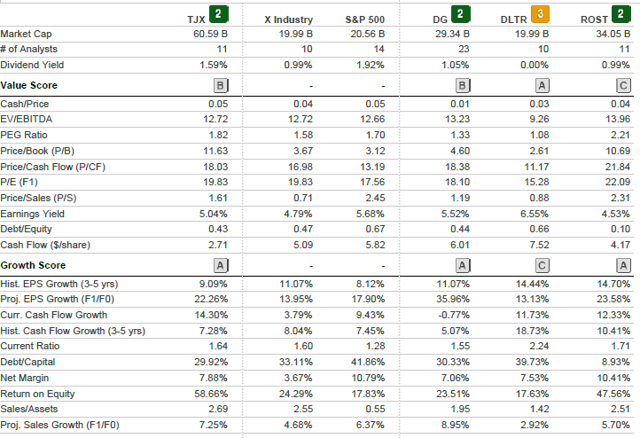 (Source: Zacks)
It should be noted that a 2-for-1 stock split through a stock dividend was distributed on the 6th of November 2018 - this should not affect the stock's value for shareholders, but looking at a stock price chart, you will notice a sudden fall in price on this date.
As today's consumers shift their buying habits, off-price discounters like TJX are reaping the rewards. This shift coupled with a trend towards buying online - TJX has an internet platform - bodes well for TJX's growth potential. Overall, TJX seems compelling, and at ~19x, isn't particularly expensive. Investors should however, be cognizant of the risks e.g. wage pressures and e-commerce cannibalization.
Disclosure: I/we have no positions in any stocks mentioned, and no plans to initiate any positions within the next 72 hours.
I wrote this article myself, and it expresses my own opinions. I am not receiving compensation for it (other than from Seeking Alpha). I have no business relationship with any company whose stock is mentioned in this article.