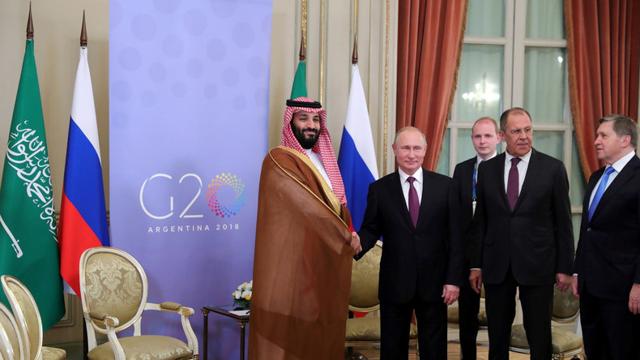 Source: Reuters
Introduction
Welcome to my Oil Weekly report. In this report, I discuss my views on U.S crude markets. To do that, I used the iPath S&P Oil Total Return Index Exchange-Traded Notes (OIL), which tracks the performance of the S&P GSCI® Crude Oil Total Return Index, through direct investments in West Texas Intermediate (WTI) crude oil futures.
With a net asset value of $321m, OIL is one of the most liquid oil funds, enjoying an advantageous tax status and benefiting from one of the lowest expense fee of the market, 0.75% per year. The ETN does not track directly spot prices and can therefore deviate substantially from it, due to variance in the shape of the futures curve over time, however, OIL seeks direct exposure to one-month crude future contracts and is an interesting short-term investment vehicle to get direct exposure to crude markets.
In this report, I analyze weekly crude oil storage levels published by the Energy Information Administration and Commitment of Traders report developments, released by the Commodity Futures Trading Commission in order to assess investor and speculator sentiment on crude markets. Then I identify key macroeconomic and geopolitical changes and the impacts on OIL shares.
Crude and petroleum stocks
Crude markets bounced, after the U.S-China trade truce unveil and as OPEC's supply cut expectations grow. Meanwhile, according to the latest EIA report, U.S oil inventory lift decelerated on the November 16-23 period, up 0.8% (w/w) to 450.5m barrels, whereas Cushing stocks build accelerate, up 3.33% (w/w) to 36.52m barrels. With this tiny advance, crude seasonality in the U.S improves marginally, establishing 2.4% in or 10,491k barrels in surplus compared to the five-year average and 0.7% or 3,228k barrels above last year's level. Oil storage in the U.S is now beating yearly high, which is harmful for the appreciation of continental crude benchmark.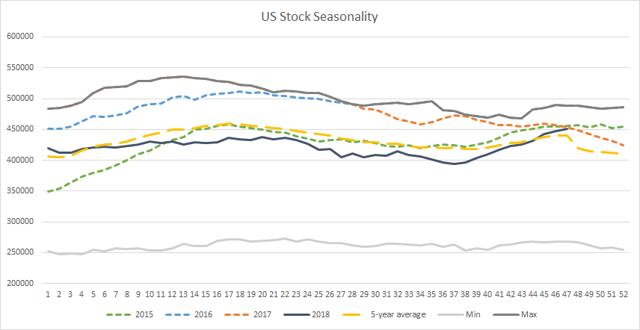 Source: Historic Stocks of Crude Oil Report – EIA
Concomitantly, the five-year crude stock spread continues to progress and provides renewed bearish formation. Indeed, the indicator advanced 22.49% to 18,015k barrels during the week, signing the highest crude oversupply of the year.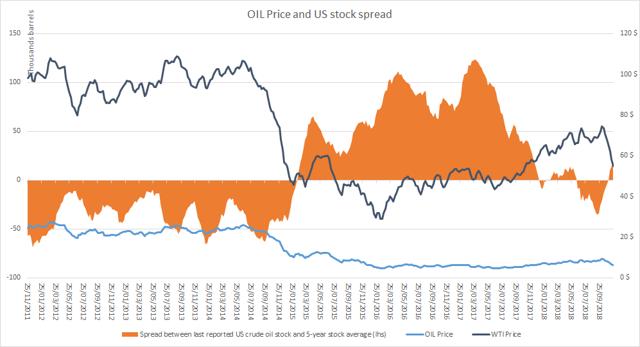 Source: Weekly Stocks of Crude Oil Report - EIA
On the other hand, refined petroleum stocks, namely gasoline and distillates slightly decreased during the week, by respectively 0.31% (w/w) to 650.6m barrels and 0.34% (w/w) to 224.6m barrels. The marginal dip on the November 16-23 period, shows that U.S petroleum demand remains strong, despite refining plants turning close to full capacity.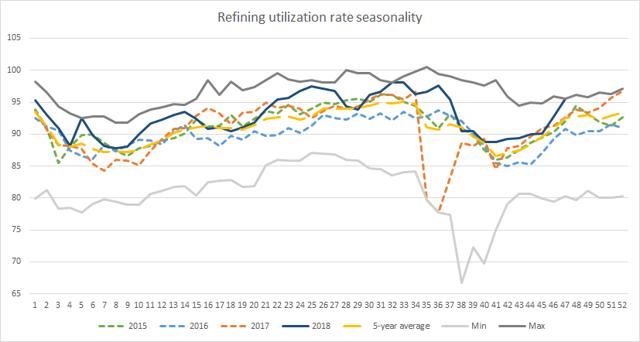 Source: Weekly U.S Refining Utilization Rate
In the meantime, American crude oil balance slightly deteriorates, following robust net import lift, which totally counterbalanced advancing U.S exports. Indeed, despite a healthy exports lift posted during the week, up 24.02% (w/w) to 2.44m barrels, net imports picked up 2.42% to 5.72m barrels.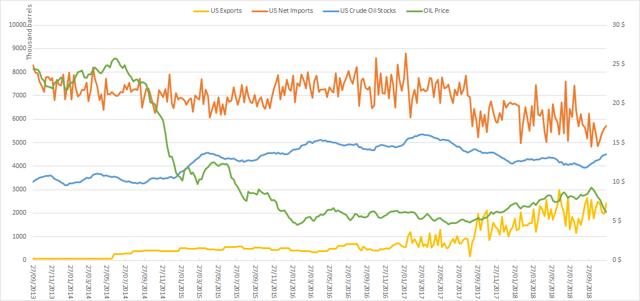 Source: Weekly Imports & Exports Report - EIA
American crude oil production continues to turn around 11.7m barrels, despite a second consecutive week of oilrig withdrawals and upcoming OPEC meeting will be crucial for U.S producers to gauging if additional oilrigs are economically viable.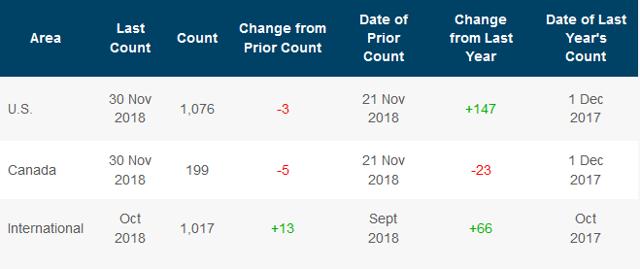 Source: Baker Hughes Rig Count Report
Meanwhile, OIL gained 3.67% to $5.93 per share, amid signs of an improvement in global economic expectations.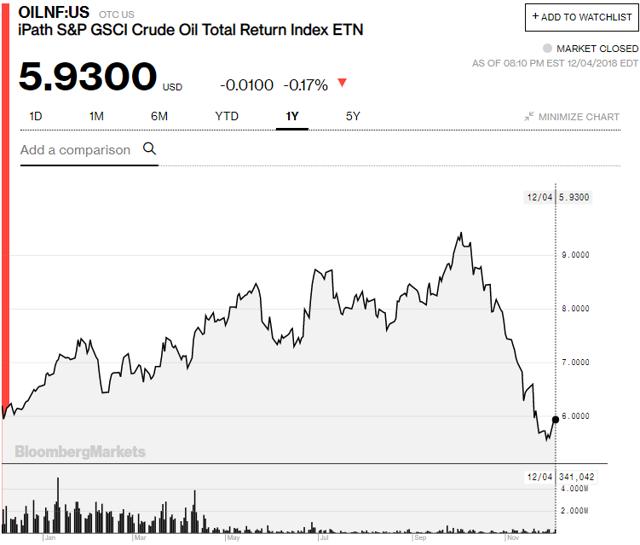 Source: Bloomberg
Speculative positioning
Crude oil speculative positioning plunged further, shows latest Commitment of Traders report. During the November 20-27 period, net speculative bets decelerated 5.19% (w/w) to 348 121 contracts, whereas OIL decreased 4.03% to $5.72.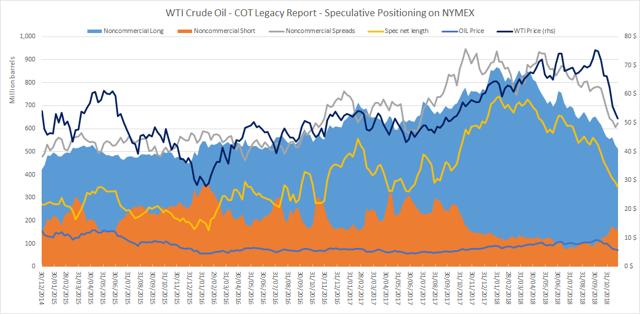 Source: CFTC
This strong decrease has been due to both short accumulation and long liquidation. Despite a weaker interest compared to previous week, long holdings wound up 3.25% (w/w) to 511 679 contracts, whilst short length accreted 1.17% (w/w) to 163 558 contracts. With that, speculative bets remain bearish for crude futures and OIL shares, however, tides could quickly turn, if OPEC's upcoming meeting delivers significant crude supply cuts.
Since the beginning 2018, net speculative length on NYMEX crude contracts curved in 44.23% or an impressive 276 092 contracts, while OIL's year-to-date performance dipped 13.07% to $5.72 per share.
Trade war pause and upcoming OPEC supply cut deal sends bullish waves through the oil complex
Since my last note, OIL advanced 3.67% to $5.93 per share, following the temporary U.S-China trade truce agreed at the G20 meeting, mounting expectations on OPEC oil supply cut and Alberta's decree to reduce heavy crude oil output by 0.325m barrels per day.
Going forward, OPEC and its allies are expected to reduce oil output by at least 1.3m barrels per day later this week. In the meantime, rumors are spreading that Saudi's non-OPEC ally, Russia, might throw some sand into upcoming deal. This seems very unlikely, given that most OPEC countries require oil prices above $50 per barrel to balance their fiscal budgets, whereas Russia's break-even point is at $40 per barrel. Additionally, OPEC needs to consolidate its energy policy influence following Qatar's announced withdrawal from the cartel.
The weekly cumulative oil decomposition improved slightly compared to last week. Aggregate supply dips steeper than aggregate demand, despite the abrupt Brent crude price decline.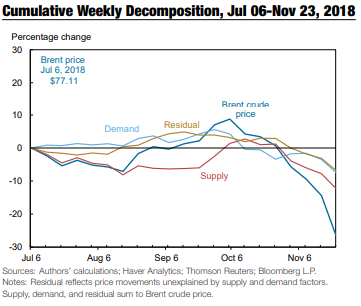 Source: New York Fed
WTI-Brent spread expanded suddenly from $5.77 to $8.65 per barrel, subsequent to mounting expectation about OPEC's supply cuts.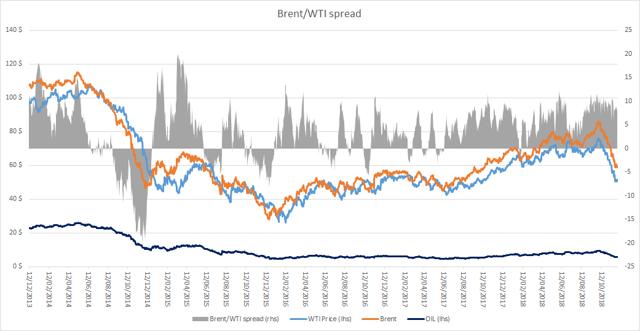 In the meantime, the dollar advanced marginally although recent developments at the Argentinian G20 meeting eased trade tensions between the two largest economies.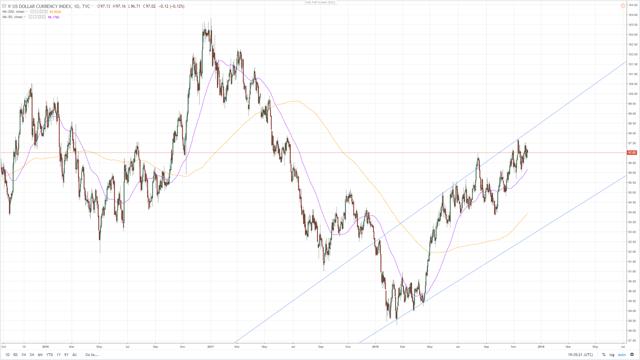 Source: Tradingview
Historically, supply cut announcements initiated by the cartel have provided robust bullish catalysts. This time should not be different and I expect a short-term rebound on OIL shares.
I look forward to reading your comments. If you enjoyed the article, thanks for showing your support by following my account or sharing the article.
Disclosure: I/we have no positions in any stocks mentioned, and no plans to initiate any positions within the next 72 hours.
I wrote this article myself, and it expresses my own opinions. I am not receiving compensation for it (other than from Seeking Alpha). I have no business relationship with any company whose stock is mentioned in this article.