Until recently, Aphria Inc. (APHA) is not a stock I have paid much attention to. My three second, high-level analysis of the company is that it is one of the larger "typical" licensed producers of cannabis in Canada. As someone who has thought the cannabis industry has been overvalued for a while, APHA has not been a stock I gave a second thought to as a potential investment. That is until the team of Hindenburg Investment Research and Quintessential Capital Management released their short report on the company, causing the company's stock to crater to $5.00 CAD on the TSX on Wednesday.
While I have no interest in a long-term investment on Aphria, I love the volatility that such reports create. I have and will continue play the long and short side of this stock through small positions in call and put options. I closed my put options on Wednesday and opened up a call option position. So, for now, I am "long", but that could very well change by the time you read this article.
I have a history of both being on the side of and challenging short sellers. I have a big issue with the asymmetrical regulatory environment where companies are subject to strict guidelines on the content and timing of what they can release to the public, but short sellers, at least in the short term, can say basically whatever they want (as long as there is basis for it or they risk getting sued) and have absolute power over the timing of the release of their reports. On the flip side, short sellers perform a valuable service in being able to conduct deep dives into SEC filings (or SEDAR filings in the case of this particular Canadian listing) and often go to the trouble, risk and expense of visiting foreign locations to verify company claims or give a voice to whistle-blower employees.
Shareholders: be mad at the company, not at the short seller
Upon a strong short report that causes a company's stock to crater, I see shareholders who end up getting caught in a loss throw every insult and accusation against the short seller imaginable. Sometimes, if there is shoddy and incomplete research, those accusations are apt. In this particular case, it is difficult to poke holes into the research against Aphria by these two firms as it was focused, complete and did not try to overstep its bounds, with one exception of a $0 target. I suppose it is within the realm of possibility that they staged some of the scenes in which they took photos. But even if those buildings were in great shape, the assets were very underwhelming given the prices paid for them.
Short sellers don't go out of their way to target a particular company. They often research many companies at once, and most of their research leads nowhere. A particular company is not specifically targeted unless there is some kind of smoking gun, for instance, using multiple shell companies of a similar name from which to conduct transactions at a huge markup and yapping about it on Instagram.
To use an NFL football analogy, if your favorite team is the Houston Texans and they employ Brock Osweiler to be the starting quarterback and he ends up throwing a bunch of interceptions, do you get upset at the defense for catching them or YOUR OWN TEAM for making the string of decisions that led to him starting in the first place?
Aphria was the one throwing bad passes into traffic. Hindenburg Investment Research and Quintessential Capital Management were the ones on defense who made the effort to catch the bad throws. You can't blame them for doing their job and profiting from it. The sooner that investors recognize this, the sooner they can enact something to enhance shareholder value, like voting in a new management team to preserve the legitimate assets that Aphria has, if necessary.
While the research is impeccable, the $0 thesis is shaky
The research of the short sellers was quite impressive. However, the one mis-step they did do was to slap a $0 target on Aphria. The report barely touched on the Canadian operations - the source of the company's revenues right now - other than to say the cannabis produced was of low quality. A coincidentally well-timed article reported that Aphria was warned by Health Canada about 'noncompliance' in June, but it mentioned the same for Aurora Cannabis and several other large players. As in other words, Aphria has some company in getting the finger-wag from the health regulators in a young industry that was black-market for the recreational user just a few weeks ago. Not exactly something that should come as an unexpected risk factor to investors.
I completely agree with the idea that this industry will be saturated before it barely gets off the ground, and competition will be fierce. But the operating issues and growing pains seen by Aphria is a risk shared by every player in the industry, and it's disingenuous to portray it as an Aphria-specific phenomenon. I am going to go with the idea that, for now, Aphria will get its fair share of the Canadian market. If, five years down the road, the company hasn't fixed its quality control issues, sure, its market share will have eroded. But that is a risk for every producer.
So, if Canadian operations are safe for now, how can Aphria be worth a share price of zero? Gabriel Grego was asked that question at the 38-minute mark of this BNN Interview.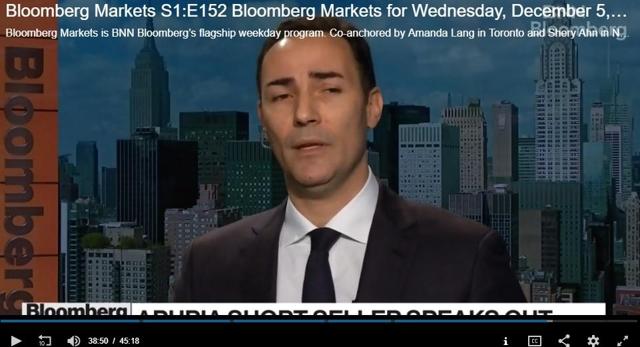 Paraphrasing his response, "assuming the thesis is correct":
There will be giant asset write-off of the international acquisitions.
Aphria will have a hard time raising capital going forward because of the scandal.
Assets in Canada were not the focus of his research (presumably trying to downplay them? I really don't know why he felt the need to say this as part of an answer to justify a $0 target).
Aphria has negative operating cash flows, so the long-term survival of the company depends on cash as oxygen.
Lawsuits can drain resources and time.
Sometimes, stocks in these situations go to zero. It may be the case here, or it may not.
I found the answer to be not very confident, given the zero target in the initial report. But the thought process was correct. Even if Aphria's foreign assets are completely worthless, the focus then becomes its cash burn and how long that can be sustainable. However, the hole in the $0 thesis stems from the complete lack of financial statement analysis. To do a fair analysis of the company's likelihood of going bankrupt, it is imperative that one must at least have a cursory look at the balance sheet and cash flow statement:

Cash burn in the last reported quarter was $14 million. In addition to that, Aphria undertook significant capital expenditures, nearly $60 million in total. However, only $2 million of that was maintenance capex, while the rest was earmarked for expansion of facilities.
On the balance sheet side, Aphria has $314 million of cash and equivalents and $418 million in current assets compared to $165 million in total liabilities, $107 million of that being current liabilities and debt. The deferred tax liability would presumably disappear in the event of a large intangible asset write-off. Aphria has over $200 million in net cash to work with; over $300 million when including non-cash current assets. If similar capital spending took place between August until now, the company would have about $140-$240 million in net cash/working capital remaining.
If the company was to go into crisis mode, avoiding any capital spending beyond $32 million in commitments ($31 million in 2019) and maintenance capex, it would be able to sputter along for ten quarters, assuming absolutely no improvement in the operating cash burn rate.
Zero anytime soon? Doesn't seem likely.
Why did I go from short to long?
Hindenburg Investment Research and Quintessential Capital Management have thrown out quite a bit of research into the market with the promise of more to come.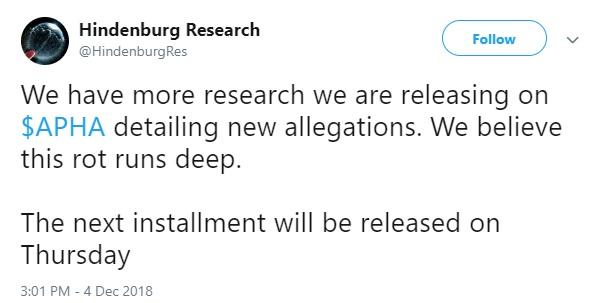 I have followed the markets long enough to spot a well-timed hype when I see it. Promising a report on Thursday during the last trading hour on Tuesday and an impromptu closure of the U.S. markets on Wednesday smells like an opportunity to catch the falling knife while the Canadian listing plunges on "light" volume. The market has reacted quite in favor of their research, having tanked APHA's stock in Canada by more than 50% in three trading days. Unless Hindenburg has a brand-new smoking gun to reveal on Thursday, the ball is in APHA's court to gain some short-term momentum back.
My long position is small, and I do not expect to hold it for very long. In fact, by the time you read this, I could be out of it or back on the short train. Regardless of personal bias, I hope readers found this to be a balanced synopsis of the situation between Aphria and the short sellers.
Disclosure: I am/we are long APHA. I wrote this article myself, and it expresses my own opinions. I am not receiving compensation for it (other than from Seeking Alpha). I have no business relationship with any company whose stock is mentioned in this article.
Additional disclosure: I am long through call options on the Canadian market and I expect to play volatility both on the long and short side in the near future.