For the past two years, investing in a momentum strategy has mostly been a bet on the technology sector. The composition of the $10 billion iShares Edge MSCI USA Momentum Factor ETF (MTUM) has consistently had tech as its top holding comprising anywhere between 30% and 45% of the portfolio. A few other sectors have also claimed large stakes in the fund along the way.
Shortly after the election, financials took a 20%+ position amidst optimism that the pro-growth, rising interest rate environment would benefit them, but that momentum (pun intended!) has since fizzled out. Sectors, such as consumer discretionary and industrials, have taken turns with larger allocations over time, but MTUM has largely been a tech ETF first and foremost.
MTUM reconstitutes itself twice a year, once at the end of May and once at the end of November. When it does this, it usually generates interest among the market watcher types who want to see which sectors are hot at the moment. The last what I'd consider major change for the index came back in May 2017. After the election, growth and economically-sensitive sectors of the market took off and MTUM started to reflect those changes.
After the rebalance, the financial sector allocation jumped from 4% to 23% of the fund. Consumer discretionary increased from 9% to 15%. Stodgy old utilities and consumer staples, which previously accounted for a combined 16% of the fund, now accounted for just 1%. MTUM had transformed into a fully growth-focused ETF.
MTUM just completed its latest reconstitution last weekend, and for the first time since early 2017, we're seeing a major shift within MTUM again.
How MTUM Is Built
Before we jump into how the fund has changed, let's take a minute to revisit how MTUM is populated and criteria that are used in order to select its components.
Starting with a universe of domestic large-cap and mid-cap stocks, MTUM "is designed to measure the performance of an equity momentum strategy by emphasizing stocks with high price momentum, while maintaining reasonably high trading liquidity, investment capacity and moderate index turnover," according to the prospectus. For the selection process, MTUM looks at excess risk-adjusted returns over the prior 6- and 12-month time periods and translates those figures into an average momentum score.
Because MTUM only reconstitutes itself twice a year, there's something of a delayed reaction to the market's movements. Since the fund looks back at 12 months of pricing history to determine what qualifies as "momentum," it could take up to a year for changing market conditions to fully show up in the portfolio.
How MTUM Is Changing
Let's start by taking a look at the composition of MTUM both before and after the rebalance.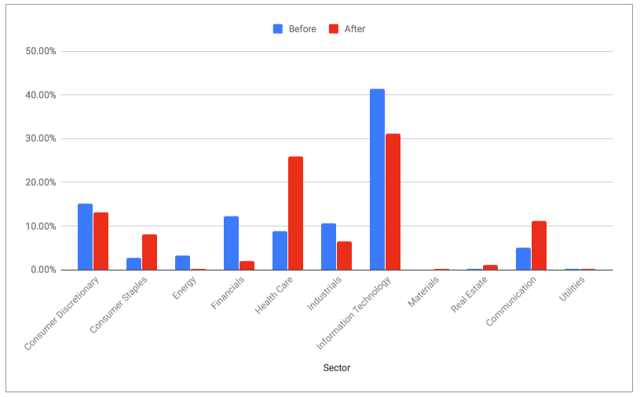 Source: iShares
The biggest change I noticed right off the bat is the allocation changes in three sectors - technology, healthcare and financials.
Technology
The tech sector allocation drops from 41% to 31%. That's still good enough to make it the top sector holding in the fund, but it's a significant drop from where it was at. Over the past six months since the last rebalance, tech is only the 6th best performer of the markets' 11 major sectors in total. On a total return basis, the Technology Select Sector SPDR ETF (XLK) trailed the S&P 500 (SPY) by 0.64%, so a reduced exposure to tech shouldn't be surprising. The top tech holdings currently include Microsoft (MSFT), Apple (AAPL) and Visa (V).
Healthcare
Healthcare makes a huge jump from about 9% of the fund to 26%. This is consistent with the fact that healthcare has easily been the market's top performing sector over the past six months (the Healthcare Select Sector SPDR ETF (XLV) is up more than 17%). It's also narrowly the top performing sector over the past 12 months, so I'd fully expect this to be MTUM's top sector holding another six months from now.
Keep in mind, that the fund's holdings are based on individual risk-adjusted excess total returns, not a sector's absolute returns. That likely explains why healthcare isn't the top sector holding just yet. The top healthcare holdings currently include Merck (MRK), Pfizer (PFE) and UnitedHealth Group (UNH).
Financials
I talked a little bit earlier about how the post-election rally in the financial sector has sort of fizzled out. That is definitely reflected in MTUM as the sector's overall allocation drops from 12% to 2% (which is down from 25% just over a year ago).
Others
Also worth noting is the fact that the communication sector jumped from 5% to over 11%. My first inkling was that it's possible that's where some of the tech allocation went due to the sector reshuffle earlier this year, but that doesn't really appear to be the case. Netflix (NFLX) and Twitter (TWTR) combine for around 1.5% of MTUM, but that's about it for tech-turned-communication names. Most of that allocation belongs to the likes of Verizon (VZ), Disney (DIS) and Comcast (CMCSA).
Consumer staples also made a nice jump from 3% to 8%, while energy, materials and utilities are virtually non-existent.
Here's the same data in table format.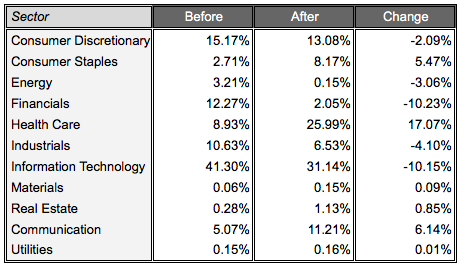 Source: iShares
A Future Look At MTUM?
While a lot of how MTUM will look six months from now will depend on what happens in the next six months, we can take a look at recent returns to get a sense of where it may be headed.
As I mentioned earlier, healthcare as a whole has been the top performing sector over both the past 6- and 12-month time frames, so I'd expect to see that group at the top next May.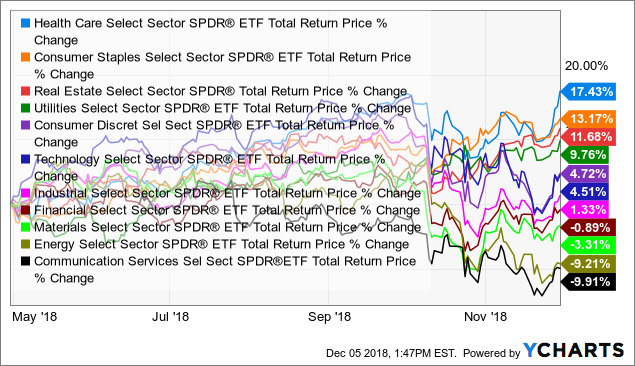 More conservative sectors, such as consumer staples, utilities and real estate, have done well over the past six months, both on an absolute and a risk-adjusted basis, so we could very well see their allocations rise in time as well. I'd expect that tech sector allocation to decline again but probably somewhere into the 15-20% range. In other words, it's lost most of the momentum it had over the past year or so but it won't disappear from this portfolio either. I'm relatively bearish on financials and energy and don't expect either group to have any more than a minimal presence in MTUM going forward.
Conclusion
Technology and healthcare now represent nearly 60% of MTUM, so an investment in this fund should really be a reflection of how you see these two sectors playing out over the next six months. I believe that we're going to see another correction in 2019 and a defensive positioning is going to be warranted. Outside of healthcare and a small position in consumer staples, you really don't see that in MTUM.
I think that healthcare will still be a good place to be heading into 2019, but I'm less confident regarding the tech sector. Out of the four major factor tilts - value, momentum, quality and low volatility - I think momentum might come in last place as a choice for 2019. I personally favor low volatility and value, but quality wouldn't be a bad place to be either.
In general, I like the Momentum ETF as a fund. I just don't think it's particularly well positioned to prosper again in 2019.
We discuss ideas such as these along with in-depth portfolio strategies and more at ETF Focus!
A subscription to ETF Focus includes:
All ETF Focus model portfolios
Our monthly ETF Power Rankings report
Our weekly "ETFs in Focus" report
Our weekly "Market Primer" report
Access to all paywalled content
Access to my personal portfolio
The cost of an ETF Focus subscription will go up on January 1st! Click HERE to lock in lower 2018 prices and get your two-week free trial now!
Disclosure: I/we have no positions in any stocks mentioned, and no plans to initiate any positions within the next 72 hours. I wrote this article myself, and it expresses my own opinions. I am not receiving compensation for it (other than from Seeking Alpha). I have no business relationship with any company whose stock is mentioned in this article.