On December 6, the MOGU (MOGU-OLD) IPO takes place on NYSE. MOGU is a Chinese online fashion platform that combines the sale of goods and the creation of content aimed at promoting goods. The company has more than 60 million MAUs and 48,000+ influencers who create fashion-related content.
After the successful offering, the company's capitalization will be about $1.4 billion, which exceeds the company's revenue over the past 12 months almost 10 times. In my opinion, such valuation is quite expensive given that the company is experiencing a decline in revenue and incurs huge losses.
Quick Take
MOGU was founded in 2011 by former Taobao (BABA) employees - Qi Chen and Xuqiang Yue. Currently, the company's gross merchandise value exceeds RMB16 billion (about $2.3 billion). MOGU is primarily focused on young people in China who are interested in fashion.
Tencent (OTCPK:OTCPK:TCEHY), Hillhouse, and Sequoia are among the largest investors.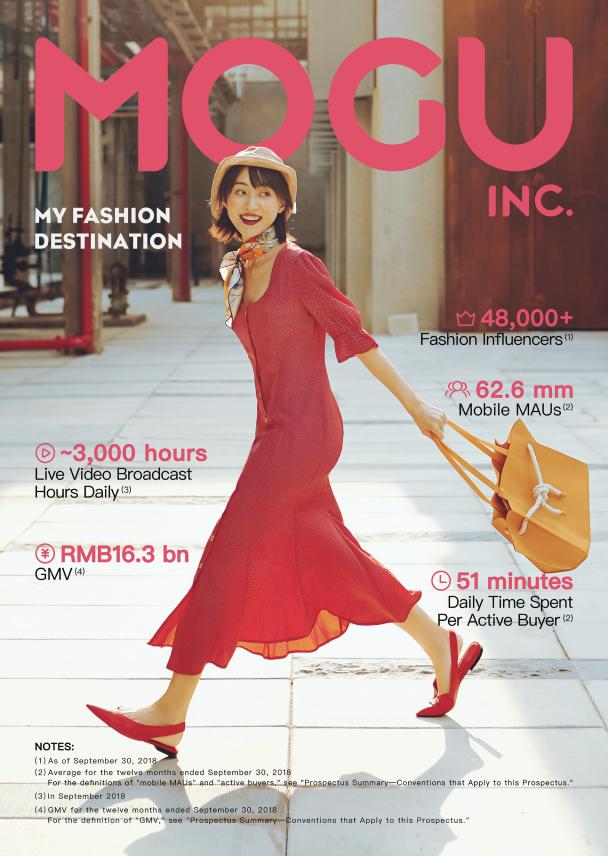 Source: F-1/A
Offering Details
During the public offering, MOGU plans to raise $71.25 million, selling 4.75 million ADSs, which represent 25 million Class A ordinary shares.
MOGU has a dual-class shareholder structure, so after the IPO, the co-founder and CEO - Qi Chen, with about 80% voting power, will remain the controlling shareholder.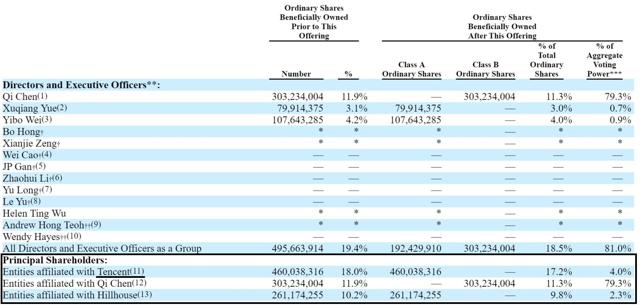 Source: F-1/A
Shares will be offered in the price range of $14-16 with the valuation of $1.3 to $1.5 billion. The IPO will take place on December 6 on the NYSE. The underwriters of the IPO are Morgan Stanley, Credit Suisse, and China Renaissance.
Also, during the IPO, the Chinese giant JD (JD) agreed to buy shares worth $30 million, which will be 42% of the total offering.
The company plans to use the net proceeds as follows:

Source: F-1/A
Market
The e-commerce market in China is growing at a tremendous pace, and iResearch forecasts that this pace will continue in the next five years.
According to iResearch Report, the online penetration rate of fashion retail is expected to increase from 21.2% in 2017 to 32.5% in 2022. The GMV of China's fashion e-commerce market was RMB2,546.2 billion ($370.7 billion) in 2017 and is expected to further increase to RMB6,967.6 billion ($1,014.5 billion) in 2022, representing a CAGR of 22.3% from 2017.
MOGU competitors in this market are other e-commerce websites that sell fashion products, as well as any social networks that advertise fashion products.
Business Model
The main product of the company is the Mogujie app, which is a platform for video content and fashion products. In China, more than anywhere else in the world, there is a developed culture of following influencers, and this is what MOGU relies on. The company attracts influencers who create unique content on fashion themes, thus promoting brands and merchants.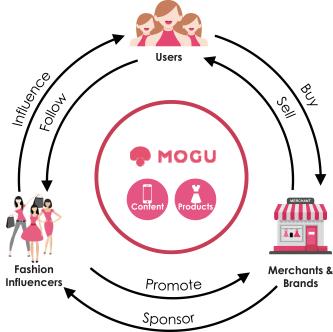 Source: F-1/A
MOGU earns most of its revenue in two ways: by placing ads on its platform and taking a commission for selling fashion goods. In its roadshow presentation, the company showed the dynamics of both segments and how marketing services revenue is experiencing a decline (-35% Y/Y), which is reflected in the decline in total revenue recently. At the same time, the company is proud of the rapid growth of video content creation and live broadcasting, which allows receiving commissions (with high conversion) from the sale of goods. This segment showed an increase of 28% over the last year.

Source: F-1/A
MOGU is also in partnership with its shareholder, Tencent, allowing the company to gain access to the huge client base of the Chinese giant.
Financials
The financial situation of MOGU is very different from almost any IPO due to declining revenues. As I said earlier, the main reason for the decline in revenue was a massive reduction in marketing services revenue.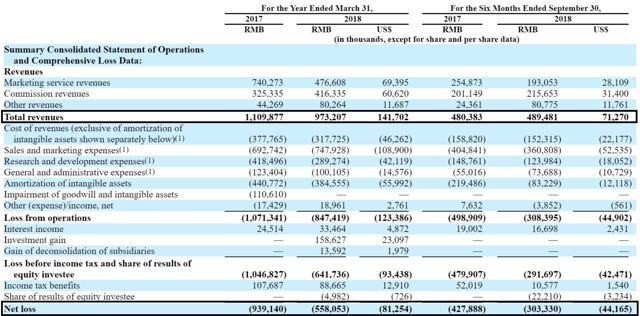 Source: F-1/A
Despite the decline in revenue, the gross margin is gradually increasing and almost reached 70%. From a position of operating and net profit, the company is unprofitable, and net loss was a massive 44% of revenue in the last 12 months.
Сash used in operating activities for FY18 was $46 million, almost three times reduced compared to FY17, but in the first half of the FY19 rose again, reaching $38.5 million.
The company's cash position is $130 million, which exceeds the LTM сash used in operating activities less than 2 times.
Valuation
For the first time, MOGU received a valuation of $3 billion as a result of a merger with one of its competitors, Meilishuo, in 2016.
In the spring of this year, Bloomberg said that MOGU is planning an IPO and is claiming a valuation of $4 billion. Then on Bloomberg, there was an article that MOGU reduced the valuation target by half to $2 billion.
In its latest registration statement, the company set a price range of $14-16 per share, which at a midpoint price of $15 equates to a valuation of just over $1.4 billion. Despite a significant reduction in target valuation, the company still looks quite expensive, considering revenue for the last 12 months at $143 million.
For comparison, I present below the Price-to-Sales multiple for MOGU and for the fashion company Farfetch (FTCH), which had an IPO this year. The business models of the two companies are pretty similar, except for the lack of content part in Farfetch.

Source: Finviz
Farfetch is valued at slightly more than 12 annual revenues, despite the fact that it demonstrates strong top-line growth with relatively smaller losses.
Final Thoughts
The idea of the company becoming a fashion-centric social network looks extremely interesting in a growing e-commerce environment. At the same time, the company is currently in a transition stage with declining revenue, so investing at this price does not look attractive.
Disclosure: I/we have no positions in any stocks mentioned, and no plans to initiate any positions within the next 72 hours. I wrote this article myself, and it expresses my own opinions. I am not receiving compensation for it (other than from Seeking Alpha). I have no business relationship with any company whose stock is mentioned in this article.
Editor's Note: This article discusses one or more securities that do not trade on a major U.S. exchange. Please be aware of the risks associated with these stocks.