PES has fundamental upsides
Pioneer Energy Services Corp. (PES), which primarily offers onshore drilling and production services in the U.S. and Colombia, has advantages over many of its peers in the current energy market scenario. Quality of its assets, the continued growth of unconventional shale plays, and new contract pricing at higher rates can boost PES's performance. Despite the current energy price weakness, I expect PES to offer positive returns over the medium-term.
In 2018 so far, Pioneer Energy Services' stock price has dipped by 12%, while VanEck Vectors Oil Services ETF (OIH) declined by nearly 28%. OIH represents the oilfield equipment & services (or OFS) industry. I do not expect PES's stock price to rebound slowly but steadily.
Higher rates to boost PES's margin
Pioneer Energy Services' domestic drilling segment saw a much better Q3 compared to Q2. This was led by 5% higher average revenue per day during this period, which translated into a 13% higher average margin per day. PES was able to able to push through some day rate increases on three rigs, ranging from $1,000 to $3,000 per day. Among the three rigs to join PES's fleet, two are expected to come online In November and one in Q1 2019. The higher pricing trend is expected to result in higher average revenue in Q4. The U.S. domestic drilling accounted for 25% of PES's Q3 2018 revenues, while the international drilling segment accounted for 12% of Q3 revenues.
PES's edge in asset quality
To understand why PES's offers are strong to warrant a price hike, we need to take a look at its premier asset quality. PES has a reasonably new well-servicing fleet. It consists of tall-masted A.C. rigs with at least 550 horsepower, capable of working at depths of over 20,000 feet. Such specification lets PES operate in areas that have deeper well depths and perform more complex jobs necessary in today's energy environment. In 2017, PES brought in 20 new-model rigs in exchange for the same number of older-model rigs. All of its rigs are capable in the unconventional shale plays, including the Bakken, Eagle Ford, Fayetteville, Permian, Niobrara, and the Gulf Coast.
For coiled tubing, PES has been emphasizing on large-diameter tubes, which are typically efficient in saving wells from fluids-related damages. Its coil capabilities range from 1 ¼'' to 2 5/8'' coiled tubing. In 2018, PES spent 33% of its capex budget on two large-diameter coiled tubing units.
PES's business model also insulates it from a steep underperformance even when the energy market goes through a recession. PES's offers range from drilling to production services, covering a majority of the well life cycle. Historically, drilling and production services activity have not responded equally to various conditions in the industry. Also, complementary services enable PES to generate higher revenues from the existing client base.
PES's new contracts to help push prices

In this context, it's important to know PES's contracted rigs in the U.S. and Colombia. Of the 16 rigs earning revenues in the U.S., 14 are under term contracts. A total of 16 of PES's AC rigs in the U.S. and six of its rigs in Colombia are earning revenues. One of the Colombia rigs is currently under the demobilization process. Since Q2 2018, PES extended contracts on four rigs. PES's management expects to re-price these rigs anywhere between ~$2,000 to $5,000 per day by the end of 2018. Given the rigs roll-off, as shown in the table above, no contracts in the roll-off schedule are operating at legacy new-build day rates. Given the contract extensions and re-pricing activity mentioned, PES's management expects more than $10,000 margin per day in Q4 2018 and through 2019. It is also noteworthy how PES has stayed positive on the Permian, despite various negative developments in this region related to infrastructure bottleneck and operators' budget cut. PES is currently re-mobilizing more rigs from South Texas to the Permian. Its management commented in the Q3 earnings call,
we're actually moving more equipment into the Permian currently. We talked about – we've had one well servicing rig there for pretty much a last year, year and a half, it's operated at one of our south Texas divisions, but we've now moved another rig from that area and probably going to follow with a third rig and then we've out of a kind of a north or central Texas division we've moved one rig and probably going to move two rigs there are folks more on drill out.
In Colombia, out of the seven rigs working, PES management expects to exit 2018 and Q1 2019 with higher margin based on longer lateral pad drilling.
PES's long-run value drivers
PES's management holds the view that if a high-60's level crude oil price can stimulate drilling activity in the U.S., which will also encourage OFS companies like PES to increase pricing. Well servicing activity should also stay in the positive territory in that environment. However, PES's management is not very confident about coiled tubing services and wireline services business. PES sold five coiled tubing units and 12 wireline units during Q3. As of September 30, 2018, PES has eight coiled tubing units, with one additional unit on order for delivery in Q4 2018. The wireline and coiled tubing segments accounted for 39% and 9% of PES's Q3 revenues, respectively. PES's management does not expect coiled tubing and wireline services to improve if crude oil price does not reach the $70's level.
PES's headwinds: Completions and wireline activity slowdown
Pioneer Energy Services' operations are primarily concentrated in the unconventional resource basins of the Permian, the Rockies, and the Bakken. Due to upstream companies' budget exhaustion and the crude oil price weakness in the past three quarters, many of these upstream companies have slowed down their E&P activities. Although this has not necessarily impacted the overall production, the reduced activity level has reflected in a temporary reduction in wells completion activity. This has once again put the OFS companies' performance under pressure.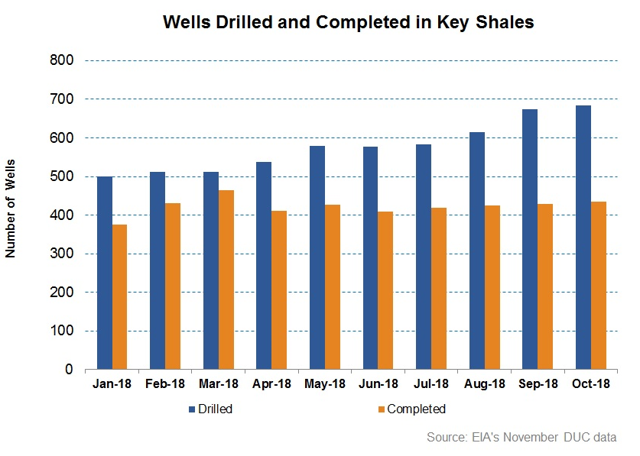 According to EIA's DPR data, the number of completed wells in the key U.S. shales showed tremendous growth at the beginning of 2018. But since mid-2018, the rate of completions has slowed down considerably. This has affected OFS companies' like PES, which provide drilling and production services. On top of that, excessive rain in many areas in Texas also affected drilling-related activities in Q3.
PES's wireline services segment, which provides logging and perforating services to characterize reservoir rocks and fluids, saw 9% lower revenues in Q3 over Q2. The segment has fewer jobs and lower average revenue per job than in Q2. In Q4, the conditions are not expected to improve, while the adverse effect of seasonality and long holidays in December can lead to even deteriorated performance.
Stable management
Wm. Stacy Locke has been serving as PES's CEO since 2003. Lorne E. Phillips has been serving as the CFO since 2009. Dean A. Burkhardt, PES's Chairman, has served as a director since October 2001.
PES has no near-term debt repayment
In the past four quarters until Q3 2018, PES generated $27 million in cash flow from operations (or CFO). PES's substantial debt repayment obligation ($475 million) will arise in the next four-to-five years. In 2018, PES plans to spend $70 million in capex, which would be 14% higher than its 2017 capex.
PES does not currently have any repurchase or dividend program. With the available liquidity (cash balance and revolving credit facility), and at the current cash flow generation run rate, PES does not have any liquidity issues in near-term. However, without further re-financing, it may require additional external financing to meet its long-term financial obligations unless it can improve its cash flows significantly. This can increase its credit risks over the medium-to-long term.
What does PES's relative valuation say?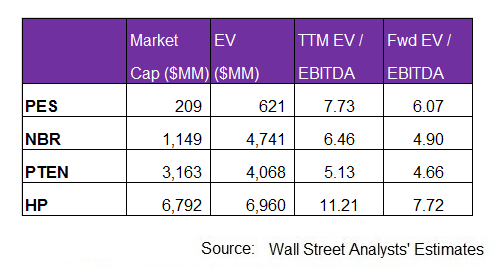 PES is currently trading at an EV-to-adjusted EBITDA multiple of 7.7x. This is based on sell-side analysts' EBITDA estimates in the next four quarters, as pulled from Thomson Reuters. PES's forward EV/EBITDA multiple is lower, implying higher adjusted EBITDA in the next four quarters. PES is currently trading at a discount to its past four-quarter average of 13.1x. Adjusted EBITDA excludes impairment charges and loss on debt extinguishment.
Sell-side analysts expect PES's adjusted EBITDA to improve in line with the rise in the peers' average in the next four quarters, which typically reflects in at-par current EV/EBITDA multiple compared to the peers. PES's TTM EV/EBITDA multiple is marginally higher than its peers' (NBR, HP, and PTEN) average of 7.6x.
Analysts' rating on PES

According to data provided by Seeking Alpha, four sell-side analysts rated PES a buy in December, while six recommended a hold. None of the sell-side analysts rated PES a "sell". The analysts' consensus target price for PES is $3.5, which at PES's current price yields ~77% returns.
What's the take on PES?
Pioneer Energy Services is not insulated from the delays in energy market recovery. The 28% fall in crude oil price in the past couple of months meant that upstream operators are getting increasingly jittery about their E&P capex commitment. In this uncertain environment, PES's management appears confident. Having high-quality assets in the portfolio has emboldened its ability to maintain or even increase pricing for its offerings, particularly when many of its industry peers face stiff price competition and expect lower margin in the short-run. This speaks volume about PES's strength. PES's balance sheet is also in good shape, although it needs to improve cash flows over the longer-term once the repayment obligations become due. I see upsides for PES at this level.
Disclosure: I/we have no positions in any stocks mentioned, and no plans to initiate any positions within the next 72 hours. I wrote this article myself, and it expresses my own opinions. I am not receiving compensation for it (other than from Seeking Alpha). I have no business relationship with any company whose stock is mentioned in this article.