Palo Alto Networks (PANW), one of the leading cybersecurity companies that is best known for its "next-generation firewall," has just kicked off its fiscal 2019 with a strong start. Far from exhibiting the deceleration that many observers were expecting of an "older" technology name, Palo Alto Networks has actually managed to accelerate its revenue growth by two points this quarter (and at Palo Alto Network's scale, this is no easy feat), while also producing strong margin expansion and earnings growth.
Palo Alto Networks' stock performance and its financial performance, however, have often set off on diverging paths. The stock is no stranger to volatile mood swings, despite continually strong earnings performance. Relative to its September peak, Palo Alto Networks' stock is still down 25% - and though that's in-line with how other software companies are performing, Palo Alto Networks' beat-and-raise should have sparked a bigger recovery in the stock.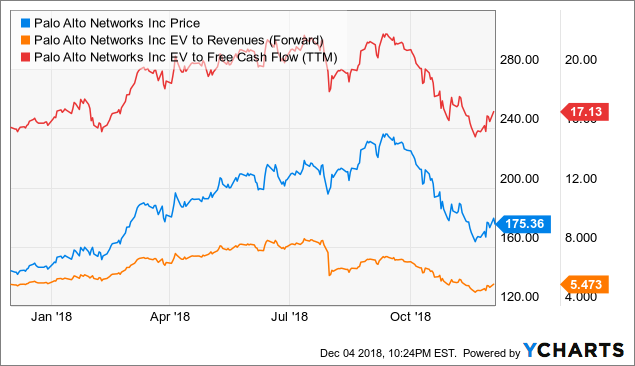 At Palo Alto Networks' current valuations - just above 5x forward revenues and 17x free cash flows - the bullish thesis for this stock becomes even more relevant. This is a dominant cybersecurity business that is generating heaps of free cash flow and showing no signs of slowing down. I've compared Palo Alto Networks to Salesforce.com (CRM) in the past - though the two companies operate very different businesses, Palo Alto Networks has effectively managed a ~30% growth rate for many years in a row with barely any hints of deceleration.
Palo Alto Networks' guidance came in well above expectations too.
Figure 1. Palo Alto Networks Q2 guidance

Source: Palo Alto Networks earnings release
The company's forecast of $675-685 million in revenue (+24-26% y/y) handily beat Street consensus of $668.9 million (+23% y/y). Knowing Palo Alto Networks, however, revenue growth is likely to come in much higher. Recall that for Q1, Palo Alto Networks had only guided to 25-27% y/y growth. It actually came in four points higher than the high end of this range.
Consistent execution, a good track record for managing expectations, and a nice balance between growth and profitability - these are the factors that make Palo Alto Networks a comfortable long-term hold. The stock is technically in "bear market" territory right now while its financials look anything but bearish - investors should continue building positions in this stock while it's still low.
Big quarter for growth, especially in subscription
Here's a look at Palo Alto Networks' Q1 results:
Figure 2. Palo Alto Networks 1Q19 earnings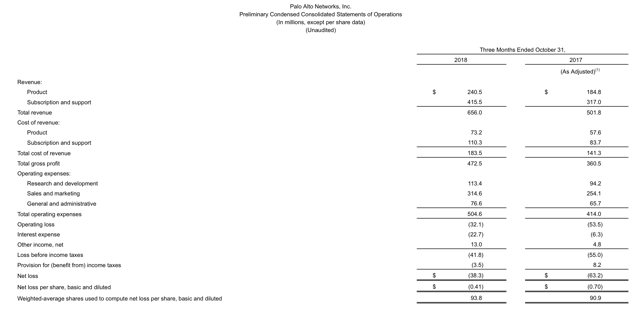 Source: Palo Alto Networks earnings release
Revenues grew 31% y/y to $656.0 million, accelerating two points over last quarter's 29% y/y growth rate. The company also smashed Wall Street's expectations of $632.1 million (+26% y/y) by a huge six-point margin; and as previously noted, the company exceeded the high end of its guidance range by four points.
Here are some qualitative insights on major deals closed from CEO Nikesh Arora's prepared remarks on the Q1 earnings call:
Our top 25 customers each spend a minimum of $33.6 million in lifetime value, which is 45% increase or the $23.2 billion that is in Q1 of fiscal '18. Examples of customer wins and competitive displacement in fiscal Q1 that demonstrate the progress we're making across the network and point to cloud are; we landed top three airlines in the U.S. to secure their data centers; we also replaced the competitor in the data center and sold all of our cloud subscription at a U.S. based investment management company; our cloud firewall VM-Series was selected as a security standard, one of the world's largest networking telecom companies in the world; our cloud monitoring compliance offering Evident was selected to secure the public cloud infrastructure on one of the world's largest banks based in Europe."
It's important to note that Palo Alto Networks is making enviable progress in cloud and subscription-based revenues. Subscription revenues are also up 31% y/y, and the company just closed its acquisition of cloud security provider RedLock to advance its progress.
One possible reason that investors are shying away from Palo Alto Networks is the fact that it recently brought on a new president, Amit Singh, who will head up the sales org. Singh was named to the job in mid-October, and almost nothing scares software investors more than a shake-up in sales leadership due to the potential disruption in customer relationships and renewal deals. Cloudera (CLDR), for example, has been unable to shake off a ~40% decline in its shares since the beginning of the year when it announced it was restructuring its sales org to address the problem of declining net retention rates.
It's too early in the cycle, however, to be preemptively concerned with Palo Alto Networks' sales shake-up. As former president of Google Cloud, Singh likely brings a wealth of both experience and client connections that can be extremely beneficial to Palo Alto Networks.
One additional point to note: billings growth slightly weakened this quarter to +27% y/y (decelerating two points from 29% y/y in Q4), but this trend can hopefully reverse by next quarter.
Aggressive profit expansion remains a key highlight
Alongside this quarter's strong growth metrics in all but billings, Palo Alto Networks also delivered another strong quarter of margin expansion, as shown in the detailed profit trend tables below:
Figure 3. Palo Alto Networks margin trends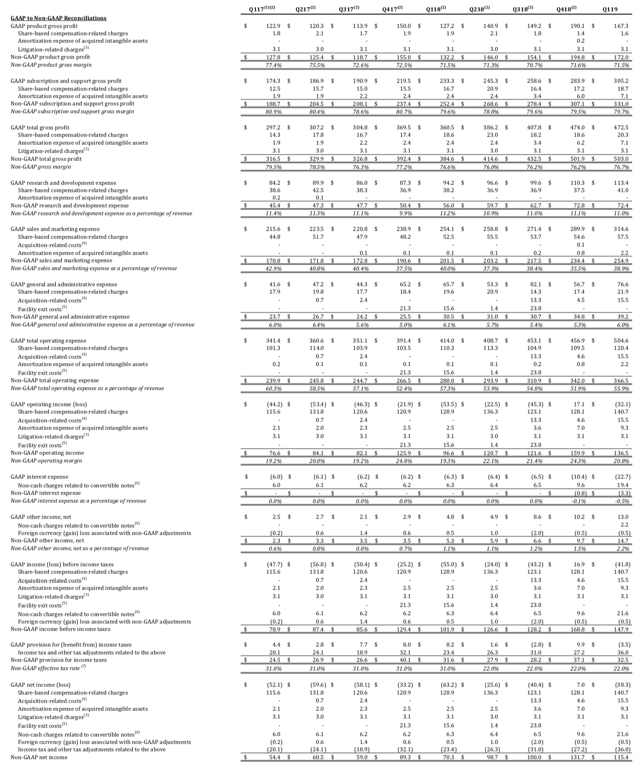 Source: Palo Alto Networks supplemental data sheet
Pro forma gross margins ticked up by 10bps compared to the year-ago first quarter. Meanwhile, sales and marketing expenses (Palo Alto Networks' biggest cost component) declined 110bps as a percentage of revenues to 38.9%.
We have to be careful here in treating this sales reduction as a true statement of improved sales efficiency. Sales turnover tends to be high when leadership shuffles, so Palo Alto Networks could have seen a temporary exodus of sales reps and account execs that it will eventually have to replace.
Still, for the moment, we appreciate the company's reduction of operating expenses to 55.9% of revenues, 140bps better than the year-ago quarter. Pro forma operating margins jumped to 20.8% - 150bps better than 1Q18 and a remarkably high margin relative to other software stocks that are still capable of growing at ~30% y/y.
Palo Alto Networks also grew its pro forma net income by 64% y/y to $115.4 million, and pro forma EPS of $1.17 showed 11% upside to Wall Street consensus of $1.05.
Key takeaways
Palo Alto Networks is a high-quality business that, for reasons of sheer market pessimism, is trading at a major discount. Shares have essentially given back all of their year-to-date gains, giving investors an opportunity to buy into a huge rebound opportunity.
The key risk to watch out for is continued sales execution. With billings growth falling this quarter and a new president at the helm, it's very possible to see some revenue deceleration over the next few quarters.
That said, I continue to retain my price target of $289 as a year-end 2019 target for Palo Alto Networks, which is based on 20x EV/FY19 FCF (assuming 30% y/y revenue growth in FY19 and 42% FCF margins, in-line with historical performance). This price target suggests more than 68% upside in the coming year. As lofty as this sounds, recall that in the six-month period from March to September, Palo Alto Networks rose more than 50% alone, and there's no reason the stock can't claw back these gains early in 2019.
Disclosure: I am/we are long PANW. I wrote this article myself, and it expresses my own opinions. I am not receiving compensation for it (other than from Seeking Alpha). I have no business relationship with any company whose stock is mentioned in this article.