Thesis
I am moderately bullish on AT&T (T), as the telecommunication company combines a couple of positives, including strong cash generation, reliable dividend growth, a high dividend yield, and a non-cyclical business model.
There are some negatives as well, though, such as a relatively high debt load that will lead to a significant amount of cash flows being dedicated for debt reduction, and a relatively low earnings growth rate.
I believe that AT&T's shares are undervalued at the current level and that the fair value is somewhere in the high $30s. In a recent article here on Seeking Alpha, the author argued that AT&T's shares are worth between $65 and $117. I believe that these fair value estimates are too high.
Things that I like about AT&T
AT&T is a diversified telecommunication and entertainment giant. AT&T's biggest source of revenues and earnings is its mobile communications segment, which is a very non-cyclical business -- even during times when the economy is doing bad, consumers do not stop using their mobile phones. The principle of non-cyclicality also holds true for other businesses, AT&T is thus a relatively recession-proof investment.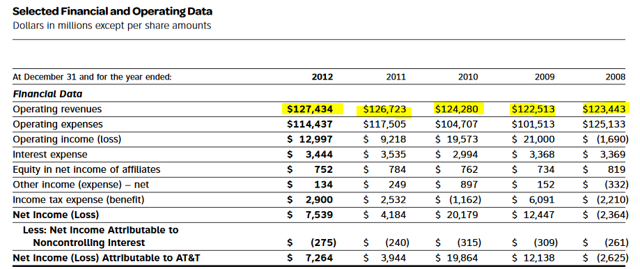 Source: 2012 Annual Report
During the last financial crisis, AT&T has managed to keep its revenues very stable, between 2008 and 2009 revenues declined by just 0.7%. Unlike many other companies, AT&T's business was basically not impacted by the financial crisis at all. This means that AT&T is an investment where investors don't have to worry too much about things like the strength of the economy, or issues such as a trade war, political tension around the globe, etc. AT&T is very US-focused, which means that currency rates are not a large factor either -- for companies with a more global footprint the strong dollar can be a headwind.
AT&T has a convincing dividend growth history. The company has raised its dividend for more than 25 years in a row, which makes AT&T a Dividend Aristocrat. In recent years AT&T has raised its dividend by just $0.04 annually, which equates to a dividend growth rate of ~2%. This is not as much as AT&T's historical dividend growth rate, but still on par with inflation. Investors can thus assume that the dividend they receive will not lose any value in real terms. Right now AT&T yields 6.5%, which is highly attractive. AT&T's dividend is quite safe on top of that, the company pays out less than 60% of its earnings and its cash flows. AT&T can thus be described as an investment that provides a relatively safe and high dividend, while dividend growth is strong enough to offset inflation.
There are headwinds for AT&T
Even though AT&T has a couple of things that work in its favor, there are also some things I don't like very much about the company. The first one is the weak performance of AT&T's Entertainment Group: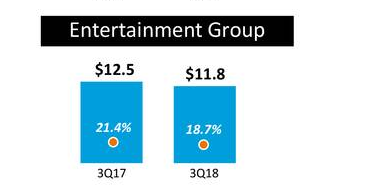 Source: AT&T presentation
During the most recent quarter revenues and margins in the Entertainment Group segment declined -- EBITDA dropped from $2.7 billion to just $2.2 billion in just one year (a decline of close to 20%). Cord cutting is a major headwind for AT&T, and it is not yet known whether the trend will stop or reverse in the foreseeable future.
AT&T plans to introduce its own streaming service next year, this could offset the declines in the Entertainment Group, but we do not know that for sure until the service is on the market and AT&T reports the first results. Until then Entertainment Group will likely remain under pressure, and investors should not expect any growth from this segment during the next couple of quarters.
AT&T holds a high amount of debt on its balance sheet. The company is not dangerously overleveraged, and there is no risk of bankruptcy at all, but still, the debt levels are a headwind. AT&T plans to deleverage considerably through 2022, which will soak up a large portion of AT&T's cash flows: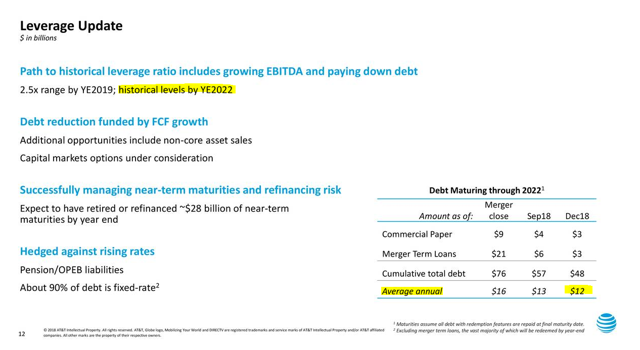 Source: AT&T presentation
AT&T plans to bring its leverage back to historical levels through 2022. Until then, $12 billion of debt will mature each year, on average. If AT&T pays down $12 billion a year, most of its free cash flows will be used for either dividend payments or debt reduction. There will not be a lot of cash available for other things, like tuck-in acquisitions or share repurchases. This is unfortunate, as buybacks would be highly accretive at the current valuation (AT&T is trading at ~8 times next year's free cash flow right now). Debt levels are thus not dangerous, but they reduce management's wiggle room, as pretty much all of AT&T's free cash flows are needed for either dividend payments or deleveraging.
AT&T is undervalued, but not by as much as you might think
Seeking Alpha contributor John Rhodes wrote an article on AT&T a couple of days ago, where he argues that AT&T is worth between $65 and $117 per share. Finding a fair value for a stock is not an exact science: There are different approaches, and differing assumptions can lead to different fair value estimates. I believe that the assumptions made in that article are too optimistic and that AT&T's fair value is substantially lower than $65 per share.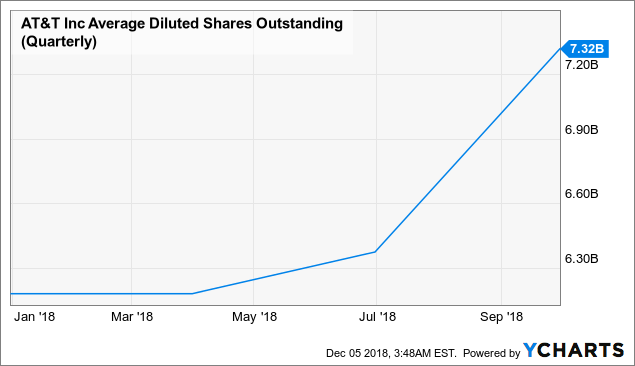 There are 7.32 billion shares of AT&T, thus AT&T's market capitalization would have to rise to $480 billion - $860 billion for shares to be valued at $65 - $117. A market capitalization of $860 billion would make AT&T the most valuable company in the world: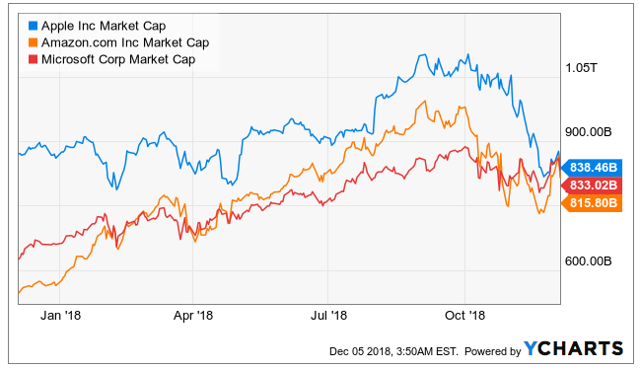 Most readers will agree that AT&T is not worth as much as Apple (AAPL), Microsoft (MSFT), or Amazon (AMZN), and that the difference in value is not small.
The approach of finding a fair value by dividing AT&T's earnings per share by the yield of US treasuries [i.e. $3.50/0.03 = $117] is also not the best way to find a fair value for AT&T's shares, I believe. This is due to two reasons: First, AT&T is a much more risky investment than US government bonds, so it would be unrealistic for AT&T's earnings yield to be in line with US bond yields.
On top of that, the US bond yield is an income yield, whereas AT&T's earnings yield is not an income yield -- the company pays out less than 60% of its earnings. If AT&T traded at $117, its dividend yield would be 1.7% -- no income investor would favor AT&T with a yield of 1.7% over US government bonds with a yield of 3.0%.
The second valuation method used in John Rhodes' article is much better, I believe. He projects EPS for 2025 and puts a target multiple on that to get to a share price estimate for 2025. Projecting EPS for a company over the next seven years is not easy, and there is a wide range of possible outcomes, but I think that the 5% growth assumption is a good base case. It is actually slightly lower than the long-term analyst growth estimate: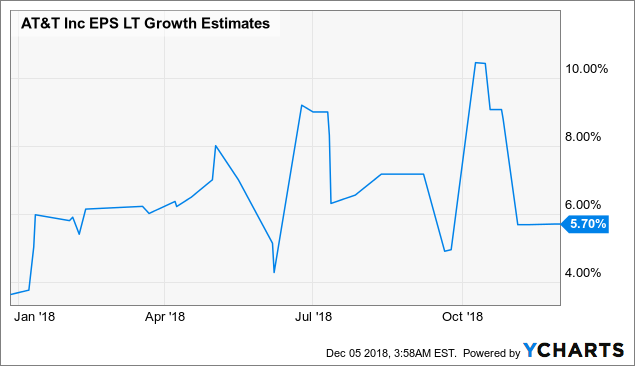 This indeed gets us to EPS of $5.40 by 2025, and when we put a multiple of 12 on that, we get to a share price of $65. But this does not mean that the fair value of AT&T's shares is $65 right now -- it means that the fair value of AT&T's shares is $65 in 2025.
If an investor would buy shares of AT&T at $65 today, he would not get any share price gains over the coming seven years (as the price target is $65 in 2025), and on top of that, the dividend yield on cost would only be 3.1%. No share price gains and a dividend yield of 3.1% does not sound attractive to me, which is why I believe that the current fair value is substantially below $65.
If an investor bought at $45, he would see share price gains of 5.4% through the coming seven years (assuming shares trade at $65 in 2025). On top of that, one would receive a yield on cost of 4.4%, for total returns of 9.8%, which I deem relatively attractive. When we then put a 15% margin on safety on these $45, we get to $38, which is my (conservative) fair value estimate.
We can make a reality check by looking at the theoretical free cash flow yield if shares were to trade at $38: AT&T would be valued at $278 billion in that scenario, which would equate to a price to free cash flow multiple of 10.7, and a free cash flow yield of 9.3% (using AT&T's FCF estimate of $26 billion for 2019). Shares being fairly valued at a price to FCF multiple in the low double digits sounds realistic, which is why I believe that my fair value estimate in the high $30s is a pretty solid estimate.
To sum up: AT&T's shares are undervalued here, but the undervaluation is less pronounced than some think, I believe. I think it will turn out positive to buy shares at $38 or below.
Final thoughts
AT&T is not a company without any problems. There are some headwinds, such as the high debt levels and the weak performance of the Entertainment Group. AT&T is nevertheless a solid investment at the current level, as shares of AT&T provide a lot of income, on top of that there is potential for share price gains. AT&T is a very recession-proof investment where investors don't have to worry about the strength of the economy, or things like trade wars and currency rates too much. This makes AT&T suitable for those that look for a lower-risk stock that provides ample income.
I believe that shares are undervalued in the low-to-mid $30s, my (conservative) fair value estimate is $38 per share.
Author's note: If you enjoyed this article and would like to read more from me, you can hit the "Follow" button to get informed about new articles. I am always glad to see new followers!
Elazar Advisors' Tech Stock Service: Nail Tech Earnings
The most profitable tech stocks have delivered revenue and earnings growth meaningfully higher than analyst estimates. Nailing which companies will beat or miss consensus estimates is the key to profits for traders and long-term investors. I work with Chaim Siegel who's a professional tech analyst, originally with SAC Capital. Nail Tech Earnings, our research service, provides actionable calls for tech investors, backed up by rigorous research, to make money for our subscribers.
Disclosure: I/we have no positions in any stocks mentioned, but may initiate a long position in T over the next 72 hours. I wrote this article myself, and it expresses my own opinions. I am not receiving compensation for it (other than from Seeking Alpha). I have no business relationship with any company whose stock is mentioned in this article.