The combination of trade tensions, U.S. rate hikes and weaker global trade growth has weighed on emerging markets (EM) this year.
EM countries remain condition-takers and are often susceptible to external factors, such as moves in the U.S. dollar. Most EM currencies have moved broadly in line with what would be expected given the dollar's appreciation this year. However, outlier countries like Argentina and Turkey, which are more vulnerable to external factors due to their heavy reliance on dollar-denominated short-term financing, have reacted more strongly to dollar strength.
Based on an assessment of financing needs (see chart), countries such as Argentina and Turkey that have higher needs are more at risk than countries such as Russia or Chile, which require less external financing. Note that Brazil's gross financing needs may be overstated relative to other countries because they are composed of higher local need than external need. Aside from financing needs, the fundamentals of EM countries as measured by current accounts, debt levels and inflation dynamics are generally good.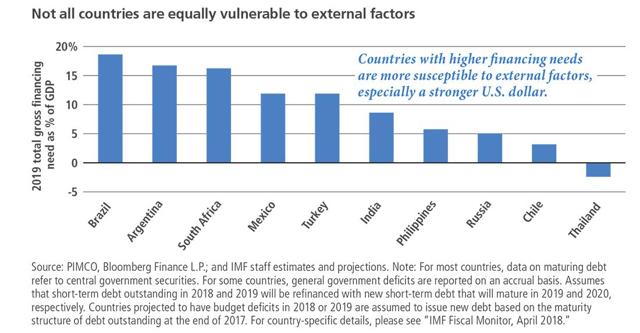 What it means for investors
Investors can find pockets of opportunity within EM despite the uncertainties facing this set of countries. When assessing EM investments, it is important to take a country-by-country approach to get a full picture of risk in this highly differentiated market.
Disclosure
All investments contain risk and may lose value. Investing in foreign-denominated and/or -domiciled securities may involve heightened risk due to currency fluctuations, and economic and political risks, which may be enhanced in emerging markets. Investors should consult their investment professional prior to making an investment decision.
Disclaimer
This material is intended for informational purposes only. Forecasts, estimates and certain information contained herein are based upon proprietary research and should not be considered as investment advice or a recommendation of any particular security, strategy or investment product. No part of this material may be reproduced in any form, or referred to in any other publication, without express written permission. PIMCO is a trademark of Allianz Asset Management of America L.P. in the United States and throughout the world. THE NEW NEUTRAL is a trademark of Pacific Investment Management Company LLC in the United States and throughout the world. ©2018, PIMCO