Tekla World Healthcare Fund (THW) is quite similar to another fund I just recently covered, Tekla Healthcare Opportunities Fund (THQ). Both funds focused on the healthcare sector. Actually, the four funds Tekla offers all cover healthcare related sectors. I believe THW is at a level offering an attractive yield, as well as not being overly priced for income investors, or possibly for an investor that would like more healthcare exposure in their portfolio. With THW's global emphasis, its holdings may provide just enough diversification for investors that are looking to international markets.
About The Fund
Taken from the THW Fact Sheet, they define this fund as "a non-diversified closed-end healthcare fund, THW employs a versatile growth and income investment strategy investing across all healthcare sub-sectors and across a company's full capital structure." This is almost the same exact phrasing as THQ. Similarly to THQ, this fund will investor in equities, preferred, or debt instruments within the healthcare sector, giving the fund a lot of flexibility in choosing what they believe is showing opportunity at the time. Where this fund differs from THQ is the additional line added in the description, "THW places an emphasis on innovative healthcare companies worldwide and invests at least 40% of managed assets in non-U.S. companies."
THW also employs the use of leverage and option writing to potentially enhance returns and income generation for the fund. Again, same strategy that THQ employs. CEFconnect currently has total net assets for THW at $560.193 million, with $120 million made up through leverage or 22.01% of the fund currently.
Performance
The performance of THW has been pretty spectacular relatively speaking. THW, like THQ, has the same uncertainties due to the current White House administration's views on healthcare, more specifically pharmaceuticals and prices they charge for medication. I think that THW doesn't necessarily have as much to worry about because of the emphasis on global holdings so they may not be garnering as much attention from the administration. However, even this positive is even further diminished because the holdings do still derive revenue from U.S. sales, meaning they will have to play by the rules here and can still be concerned with uncertainty going forward.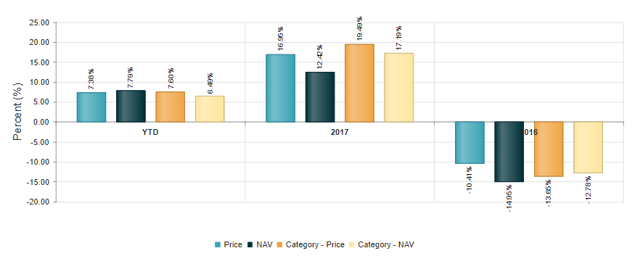 Source - CEFconnect
Even with this uncertainties, THW has been performing well, just like THQ. THW being up on a NAV basis YTD at 7.79%, as of 12/5/2018. This is even considering that on 12/4/18 we had a severe broad market sell-off. The DJIA being down almost 800 points, and with the S&P 500 being down 90 points. This puts the S&P 500 YTD return at 0.99%, according to CNN Business on 12/5/18. THW has clearly been a much stronger performer for 2018.
The current share price of THW is $13.28, versus the NAV price of $14.48 leading to a current discount of 8.29%. This is compared with its 1-year average discount of 8.20%. This can also be compared to its longer term 3-year average of 8.35%, meaning the fund is at right about where its been since its inception.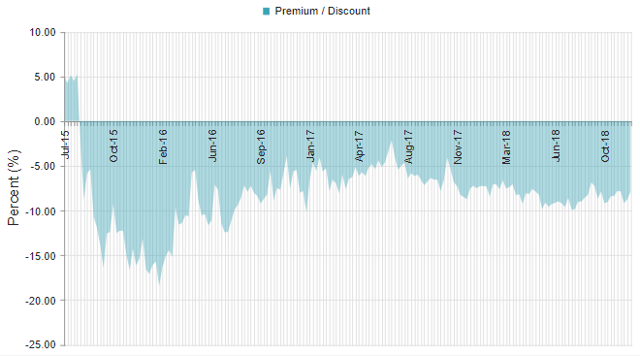 Source - CEFconnect
The inception date of 6/26/2015 does have the unfortunate timing of being created around the time Trump had started voicing his opinion about pharmaceutical drug prices and was campaigning for the White House. This lead to the whole healthcare sector taking quite the dive in 2016 as evident by the above chart.
Distribution
THW has a current distribution rate of $0.1167, paid out on an attractive monthly schedule. This distribution has been maintained since the fund has existed. The current rate and price of THW is good for a yield of 10.55%. This fund is quite attractive for income investors, but must be watched as I think anything over 10% distribution needs extra close scrutiny.
Ironically enough, the fund has a current NAV price of $14.67 and on December 29, 2017 the fund also had a NAV price of $14.67. This means that the fund has earned exactly enough to be able to maintain its distribution for the year without having to dig into assets or pay ROC YTD. This could change though if the market continues to be volatile as it has been as of late. But, so far this is a positive sign that management has been able to correctly navigate this fund successfully this year. Generally, investors in CEFs are looking for income from a fund and not necessarily growth, although, a nice bonus if it does happen.

Source - CEFconnect
Holdings
As previously stated the fund has an emphasis on global securities so its important to keep track of the geographic breakdown of the fund. As of the latest Fact Sheet that is available for THW, 52.1% is classified as U.S. holdings, with the remainder being international. They provided this update on 9/30/18 and also only includes the top 10 geographic breakdown.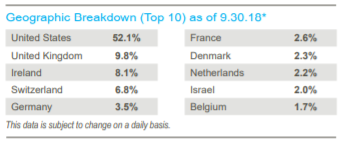 Source - THW Fact Sheet
This shows that there are still significant holdings considered U.S., so even with their emphasis on global, they must still believe the U.S. is a sound place to invest. I would generally agree with this sentiment. The aging population in the U.S. continues to increase healthcare spending.
That might also explain why the largest sub-sector allocation in THW is pharmaceuticals as 44.4% of the holdings. The aging population leads to higher demand for medicines that these pharmaceutical companies provide.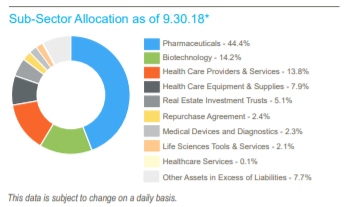 Source - THW Fact Sheet
The top 10 sector is all comprised of equity securities. The fund is actually invested heavily in common stocks, making up 76.1% of all assets. I would also consider this a positive, while the market has been and continues to be volatile, it is generally accepted that equities are still the best long-term investment.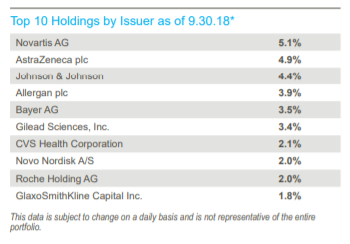 Source - THW Fact Sheet
THW and THQ actually share some of the same top holdings, like Johnson & Johnson (JNJ) and Allergan PLC (AGN) to name a couple.
The top holding for THW is Novartis AG (NVS), this is a pharmaceutical company based in Switzerland. NVS has brands like Gilenya, Cosentyx, and Gleevec/Glivec. Gilenya can help people suffering from multiple sclerosis, it doesn't cure the disease but can help.
This company pays an annual dividend rather than some of its similar U.S. counterparts that usually pay on a quarterly schedule. The last few years of dividends from NVS have been; $1.909 for 2008, $2.303 for 2017, and also $2.303 in 2016. Their latest earnings report on 10/18/18 showed EPS of $1.32 that beat by $0.02 but revenue of $12.78 billion that missed expectations by $210 million.
The second holding for THW is AstraZeneca PLC (AZN) which is another pharmaceutical company but based out of the United Kingdom. The largest drug brand AZN offers in Crestor. Crestor can help treat people with high cholesterol, in turn, reducing the risk of heart attacks and strokes.
AZN pays a dividend on a semi-annual basis. The last few payments were in amounts of $0.44 on 8/9/2018, $0.93 on 2/15/18, and $0.44 on 8/9/17. The most recent earnings for AZN showed a big beat on EPS of $0.71 beating by $0.27, but similarly a miss on revenue that totaled $5.34 billion, missing by $340 million.
The first U.S. based company is given to the third holding, Johnson & Johnson (JNJ), which is a known and loved dividend company. JNJ shows dividend growth for 56 years and pays on a quarterly schedule with the last three payments on 11/26/18, 8/27/2018, and 5/25/18 all being in the amount of $0.90. JNJ does work in the pharmaceutical sub-sector but also manufactures medical devices and consumer packaged goods (i.e. band-aids etc.) Their latest earnings on 10/16/18 show EPS of $2.05 leading to a slight beat of $0.02 and revenue of $20.35 billion beating by $300 million.
U.S. companies that pay dividends do tend to pay on a quarterly schedule. One interesting point about holding THW is that it can provide a way to receive a monthly stream of distributions. So, while AZN and NVS pay on a semi-annual and annual schedule, investors in THW can receive these throughout the year rather than waiting a year or six months time.
Conclusion
If an investor is looking to gain exposure to the healthcare sector with a global emphasis, then THW may be right for you. THQ is at a great valuation and I picked up some shares the other day too, but I also owned THW before this. I believe THW is at an attractive value right now and with a 10.55% yield investors are paid generously while holding the investment. I believe holding both THW and THQ can give an investor an attractive discount to get started in the healthcare sector.
For those interested in a more direct look at THQ, you may be interested in my previous article released on November 27, 2018, "THQ: This Top-Performing CEF Is Still On Sale."
Please feel free to leave any questions or comments below in the comment section! If you like this article, please consider clicking the "Follow" button above to stay up-to-date on future articles.
Disclosure: I am/we are long THQ, THW. I wrote this article myself, and it expresses my own opinions. I am not receiving compensation for it (other than from Seeking Alpha). I have no business relationship with any company whose stock is mentioned in this article.