Investment thesis
Bank of New York Mellon Corp.(NYSE:BK) offers a net payout yield of above 7%, with a dividend yield of just above 2% and trades at a significant discount to its 5 year average Price to Earnings (P/E) ratio. With $34 trillion in assets under custody and/or administration, BNY Mellon is the second largest custodian bank in the world, behind State Street and has a wide economic moat, which makes it difficult for new entrants to compete with the long-standing bank. Industry outlook is promising and BNY Mellon is set to unlock value and its shares represent an upside of 26%.
Company overview
Bank of New York Mellon Corp. is the second largest custodian bank by assets under custody/ administration and provides an array of investment related services.
(Source – Corporate factsheet)
Notably, BNY Mellon offers solutions spanning the entire investment process, which has made the bank a go to solutions provider for institutional grade clients.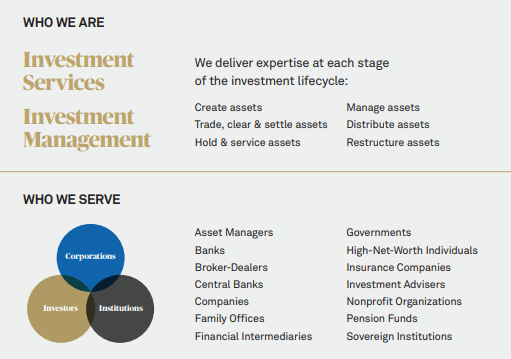 (Source – Corporate factsheet)
With a presence in 35 countries, BNY Mellon has the scale that it takes to continue to grow in a concentrated market. BNY Mellon's wide economic moat is built around its offering of diverse solutions, customer loyalty and extensive barriers to succeed in the industry. These barriers have developed over time as it has become increasingly difficult to obtain the approval of regulators to operate as a custodian bank. Apart from regulatory implications, customer stickiness is playing a major role in diverting away new entrants in to the industry. Customers prefer to stick with the name that they know instead of pursuing the additional risk of working with a newcomer to the industry. Substantial expenditures incurred by BNY Mellon to improve the technological aspect of their business will further discourage competitors. According to the latest filings, BNY Mellon spends approximately $2 billion annually on technology. The nature of the industry the bank operates in will ensure continued success for BNY Mellon in the foreseeable future.
Industry outlook
The globalization of the investment management industry and rapid technological advancements have already changed the dynamics of the investment management industry. Cloud computing, Artificial Intelligence (NYSE:AI), crypto assets and advanced data analytics are changing how custodian banks operate in practice and these technological developments will continue to have a major impact on the underlying investment management industry and custodian banks.
Major changes are awaiting the banking industry as a whole, which can be observed by analyzing the tech-driven experiments that are in the trial phase.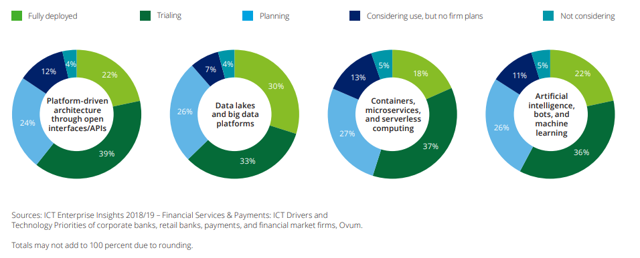 (Source – Deloitte)
A major technological development in the investment management industry is the rise of robot advisors, which poses a direct threat to asset management firms. However, the impact of the rise of robot advisors on custodian banks is negligible as robot advisors do not provide an alternative to custodian banks. Robot advisors are for sure changing the way funds are distributed to retail clients but at the end of the day, custodian banks are required to safeguard client assets, regardless of how these funds are distributed to clients. In fact, the rise of robot advisors might increase the need of custodian banks as firms providing robot advisory services would be better off marketing their products along with an established custodian bank.
More recently, custodian banks have been forced to up the ante by providing value-added services including customer servicing, data management and providing enhanced cyber security.
On the other hand, asset management firms are looking for ways to reduce their costs by outsourcing several phases of their business operations, a trend which is driving growth for custodian banks. Custodian banks have so far embraced this new development by offering various solutions to increase efficiency of these asset management firms by taking up the responsibility of their data management operations.
Net Interest Margin (NYSE:NIM) is expected to increase further in line with expected Fed rate hikes. The Fed Funds rate has been hiked 03 trending upward so far this year and analysts expect few more rate hikes in the next couple of years.
Future outlook of BNY Mellon
BNY Mellon is positioned to transform the industry along with its investments in innovative technologies surrounding the digital transformation plan adopted by the management.
Moreover, BNY Mellon has deployed plans to capture a share of the growing securities markets in foreign jurisdictions. Financial instruments are becoming complexed with the rise of blockchain and overseas markets are expected to grow at historically high levels in the coming years as global wealth is growing at a stellar rate.
Global wealth growth estimate by 2023

(Source – Credit Suisse)
Along with the expected global wealth growth, there would be a rapid expansion in investment industries in foreign territories. BNY Mellon's global footprint will enable the bank to capture meaningful new sources of revenue from these developing markets.
BNY Mellon continues to have a strong capital position, as depicted by its Tier 1 capital ratio. In fact, the common equity Tier 1 ratio has increased by 50 basis points in comparison with 3Q 2017.

(Source – Company presentation)
BNY Mellon's share repurchase program has been approved by the Federal Reserve, which confirms the decision by the management to increase the quarterly cash dividend by 17%. In addition to this, the bank will repurchase $2.4 billion worth of common shares, which will provide a much needed boost to its Earnings Per Share (EPS) in coming periods.
Industry-wide shift of asset management firms outsourcing certain functions of their businesses presents another growth opportunity to BNY Mellon. The bank's back-office services segment will grow as more institutional investors feel comfortable with outsourcing their business units.
The investment management business of BNY Mellon provides another opportunity for the bank to grow in the years to come. While short-term headwinds might hamper growth prospects in this segment, the long-term outlook is promising as the asset management industry is expected to evolve along with global wealth growth. The bank currently has $1.8 trillion in Assets Under Management (AUM), which is expected to grow organically with net inflows. During the Q3, AUM grew by $15 billion, supported by an optimistic outlook for future markets. Since then, global markets have declined sharply, which would be detrimental to AUM figures of the bank. However, the long-term consensus estimate for the asset management segment of BNY Mellon is positive.
Focusing on the cost structure of the bank, it is apparent how the cost saving initiatives launched in 2011 are starting to yield results. Even though non-interest expenses increased in Q3 on a Year over Year (YoY) basis, these expenses decreased significantly in the 2014 – 2017 period.
Higher Net Interest Margins (NIM) resulting from rate hikes will help BNY Mellon maintain its profit margins or possibly expand, if the bank successfully negates the expected negative impact of increasing operating costs.
Valuation
Valuing a bank or a financial services company is a tricky task, given the inefficiency of using cash flow methods and relative valuation techniques. While dividends can be used to value a bank or a financial services company, a Dividend Discount Model (DDM) will fail to capture possible future growth of the bank by basing the model on the most recent dividends paid in an underlying situation in which the company is investing for the future rather than distributing income to its shareholders.
Considering above constraints, I have used an adjusted DDM model to value BNY Mellon.
BNY Mellon has embarked on a significant share buyback program and I believe the DDM analysis would be incomplete without incorporating cash spent on share repurchases. Therefore, I have adjusted the inputs to reflect not only cash dividends paid but also the cash amount spent on share repurchases. Virtually, I am using the net payout ratio rather than the cash dividend payout ratio.
As a starting point, I have used Trailing Twelve Months (TTM) data as inputs to the model. The cost of equity of 8.95% was derived using the Capital Asset Pricing Model (CAPM).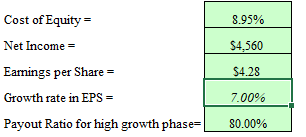 I have assumed a growth rate of 7% for the next couple of years, based on my assumption of industry growth and the possibility of BNY Mellon capturing new market share outside the U.S.
Detailed calculations for the high growth period of 5 years are indicated below.

In calculating the terminal value, I have used a terminal growth rate of 2%, in line with the expectation that the industry will grow along with global economic growth. Other major assumptions include a terminal stage payout ratio of 90%. Once again, this payout ratio is based on cash dividends plus share repurchases.

Discounting these numbers using the calculated cost of equity results in an intrinsic value of $61.52 per BNY Mellon share.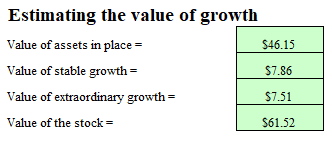 Sensitivity analysis
It would be worthwhile to assess the outcome of the model if we assume much lower EPS growth rates in the high growth period. Based on a few scenarios, I have compiled the below sensitivity analysis chart. All other components except the growth rate in the high growth period are assumed to remain constant. Moreover, I have not assumed a smooth transition from the high growth phase to the stable growth phase.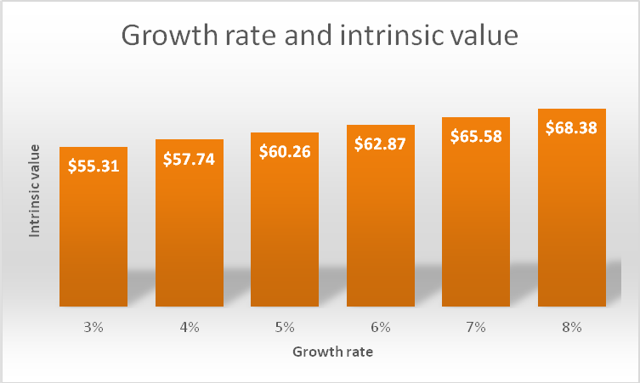 (Source - Author prepared)
A growth rate of 3% in the high growth phase results in an intrinsic value that represents an upside of more than 13% from the current market price of $48.70.
Conclusion
BNY Mellon, being one of the largest custodian banks in the world, stands to gain from the expected industry growth and will benefit from rising interest rates as well. The bank's capital structure remains attractive and its billion dollar share repurchase program will drive the value of shares in the coming years. The investment management segment might particularly be hit by an expected market under-performance but the bank should be able to grow during the next half a decade by expanding their global reach. Based on an adjusted DDM model by factoring in cash distributed to shareholders via buybacks, I find the intrinsic value of the bank to be above $61, which represents an upside of more than 25% from the current market price.
Disclosure: I/we have no positions in any stocks mentioned, and no plans to initiate any positions within the next 72 hours. I wrote this article myself, and it expresses my own opinions. I am not receiving compensation for it (other than from Seeking Alpha). I have no business relationship with any company whose stock is mentioned in this article.