The main highlights from the 2018 third quarter were:
Cash from operations at $100.8M
Revenue of more than $557M (+26% YoY)
Gross margin at 80%
Non-GAAP income from operations at over $168M (+16%YoY)
Such good results made Sina's (NASDAQ:SINA) stock surge by more than 5% in the days that followed the earnings release, even though its price is still depressed, at a very low trading range with multiples that are hard to believe for a company like this: P/B at 1.7 and P/S at 2.4.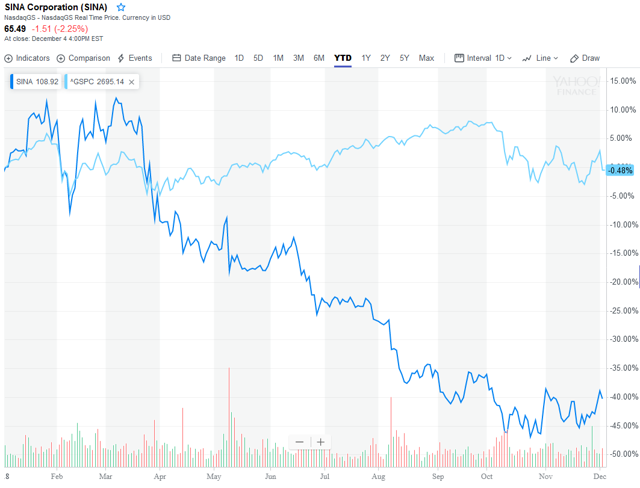 Source: Yahoo Finance
As usual, Weibo's (NASDAQ:WB) terrific performance pulled SINA's results and, as usual, those results were counterbalanced by another bad quarter for SINA's own portal business, which was negatively affected mostly by changes in the way revenue is reported.
Investment net performance turned slightly to the positive side (≈2% year to date) and far better than the Chinese broad market.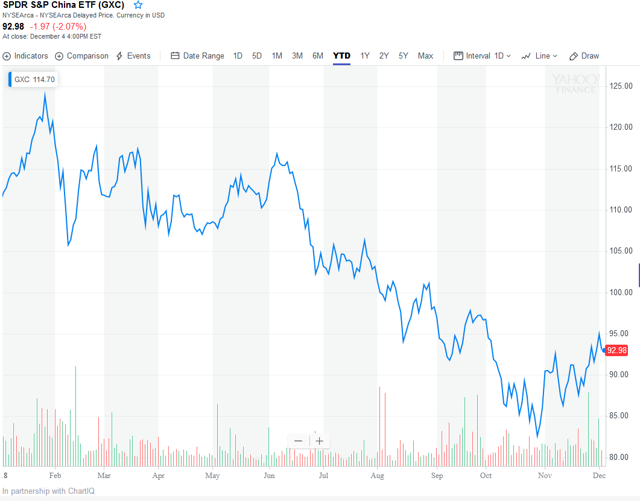 Source: Yahoo Finance
In any case, a change in guidance managed to cool down an initial burst of optimism minutes after the release (the stock was gaining as much as 8%).
In fact, due to the uncertainties in today's macroeconomic and regulatory environment, SINA now is forecasting 2018 full fiscal year revenue in a range between 14 billion and 14.2 billion yuan. That's roughly $2.09 billion to $2.12 billion, about 4% lower than the range from its previous guidance.
Breaking down SINA's sections
As I discussed here, this company can be considered as a holding that manages a portal business together with mobile apps at a company level.
SINA's holdings are kept in a large portfolio of around $1B (more than 20% of the company's total capitalization), but the real jackpot is its controlling stake in Weibo (46% of outstanding stocks and 72% of voting rights), a package that should be worth more than half of Weibo's market value of over $14B.
Third-quarter operating income was positive at $127.4M. Once we subtract Weibo's contribution, we are left with an operating loss of $35M for the portal and mobile application business.
This is how the division performed sequentially: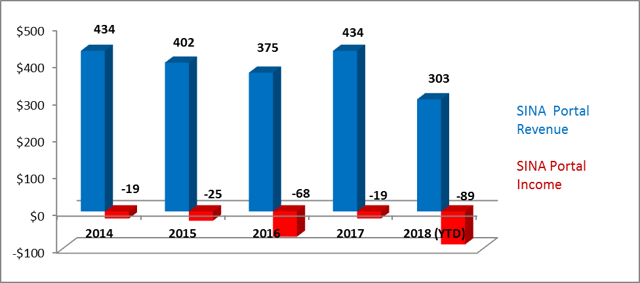 Source: Company's reports, author's elaboration (data in million dollars)
Portal ad revenue came in at $74.5M, decreasing by around 10% under the old accounting method. Non-ad revenue posted a decline of 35% YoY and 14% sequentially at $24.1M. This steep decline is mostly due to stricter regulations in the Chinese financial service market, which caused a recent wave of defaults across P2P industry and, naturally, affected portal's Fintech payment business.
As a beacon of hope, management has been talking about growing the mobile advertising business, namely the SINA Finance APP, whose DAU has grown more than 200% yearly.
On the non-ad business side, the recent growth trend of the micro loan facilitation business is a positive development.
It looks like Mr. Market looks at the poor results of this segment in order to justify its low valuation of the whole company. Yet, this seems like an overreaction since SINA possesses the resources to both absorb its portal loss and, eventually, turn it around (company's FCF totaled $54M just in the last quarter).
SINA's investments
The company's investments amounted to $1.7B at the end of September, an increase of over 20% year to date (thanks in part to a change in the accounting rules). If we subtract Weibo's long-term investments, we are left with roughly $1B in both public and private companies, whose value is accounted for on the basis of either their cost/fair value or an equity method.
The range of SINA's investments varies from large Chinese IT companies, like Alibaba (NYSE:BABA), whose remaining shares were sold at the end of 2017, to real estate firms, like Leju (NYSE:LEJU), or ride-sharing companies, like Didi (DIDI) and Kuaidi Taxi.
To sum it up, the following graph represents how SINA's investments trended during the last four years (the figures do not include the contribution of Weibo's long-term investments).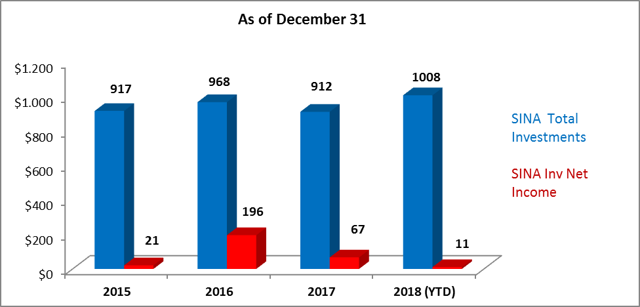 Source: Company's reports, author's elaboration (data in million dollars)
It is worth mentioning that, as a whole, SINA's companies that are accounted for with the equity method have little or no debt, and the reported value ($315 million at the end of last year, according to the 2017 annual report) is conservatively assumed to be greatly below their net asset value.

Source: SINA's 2017 Annual Report
Weibo
The company kept its growing trajectory, reaching new highs with net revenues at more than 460M (+44% YoY) and net income up by over 60% compared to the same quarter of last year.
Weibo clearly represents SINA's golden goose. In fact, Weibo's stock does not even seem to be fully valued at the moment, with a total market cap at just ten times net sales, which is quite subdued for such a wonderful business.
Source: Company's reports, author's elaboration (data in million dollars)
Conclusions
SINA's third quarter registered an amazing growth of the Weibo business and a nice recovery of its investment holdings, which turned slightly positive year to date.
The portal business is still losing money, following a multi-year trend that the company will try to reverse by leveraging on its mobile apps and financial services.
However, Mr. Market keeps on ignoring SINA's controlling stake in Weibo when valuing the company's stock price. This represents a terrific opportunity for a firm with plenty of cash on hand. In fact, SINA keeps on repurchasing its shares.
Last quarter, over $200M in shares were bought back at extremely depressed prices. Over the last year, SINA's total share count has diminished by about 3%.
Of course, the lower its share count drops, the higher its individual shareholder's stake in Weibo grows.
Even if SINA's portal still experience losses in the upcoming years, the company's double-digit top- and bottom-line growth, high margins of its business, healthy balance sheet and the severe underestimation of its assets (price-to-book value ratio at less than 1.8, with Weibo stake valued at equity) would deserve a 3-year PT estimation of at least $200 (≈3 times the stock price at the time I am writing this!).
Disclosure: I am/we are long SINA.
I wrote this article myself, and it expresses my own opinions. I am not receiving compensation for it (other than from Seeking Alpha). I have no business relationship with any company whose stock is mentioned in this article.