Investment Thesis
Tyler Technologies Inc. (TYL) is a leader in enterprise software & solutions for the public sector market and offers a powerful business model, with a significant growth opportunity of a further market penetration and transitioning into a pure SaaS business model. A public sector software market is very healthy with a steady 7-8% growth and there is a strong opportunity on the market, for upgrading existing outdated IT systems and applications. The company has a strong competitive advantage, by offering a broad suite of products that work well together across several departments and help the public sector to make better strategic decisions and improve operational efficiency. It consistently generates revenue CAGR of 13% with 98% retention rate, EPS and free cash flow CAGR of over 20%, combined with very strong margin expansion over the last several years. I expect the company to scale its business by offering cloud-related services that will drive further shareholder value-creation by achieving a double-digit revenue growth rate, combined with gradual margin expansion and an increased share repurchases over the next couple of years.
Business Overview
Tyler Technologies, Inc. was founded in 1966 and it operated as a diversified industrial conglomerate until 1997. Mr. H. Lynn Moree has been its CEO since May 2018 and has joined Tyler in 1998. The company is offering a broad line of software solutions and services that help local governments and school districts to become more efficient, improve operations, and deliver more value to the public. It provides solutions for the core functions of government, like civic services, Appraisal & Tax, ERP and Courts & Public safety, Data & Insights, and K-12 education.
Public spending environment is very healthy at the moment with consistent high single digit growth rate over the last several years and also local governments are becoming more tech savvy and want to offer better services to its citizens. Usually, state and local governments don't have huge internal IT staff, therefore, they prefer products & solutions that are easy to use with strong customer service. There is also a shift of the public sector workforce, as new people come from private companies that have new ideas and are more open for changes in technology, like using cloud solutions or online court dispute offering. I believe this shift in mentality is also the key growth driver for Tyler's solutions and transition to a SaaS business model.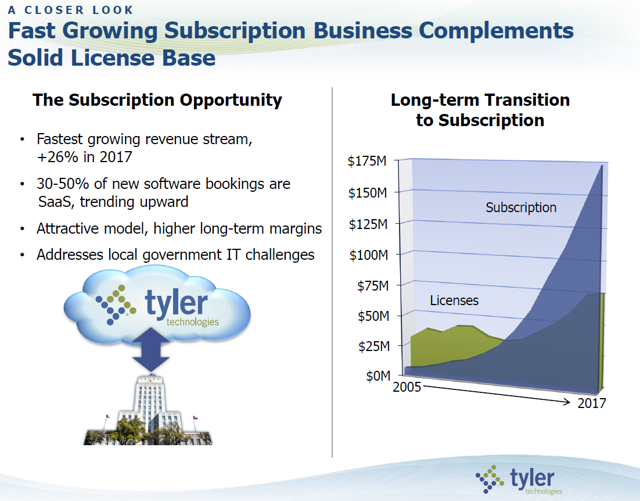 Source: UBS Technology Presentation, November 2018
Subscription revenue consists of SaaS arrangements that come from cloud-related offerings and from E-filing services for courts and law offices. Customers can choose between traditional on-prem licenses agreements or subscription-based type of products and 30-50% of new customers choose SaaS type. According to Gartner, the enterprise SaaS market is growing by 32% per year and the company reported this quarter exactly 32% SaaS growth Y/Y. The company also expects a growing number of new and existing customers to choose a subscription-based model over traditional software licenses agreements in the future. The key reasons for the shift are a digital transformation of the public sector and customers willingness to use cloud-based services.
On April 30, 2018, the company acquired Socrata, Inc., a company that provides open data and data-as-a-service solutions for state and local government agencies for about $150 million. I find this acquisition very important for future subscription business growth as it is a pure SaaS solution, and the company has now better technical capabilities to do business with federal government and agencies. Socrata has contributed a lot to a stronger pipeline and integration with other Tyler's divisions.
A newly established Socrata Data-as-a-Service Platform helps clients to take data from several source systems to the cloud, organize and customize it according to their needs, and then making data usable for strategic decision making. It also offers transparency by making data available to the public, so they can see how local states are spending their money or what crimes are being reported in their neighborhood. Customers can also save 40% to 60% of development costs by using cloud data APIs and they can choose from various templates, what makes their workflow easier. The company also offers several other cloud-related solutions like performance optimization cloud that test and monitor the effectiveness of programs, financial insights cloud that can illustrate trends and improve financial oversight and also operational intelligence cloud that helps with an analysis of KPIs and supports project teams with decision-making.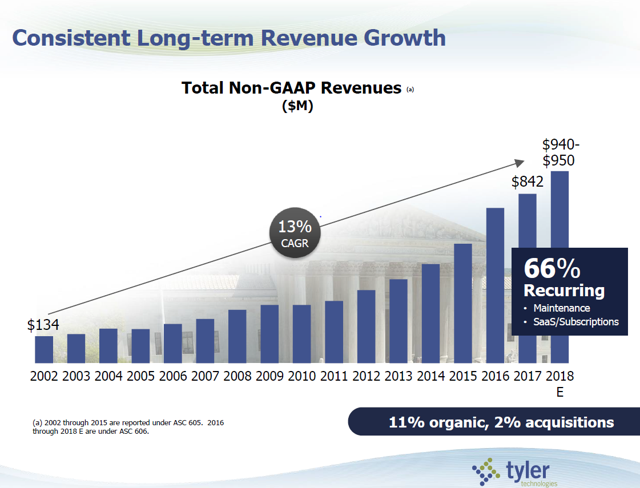 Source: UBS Tech Presentation, November 2018
The company also reported a steady public sector software market growth of 7-8%, but management is optimistic it can grow 1.5-2x faster than the market and has reported revenue CAGR of 17% from 2010 to 2017. It is also important to notice that share of recurring revenues has shifted from ~55% to ~66%, between 2010 - 2018 and I think this share will gradually increase towards 80-90% as the company transitions towards more SaaS mix. That will lead to a revenue growth towards ~20% together with operational leverage, as SG&A expenses grow slower compared to total revenues. According to the latest data in YCharts figure below, SG&A expense increased ~10% quarterly Y/Y compared to total revenues growth of ~18% quarterly Y/Y. It will also drive further margin expansion that is averaging more than 100bps annually.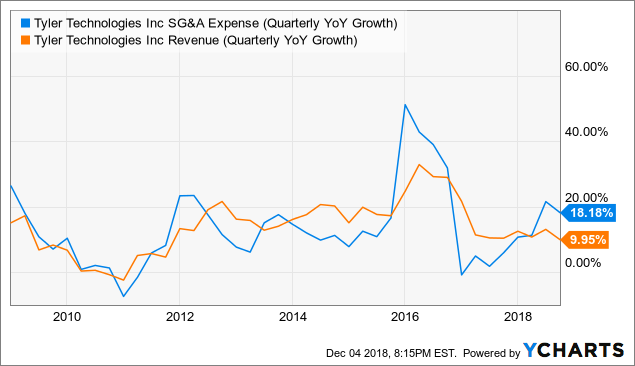 Market Dynamics
Tyler operates in a highly competitive market, against smaller private companies, central internal IT departments of local governments and also against certain divisions of large companies like SAP AG, Thomson Reuters Corp., and Oracle. The key competitive advantages are single-focus on the public sector and Tyler's ability to offer an integrated system of applications for several offices or departments that drive a high retention rate of ~98%. However additional competition or shift of existing clients to provide IT services internally could cause a market share loss, intensified pricing pressure, and reduced margins.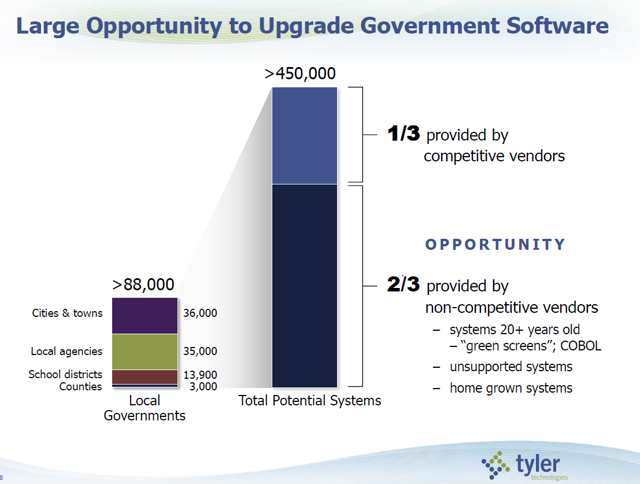 Source: UBS Technology Presentation, November 2018
The company has an Addressable market today of $7B in Public software and a Total Addressable Market of $16billion, with over 450,000 total potential systems. It is around 13% penetrated in the current addressable market and I expect they can easily increase market penetration with a large opportunity to upgrade government software over the next several years. Well, the governments are not profit oriented and use IT systems or applications as long as they can. Competitive vendors like Tyler or SAP AG provided ⅓ of the potential systems, while ⅔ of the potential systems were homegrown or provided by non-competitive vendors that are no longer on the market. That creates a significant growth opportunity for the company to expand market share by organic growth or with strategic acquisitions.
Q3 18 Results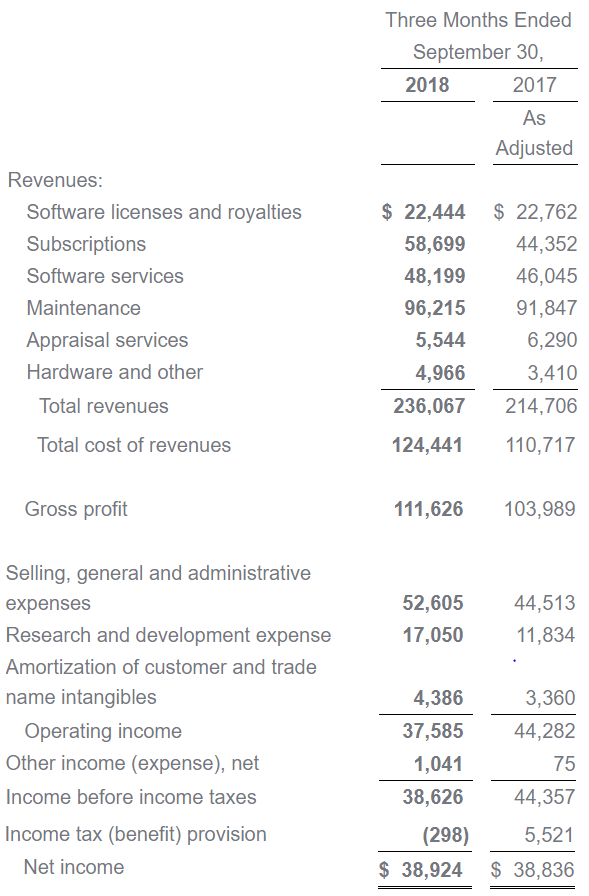 Source: Earnings Release, November 2018
The company reported, total GAAP revenues of $236.1 million in Q3 18, compared to $214.7 million in Q3 17, missing the analyst estimates of $242.3 million. Subscription revenue was $58.7 million for the Q3 18 or up 32% Y/Y and the reason for an increase was primarily due to new SaaS clients as well as existing clients who converted to the SaaS model. Gross margin and operating margin decreased 110bps to ~47% and 470bps to ~16%, respectively. Recent acquisitions related costs and an increase in staff-related costs drove margins contraction. The company reported Q3 18 non-GAAP net income and non-GAAP diluted EPS of $49.7 million and $1.23, respectively, in-line with analysts' consensus EPS estimate and up 18.9% compared to Q3 17 numbers. Cash and cash equivalents increased to $219.4 million in Q3 18 and that gives the company flexibility to return capital to shareholders with share repurchases or make strategic acquisitions. The CEO Lynn Moore Jr. stated the following :
Total non-GAAP revenues grew 10.5 percent, led by exceptional growth in subscription revenues, which increased by more than 30 percent, including the addition of Socrata in the second quarter. From a product perspective, growth for our enterprise solutions, which include ERP, appraisal and tax, and civic services, exceeded expectations. Growth for our justice products, which include courts and public safety, lagged expectations, as revenues from new initiatives, including re: Search, Modria, and redaction, have been less predictable and have come online slower than planned. However, we are confident these initiatives provide meaningful long-term growth opportunities.
Source: Earnings Release, November 2018
The market is steady and there is a higher demand activity with strong win rates on the enterprise side. Justice products grow slower than expected, however, they are set for a better double-digit long-term growth and the total value of new public safety contracts signed is up 34% YTD. The sales cycle is also steady for core products, however, for new products it takes a longer time for the market to recognize their true value proposition and generate revenues. Therefore it might take slightly longer time for newly established cloud-based pure SaaS solutions to achieve its full potential and generate peak revenues. The company signed 29 new contracts with an average software license of $465,000, compared to 32 new contracts with an average license value of $381,000 in Q3 17. However, the contract duration of new software subscriptions declined to 3.6 years this quarter from 5.4 years in Q3 17. Because the company has a high SaaS retention rate, it is comfortable with initial three-year contracts, as they provide greater pricing flexibility to respond to potential changes in costs or customers' operations.
Overall, Socrata revenues are increasing and the company reported revenues for Socrata of $8.4 million YTD, what is lower than revenues of ~$25 million Socrata had on a stand-alone basis in FY 2017. I believe now after Tyler's acquisition it can achieve higher annual revenues of $25 million. Socrata Connected Government Cloud that enables internal data sharing signed seven new contracts in the quarter, while Tyler's 250 sales representatives are already pitching it to the entire 15,000 customer base. Socrata has significant cross-selling opportunities what will also lead to a better brand awareness. There is also a lot of market excitement around Socrata Public safety analytics and its integration with other public safety products, and management expects the deal size to grow in Q4 18. I am also confident that aggregated public data available on Tyler's cloud services create a valuable information that might have strong commercialization opportunity.
Valuation

Source: Derived from Reuters & Finance Yahoo
The company also provided its full-year non-GAAP 2018 Revenue and non-GAAP diluted EPS guidance of $940 million - $950 million and $4.76 - $4.84, respectively. The analyst consensus estimate for FY 18 is non-GAAP revenue and non-GAAP EPS of $944.2 million and $4.80, respectively. Shares are now trading at a premium to peers at forward P/E and EV/REV multiple of ~35.4 and 7.95x, respectively.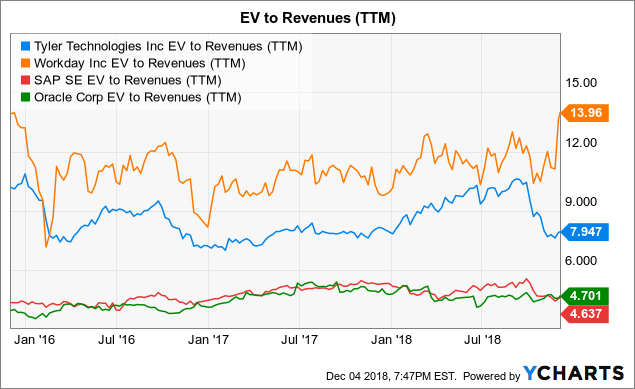 I firmly believe that Tyler's transitioning into a SaaS model can drive shares growth even further to peak EV/REV historical multiple of ~10x. Well, it is lower than ~14x for its competitor Workday, but on the other hand, it is still double the average EV/REV multiple of ~5x for SaaS companies. Nevertheless, given the recent growth software selloff, I think now is a good opportunity to buy quality growth small and mid-cap software names.
Takeaways
Tyler Technologies is still an interesting buy even though the stock has outperformed S&P 500 over the last 5 years. As the company is trading at a premium EV/REV multiple compared to peers, any business growth slowdown or lower than expected guidance over the next several quarters might be a trigger for a significant decrease in the stock price and consolidation towards major peers multiple of ~5x. The key bullish catalysts are the gradual transition towards a pure SaaS business model with cloud-related services. Another important catalyst is a further market penetration of outdated systems in the public sector together with strong up-sell and cross-sells opportunities of newly established Socrata cloud-based products & solutions to existing customers. Key risks to my thesis are intensified competition in the public sector software market, global macro headwinds or a significant slowdown in SaaS revenue growth rate.
Disclosure: I/we have no positions in any stocks mentioned, and no plans to initiate any positions within the next 72 hours.
I wrote this article myself, and it expresses my own opinions. I am not receiving compensation for it (other than from Seeking Alpha). I have no business relationship with any company whose stock is mentioned in this article.