Quick Take
Verisk (VRSK) announced it has agreed to acquire Rulebook for $87 million in an all-cash deal.
Rulebook has developed a proprietary pricing engine to assist firms in specialty insurance underwriting and broking transaction markets.
VRSK management continues to acquire the technologies and businesses needed to take advantage of numerous analytics and information-centric decision support opportunities across its industry verticals.
Target Company
London-based Rulebook was founded in 2002 and has developed software that increases pricing visibility for insurance and broking companies primarily operating in the London Insurance Market.
Management is headed by Managing Director Andy Galli, who was previously co-founder of Moore Stephens Consulting which developed RuleBook and at Lloyd's of London.
Below is an overview video of RuleBook's system:
Source: Rulebook
RuleBook's primary offerings enable users to access information from any device. They can configure pricing rules and distribute the results to underwriters and brokers in real-time.
In addition, the system suggests selling opportunities and provides a range of reporting capabilities.
Market & Competition
According to a 2017 QYResearch Group market research report, the global insurance rating software market is expected to reach $574 million by 2022.
This represents a CAGR (Compound Annual Growth Rate) of 9.27% between 2016 and 2022.
The Asia-Pacific region will account for the greatest growth rate during the forecast period, while the U.S. and Europe will continue to contribute growth potential.
Major competitive vendors that provide insurance rating software include:
Vertafore
Applied Systems
EZLynx
Hawksoft
QQ Solutions
Sapiens/Maximum Processing
Agency Matrix
Buckhill
InsuredHQ
Zhilian Software
Acquisition Terms and Rationale
Verisk disclosed the acquisition price as $87 million in all cash, which will be funded via cash on hand and existing credit lines.
As to financial guidance, Verisk presented the deal in a positive light, as follows:
The transaction is expected to be accretive to 2019 adjusted EPS. In addition, Verisk expects the acquisition to generate an attractive return in excess of Verisk's cost of capital.
A review of the firm's most recent 10-Q filing indicates that as of September 30, 2018, Verisk had cash and equivalents of $147.6 million and total liabilities of $3.7 billion, of which $2.0 billion was long-term debt.
Free cash flow during the nine months ended September 30, 2018, was $606.5 million.
Verisk is acquiring RuleBook to enhance its offerings in specialty insurance markets and will combine RuleBook with its Sequel business unit, which it acquired in 2017 for $323 million.
As Verisk' Sequel business unit CEO Ian Summers stated in the deal announcement,
The acquisition will expand Verisk's existing offerings to the specialty insurance market by adding Rulebook's proprietary pricing and management information engines to Sequel's specialized software suite. These enhanced offerings will provide our customers with more efficient methods of distribution and significantly improved data analytics capabilities. The complementary applications give us a unique opportunity in our sector to complete the value chain, driving data through the process from broker to underwriter and quote through to claims settlement.
In the past 12 months, VRSK' stock price has risen 20.88% vs. the S&P 500 Index' (0.1%), as the chart below indicates: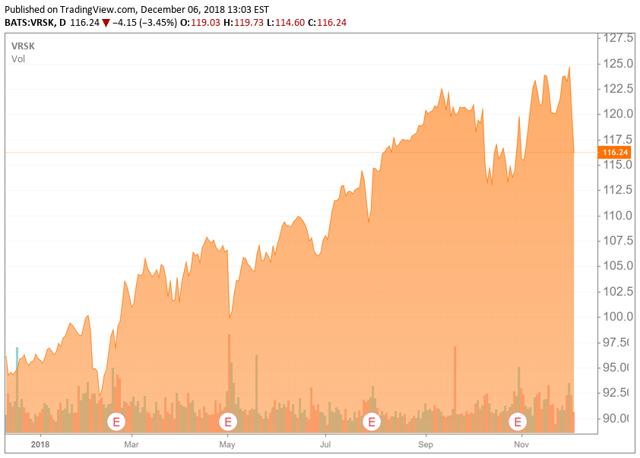 Source: Seeking Alpha
Verisk also wants to take RuleBook's system, combine it with Sequel, and provide greater access to its existing international customer base.
In addition, acquiring RuleBook will provide Verisk with access to RuleBook's London Insurance Market customers, increasing the cross-selling opportunities.
Investors in the stock appear to like what they see, pushing the stock up significantly over the past year.
Analysts are more divided on the firm's prospects, with an almost equal number of Buys vs. Holds, although the consensus price target is still comfortably above its current price,

Source: Seeking Alpha
Although Verisk has been caught in the tech downdraft as a result of recent stock market volatility.
I have written numerous articles on Verisk acquisitions. Management is executing on an acquisition strategy to acquire the necessary data capabilities as the analytics market explodes with change and new opportunities across numerous industry verticals.
Thank you for reading. I write about IPOs and M&A deals, though I focus most of my time on IPOs. If you're interested in investing smarter in IPOs, you should check out IPO Edge.
Disclosure: I/we have no positions in any stocks mentioned, and no plans to initiate any positions within the next 72 hours. I wrote this article myself, and it expresses my own opinions. I am not receiving compensation for it (other than from Seeking Alpha). I have no business relationship with any company whose stock is mentioned in this article.