Lumber Liquidators (NYSE:LL) stock currently trades at $11.18. It has declined 64% year to date and is off 73% from its 2017 high of $42 per share. The fall has been sharp and almost completely without warrant. The shares fell 15% last week alone (first week of December) and now trade at a 10 year low. To add more perspective on the magnitude of the recent decline, the company IPO'd in 2007 at $11 per share. So basically the market is valuing the company at the same price as 11 years ago. It's important to note that when the company went public, it had only 111 stores and yearly sales of $332 million. It currently has over 409 stores and 2018 revenue should be over $1.08 billion, the highest in the company's history.
Heavy Buying from the Big Boys
Retail investors have been spooked by the fall and are clearly abandoning the stock. Large funds on the other hand have been increasing their holding dramatically. On November 9, 2018, Morgan Stanley (MS) announced that it had acquired 1.5 million shares in the company (5.3% of the company). In October 2018, Neil Gagnon, Portfolio Manager and Founder of Gagnon Securities announced a similarly large position in Lumber Liquidators of 5.5% of the outstanding shares. Gagnon Securities (a separate entity, owns a further 969 000 shares. The Vanguard Group announced it owned 10% of the company on a filing dated June 29, 2018. As of November 2018, BlackRock (BLK) owned 4.5 million shares and T. Rowe Price (TROW) owned 2.9 million shares.
As of the last round of filings in November 2018, the top 15 largest holders of Lumber Liquidators own a combined 19.2 million shares in the company, representing 67% of the outstanding shares (28.6 million outstanding). This is an increase of 5.6 million shares compared to the last filings three months prior. Combining all institutional and major holders, we can see that they own 87% of the outstanding shares in the company according to filings on Fintel.io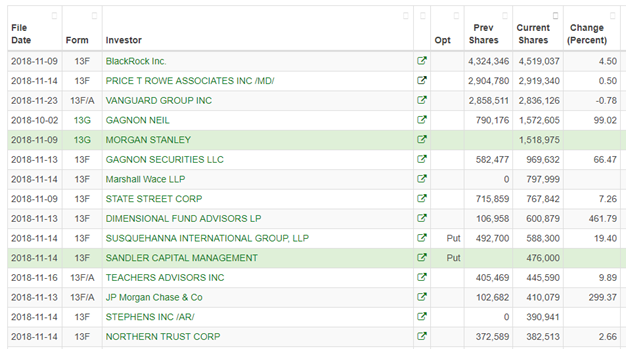 Source: Fintel.io
Shorts Will Soon Get Squeezed
As institutional shareholders have been buying up the shares, short sellers have been attacking the share price. In the first 2 weeks of November, for example, as Morgan Stanley amassed a 1.5 million share position in the company, the short interest in Lumber Liquidators actually jumped by 1.57 million shares. This jump in short selling negated the buying from Morgan Stanley and the share price of Lumber Liquidators was basically flat for all of November.
The short interest in LL now stands at 29% of the outstanding shares. This is close to a record high. Meanwhile, institutional ownership is also at a multiyear high. And to top it off, the share price of the company is also at the lowest price it has been in over a decade. It's a very strange combination of events.
While the shorts have been strongly in control of the share price over the last 16 months, it is hard to imagine how or why they expect shares to go even lower. At this point, any positive news, either on the macro front or company specific, will eventually cause the short sellers to rush to cover their position. Given the limited amount of shares available, the low liquidity will cause the stock to experience a dramatic upswing, with the potential to double or triple in a massive short squeeze.
A similar short squeeze happened last year with Restoration Hardware (RH), as the company bought back 50% of the shares outstanding, at a time when short interest was spiking. The ensuring short squeeze caused shares to triple in 5 months, from a low of $25 in February 2017 to $74 in July 2017.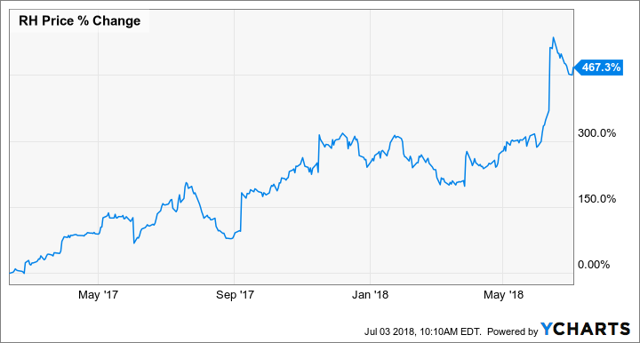 While circumstances for Lumber Liquidators are not exactly the same, there are real similarities. In 2017, Lumber Liquidators also experienced a short squeeze which propelled shares higher from $15 in January 2017 to over $40 by September 2017, as short interest collapsed. Clearly the share price has a lot of volatility and while the short sellers can suppress the price for a while, eventually there is a reversion to the mean and a rush for the exits which leads to a share price spike.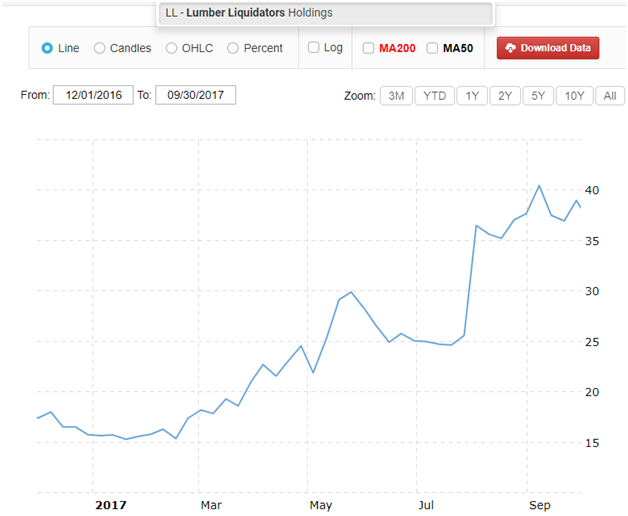 Takeover Potential
A takeover of Lumber Liquidators has been speculated many times in the past. Below are some links related to past takeover rumors that have caused the stock to spike. It is important to note that so far, all of the rumors have been unsubstantiated and we have no indication from management that they are shopping the company around or have received any firm interest from an outside buyer.
Fundamentally, Lumber Liquidators is a large company in a highly fragmented sector (flooring and renovation) and the larger big box retailers such as Home Depot (HD) and Lowes (LOW) are always looking to increase their market share and penetration, especially in some smaller markets, where Lumber Liquidators has developed a niche. The large, nationwide store base of Lumber Liquidators, coupled with its small store size, low cost build-out model and high revenue per square foot ($411) make it an attractive takeover candidate.
Legacy lawsuits are now in the rear view mirror and both revenue and income are increasing. However, the stock price continues spiraling inexplicably lower by the day. It is easy to assume that at least a few bigger names in the renovation sector must be considering the takeover option.
While in the past a rumored takeover price was about $30 per share, I think that given the slumping share price and general malaise of the last few months in the home renovation sector, shareholders might be willing to accept a price as low as $20 per share. I personally feel this price would be too low, but even for a small rival like Floor and Decor (FND), it would be feasible.
Adding the Lumber Liquidators store base to the Floor and Decor network would be a quick way to boost sales by over $1 billion dollars and add a nationwide system of installation services. Furthermore, synergies would reduce Lumber Liquidators' SG&A costs dramatically and a quick re-branding of the Lumber Liquidator name would likely boost sales and be immediately accretive to earnings. Best of all, it would eliminate competition from the largest low price, hard surface flooring retailer in the United States, which I am sure would be a relief to all other players.
The Fundamental Picture
While Lumber Liquidators has gone through some very tough times over the last 3 years, clearly the company has turned a corner in recent months. After resolving a class action lawsuit which had been putting a financial strain on the company for years, the company was able to drive down its selling, general and administrative expenses (SG&A) by 14% while also increasing revenue by 5.3% and increasing gross margin by 120 basis points to 37.2% (the highest gross margin rate in 4 years). Net income beat expectations by a wide margin and came in at almost $6 million, which is the highest net income since 2014.
Management anticipates leveraging SG&A further while continuing to expand gross margins and operating margin. Revenue is also expected to continue growing at a steady pace and the company plans to expand the store base by 20 to 25 stores in 2019.
Currently the market cap of the company stands at a paltry $319 million dollars. The company has over 409 profitable stores and $1.08 billion in sales over the last 12 months (highest in company history). Analysts are expecting EPS in 2019 of only $0.56, which is ridiculously low, considering that the company earned $0.23 in the last quarter alone. A fair estimate for 2019 earnings is at least $1.00 per share.
On November 8, 2018, Morgan Stanley issued an analyst report which was very positive and clearly outlined the steps that Lumber Liquidators is taking to profitably grow the company and transform the marketing strategy to better connect with consumers. Below are some quotes from the report.
"The company is taking what seem to be the right steps to revitalize merchandise comps and improve margins; we believe the market may be overlooking these opportunities."

"Beneath the surface LL has been working to establish a clear value proposition centered around a high level of service/expertise and the ability to manage a customer's project from end to end."

The company is working on a "brand re-launch and a move to everyday low pricing vs. LL's current high/low promotional strategy."

"LL is shifting its ad spend to focus more on digital. This process has already begun and should help LL better reach its existing target customers as well as younger potential customers unfamiliar with the brand. We believe this initiative likely has the fastest impact and might provide a boost to comps as early as 2019. Notably, the total media spend is not changing, implying it may be possible to drive higher top-line growth without an associated uplift in expenses."

"LL is investing in personnel and technology to upgrade its online user experience and website functionality, so it can more effectively engage potential customers early in their project planning. Early efforts have yielded results, with the website bounce rate falling from >50% to ~40%."

"These initiatives could drive higher installation services penetration and growth. More effective marketing, a user friendly e-commerce offering and locally relevant merchandise should drive greater traffic into LL stores over time, increasing the number of customers who also purchase installation services from LL."
All quotes above from Morgan Stanley Analyst Report - Nov 8, 2018
Strong Growth in Home Remodeling
While there is good evidence that home prices are set to moderate as interest rates rise, Harvard University recently released a report showing that the amount of money spent on home improvements and repairs is set to increase in 2019 at one of the fastest paces in record. The report anticipates an increase of 7.2% to 6.6% in 2019 over 2018.
"Market indicators including home prices, permit activity, and retail sales of building materials continue to strengthen and will support above-average gains in spending next year. Through the third quarter of 2019, annual expenditures for residential improvements and repairs by homeowners is still expected to grow to over $350 billion nationally," says Abbe Will, Associate Project Director in the Remodeling Futures Program at the Joint Center for Housing Studies at Harvard University.
While it would be nice to have lower interest rates to boost home sales and spur renovation activity even further, the truth is that the home renovating and improvement market is bustling. A slight slowdown in the rate of acceleration is naturally to be expected, but the overall dollar figures being spend on home improvement are increasing at a 6 to 7% rate.
Lumber Liquidators should be able to grab a proportional share of this increase in remodeling spend and continue profitably growing its business, expanding margin and reducing costs.
Summary
Lumber Liquidators has been hit hard over the last years, but the company has turned a corner in the last month and has shown that it can drive strong profits while reducing costs and increasing revenue. The company is profitable and analyst expectations for 2019 are far too low. Furthermore, the share price has been under relentless attack by short sellers, creating both a fantastic buying opportunity at this depressed price and a strong potential for a short squeeze in the near future which could boost the share price dramatically. The company is a compelling value play at these levels and the positives far outweigh the potential negatives. Institutional investors have stepped up and taken huge stakes in Lumber Liquidators, and it's only a matter of time before the rest of the market takes notice.