With the interest rate yield curve getting close to inversion, investors are racing to sell their banking shares. The Trump tax cut-related optimism for banks is long gone, and the regional and community banks are reeling: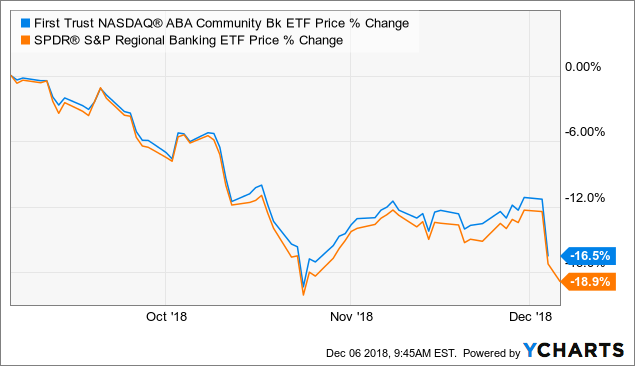 Of course, this sort of indiscriminate selling creates opportunity. That brings us to today's featured bank: People's United Financial (PBCT). People's United has been a conservative bank that has made few waves in recent years. However, we may be witnessing the start of a more dynamic era for the firm.
I recently started buying shares of the Boston-area bank for my IMF portfolio as an extremely low risk income play. In October, I laid out my reasoning in part as follows:
Since the financial crisis, PBCT stock has done very little. And that is partly by design. Management is extremely conservative. They mostly make low-risk mortgages that will hold up even in the worst of times but don't offer that high a return on equity either. In a raging bull market such as what we have know, nobody wants to own a stock like PBCT. You could have thrown a dart at a list of banks and outperformed this pretty dramatically over the past few years.

When markets tank again - however - this sort of bank that has a rock-solid balance sheet and huge market share in wealthy states such as Connecticut will be appealing again. I wouldn't make PBCT a big position under any circumstances - at least not near today's price. The bank is so conservative that it's never going to put up huge returns. But as a small part of a broader portfolio, a 4% yielder with minimal downside risk can help smooth returns and make it easier to ride out bear markets.
People's United indeed takes minimal risk with its loan book - the stock didn't budge to the downside at all during the Great Financial Crisis, for example: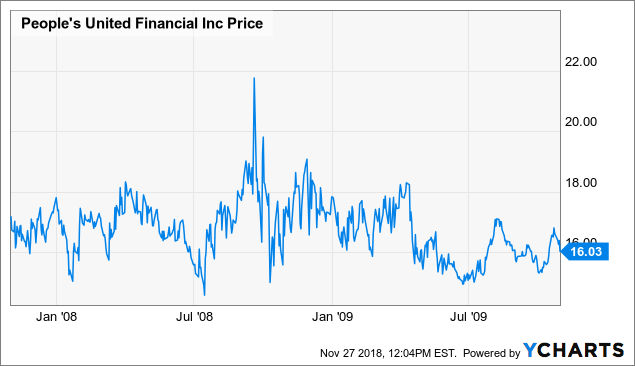 The GFC was the ultimate test for a bank's viability, and People's United showed no vulnerability while its peers were being decimated. That comes in combination with a 4.3% dividend yield that has been raised every year since 1995. They didn't even pause the hikes during the financial crisis. And in two years, they should be added to the Dividend Aristocrat list.
Now, to be fair, the 10-year compounded dividend growth rate has been a rather slow 2.3%, just enough to keep up with inflation.
Lest I be accused of hypocrisy, let's discuss Old Republic (ORI) for a minute. I said why I was avoiding ORI stock earlier this year. Old Republic, like People's United, is a ~4% yielding Dividend Aristocrat with an anemic dividend growth rate. In Old Republic's case, 1.5% compounded over the past 10 years. So, why would I bless People's United and not Old Republic?
Simple, People's United is a much safer business. Old Republic lost money four out of past 10 years due to poorly written insurance and faced substantial wipeout risk during the crisis, whereas People's United earned considerable profits even during 2008 and 2009. As you can see, PBCT stock was a far more "sleep well at night" option than ORI stock during the crisis: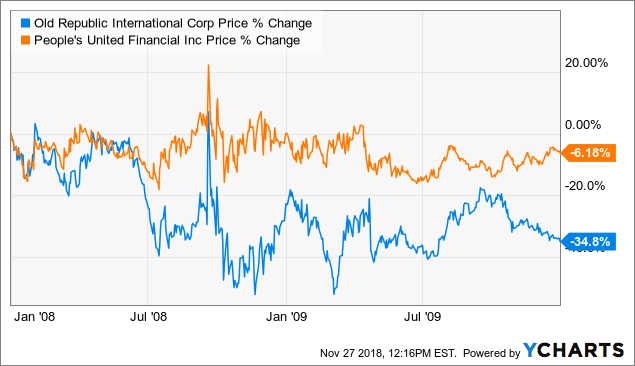 Now, you could certainly have made money buying ORI stock down 40% and waiting for the recovery. But in good economic times, such as we have now, it's probably better to pick the more conservative option. A 4% dividend yield with 2% annual growth doesn't get you that far if it can crash 50% when the next bear roars. So, to sum up, I'm fine with bond-like investments that come with minimal dividend growth rates, but make sure you understand the risks that will come to your holdings when the next recession hits.
People's United Makes A Strategic Move
Recently, news broke that People's United is buying BSB Bancorp (BLMT). BSB is the parent of Belmont Savings Bank, which is a small northeastern bank headquartered in Belmont, MA. BSB will bring People's United six branches located in affluent suburbs of Boston, such as Cambridge. Here's PBCT's overview of what BSB brings to the picture: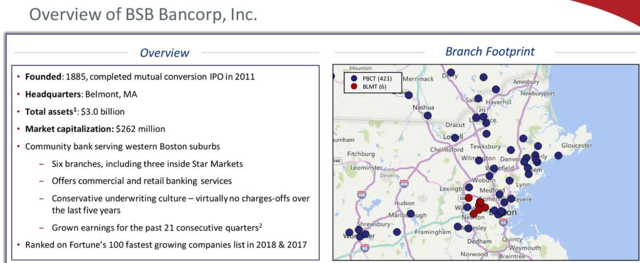 BSB currently holds $3 billion in assets and thus will make a nice impact on People's United's standing in the Boston market. It expects to jump from #13th to #8th in market share in the Boston metropolitan area. It's a logical move for People's United, as it is located in nearby Bridgeport, CT.
And the firms have much more in common than just geography. Both are managed with an extreme aversion to losses. Like People's United, BSB suffered virtually no loan losses during the financial crisis. Net charge-offs were zero during 2008, and peaked at 0.04% in 2011. And in fact, none of their mortgage loans went bad. This is incredible loan underwriting given the depths of that financial crisis. See for yourself: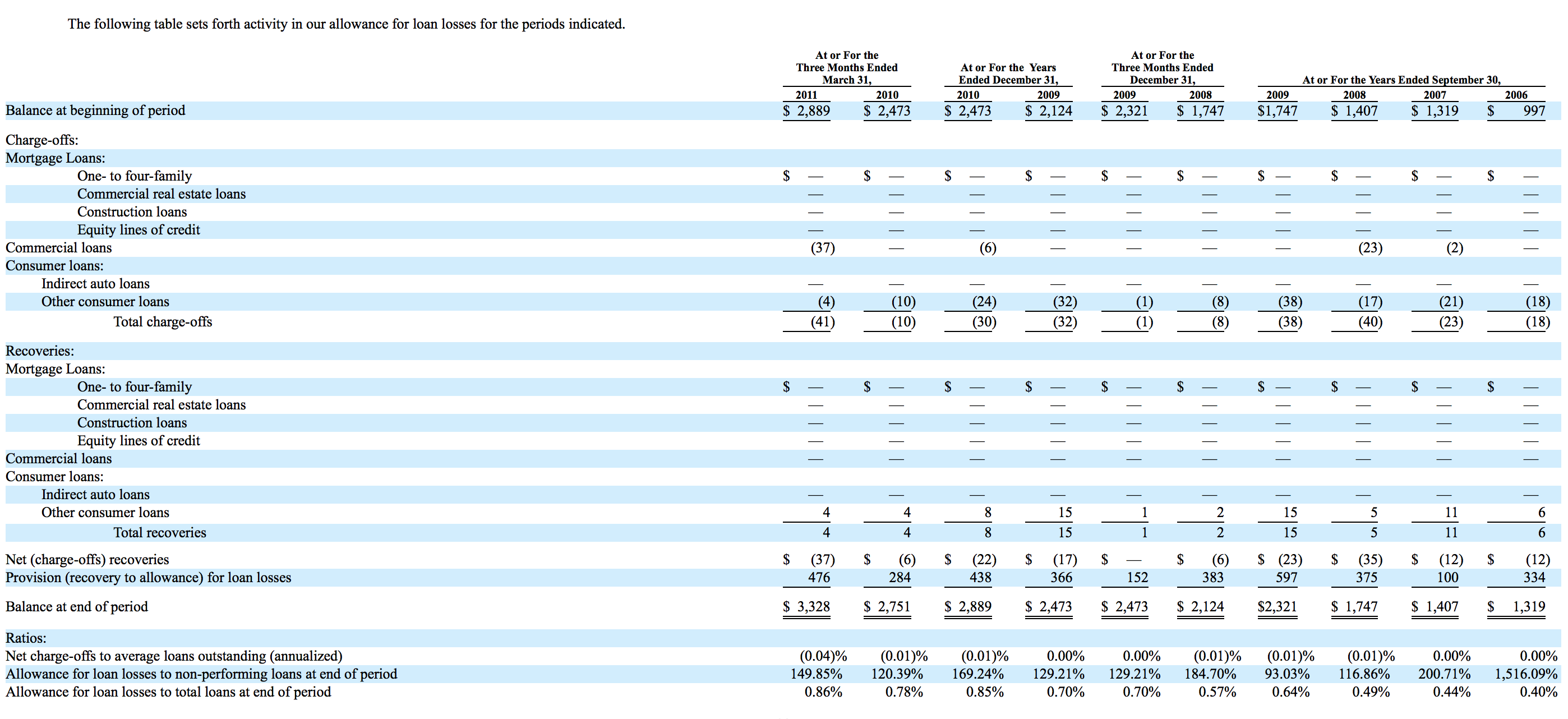 The acquisition of BSB should bring some fresh blood to People's United. Unlike People's United, BSB has grown its loan book and earnings rapidly in recent years. In fact, loan interest has tripled since 2013, while earnings have jumped from 49 cents in 2014 to $2.17/share over the past 12 months. Not surprisingly, Belmont's stock has also been a star performer: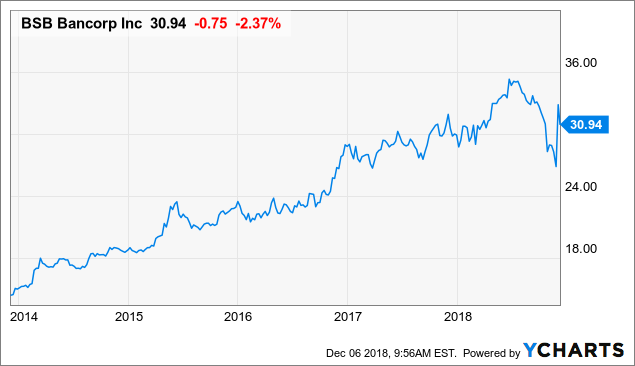 Despite all these positives, People's United was able to buy BSB for just 13x trailing earnings, even including the buyout premium. The bank estimates that the deal will be immediately accretive to earnings and that the true cost will come in at less than 9x earnings once cost savings are realized.
Now, to be clear, this is hardly a huge deal in comparison to PBCT's current size. PBCT is offering two shares of stock per outstanding share of BSB's stock. Despite that, People's United's current shareholders will own 95% of the combined firm, with BSB's holders getting just five percent. Additionally, the deal is expected to add three cents to People's earnings which is a nice incremental addition but doesn't move the needle too far with forward earnings already at $1.29/share.
In any case, I was already bullish on PBCT stock prior to this deal, and this is a nice, if small positive, addition to the upside case. The big knock against the bank has been a lack of growth. Bringing in a complementary merger partner in the region with access to high net worth clients in fast-growing markets should help out on that front.
If BSB can bring some renewed growth to People's United, it could help revalue the stock nicely higher. Even if it doesn't, PBCT is now selling at 13x trailing, 11x forward earnings with an exceptionally low risk balance sheet serving some of the nation's wealthiest banking customers. The 4.3% dividend yield offers strong current income, and the 24-year run of consistent, if modest, dividend hikes offers some growth potential as well. While PBCT stock isn't built to outperform in bull markets, with the return of market volatility, this is the sort of safe-haven stock to look at if you fear further market declines.
Disclosure: I am/we are long PBCT. I wrote this article myself, and it expresses my own opinions. I am not receiving compensation for it (other than from Seeking Alpha). I have no business relationship with any company whose stock is mentioned in this article.