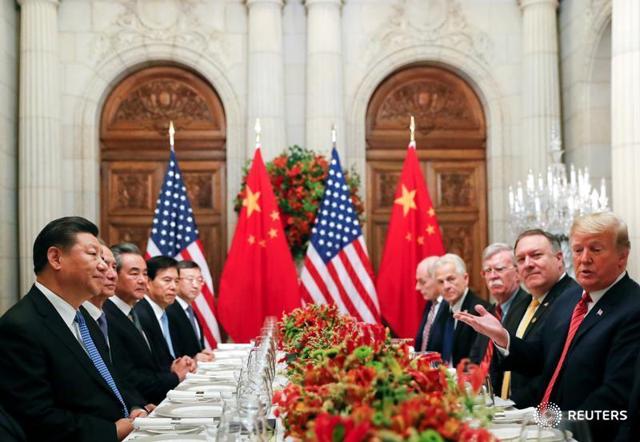 Photo Source: REUTERS/Kevin Lamarque. U.S. President Donald Trump, U.S. Secretary of State Mike Pompeo, U.S. President Donald Trump's national security adviser John Bolton and Chinese President Xi Jinping attend a working dinner after the G20 leaders' summit in Buenos Aires, Argentina December 1, 2018.
For the month 62% of all closed-end funds (CEFs) posted NAV-based returns in the black, with 67% of equity CEFs and 57% of fixed income CEFs chalking up returns in the plus column. The Emerging Markets CEFs classification (+3.36%) outpaced all the other equity classifications, followed by Utility CEFs (+2.96%) and Pacific ex-Japan CEFs (+2.72%). For the second consecutive month domestic taxable bond CEFs posted a loss on average (-0.93%), bettered by world income CEFs (-0.14%) and municipal bond CEFs (+1.10%). None of the domestic taxable fixed income CEF classifications posted plus-side returns for the month, with Corporate Debt BBB-Rated CEFs (Leveraged) (-0.20%) and U.S. Mortgage CEFs (-0.21%) mitigating losses better than the other classifications. In this report we highlight November 2018 CEF performance trends, premiums and discounts, and corporate actions and events.
Disclosure: I/we have no positions in any stocks mentioned, and no plans to initiate any positions within the next 72 hours. I wrote this article myself, and it expresses my own opinions. I am not receiving compensation for it. I have no business relationship with any company whose stock is mentioned in this article.