In this article, I present a deep dive on valuing Facebook's (FB) stock. I walk through 4 different valid approaches for valuing Facebook and detail my assumptions and conclusions. I took the average result from my valuation methodologies to get the target stock price of $181 per share. This implies over 30% upside to the stock price of $137.93 (at the time of writing). Based on this valuation work, I believe Facebook's stock is attractive and worth considering as a long.
In a prior article, I detailed the qualitative bull and bear arguments for investing in Facebook. I would strongly recommend readers check out that article before reading my valuation conclusions here.
Relative Trading Multiples
The below table shows current market trading multiples for a collection of Facebook's peers. Facebook is a unique company. It doesn't have any direct competitors. Investors tend to compare Facebook to either the large cap internet companies or social media companies which tend to be small or mid-caps. In my opinion, Facebook's closest competitor is Google (NASDAQ:GOOG) (NASDAQ:GOOGL) because both companies make the lion's share of their money from selling online advertising.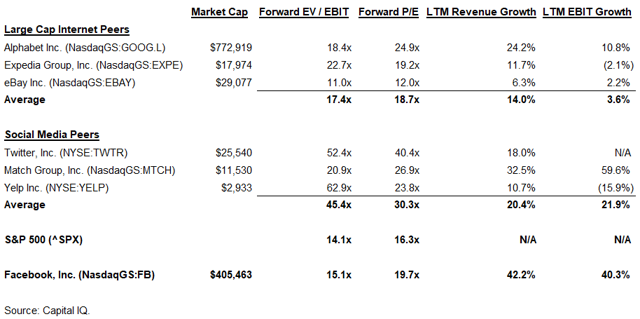 From the above table, the first observation is that Facebook is cheaper on a forward EV/EBIT basis than every single stock except for eBay (NASDAQ:EBAY) and the S&P 500 index. The second thing that jumps out is that Facebook's revenue and earnings growth are above all the peers. This is impressive considering how much smaller the social media peers are.
Facebook is significantly cheaper than the social media peers, but I am not so sure those are great comparisons to make because of how much smaller those companies are. Furthermore, Match (NASDAQ:MTCH) and Yelp (NYSE:YELP) have different business models.
Compared to the large cap internet peers, Facebook is cheap on EV/EBIT but 5% more expensive on P/E. As mentioned, I believe Google is the closest peer, and Facebook is significantly cheaper on both valuation metrics presented.
Finally, Facebook is 9% more expensive than the S&P 500 on EV/EBIT and 21% more expensive on P/E. Arguably, this premium is justified because Facebook is growing significantly faster than the average S&P 500 company.
Facebook's Historical Trading Multiple
Because Facebook is such a unique company, it makes sense to compare Facebook to itself. The below charts and table show where Facebook's valuation multiples have traded since the company's IPO.
My personal preference is to focus on forward EV/EBIT multiples. Enterprise value better captures a company's capitalization because it adds debt and removes cash (market cap does not adjust for balance sheet). EPS can be an unstable metric due to buybacks, one-time items, and tax charges. EBIT tends to show a smoothed version of earnings that gravitates close to economic reality.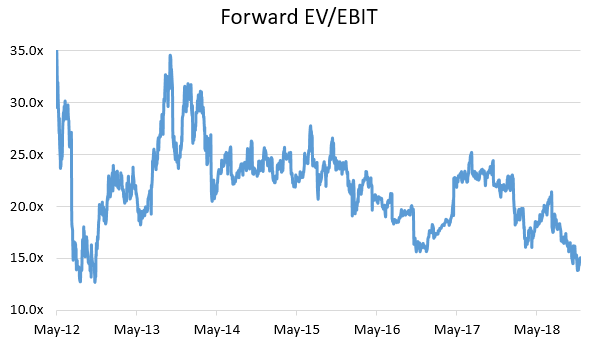 Source: Author's work, Capital IQ.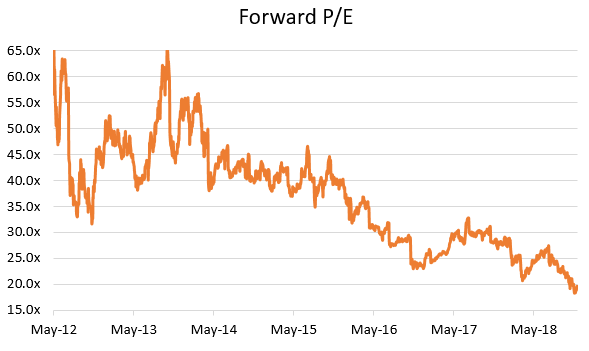 Source: Author's work, Capital IQ.

Both EV/EBIT and P/E are much lower today than historical levels seen since IPO. Perhaps this is warranted. Growth is slowing, and there is regulatory pressure from recent scandals that simply did not exist 3 years ago. Taking the other side though, the current valuation multiple prices in much less optimism. Therefore, if growth doesn't slow as much as expected or regulatory risks do not materialize, the multiple has the potential to re-rate higher.
The below table shows the last 18 months of analyst EPS estimates on FB. Near-term EPS estimates (2018 & 2019) have been revised higher or are flat while longer-term estimates (2019, 2021, and 2022) have been revised lower. Interestingly, we can see that, 6 months ago, analysts were raising their EPS estimates. 6 months ago (June 2018) was after Zuckerberg testified to congress but before Facebook's Q2 earnings report, where it lowered guidance due to investments in privacy and security.
Wall Street Analyst Facebook EPS Estimate History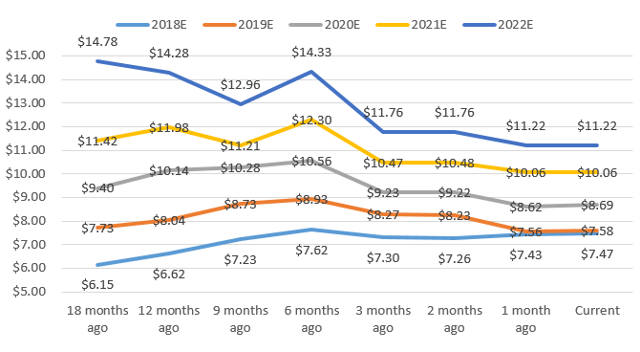 Source: Author's Work, Capital IQ
Discounted Cash Flow Analysis
Trading multiples are useful for assessing "relative valuation", but a discounted cash flow method is the best tool for determining a company's "intrinsic value". While I am highly trained in using DCFs after spending years on the buy-side and the sell-side, I would not attest that my DCF model is flawless. DCF models are fraught with assumptions and predictions. Take my assumptions and projections with a grain of salt as they will hopefully prove directionally accurate but by no means precise because no one, not even Mark Zuckerberg, can accurately predict Facebook's results 5-10 years out. That all being said, DCFs are useful in assessing a company's "theoretical value" if the projections are in fact directionally correct. Market trading multiples make assumptions of their own, they are just baked into the price. In a DCF, we make assumptions explicitly.
Here is the high-level logic behind my model assumptions:
Revenue: 2018 and 2019 revenue projections are roughly in line with what management has guided on earnings calls. Moving past 2019, I have assumed continued revenue growth deceleration.
EBITDA: Management has guided that EBIT will approach the mid 30% range in the next few years. I backed into EBITDA margin from EBIT and assumed that after 3 years of depressed margins, Facebook could begin to show EBITDA margin expansion.
D&A, SBC, NWC: I used historical trends as a percentage of sales or growth and extrapolated the trends until reaching mature levels in the outer years. I have subtracted stock-based comp from earnings. In outer years, D&A approximates capex.
Capex: management has given guidance for 2018 and 2019 capex. Beyond 2019, I assumed modest capex leverage each year as a percentage of sales.
Discount rate: running a standard WACC analysis using a 3% risk-free rate and 6.5% equity risk premium, Facebook's calculated WACC is ~6.5%. I found this discount rate to be excessively low (most companies are between 8% and 12%), therefore I added a 250 basis point spread for conservatism.
Long-term Growth Rate: I believe Facebook will grow at a faster long-term rate compared to GDP. Assuming long-term GDP growth is 2.5%, I added 1%. I believe this is on the conservative side.
Starting in 2019: Because we are at the end of 2018, my model ignores 2018 cash flow and starts the analysis in 2019.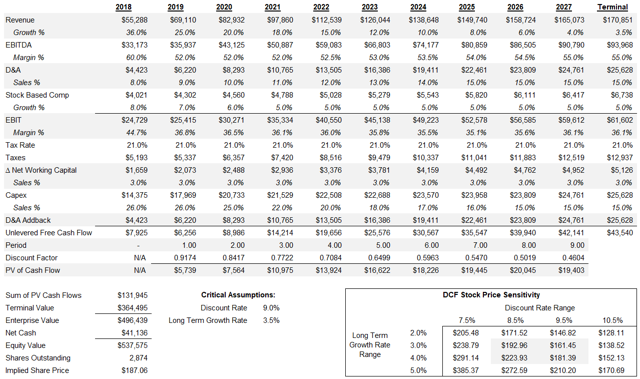 Source: Author's work. Financial projections and model assumptions are my own
The discounted cash flow analysis values Facebook at $187.06. This implies that, at the current price of $137.93, Facebook is 35% undervalued. This is a fairly substantial discount to intrinsic value. The sensitivity table in the bottom right shows what Facebook would be worth using different assumptions for the discount rate or long-term growth rate.
Relevant M&A Transactions
The final way to assess valuation is to determine what an acquirer might be willing to pay. The best way to do this is to refer to other M&A transactions. Unfortunately, there are not many relevant transactions for Facebook.
LinkedIn is the only sizable social media acquisition that we can point to. LinkedIn was acquired in 2016 by Microsoft (NASDAQ:MSFT) for $29 billion. Microsoft paid ~6.7x forward EV/Revenue and 24.5x forward EV/EBITDA. At the time of acquisition, LinkedIn had grown its LTM sales by 30% and was slightly unprofitable.
Facebook is currently growing revenue at a similar rate as LinkedIn was, but Facebook only trades for 5.5x forward EV/Revenue and 10.2x forward EV/EBITDA. This implies Facebook is likely trading at a discount to what a strategic buyer would be willing to pay.
This analysis is kind of silly because no company has ever made a $400 billion acquisition. An acquisition of Facebook is fairly unlikely at this time, although it is interesting to think about the hypothetical M&A valuation. The other obvious problem with this analysis is although LinkedIn is a great comparable transaction, we would really want to use an average of at least 3-5 transactions to get comfort around a valuation multiple range.
Conclusion: How I Get To My $181 Target Price
I have found the best way to come to a target stock price is to use an average of different methods. Due to the small sample size, I decided to ignore the M&A transaction analysis. For the peer trading multiples, I found the Large Cap Internet Peers to be the most relevant peer group to Facebook and have used the average multiple to imply a stock price for FB. For the analysis using Facebook's historical trading multiple, I could have used the since IPO average multiple but decided it would be more conservative to use the last 3 years multiple, which is 10% cheaper. For the trading multiple approaches, I used the Wall Street condenses estimate for 2019E EBIT provided by Capital IQ. Finally, I used the base case DCF implied stock price from my model described earlier.
The average stock price from these three methods is $181. This implies over 30% upside to the current stock price of $137.93.
As detailed above, I attempted to be conservative where I could. It is worth noting and very encouraging that all valuation methods implied that Facebook's stock is significantly undervalued. The consistency across the different approaches strongly supports the conclusion.
Facebook Valuation Summary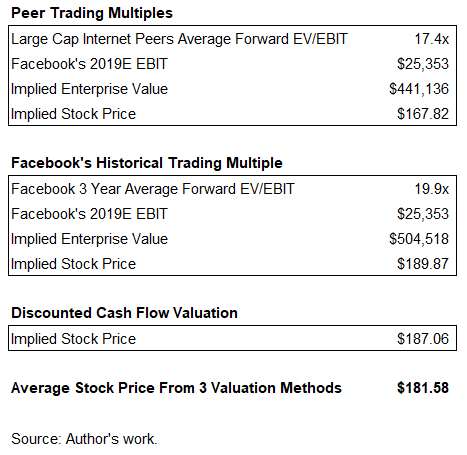 Disclosure: I/we have no positions in any stocks mentioned, and no plans to initiate any positions within the next 72 hours. I wrote this article myself, and it expresses my own opinions. I am not receiving compensation for it (other than from Seeking Alpha). I have no business relationship with any company whose stock is mentioned in this article.