Investment thesis
Ulta Beauty (ULTA) is a rapidly growing U.S. specialty retailer targeting a broad range of customers of all ages, demographics, and lifestyles. The company has disciplined financials and attractive valuation which suggests the company's shares have more room for growth in the long run.
Corporate profile
Ulta Beauty is a specialty beauty company selling cosmetics, fragrance, skin care products, hair care products, and salon services. The company also operates a product line of its own private label Ulta Beauty products. Currently, the company's workforce consists of 13,700 full-time and 21,000 part-time employees, with the company's LinkedIn profile including over 17,000 associates. The company operates in a highly fragmented, large and growing market of U.S. beauty and salon services industry, with small independent salons among the company's main competitors. Apart from selling various beauty products, the company also puts considerable emphasis on the provision of a personalized experience of its products across all channels, particularly salon services. Most of the company's revenue comes from the sale of cosmetics products (51 percent of total revenue), skincare, bath & fragrance (21 percent of total revenue), hair care products & styling tools (19 percent of total revenue) and salon services (5 percent of total revenue), and other category (4 percent of total revenue).

Source: Ulta Beauty 10-K
Building digital capability
As opposed to most of its competitors, according to the company's latest investor presentation, Ulta Beauty is utilizing artificial intelligence to create personalized customer experiences. In order to build its brand awareness, the company is heavily betting on strong social media engagement across multiple platforms.
New store openings
After the opening of 53 new stores in the first half of the year, the company's total store count reached 1,124 stores. This year, the company's ambition is to open another 47 new stores to reach a total count of 100 new stores this year.
Strong leadership and profitability improvements
Since 2013 when Mary Dillon was appointed as the company's new CEO, the company's profitability has recorded significant improvements. The company's ROA, ROE, and ROIC have soared by 35 to 40 percent from already high levels. The indicators' trailing twelve months figures currently stand at 23, 39, and 30 percent respectively, whereas the indicators' five-year averages amount to 17, 21, and 27 percent.
Profit margin improvement
Looking at the company's key income statement lines, Ulta Beauty has maintained solid gross and EBIT margins over the course of recent years and has managed to substantially improve its net profit margin, precisely by 30 percent in the last five years.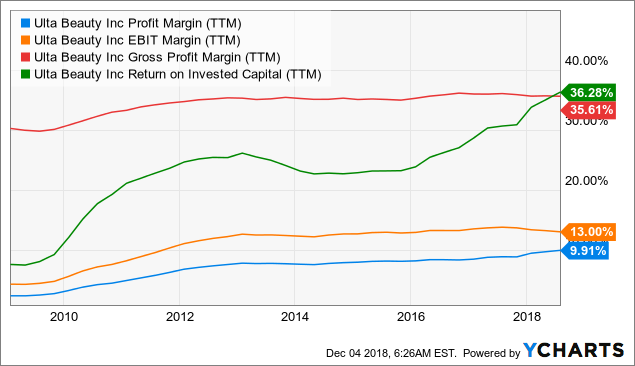 Loyalty program
Over the years, Ulta Beauty has developed a strong loyalty program which includes approximately 30 million active customers. As the company's CEO stated during the latest quarterly earnings call, the company expects continued gains in the loyalty program coming primarily from customer maturation which will result in increased customer spending.
Share repurchases
After the appointment of the new chief executive officer, the company has considerably advanced volume of its buyback programs. Over the last five years, the number of the company's shares outstanding decreased from a level above 64 million to a level little below 60 million. In relative terms, this is an annual decrease in the number of shares outstanding of around two percent.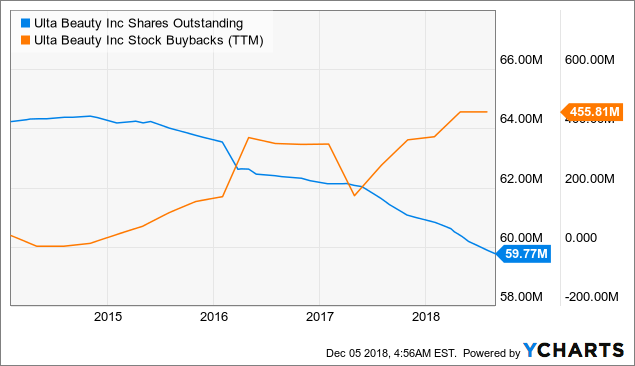 Valuation
Plugging-in Ulta Beauty's financial statements' figures into my DCF template, the company appears to be undervalued. Under perpetuity growth method with a terminal growth rate of 2 percent, constant 20 percent annual revenue growth over the next five years and 13 percent EBIT margin, fair value of the stock comes at US$347.8. Under the EBITDA multiple approach of a discounted cash flow model, the intrinsic value per share of the company stands roughly at US$357.3 if we assume that the appropriate exit EV/EBITDA multiple in five years' time is around 10x.

Source: Author's own Excel model
Based on different valuation technique commonly-called as Peter Lynch earnings line, Ulta Beauty's shares also look attractive. Using the Fast Graphs forecasting calculator with a 19 percent adjusted operating earnings growth rate assumption, the company's intrinsic value by the end of December FY2024 is forecasted to reach US$444.8, which implies a total annualized rate of return upside potential of more than 8 percent.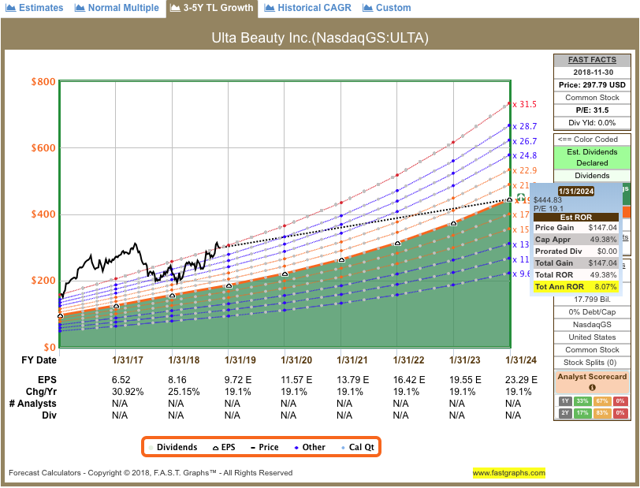 Source: F.A.S.T. Graphs
Lastly, in the light of revenue variation of Ulta Beauty's popular earnings line for the projection of intrinsic per share values of the company, Ulta Beauty's shares appear to provide the most generous expected rate of return. According to my model, assuming 20 percent annual revenue growth, -2 percent annual equity dilution factor, and a price-to-sales PS ratio of 3x (currently 2.8x), the company's per share intrinsic value by the end of 2022 is forecasted to be more than US$650. This suggests an average potential annualized rate of return of up to 20+ percent in the following years.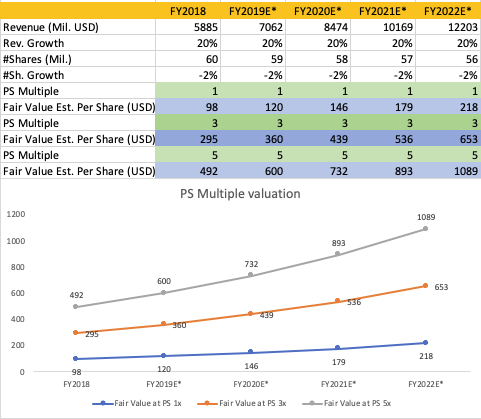 Key risks
General economic weakness may negatively impact the company's financial condition.
The company may fail to effectively face competitive pressures, especially in the e-commerce space.
Cybersecurity breaches and other disruptions may compromise the company's reputation and adversely affect the company's financial results.
If the company fails to capture beauty trends in a sufficient advance, its sales may suffer.
If the company fails to retain and attract qualified new personnel, its profitability and cash flows may deteriorate.
Natural disasters such as fire, earthquakes, and tornados could negatively impact the company's operations.
If the company fails to maintain its relationships with vendor partners or if vendor partners change their distribution model, the company's business may be negatively impacted.
If the company fails to protect its intellectual property rights, its brand and reputation could be harmed.
The company and its partners subject to various regulatory requirements which in continual evolvement may adversely impact the company's financial performance.
The company may become a subject to litigation over infringement of trademarks, intellectual property rights of employee or customer data security.
The bottom line
To sum up, Ulta Beauty is an outstanding company with disciplined growth and solid loyalty customers base. Over the last five years, the company has successfully managed to decrease the number of its shares outstanding and distinctively improve its net profit margin. With a plan to expand its total new store count up to 100 new stores this year, the company's expansion seems to be on the right track even though general weakness in the broader market may slow it down substantially. Lastly, this Thursday, the company has scheduled earnings announcement which is likely to reveal more information about the company's current developments and guidance for the next few quarters.
Author's note: To bring similar articles to your attention, please consider subscription of my SA feed by clicking on the ''Follow'' button at the top of this page.
Disclaimer: Please note that this article has an informative purpose, expresses its author's opinion, and does not constitute investment recommendation or advice. The author does not know individual investor's circumstances, portfolio constraints, etc. Readers are expected to do their own analysis prior to making any investment decisions.
Disclosure: I/we have no positions in any stocks mentioned, and no plans to initiate any positions within the next 72 hours.
I wrote this article myself, and it expresses my own opinions. I am not receiving compensation for it (other than from Seeking Alpha). I have no business relationship with any company whose stock is mentioned in this article.