Brookfield Asset Management (BAM) demonstrated strong funds from operations (FFO) growth over many years. Most recently, BAM's FFO increased 34% to $1.1 billion in Q3 2018. These gains are being driven by organic growth from existing businesses and from acquisitions. Brookfield has an excellent ability to find distressed assets, improve them for increased value, earn fees from them during ownership, and sell them for a profit.
The investment thesis is that I expect Brookfield's stock price to outperform as FFO continues to increase at strong double-digit rates. Continued growth from existing businesses and new acquisitions will drive future FFO growth. The stock price tends to appreciate approximately in-line with FFO growth and book value per share growth over the long term. The company's cash generation is expected to be strong over the next 10 years, which will help drive growth.
Over the past decade, the stock price increased from about $9 to $43 for a gain of about 378%. So, I'm expecting BAM's growth strategy to help produce similar strong price gains in the future as FFO increases at a similar pace.
Brookfield benefits from its business diversification with assets in real estate, renewable power, infrastructure, and private equity. This diversification spreads Brookfield's risk among multiple types of businesses. Risk is also spread among many countries as a result of Brookfield's global presence.
Strong Cash Generation
The company plans on generating $60 billion in cash over the next 10 years. For context, Brookfield generated $4 billion in operating cash flow in 2017 and about $3 billion in 2016. So an average of $6 billion per year as planned will certainly help Brookfield continue to grow at a strong pace. Of course, the cash generation probably won't turn out to be $6 billion every year. There will most likely be an annual growth progression to equal about $60 million in cash generation over the next 10 years.
Brookfield plans on returning $50 billion of this cash to shareholders. This will include share repurchases and dividends. The other $10 billion is to be reinvested in the business. This large quantity of cash gives Brookfield flexibility. So if they see great opportunities for acquisitions, they can deploy that cash to acquire more assets.
Brookfield indicated in the Q3 2018 conference call that they are leaning on spending the majority of the shareholder portion of cash for share repurchases. The reason for that is because it would be more tax effective. Brookfield also indicated that they are open to increasing the dividend.
Either way you look at this, $60 billion over 10 years is likely to benefit shareholders. Brookfield pays a dividend of about 1.3%, which is the direct benefit to shareholders. The share repurchases will reduce the amount of outstanding shares, thus boosting FFO per share. This will lead to price appreciation for the underlying equity, which is the strength of holding BAM over time.
Expanding the business through acquisitions has been an ongoing growth strategy for Brookfield. Having this large cash generation gives them the flexibility to jump on new acquisitions for continued growth. That will boost revenue and FFO over time, which will also lead to price appreciation for the stock. Therefore, whatever the mix of cash use turns out to be, it is likely to benefit shareholders over time through dividends and price appreciation.
Valuation
Brookfield is an asset-based company with $330 billion of assets under management (AUM). So, I think the book value of Brookfield is important to evaluate as it reflects the net asset value of the company. Therefore, I like to use the price to book ratio to analyze the valuation. I also like to use the price to FFO ratio since funds from operations are a key measure for asset management companies.
Here's how Brookfield compares to its top competitor:
Brookfield

Boston Properties

(BXP)

Price to Book Ratio
1.8
3.5
Price to FFO
10
20.8
source: Seeking Alpha/Company Press Releases
Brookfield is trading significantly lower than their main competitor, Boston Properties in terms of book ratio and FFO. Boston Properties is a little different as they operate as a REIT (so they are required to pay out 90% of taxable earnings to shareholders). As a result, Boston Properties pays a higher dividend of nearly 3%. However, as you can see in the chart below, Brookfield tends to outperform over the long-term in terms of price appreciation as a result of their above average growth rate.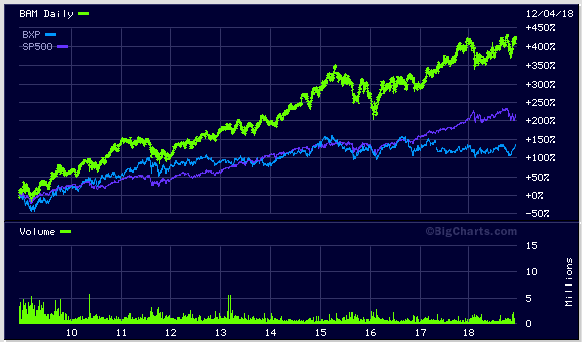 I expect Brookfield to continue to outperform Boston Properties and the S&P 500 (SPY) as a result of BAM's above average double-digit FFO growth rate. Boston Properties is growing FFO at a lower single-digit percentage pace. Brookfield is likely to experience strong price appreciation with an attractive valuation and a high growth rate. That's why I believe Brookfield's stock will continue its outperformance.
How Brookfield is Successful
Under the management of CEO Bruce Flatt, Brookfield has a strong track record of purchasing distressed assets/properties at great prices. These assets are then improved to increase their value and the amount of cash that they produce. The company earns fees on the assets that they own. Finally, they are sold at a higher price than they were purchased for. Flatt and Brookfield accomplished this successfully for 16 years.
Brookfield's assets are diversified among multiple industries. Brookfield's real estate includes industrial, office, retail, hospitality, and multifamily properties. The company owns renewable power assets which includes wind, solar, and hydroelectric facilities. The infrastructure business handles utilities, energy, transport, communications, and agricultural assets. Their private equity business handles business/construction services and energy/industrial operations.
The diversification of these assets spreads risk around. So, if one business (real estate for example) is in a downturn, the private equity, infrastructure and renewable power businesses can keep the company humming along.
The major competitive advantage for Brookfield is the large scale of their capital. The source of capital comes from their own balance sheet plus from public and private investors. This large scale allows the company to make purchases that are out of financial reach for many other companies.
Outlook for Brookfield Asset Management
Brookfield has a great track record of finding distressed assets at bargain prices, improving their value, earning fees from them while holding onto them, and selling them for profit. I expect this to continue as the company maintains this strategy going forward.
Brookfield's goal of generating $60 billion in cash over the next 10 years will be positive for shareholders. This is likely to drive above average FFO and book value growth over the next decade. That will drive the stock for market outperforming gains in my opinion.
The main risk for Brookfield would be a decline in the real estate market, where the company would earn less in fees for the properties that they manage. This could reduce FFO, book value, and cash flow. However, a downturn could also create a buying opportunity for distressed assets due to Brookfield's strong cash position and high liquidity of $32 billion at the end of Q3.
I am giving the stock a one-year price target of $54 for a gain of about 25%. This is based on FFO growth of about 12% to 13% for 2019. That will be supported by about 6% revenue growth, gross margin of about 14% and operating margin of 7.6% for an estimated FFO per share of $4.50 for 2019. The price target is also based on the Price/FFO increasing from 10 to 12 as I see room for this ratio to expand [$4.50 x 12 = $54].
Let me know your thoughts on Brookfield and related topics in the comment section below. If you like getting free analysis for great investment ideas, click on FOLLOW at the top of the article near my name. That will allow my articles to display on your homepage as they are published.
Disclosure: I/we have no positions in any stocks mentioned, and no plans to initiate any positions within the next 72 hours. I wrote this article myself, and it expresses my own opinions. I am not receiving compensation for it (other than from Seeking Alpha). I have no business relationship with any company whose stock is mentioned in this article.
Additional disclosure: The article is for informational purposes only (not a solicitation to buy or sell stocks). I am not a registered investment advisor. Investors should do their own research or consult a financial advisor to determine what investments are appropriate for their individual situation. This article expresses my opinions and I cannot guarantee that the information/results will be accurate. Investing in stocks involves risk and could result in losses.