In November, I looked into the Magic Formula and found Viacom (VIAB) (VIA) on the list once more. In this article I will look into the weaknesses and potential of Viacom going forward, with a special focus on how online streaming services will affect its landscape.
Background information on Magic Formula
The Magic Formula is an invention by Joel Greenblatt, which he details in The Little Book That Beats the Market. The core of the formula is ranking stocks according to earnings yield (EBIT/EV) and return on invested capital. Greenblatt has a website that does this (for us for free) and provides a list of up to 50 'undervalued' companies. The stock screen can be found here. This method of stock picking has been highly successful according to Greenblatt, who claims compound annual returns of 30% up to 2008. The image below shows an overview of the sectors and tickers of the stocks that were selected by the stock screen last month.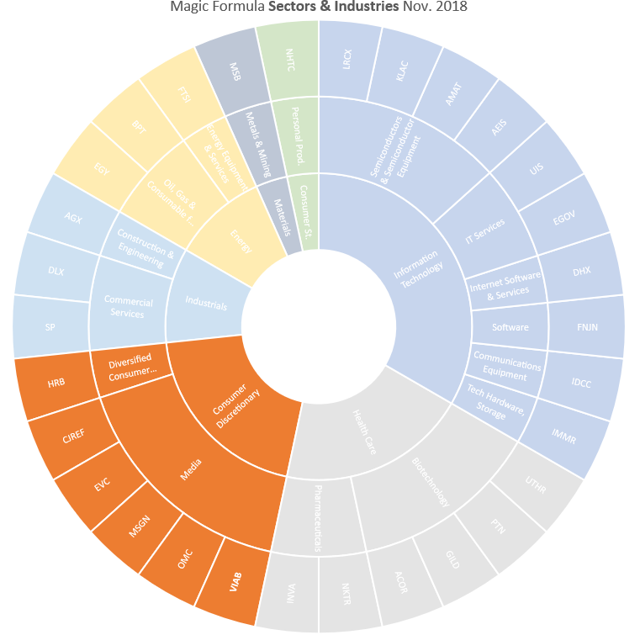 Source: compiled by author. Sectors and industries are using the GICS methodology.
Viacom is one of the largest companies within the oversized media portion of this Magic Formula batch. This brings us to the next question.
Why is it on the Magic Formula list?
In other words: why is the company so cheap? Obviously, traditional television networks experience increasing competition from online streaming services. This does not stop at Netflix (NFLX), Amazon (AMZN) and Hulu. Disney (DIS) and AT&T (T), both plan to launch a streaming service next year, which can pose a new threat to Viacom's networks. Viacom's Media Networks division is very profitable and currently functions as a cash cow as the company pays down debt and tries to get Paramount, its Filmed Entertainment division, profitable again. Over the past few years, Viacom has struggled to keep its operating income stable, as is shown in the chart below.

Source: company 2018 10-K.
The recent weakness has been in Media Networks, reinforcing the bear story. Adding to that, we see domestic ad revenue dropping 6% over the past 2 years.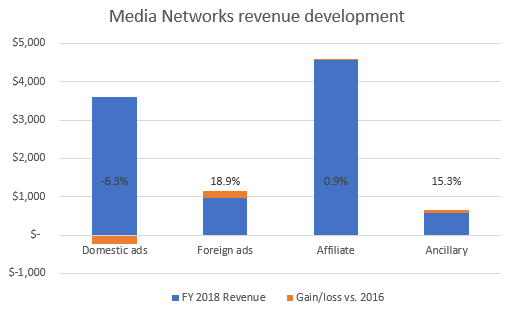 Components of Media Networks segment revenue in $ millions. Data source: company 10-K.
Another apparent weakness, is the fact that most of Viacom's networks are aimed at a younger audience. They have the highest share in the 2-49 age group (see the figure under 'company strategy' header below). This looks to be a key vulnerability in a landscape where young adults spend relatively little time watching TV, as shown by the chart below. The trend for these viewers has been unfavorable too. This has been the narrative of bears who point out that Viacom has been struggling to keep affiliate revenues afloat.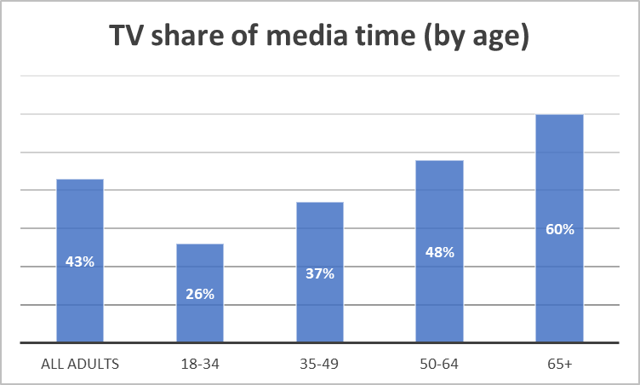 Source: Q1 2018 Nielsen Total Audience Report. Other categories (not shown) include: Radio, apps, tablets, smartphones, TV-connected devices. Values (including not shown here) sum up to 100% for each age bracket.
Usually, I'm not a fan of disrupted business models (see GameStop). However, I'm not that bearish on Viacom and think some apparent weaknesses will become strengths in the future. Viacom has a strong set of brands and content while it is also a top movie producer. The streaming services will face more competition from each other, both for viewers and content, which will pressure their economies of scale. My view is that even in a future landscape with fewer traditional networks, there will be a prominent place for Viacom's domestic flagship networks. This is reinforced by recent strength in domestic affiliate revenues which have shown annual growth in the past quarter for the first time in over a year.
Company strategy
Content remains key in my view and that is what users will pay for. Viacom has the content and is reallocating resources towards creating higher quality and quantity content for its flagship networks.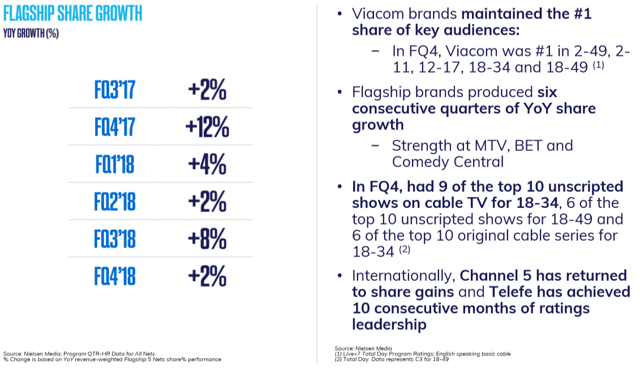 Source: Viacom fiscal 4Q18 results presentation.
As visible above, the strategy is working. Viacom has a very strong presence among younger viewers and sees the market shares of its flagship brands increase. It's these flagships that are attractive for cable companies to carry and the real must-haves to attract and retain younger viewers.
Regarding the balance sheet (~8.5bn net debt), the dividend cut of 2016 was a good step, but I still think they could do more. For starters, bringing the Paramount stake sale back on the table would help. Very important here is to bring it back to profitability. Investors extrapolate the poor results and Viacom isn't helped out a lot by a low selling price. The poor results at Paramount shouldn't be structural given the unpredictable nature box office sales. If Viacom sells (a stake in) Paramount, this will structurally fix the balance sheet and strongly boost investor confidence. It can also do a lot for the stock. The Paramount EBITDA was next to nothing in fiscal 2018, and selling a stake while getting it profitable will help the stock greatly. If Viacom fetches $1 billion for a 25% Paramount stake and gets its EBITDA back to 2013-2014 levels of $300m, that would slash its EV/EBITDA to 6. It can be debated if $4bn is the right valuation, as back in 2016, 'people familiar with the matter' said a deal could value Paramount as high as $10bn (source: WSJ).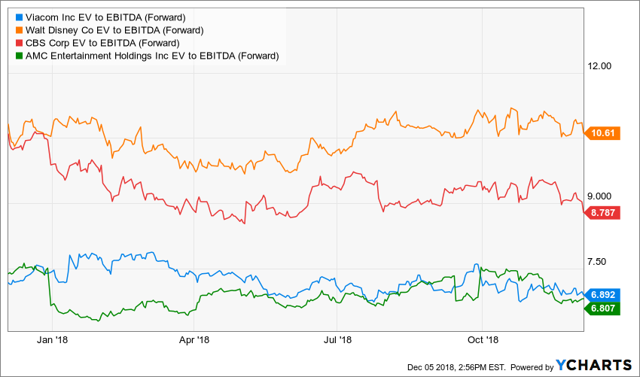 Source: YCharts
The company itself seems very bullish and touts small successes as big wins in its IR material. This is not uncommon for management of a public company, as they function as stock cheerleaders. Nevertheless, this CNBC interview with Viacom's CEO, Robert (Bob) Bakish is quite insightful for who wants to see more of the future strategy.
New streaming platforms
Disney's content deal with Netflix runs through 2019. After that, Disney will be taking its content to its own platform, leaving a void at Netflix. The Fox content will also likely become exclusive to either Disney's platform or Hulu. Hulu is a likely destination too because as it will be 60% owned by Disney, after adding the 30% stake owned by Fox to its existing one. This leaves less content for the other major domestic incumbents streaming services. These incumbents will look harder for content to fill the gap and to remain attractive versus Disney. From Viacom's perspective, a potential customer enters the market place, while a competitor leaves. This is extremely beneficial for them.
Apart from Disney, AT&T's WarnerMedia is also making steps to launch its own set of streaming services next year. That would be yet another potential client and one less supplier. Or as John Stankey, CEO of Warner Media put it:
"Some of the incumbents should expect that their libraries are going to become a lot thinner".
Circling back to Viacom, it's great that it decided not to launch its own streaming service. This view is also prevalent in the boardroom of Viacom. In the words of Bakish on the latest earnings call:
"When we bring our content to market, there will be a lot more players and very aggressive buyers, at least a half a dozen of them. And so, we feel really good about being able to come to market with our product in an environment in which, as you said, some of the other players are pulling their content into their own platforms".
Besides the streaming market getting crowded and also more competitive in 2019, putting content on a proprietary streaming platform will most likely hurt affiliate revenues and stimulate cord-cutting, as it did when, years ago, Viacom licensed bulk library content to Netflix. The opportunity here is for Paramount, for which the company expects to achieve double digit revenue growth and positive earnings in 2019.
Licensing deals and competition
From the streaming services perspective: the viewer cares most about content and having the biggest and most exclusive library is what counts. While I do think that economies of scale exist, they must not be exaggerated, especially for non-exclusive content. For non-exclusive deals, I'm sure the content providers prefer less (potential) viewers for a specified selling price to the platform. For example, if Netflix had only one subscriber, the natural price of licensing Braveheart (1995) to Netflix would be less than the price of one DVD, which is the maximum revenue gained from an interested viewer. If the deal were exclusive, missed revenue from not being able to license the movie to other parties would come into play. Obviously Netflix has millions of potential viewers and also pays much more for licensing the movie.
Exclusive content deals are a different matter and can be hybrid deals too. For example, the movie Annihilation (2018) cost Paramount about $50m to produce, and it appeared in U.S. and Chinese cinema's for a $43 million box office. For other regions, the movie's rights were sold to Netflix (its available as a Netflix original in Europe). To Paramount, it is of little interest whether it sells the right of all those geographies to one person who adds the movie to his private collection like a work of art and never shows it to anyone else, or whether the film is seen by millions of people on Netflix as long as it gets the right share of revenue potential from it. Exclusive deals are simply be a negotiation game based on perceived demand for a movie or series. This is where economies of scale come in and why streaming services take losses to gain more subscribers.
Note that exclusivity is standard practice and that it usually means geographic exclusivity for online streaming only. So of the series Friends for example, I still watch re-runs on Comedy Central (in Europe), while I can also watch them on Netflix, but not on any other streaming service. By the way, Netflix paid $100m to retain Friends for 2019, showing that bidding for key content is already getting more aggressive. The availability of (exclusive) content is important to subscribers and is what gets users to use the service.
The chart below shows the number of U.S. subscribers of three major streaming services. Note that Amazon Prime has more subscribers, but that they do not all use the video service.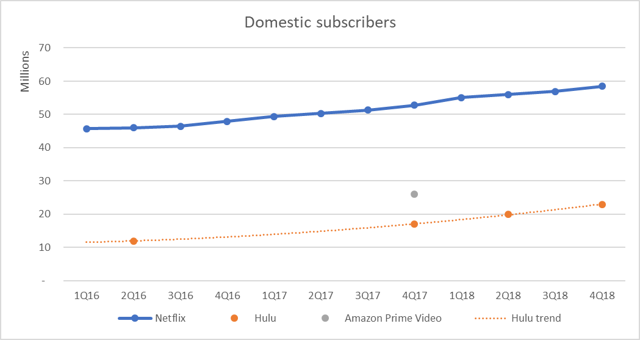 Source: company public statements for Netflix and Hulu. Netflix' 4Q18 is author's estimate, Hulu's 4Q18 is a projection by the company. Amazon data is a Reuters estimate of active users.
Hulu is catching up on Netflix percentage-wise. For a big part, this is due to its spend on content, which was $2.5bn in 2017. Netflix has spent ~2.7 billion for the domestic market (my estimate, based on 10-K, company disclosures), while Amazon put $4.5bn to work according to some sell-side analysts (this number is a guesstimate though). In any case, Netflix sees the competition catching up and keeps increasing its content budgets while domestic streaming remains very profitable with YTD contribution margin of 38.9%, which is even better than Viacom's Media segment operating margin of 31%. It is clear that Hulu and Amazon Prime aren't profitable, but they're on the hunt for the margins that Netflix is achieving by increasing their domestic subscriber base to spread the cost of exclusive content among more users.
Bear in mind that the trend of content owners starting their own platform is a double edged sword in the eyes of Viacom. They can increase Paramount revenue from selling content into a more competitive market and it makes streaming services' libraries less 'complete', which strengthens the position of its Media Networks division. This may also erode the margins of Netlix, which has the ability to set the price for the market and increase that price, to the benefit of all – but the consumer.
Rise of skinny bundles
As mentioned, U.S. cable companies have been plagued by cord-cutters, subscribers who cancel their traditional TV subscriptions. For the non-Americans out there: these subscriptions include many (100+) networks and come at a hefty price tag. Pricing varies by bundle, region, provider and more, but $100 per month is not uncommon. To European/Dutch standards this is an unbelievable figure, but it's in part due to the many networks it carries (which are many compared to European standards).
Over the past years, multiple skinny bundle providers have appeared (more on vMVPD). These carry fewer networks (30-70), are considerably cheaper (under $50/month), and are broadcasted to subscribers using the internet. These new bundles have gobbled up around 8 million out of the 9 million subscribers lost by the traditional MVPD's over the past three years. This is also part of the strength we have seen with Viacom's affiliate revenues.
Viacom is well-represented with the top two vMVPD's: DirectTV Now and Sling TV. The next task is to get Hulu TV and Youtube TV too. I think we'll see a future where consumers can increasingly pick the networks they want to receive with bundles for entertainment, sports, news, etc. This will retain many of the younger viewers, of whom Viacom has a large market share.
Value
The case makes sense to me. They will face pressure, but I definitely don't see a Blockbuster scenario. They have a cash-burner that they should be able to turn around and hopefully sell too. At a forward P/E of 7, it looks like Viacom has a decent margin of safety. I calculated the free cash flow to equity to be $1.9bn last year (adjusting reported cash flow for M&A, working capital, equity-based comp.), making the $30 class B stock FCF yield 15.5%. Even with one or two more years of intensive debt reductions, the valuation is too good to pass up. Now shareholders only need Viacom to work its magic.
Disclosure: I am/we are long DIS, VIAB.
I wrote this article myself, and it expresses my own opinions. I am not receiving compensation for it (other than from Seeking Alpha). I have no business relationship with any company whose stock is mentioned in this article.