REIT Rankings: Single-Family Rentals
In our REIT Rankings series, we introduce and update readers each of the residential and commercial real estate sectors. We rank companies within the sectors based on both common and unique valuation metrics, presenting investors with numerous options that fit their own investing style and risk/return objectives. We update these rankings every quarter with new developments for existing readers.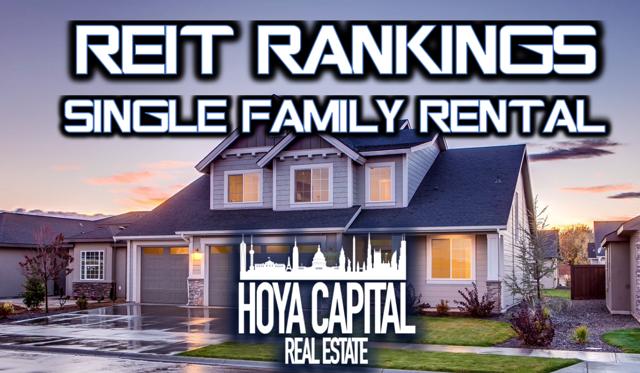 We encourage readers to follow our Seeking Alpha page (click "Follow" at the top) to continue to stay up to date on our REIT rankings, weekly recaps, and analysis on the REIT and broader real estate sector.
Single-Family Rental Sector Overview
Single-Family Rental REITs comprise 2% of the REIT ETFs (VNQ and IYR). Within the Hoya Capital Single-Family Rental Index, we track the three largest SFR REITs which account for roughly $17 billion in market value: American Homes 4 Rent (AMH), Invitation Homes (INVH), and small-cap REIT Front Yard Residential (RESI). Not included in our index is micro-cap REIT Raven Housing (RVEN) and Canadian firm Tricon Capital (TCNGF), which also owns a large portfolio of US SFRs.

These three SFR REITs own roughly 150k single-family homes and currently focus on markets that have experienced the strongest economic growth during this recovery. Many of these markets were hit particularly hard by the housing bubble, which allowed institutional investors to buy distressed properties in bulk. SFR REITs own a mix of affordable and middle-tier homes. Relative to apartment REITs, SFRs benefit from lower resident turnover rates but need to expend more per turn.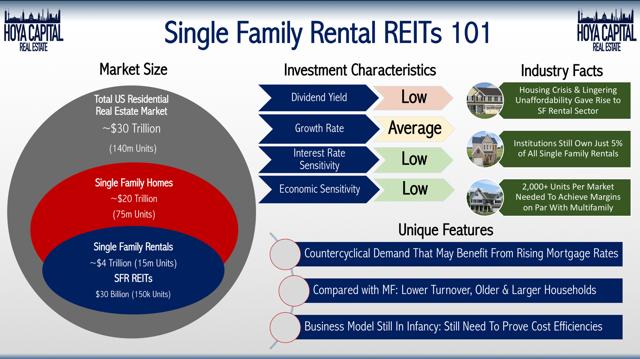 Density within markets is critical for SFR REITs. The industry has experienced a continuous wave of IPOs and consolidations over the past three years as these REITs recognized that, with the stabilized ownership model, market density was essential to achieving efficiencies in leasing, acquisition, and maintenance. We estimate that 500-1,000 units per market are needed to achieve minimum scale, but that 2,000 units or more are needed to reach a "critical mass" whereby the REIT can localize operations within that market and achieve cost efficiencies on-par with apartment REITs. INVH owns nearly 5,000 homes per market, while AMH owns 2,000 per market. The small-cap REITs and private portfolios have an uphill battle to achieve the necessary scale, as they have few local markets with at least 500 units.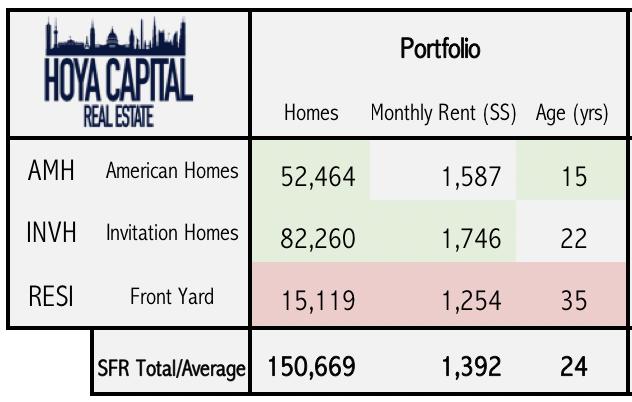 Single-family rental REITs are one of the youngest REIT sectors, emerging in the wake of the housing crisis. As home prices plummeted, large private investors purchased distressed homes and non-performing loans by the thousands, often sight-unseen from other financial institutions and foreclosure auctions. Through spin-offs and IPOs, a handful of these portfolios were spun into REITs, beginning with AMH in 2013. Initially, the business model depended on the continual acquisition and sale of distressed housing assets, and REITs used foreclosures as a primary source of new home acquisition. The business model ultimately evolved into a stabilized ownership model more akin to typical apartment REITs. AMH is leading the next evolution in the business model: the in-house development of new "build-for-rent" homes.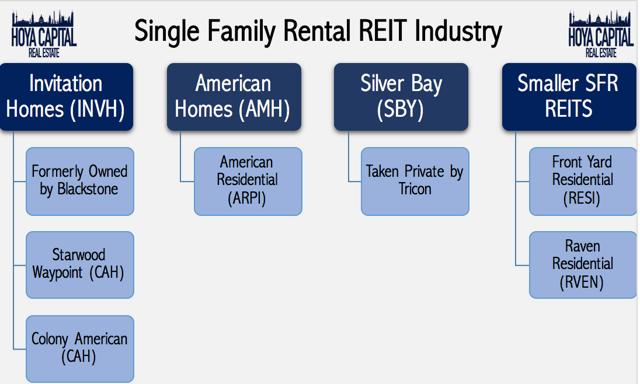 A highly fragmented market, the average SFR owner manages just 1-2 properties. Relative to apartment markets, this fragmentation makes it more difficult to acquire a substantial number of units to achieve scale. That said, there are several dozen institutional-quality portfolios and, considering the importance of scale, we expect continued consolidation among these portfolios and could see one or more additional portfolios covert into publicly traded REITs over the next several years. Three of the five largest SFR portfolios are operated as publicly traded REITs. Notably, as we'll discuss below, Front Yard Residential closed on a purchase of one of the top-10 largest private SFR portfolios from HavenBrook earlier this month.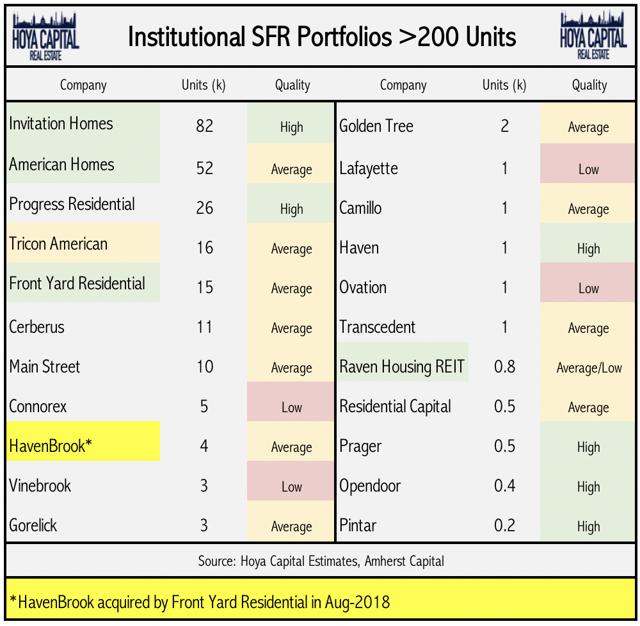 The Bull and Bear Thesis on SFR REITs
Powered by economic and demographic tailwinds, the single-family rental sector continues to mature into a mainstream REIT sector. The macro tailwinds of favorable demographics, low supply, and homeownership unaffordability continue to power SFR demand. We are right in the middle of the demographic boom that is most likely to prefer rental living.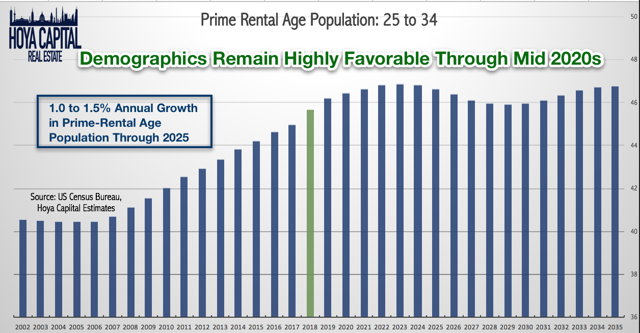 The United States is not building enough new homes, and single-family rental REITs are among the direct beneficiaries. Amid the lingering housing shortage, long-term SFR fundamentals remain highly favorable. Since 1995, shelter inflation has outpaced the broader rate of inflation by more than 1% per year, fueled by a persistent supply shortage in the US housing markets. Over the last three decades, structural impediments to supply growth, aggravated by the dramatic dislocations during the housing crisis, have dramatically slowed the rate of housing starts per capita. The implications of this housing shortage, we believe, will be a continued persistence of "real" housing cost inflation (rent growth) and a long runway for growth in residential housing construction.

Additionally, as we'll discuss below, there is reason to believe that the two large SFR REITs are uniquely positioned to benefit from the broader trend of institutionalization within the single-family housing industry. Below we outline the primary reasons that investors are bullish on the SFR REIT sector.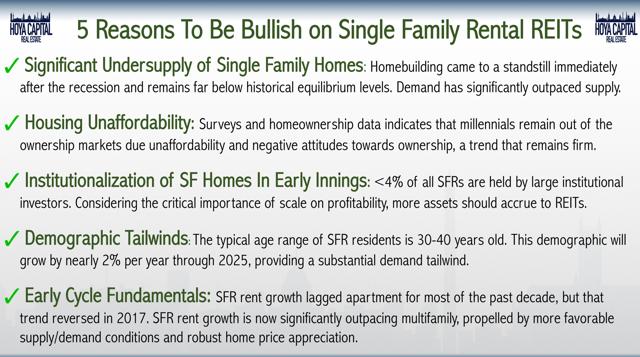 However, critics continue to question the long-term viability of the REIT model for SFR ownership, particularly if home price appreciation continues to outpace rental revenues. This can create a problematic situation for SFR REITs: Future acquisitions become less accretive as REITs are forced to pay higher prices for the same cash flow. Meanwhile, property taxes and other expenses tend to increase with rising home values. It remains to be seen whether SFR REITs can continue to grow accretively given the potential persistent NAV discount and lack of distressed homes for purchase. In recent quarters, supposedly "one-off" surprises to expense growth and total maintenance cap-ex costs have appeared with greater frequency than many investors would like. Below we discuss the five reasons that investors are bearish on the SFR sector.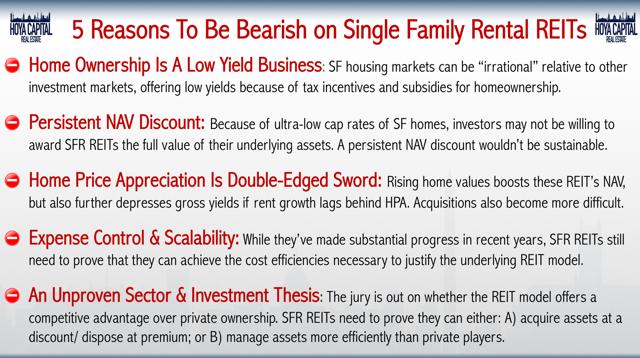 Recent Stock Performance
Between 2015 and 2017, the SFR REIT sector had been among the top-performing real estate sectors, delivering an average annual total return of 15% compared to a 6% average return on the NAREIT Index in that time. SFR REITs have underperformed in 2018, however, despite strong performance across the rest of the residential REIT sector. The sector is lower by 7.5% on the year, the weakest performing residential REIT sub-sector.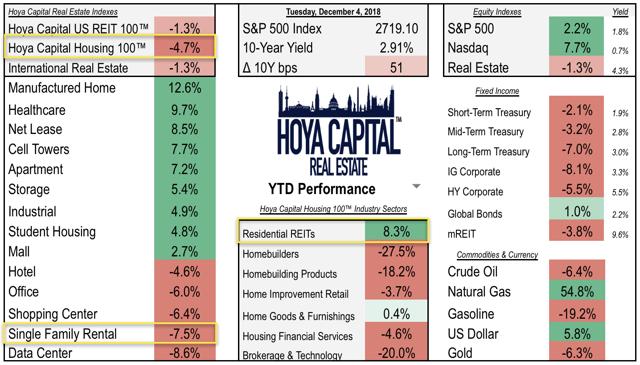 As we'll discuss below, the SFR sector dipped following weak 3Q18 results that saw expense growth rise faster than expected. American Homes has been the best-performer of 2018 while Front Yard has been the weakest.

Recent Fundamental Performance
Residential REITs as a whole have significantly outperformed the REIT average during the recovery period. Within the residential category, SFR fundamentals continue to be among the strongest in the REIT sector as rising home values, limited supply, and robust demand has produced rent and NOI growth near the top of the REIT sector. According to NAREIT T-Tracker data, the SFR sector has seen same-store NOI outpace the broader REIT sector by a wide margin on a TTM basis.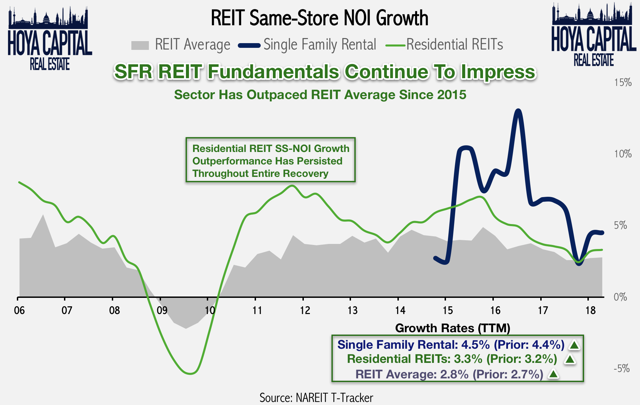 Growing pains continue for the still-young sector. Following several years of improving NOI margins, the positive momentum has seemingly stalled this year as costs concerns re-emerge. 3Q18 earnings were disappointing as both AMH and INVH revised down full-year NOI estimates due to higher expected and realized expense growth. Occupancy and leasing trends, however, remain solid. Combined with a nearly 1% rise in average same-home occupancy, the 4.2% growth achieved in blended rents indicate that 2019 NOI growth will remain well above the REIT average.

Unsettling investors, the supposedly "one-off" drivers of expense growth seem to be a bit too frequent in recent quarters. Same-store expenses remain elevated at 4.6% for the quarter. INVH discussed that this year's missteps relate to "correctable issues related to repairs and maintenance expense" which is excusable given the complexities inherent with the merger integration with Starwood Waypoint. AMH cited the change in accounting practices in which "a larger proportion of repairs and maintenance of turnover cost being expensed rather than capitalized." While we are inclined to continue to give these REITs the benefit of the doubt, REIT investors are notoriously unforgiving regarding several consecutive negative guidance revisions.

The focus for most investors remains on efficiency metrics, which have seemingly stalled out in 2018 after several years of solid improvement. Core NOI margins averaged 63.3% in the third quarter which is just a 15 basis points improvement over full-year 2017 core margins. The average annualized cost to maintain shot 20% higher to an average of nearly $3,200. On the positive, turnover continues to tick lower, down to just 35.9% on a TTM basis, far lower than the roughly 50% average in multifamily units.
While SFR rent growth on the national level has moderated in synchrony with multifamily from the extreme levels seen in 2015, recent quarters have seen a solid reacceleration, particularly in the "growth markets" in which REITs are concentrated. Rents for single-family rental REITs are now significantly outpacing those of apartment REITs, which will likely average less than 3% in 2018.

External Growth & Future Opportunities
Critics of the SFR sector point out that rent growth has historically lagged home price appreciation which, over time, erode investment returns. As home values outpace rents, attractive acquisition opportunities become few and far between. Over the last twelve months, REITs acquired less than $200 million in assets, among the lowest rates since the sector emerged in 2012.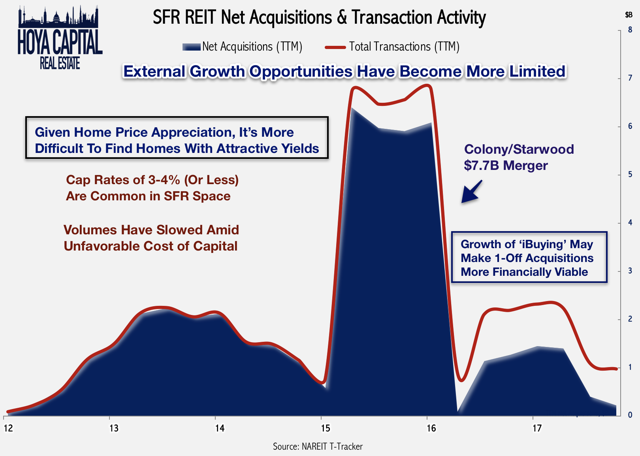 Excluding Front Yard Residential's purchase of the 3,200 SFR portfolio from HavenBrook this year which we discussed last quarter, net acquisitions from AMH and INVH were less than 300 homes combined. We still believe, however, that the "institutionalization" of the single-family housing markets is still in the very early innings. Given the lingering issues with homeownership unaffordability and the "rent-by-choice" attitude among households, investors are warming up to the notion that there may indeed be an economic rationale for institutional ownership of single-family homes, which theoretically could manage these houses more efficiently and result in lowered aggregate housing costs. The benefits of this efficiency, however, don't appear to kick-in until a portfolio reaches sufficient scale in particular markets, something that these buy-and-hold-oriented REITs are uniquely able to achieve.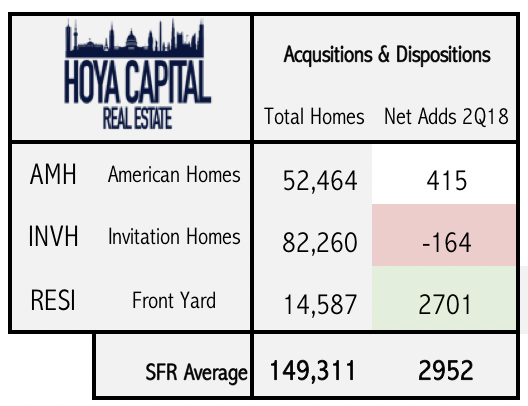 Two things have fundamentally changed over the last two years which may call into question the underlying critique of the SFR business. First, several key homeownership tax incentives were removed in the tax reform plan passed in 2017 which should usher in a higher degree of "rationality" in the single-family markets. Second and more importantly, the era of persistent declines in mortgage rates over the last forty years has seemingly come to an end.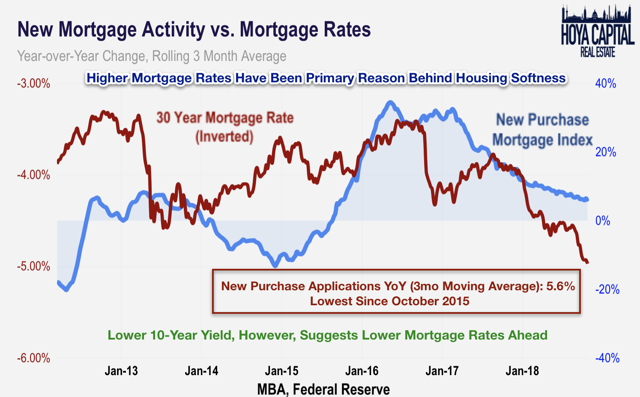 While the correlation between single-family rents and single-family home prices may be weak, the correlation between rents and monthly mortgage payments is undoubtedly stronger. The recent rise in mortgage rates translates into a $150-200 per month increase in monthly payments for a potential new homeowner on a $250k home. With the most direct "substitute" product being a single-family rental, we think that an end to the period of persistent declines in mortgage rates will be a substantial tailwind for residential rental REITs.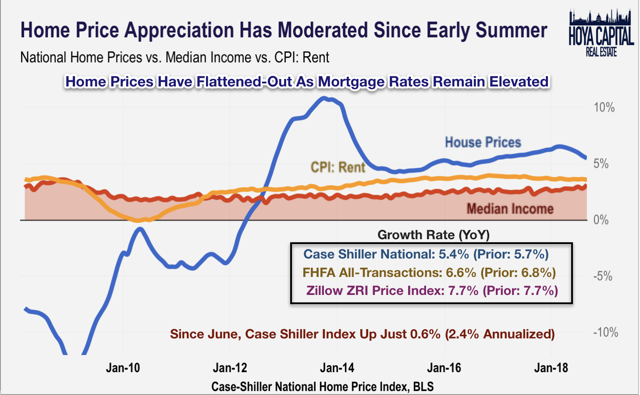 The Emergence of Single-Family iBuyers
Besides the emergence of institutional owners in the SFR business and the increased use of websites such as Zillow (Z) to aid in the home-buying search, perhaps the most significant disruption to the single-family housing business over the last five years has been the rise of iBuyers, online home buying firms that use data analytics to produce an offer to buy single-family homes site-unseen. Following OpenDoor in 2015, larger players including Zillow and Redfin (RDFN) have entered the space over the last two years, leveraging their existing data infrastructure at a time when lightning-fast home flipping seems to be a potentially lucrative business.
So far, however, early results haven't lived up to the hype. Zillow's iBuying platform, Zillow Offers, purchased just 168 homes and sold 36 homes in the third quarter. Redfin's Redfin Now sold just 24 homes we sold in the third quarter and had 56 homes in inventory. Private market player OpenDoor, however, has seemingly had more success, touting a rate of $2.5 billion worth of homes annually in 2018. The limited early success of these ventures confirms that "home-flipping" is indeed a brutally tough, capital-intensive business even in the best of times for the housing market.
Institutional SFR owners like these REITs may see benefits in "partnering" with iBuyer firms or employing a similar data-centric strategy in their existing markets. Given the recent slowdown in the single-family purchase markets, we think that iBuyers will increasingly turn to institutional owners like REITs to quickly unload slow-moving inventory. Data from ATTOM shows that this trend is already happening: nearly 10% of total sales form OpenDoor and Offerpad have been to institutional buyers, up from less than 4% in 2016.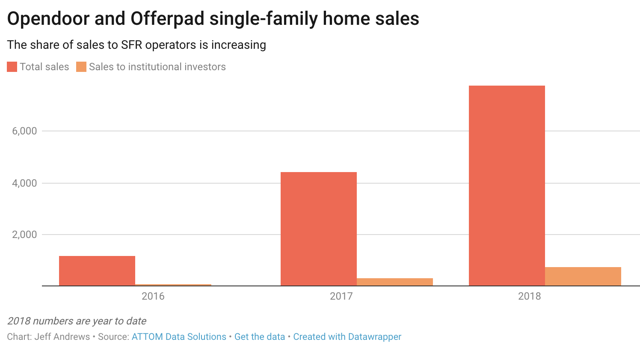 If nothing else, these iBuyers are helping the single-family industry take one more step towards removing friction in the transaction process, a long-term trend will further facilitate the institutionalization of the sector. The do-it-yourself home buying experience facilitated by Zillow and Redfin have already pressured the 3% buying agent fees to near-zero. However, home sellers have so far been resistant to cutting out the 3% selling agent fees, but data-centric programs like these are gradually chipping away at the negotiating leverage of seller's brokerage agents.
Outside of perhaps Zillow and Redfin which have massive in-house data analytics operations that have synergies with their other business lines, we're not convinced that the current crop Silicon Valley-based iBuyers like OpenDoor or Offerpad necessarily have a defensible moat that can't easily be breached by institutional owners like SFR REITs, if they so choose. As SFR REITs have learned, scale and expertise in local markets are absolutely critical to the single-family business.
Considering their willingness to hold rather than trade a particular home, we think that SFR REITs would be able to offer sellers a significant premium relative to home flippers. We think that direct "instant offers" could be a key source of one-off acquisitions for SFR REITs in their markets and that the trials and tribulations of iBuyers in developing these platforms will ultimately be a significant benefit to these REITs and other large-scale institutional owners.
Valuation & Investment Characteristics of SFR REITs
Relative to other REIT sectors, single-family rental REITs appear moderately expensive based on Free Cash Flow (aka AFFO, FAD, CAD). As it has for most of the past several years, the sector continues to trade at a persistent discount to NAV. SFR REITs haven't seen the benefit of rising underlying asset values.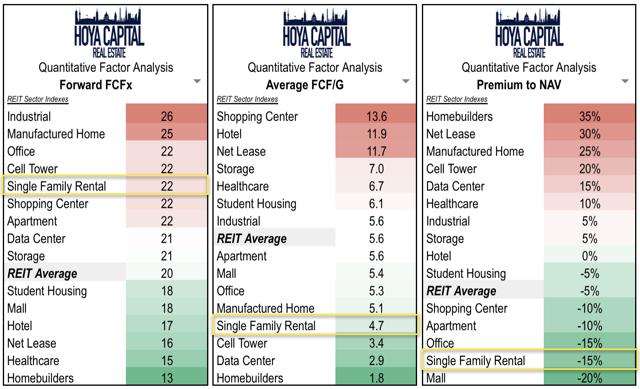 SFR REITs are not particularly sensitive to interest rates nor equity markets. These REITs can serve as an effective hedge within a real estate portfolio against rising interest rates, as potential homeowners may be encouraged to stay in the rental markets for longer if mortgage rates rise.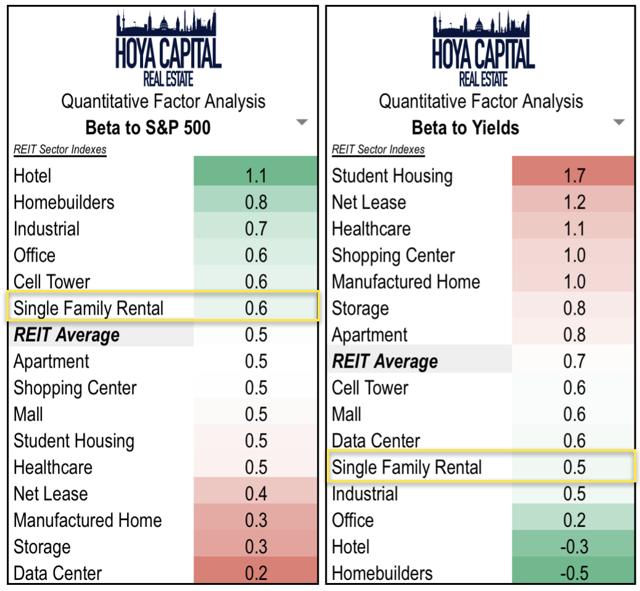 Within the sector, we note that the small-cap REITs are highly leveraged to a strong economy given their unfavorable leverage profile and continued need for capital.

Dividend Yield And Payout Ratio
Based on dividend yield, single-family rental REITs rank at the bottom of the REIT universe, paying an average yield of 1.7%. They pay out just 55% of their available cash flow, so these firms have greater potential for dividend growth and reinvestment than other sectors.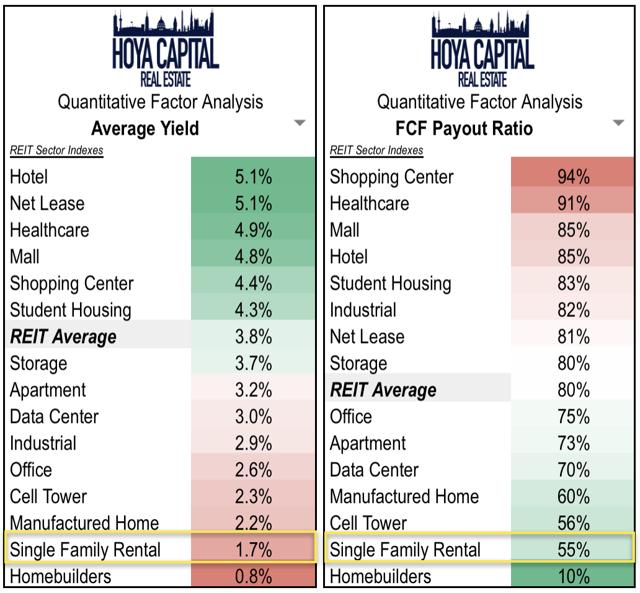 As these REITs mature, we expect their payout ratios to rise to levels in line with other REIT sectors.

Bottom Line: Cost Concerns Re-Emerge
Two steps forward, one step back for single-family rental REITs. Despite strong performance across the residential REIT sector in 2018, SFR REITs have taken a step back this year. Growing pains continue for the still-young sector. Following several years of improving NOI margins, the positive momentum has seemingly stalled this year as costs concerns re-emerge.
Outside of rising costs, underlying fundamentals remain solid. Rising mortgage rates give SFR REITs room to push rent growth. Leasing trends have been impressive in 2018 as turnover ticks lower. External growth remains slow amid the persistent NAV discount, but acquisition opportunities may emerge as home price appreciation cools. SFR REITs haven't seen the benefit of rising underlying asset values.
The institutionalization of the single-family housing market is a trend that is poised to accelerate given the removal of key homeownership tax incentives and continued housing unaffordability. Technology and productivity are the wild cards that may determine the fate of the institutional SFR industry. Logistically, managing portfolios of thousands of SFR homes was impossible less than a decade ago. If SFR REITs can continue to harness and develop cost-saving technologies that streamline the acquisition, disposition, leasing, and maintenance processes and be leaders in this field, we expect the SFR business to not only be sustainable, but for the SFR REIT model to exhibit a competitive advantage over smaller private equity players in the space.
For an in-depth analysis of all real estate sectors, be sure to check out all of our quarterly reports: Net Lease, Data Center, Manufactured Housing, Student Housing, Single-Family Rentals, Apartments, Cell Towers, Manufactured Housing, Malls, Shopping Centers, Hotels, Office, Healthcare, Industrial, Storage, and Homebuilders.
Please add your comments if you have additional insight or opinions. Again, we encourage readers to follow our Seeking Alpha page (click "Follow" at the top) to continue to stay up to date on our REIT rankings, weekly recaps, and analysis on the REIT and broader real estate sector.
Disclaimer: All of our research is for educational purposes only, always provided free of charge exclusively on Seeking Alpha. Recommendations and commentary are purely theoretical and not intended as investment advice. Information presented is believed to be factual and up-to-date, but we do not guarantee its accuracy and it should not be regarded as a complete analysis of the subjects discussed. For investment advice, consult your financial advisor.